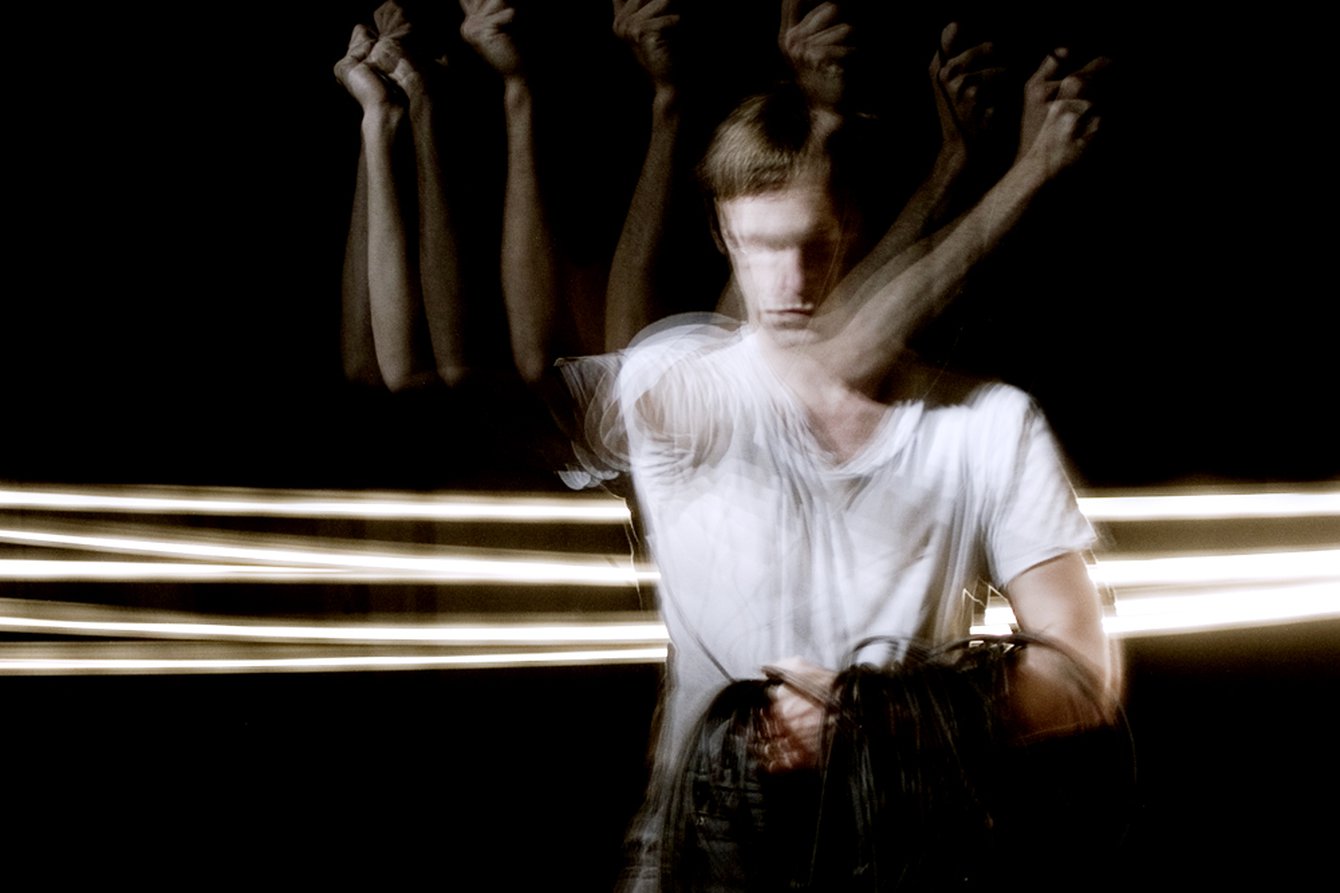 ›GRIND‹ is a cooperation between choreographer Jefta van Dinther, lighting designer Minna Tiikkainen, and sound designer David Kiers.Inspired by the principle of synaesthesia - the synchronisation of several physically-separated areas of sensitivity into one sensory impression – they have put together the separate components of sound, bodies and light in a performance that challenges perception and attempts to override the singularity of the senses. Using a masterly composition of simple elements, the three artists create a deeply-effective machinery: pulsing light effects, relentless beats of dark electronic sounds and the body of the performer condense on stage into an all-encompassing sensation that leads to a complex total experience as opposed to differentiated perception.
Concept: Jefta van Dinther and Minna Tiikkainen
Choreography and dance: Jefta van Dinther
Lighting design: Minna Tiikkainen
Sound design: David Kiers
Music: David Kiers and Emptyset
Production: Jefta van Dinther – Sure Basic and Minna Tiikkainen
Executive Producer: Hybris Konstproduktion (Sweden) Frascati Productions (The Netherlands) 
Co-producers: Frascati Productions (Amsterdam), Weld (Stockholm), Tanzquartier (Vienna), PACT Zollverein (Essen), Grand Theatre (Groningen) and Jardin d'Europe through Cullberg Ballet (Stockholm)
Sponsored by: The Swedish Arts Council, The Swedish Arts Grants Committee, Amsterdams Fonds voor de Kunst and Nordic Culture Point  
Supported by: Fabrik Potsdam
›GRIND‹ was created in part during a residency at PACT Zollverein.
www.jeftavandinther.com
Touring

10. - 12.05.2018, Orionteatern, Stockholm (SE)
03. + 04.04.2018, Scène Nationale d'Orléans, Orléans (FR)
28.11.2017, ICI-CCN, Montpellier (FR)
19.09.2017, CoFestival, Ljubljana (SI)
21.04.2016, Cultuurcentrum Berchem, Berchem (BE)
26. - 28.01.2016, HAU Hebbel am Ufer, Berlin (DE)
25. + 26.11.2015, STUK,  Löwen (BE)
12.10.2015, SIDance, Seoul (KR)
28.04.2015, CC Maasmechelen, Maasmechelen (BE)
24. + 25.04.2015, Vooruit, Gent (BE)
22.04.2015, CC De Warande, Turnhout (BE)
26.03.2015, Espaces Pluriels, Pau (FR)
06. + 07.02.2015, Beursschouwburg, Brüssel (BE)
04. - 07.01.2015, Santiago a Mil, Santiago (CL)
29. + 30.11.2014, Mercat de les Flors, Barcelona (ES)
05.11.2014, Trafó House of Contemporary Arts, Budapest (HU)
31.10. + 01.11.2014, Staatstheater Darmstadt, Darmstadt (DE)
22. + 23.08.2014, SAAL, Tallinn (EE)
23.05.2014, ADC Salle des Eaux-Vives, Genf (CH)
08.04.2014, Le lieu unique, Nantes (FR)
14.02.2014, Vila Flor Cultural Centre, Guimarães (PT)
05. + 06.02.2014, Theaterhaus Gessnerallee, Zürich (CH)
27. + 28.11.2013, Dansehallerne, Kopenhagen (DK)
09.11.2013, Melkweg, Amsterdam (NL)
13. + 14.09.2013, Dansens Hus, Oslo (NO)
07.09.2013, RAS, Stavanger (NO)
17. + 18.08.2013, Helsinki Theater Festival, Helsinki (FI)
03.08.2013, Tanzwerkstatt Europa, München (DE)
08.06.2013, June Events, Atelier de Paris, Paris (FR)
24. + 25.05.2013, TG2, Paris (FR)
12. + 13.04.2013, MAC Creteil, Paris (FR)
21. + 22.12.2012, Frascati, Amsterdam (NL)
19.12.2012, Chasse, Breda (NL)
13.12.2012, ICE HOT, Helsinki (FI)
30.11.2012, Favoriten Festival, Dortmund (DE)
23. + 24.11.2012, Jonge Harten Festival, Groningen (NL)
15. + 16.11.2012, BUDA, Kortrijk (BE)
28.10.2012, Moving in November Festival, Helsinki (FI)
05.10.2012, Nederlandse Dansdagen, Maastricht (NL)
02. + 03.10.2012, Fabrik Potsdam, Potsdam (DE)
24. + 25.08.2012, Tanznacht Podewil, Berlin (DE)
13. + 15.07.2012, ImPulsTanz, Wien (AT)
14.04.2012, Tanzquartier, Wien (AT)
04. + 05.04.2012, Frascati, Amsterdam (NL)
17. + 18.03.2012, HAU Hebbel am Ufer, Berlin (DE)
02. + 03.03.2012, PACT Zollverein, Essen (DE)
29.02.2012, Inkonst Malmö, Malmö (SE)
23.02.2012, De Gouvernestraat, Rotterdam (NL)
21.02.2012, Grand Theatre, Groningen (NL)
16.02.2012, De NWE Vorst, Tilburg (NL)
12. + 13.01.2012, Fabrik Potsdam, Potsdam (DE)
16. - 18.12.2011, Weld, Stockholm (SE)