PACTPACKAGE for Students:
Programme 2020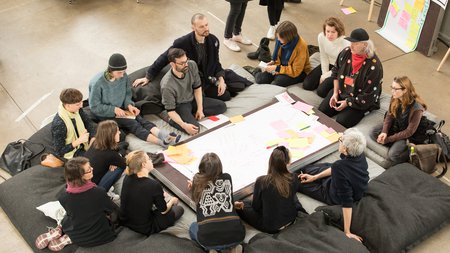 Each season, PACT offers a series of complementary activities for students. PACTPackages take the form of workshops, artist discussions or open rehearsal visits in connection with a selected performance on our programme. 
The price for each PACTPackage is 9€. The costs for the PACTPackage cover the respective workshop and the show. Please register with: service@pact-zollverein.de 
1 PACTPackage = 1 show + workshop/discussion = 9€
Upcoming Packages
/// CANCELLED ///
PACTPackage #2 with Jonathan Burrows 
SAT 21.03.
17 – 17.30 h Artist Talk
+
18.30 h ›Rewriting‹ (Show)
= 6€
More about Package #2: ›This Then That‹
Artist Talk with Jonathan Burrows
Choreographer Jonathan Burrows shares a short talk on choreography, focussing on how meaning slowly arrives from the relationship between things as they change. The talk is related also to ›Rewriting‹, the solo performance he will give later in the evening.
Jonathan Burrows is a choreographer whose main focus is an ongoing body of pieces with the composer Matteo Fargion, with whom he continues to perform around the world. The two men are co-produced by PACT Zollverein Essen, Sadler's Wells Theatre London and BIT Teatergarasjen Bergen. His ›A Choreographer's Handbook‹ has sold over 15,000 copies since its publication in 2010, and is available from Routledge Publishing. Burrows is currently a Senior Research Fellow at the Centre for Dance Research, Coventry University. 
Previous Packages
PACTPackage #1
SAT 01.02. 11 - 14 H Workshop ›Authentic Movement‹ with Roger Sala Reyner (dancer, ›VIOLET‹)
+
SAT 01.02. 20 H Show Meg Stuart/Damaged Goods ›VIOLET‹