PACTPACKAGE for Students:
Workshop + Show
Dear students,
we regret to inform you that the planned the PACTPackage workshop and performances of the production ›ARA! ARA!‹ by Ginevra Panzetti & Enrico Ticconi on the 08. & 09.04., have had to be cancelled without replacement due to illness amongst members of the artistic team.
We thank you for your understanding and sincerely apologize for any inconvenience caused. If you have any questions, please contact: service@pact-zollverein.de
SAT 09.04. PACTPackage: ARA! ARA!
14 – 16 h  Workshop with Ginevra Panzetti & Enrico Ticconi
The symbolic power of the flag and its use in the elaborate folkloric tradition of flag-waving were starting points for the artistic research surrounding the production ›ARA! ARA!‹.
In accompaniment to the performance, choreographers Ginevra Panzetti and Enrico Ticconi are leading a PACT package workshop that invites you to get to know some of the traditional movement patterns of flag waving and to deepen your perception of rhythm and group dynamics. Drawing on the interplay between fabric and body, they'll also be exploring the plasticity of movements arising from expansion and twisting.
The workshop will be held in English. Please bring comfortable sportswear.
Between the end of the workshop and the beginning of the performance, PACT's foyer is open to the participants.
PACTPACKAGE for Students:
How does it work?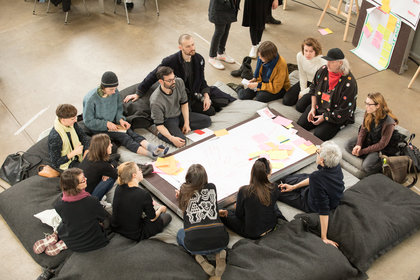 PACTPackages take the form of workshops, artist discussions or open rehearsal visits in connection with a selected performance on our programme. The PACTPackage is primarily conceived for students and open to others on request.
Registration: Please register at least 5 days ahead of the workshop via service@pact-zollverein.de.
Please note: For participation in the workshop we apply the 2GPlus rule.
Costs: 10 € (including the performance ticket)