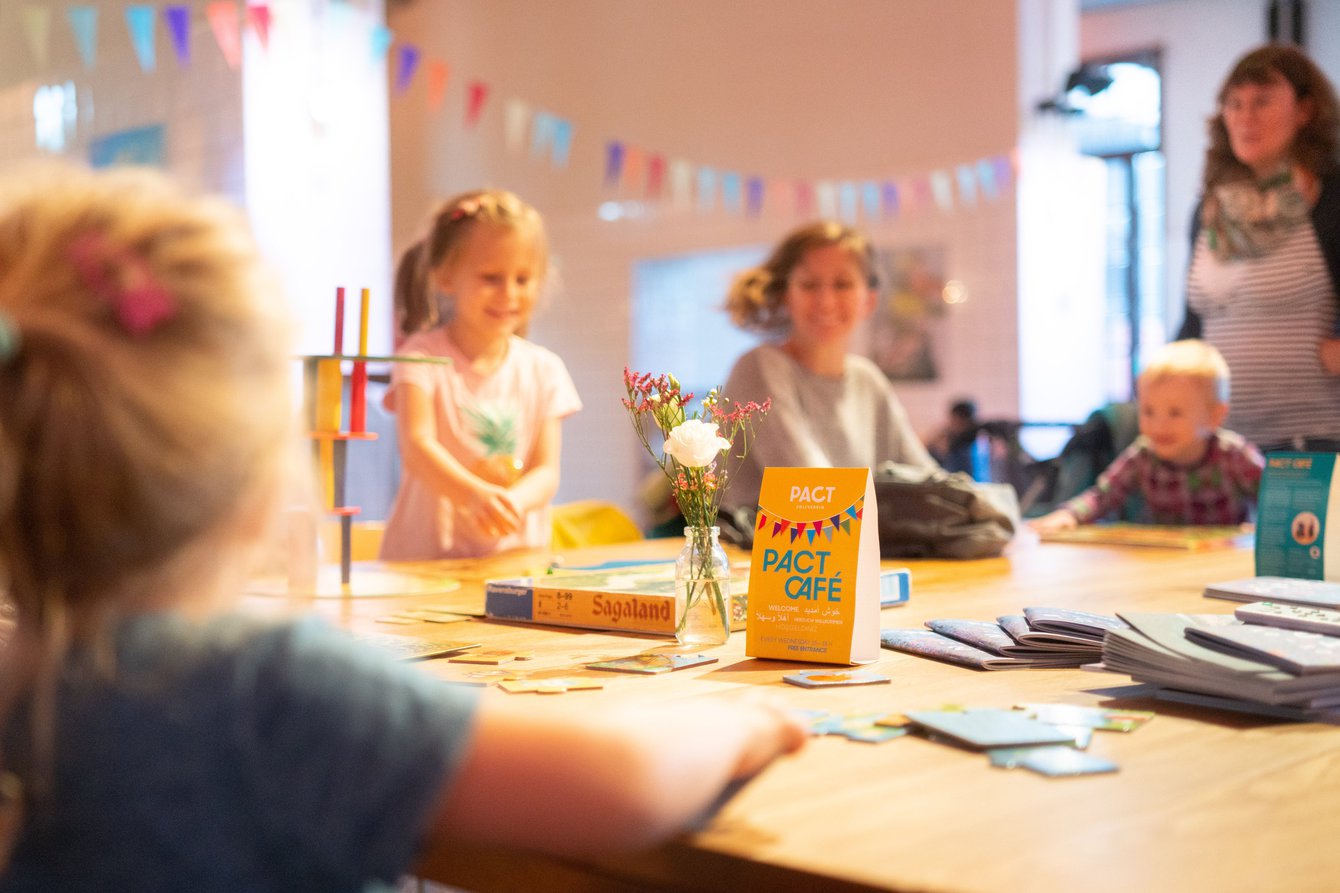 PACT Café

friendly informal space and
play area for children
Made possible with the support of the children's and family center BLAUER ELEFANT Zollverein, the ›PACT Café‹ is a friendly informal community space for conversation and exchange as well as a wonderful free playground for families and children of all ages. There's complementary tea and coffee for the grown-ups and a playing area generously equipped with wooden toys, books, board games and handicraft materials for children of all ages.
The PACT Café is open on Wednesdays between 3 & 6pm.
See the calender below for current dates. 
In cooperation with Kinder- und Familienzentrum BLAUER ELEFANT Zollverein and KiTa Kleiner Pütt
Supported within the framework of the Alliance of International Production Houses by the Federal Government Commissioner for Culture and the Media.
Reading together from our favorite children's books
Book: ›Die Mauer: Eine Parabel‹ by Giancarlo Macri & Carolina Zanotti © 360Grad-Verlag
Intro Music: ›Philo der Zoofisch‹ by Uwe Moschüring 
Book: ›Die sieben Hunde und Koyo - Geschichten der Mandé aus Westafrika‹ by Clément Drabo/ Cornelia Wiekort © 2015 Jaja Verlag
With friendly permisssion by the Jaja Verlag
Intro music: ›Philo der Zoofisch‹ by Uwe Moschüring
Buch: ›Herumverkehrt‹ von Anne Marie Braune © Jaja Verlag
Mit freundlicher Genehmigung des Jaja Verlags
Intro-Musik: ›Philo der Zoofisch‹ von Uwe Moschüring
Book: ›Lulu und Tapetentiger‹ by Rachel Schmitt © 2015 Jaja Verlag 
With friendly permission of the Jaja Verlag 
Intro music: ›Philo der Zoofisch‹ by Uwe Moschüring
Book: ›Ferdinand macht sich schön‹ by Regine Wolff © 2016 Jaja Verlag 
With friendly permission of the Jaja Verlag 
Intro music: ›Philo der Zoofisch‹ by Uwe Moschüring