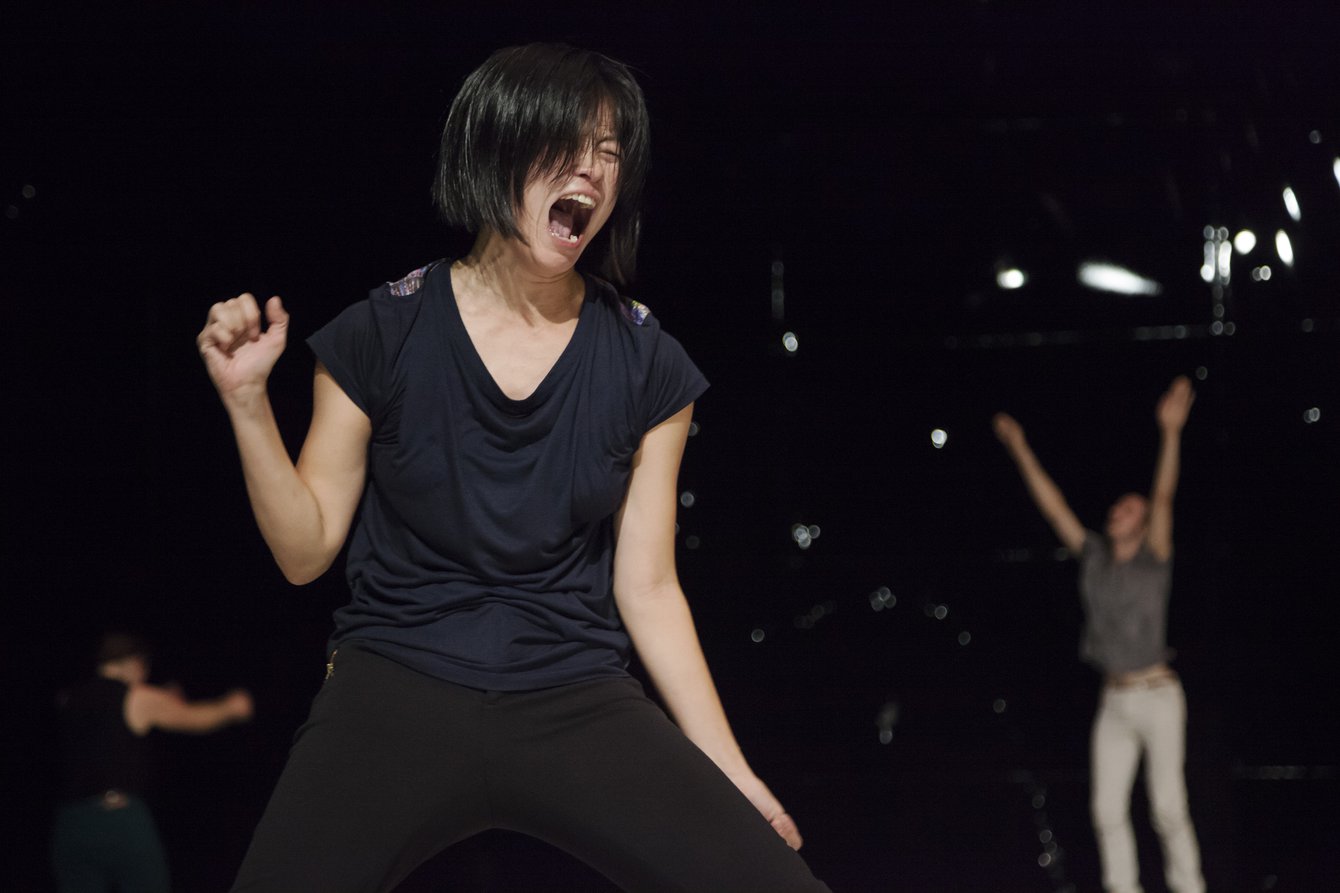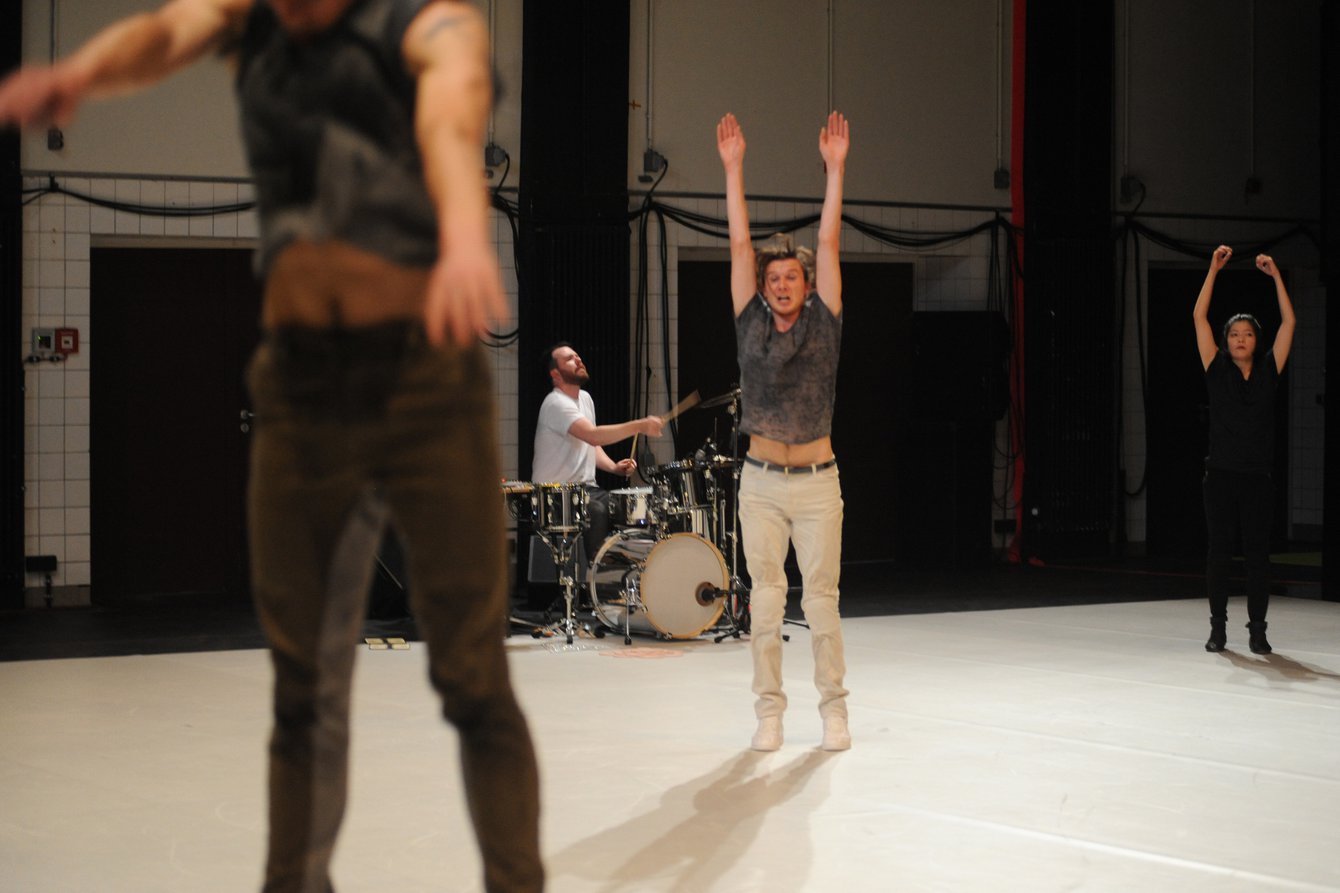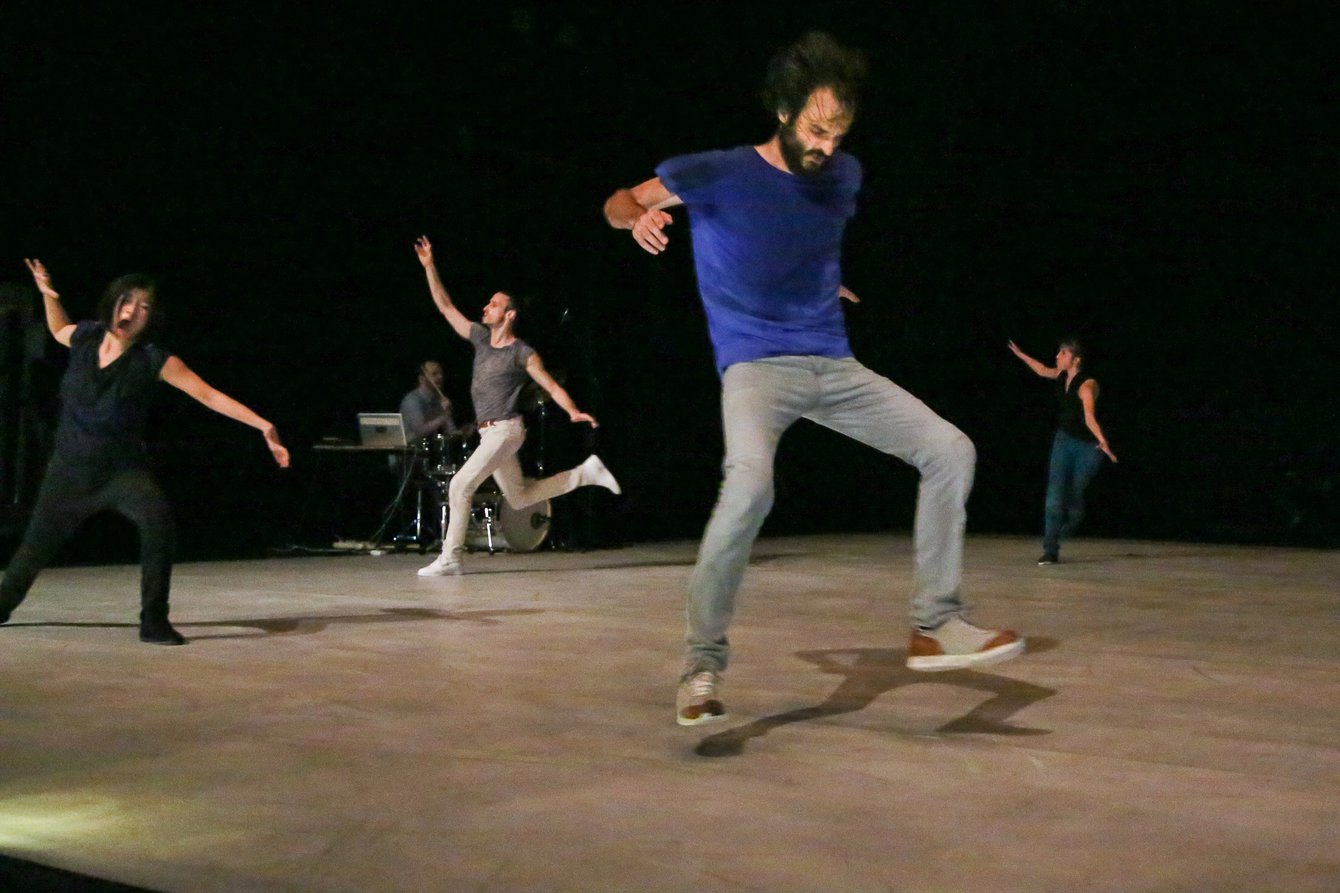 Advance sales:
17 € / red. 11 €
Box office:
20 € / red. 14 €
(incl. VRR-Ticket)
FRI 31.01. 19.30 H Introduction
SAT 01.02. 11 - 14 H PACTPackage for Students
Registration: service@pact-zollverein.de
FRI 31.01. 20 h
SAT 01.02. 20 h
››It is this intensity, this constellation of fractured images and flashes of the body in motion, that Violet leaves the audience with. Of mouths held open by breath, by exhaustion, of bodies tightly packed, flesh splayed by the weight of bone on muscle, of the soundscape eventually engulfing everything around it.‹‹ (Ranjana Dave, The Hindu)
PACT's dance season opens with an absolute masterpiece that premiered here in July 2011: ›VIOLET‹, by American choreographer Meg Stuart who is the recipient of numerous awards, including most recently the German Dance Prize and the Golden Lion of the Venice Biennale. Selected for the German Dance Platform in 2012, ›VIOLET‹ has since been shown in 24 countries around the globe and now returns to PACT.
Five dancers reveal simultaneously and singularly an energetic landscape, a charged terrain of options. Their actions are manifestations of surging phenomena, imperceptible but always active. The audience is drawn into a steep descent into a maelstrom, a swirl of energetic patterns and kinetic sculptures full of detail, partnered live on stage by musician Brendan Dougherty on electronics and percussion. In ›VIOLET‹, Meg Stuart turns to movement as its primary motor, pairing choreography with an alchemy of the senses. Perhaps the most abstract piece so far in her long-standing career, ›VIOLET‹ bears Stuart's unique signature, an art that hones a frail 'condition humaine' in its intense physical emergence.
Choreography Meg Stuart Created with Alexander Baczynski-Jenkins, Varinia Canto Vila, Adam Linder, Kotomi Nishiwaki, Roger Sala Reyner Performed by Márcio Kerber Canabarro, Varinia Canto Vila, Renan Martins de Oliveira, Kotomi Nishiwaki, Roger Sala Reyner Live music Brendan Dougherty Dramaturgy Myriam Van Imschoot Scenography Janina Audick Light design Jan Maertens Costumes Nina Kroschinske Sound design Richard König Assistant scenography Julia Kneusels Assistant costumes Nina Witkiewicz Rehearsal coach Joséphine Evrard Technical director Jitske Vandenbussche Assistant technical director Kobe Le Duc Light Frank Laubenheimer Production manager Eline Verzelen Assistant production Mira Moschallski Tour manager Delphine Vincent Thanks to Ulrike Bodammer, Eric Andrew Green, Claudia Hill, Leyla Postalcioglu, Anna-Luise Recke, Annegret Riediger, Jozef Wouters
Production Damaged Goods (Brussels) Co-production PACT Zollverein (Essen), Festival d'Avignon (Avignon), Festival d'Automne à Paris (Paris), Les Spectacles Vivants – Centre Pompidou (Paris), La Bâtie-Festival de Genève (Geneva), Kaaitheater (Brussels) in collaboration with RADIALSYSTEM V and Uferstudios (Berlin) with special support from Hauptstadtkulturfonds (Berlin)
Meg Stuart & Damaged Goods are supported by the Flemish authorities and the Flemish Community Commission.
Supported within the framework of the Alliance of International Production Houses by the Federal Government Commissioner for Culture and the Media.
Touring
19.09.2020, NYU Skirball Center, NEW YORK (US) (cancelled)
18.09.2020, NYU Skirball Center, NEW YORK (US) (cancelled)
01.02.2020, PACT Zollverein, Essen (DE)
31.01.2020, PACT Zollverein, Essen (DE)
23.02.2019, National Academy of Performing Arts (NAPA), Karatschi (PK) 
19.02.2019, Nelum Pokuna Mahinda Rajapaksa Theatre, Colombo (LK)  
15.02.2019, Sir Mutha Venkatasubba Rao Concert Hall, Chennai (IN) 
13.02.2019, Shiela Gopal Raheja Auditorium, Mumbai, (IN) 
08.02.2019, CC Hasselt, Hasselt (BE) 
11.11.2018, Mercat de les Flors, Barcelona (ES) 
10.11.2018, Mercat de les Flors, Barcelona (ES)
09.11.2018, Mercat de les Flors, Barcelona (ES)
25.05.2017, CC De Grote Post, Ostend (BE) 
14.05.2017, HAU - Hebbel am Ufer, Berlin (DE)
13.05.2017, HAU - Hebbel am Ufer, Berlin (DE)
26.11.2016, Trafó, Budapest (HU) 
25.11.2016, Trafó, Budapest (HU)
08.07.2016, Teatro Municipal do Porto, Porto (PT) 
22.04.2015, Mousonturm, Frankfurt am Main (DE)
21.04.2015, Mousonturm, Frankfurt am Main (DE)
22.05.2017, HAU - Hebbel am Ufer, Berlin (DE)
21.05.2014, HAU - Hebbel am Ufer, Berlin (DE)
15.05.2014, Festival Fabbrica Europa, Florenz (IT) 
14.05.2014, Festival Fabbrica Europa, Florenz (IT)
16.11.2013, Kaaitheater, Brüssel (BE) 
15.11.2013, Kaaitheater, Brüssel (BE) 
09.11.2013, Moving In November Festival, Helsinki (FI) 
08.11.2013, Moving In November Festival, Helsinki (FI)
30.10.2013, HAU - Hebbel am Ufer, Berlin (DE)
29.10.2013, HAU - Hebbel am Ufer, Berlin (DE)
19.06.2013, Muffathalle, München (DE)
18.06.2013, Muffathalle, München (DE)
27.04.2013, C-mine Cultuurcentrum, Genk (BE)
25.04.2013, Cultuurcentrum De Spil, Roeselare (BE) 
23.04.2013, Cultuurcentrum Brugge, Brügge (BE) 
12.04.2013, MC2, Grenoble (FR) 
11.04.2013, MC2, Grenoble (FR)
05.04.2013, Théâtre Garonne, Toulouse (FR)
04.04.2013, TThéâtre Garonne, Toulouse (FR)
03.04.2013, Théâtre Garonne, Toulouse (FR)
27.03.2013, Kunstencentrum Vooruit, Ghent (BE) 
26.03.2013, Kunstencentrum Vooruit
09.03.2013, BIT Teatergarasjen, Bergen (NO) 
08.03.2013, BIT Teatergarasjen, Bergen (NO) 
08.11.2012, Festival Panorama, Rio de Janeiro (BR) 
04.11.2012, SESC SP, Sao Paolo (BR) 
03.11.2012, SESC SP, Sao Paolo (BR) 
31.10.2012, Forum Internacional de Dança, Belo Horizonte (BR) 
26.04.2012, Springdance Festival, Utrecht (NL) 
27.03.2012, Chassé Theater, Breda (NL) 
20.03.2012, Le Parvis Scène Nationale, Tarbes (FR) 
02.03.2012, Radialsystem, Berlin (DE) 
01.03.2012, Radialsystem, Berlin (DE) 
26.02.2012, Tanzplattform 2012 / Hellerau, Dresden (DE) 
25.02.2012, Tanzplattform 2012 / Hellerau, Dresden (DE) 
19.11.2011, Centre Pompidou, Paris (FR) 
18.11.2011, Centre Pompidou, Paris (FR)
17.11.2011, Centre Pompidou, Paris (FR)
16.11.2011, Centre Pompidou, Paris (FR)
26.10.2011, Rotterdamse Schouwburg, Rotterdam (NL)
22.10.2011, Centro Cultural Vila Flor, Guimaraes (PT)
15.10.2011, Tanzquartier Wien, Wien (AT)
14.10.2011, Tanzquartier Wien, Wien (AT)
01.10.2011, Kaaitheater, Brüssel (BE)
30.10.2011, Kaaitheater, Brüssel (BE)
29.09.2011, Kaaitheater, Brüssel (BE)
24.09.2011, Gessnerallee, Zürich (CH)
23.09.2011, Gessnerallee, Zürich (CH)
22.09.2011, Gessnerallee, Zürich (CH)
17.09.2011, Teatro Maria Matos, Lissabon (PT)
16.09.2011, Teatro Maria Matos, Lissabon (PT)
15.09.2011, Teatro Maria Matos, Lissabon (PT)
07.09.2011, La Bâtie - Festival de Genève, Genf (CH) 
06.09.2011, La Bâtie - Festival de Genève, Genf (CH) 
03.09.2011, Dampfzentrale, Bern (CH) 
02.09.2011, Dampfzentrale, Bern (CH) 
26.08.2011, Radialsystem / Tanz im August, Berlin (DE) 
25.08.2011, Radialsystem / Tanz im August, Berlin (DE) 
24.08.2011, Radialsystem / Tanz im August, Berlin (DE) 
25.07.2011, Festival d'Avignon, Avignon (FR)
24.07.2011, Festival d'Avignon, Avignon (FR)
22.07.2011, Festival d'Avignon, Avignon (FR)
21.07.2011, Festival d'Avignon, Avignon (FR)
20.07.2011, Festival d'Avignon, Avignon (FR)
19.07.2011, Festival d'Avignon, Avignon (FR)
08.07.2011, PACT Zollverein, Essen (DE)
07.07.2011, PACT Zollverein, Essen (DE)