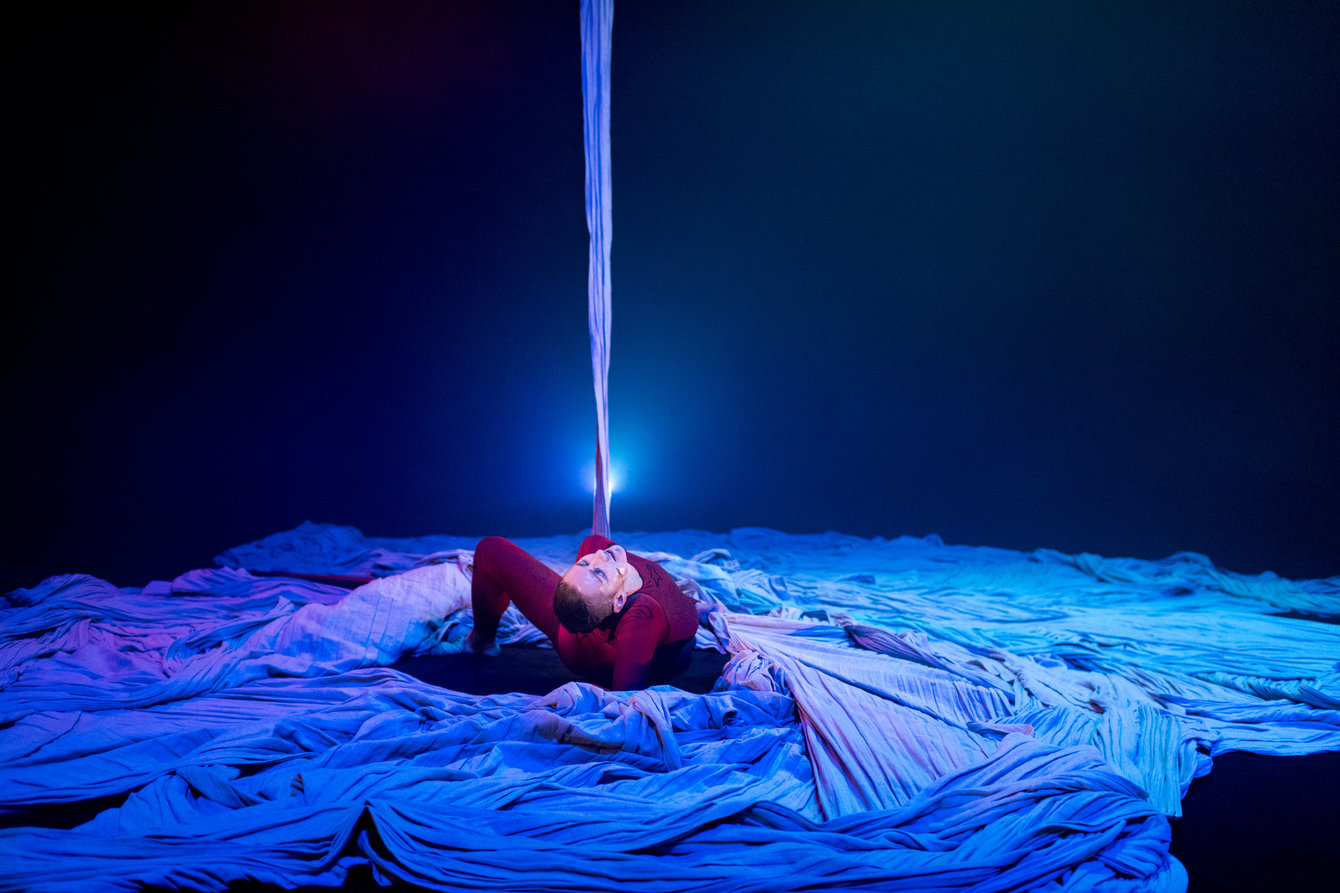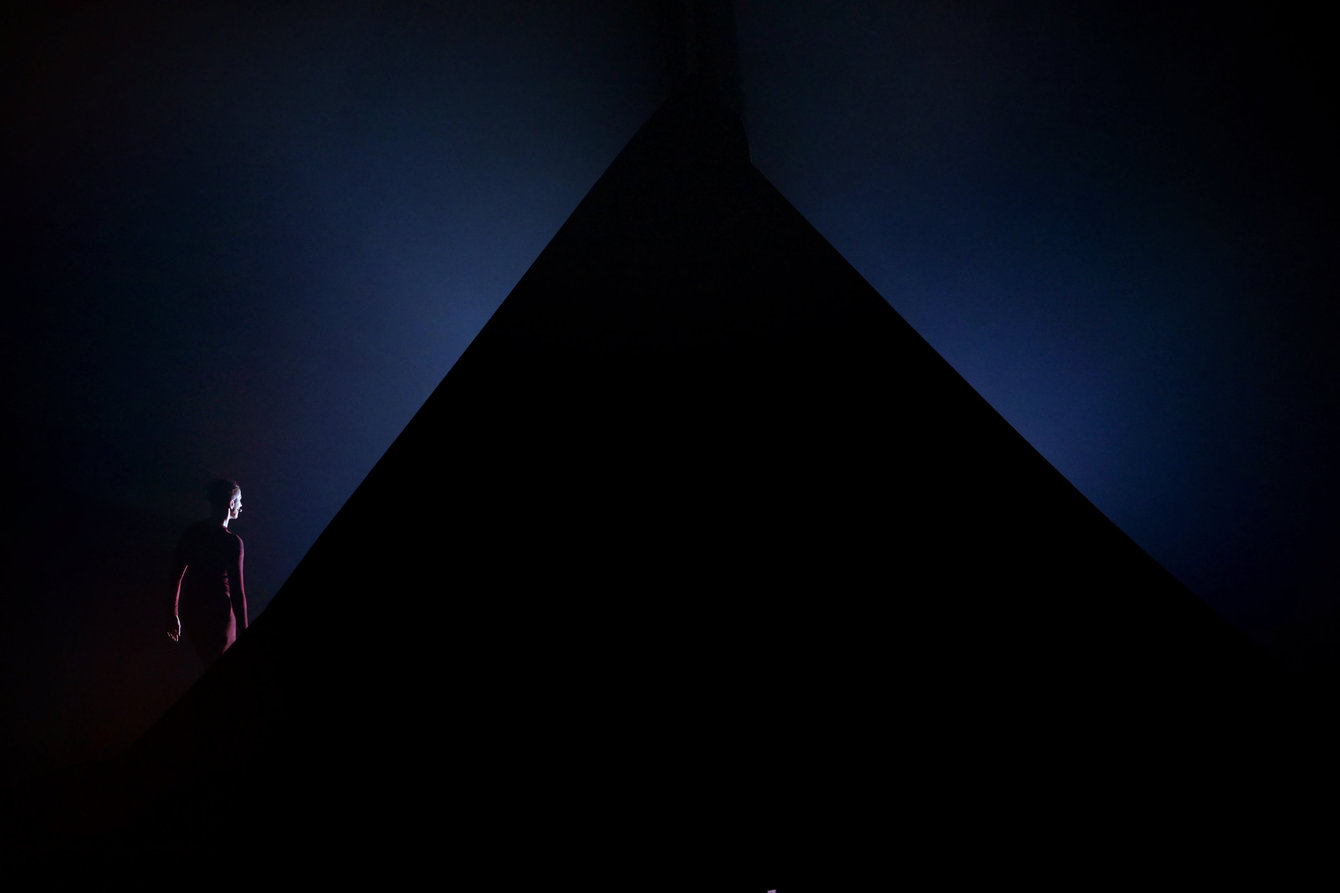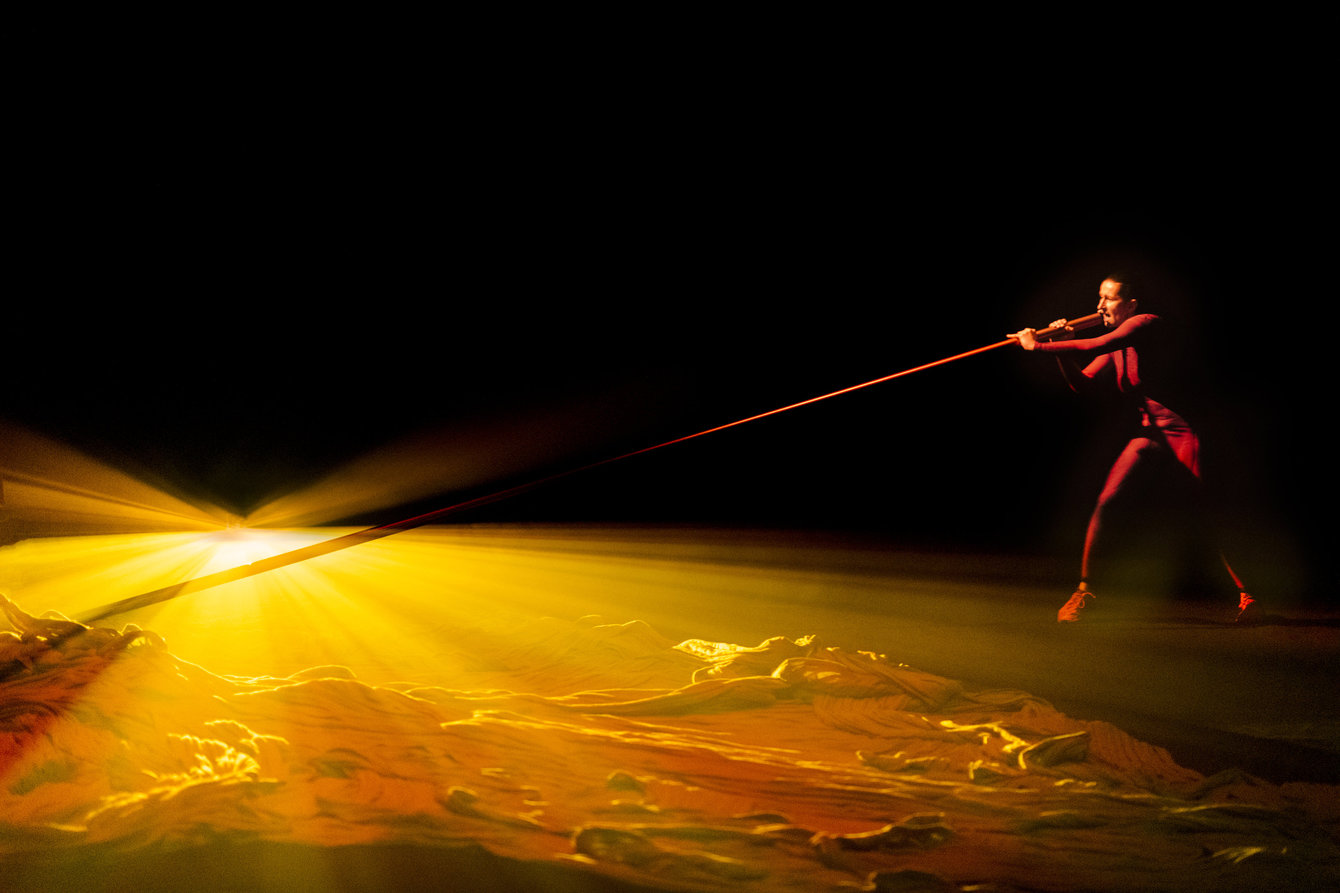 In the archaic-futuristic diptych ›On Earth I'm Done‹, the audience is transported to a place torn out of the conventional space-time continuum. The first part, the solo ›Mountains‹, premiered in May 2021.
As human beings, we are perpetually haunted by our own implication in the nature-culture bind. Our unease is addressed downwards and upwards at the same time: to the unearthing of the ground as well as to the shrinking of the limitless sky. In ›Mountains‹, Van Dinther tackles the question of how to be and stay in love with our ever-changing world. Through an expulsion of words, both familiar and foreign, the performer on stage acts as a conduit, lamenting on behalf of others. Their being unravels in the nexus between the physical, biological and anthropological – between gravitational forces, instinct and desire.
»›Mountains‹ is a tale of creation. The performance raises questions about what it means to be a human being, what it is to exist on and care for this planet. The performance delves into the intelligence of nature and the formation of culture. And looks at nature-culture's intricately interwoven existence,« says Jefta van Dinther.
Further Read: Q&A with Jefta van Dinther and Suelem de Oliveira da Silva
Please note: Due to an injury, Agnieszka Sjökvist Dlugoszewska will be performing instead of Freddy Houndekindo.
Choreography: Jefta van Dinther Performance: Agnieszka Sjökvist Dlugoszewska, Freddy Houndekindo & Marco da Silva Ferreira 
Performed at PACT Zollverein by: Agnieszka Sjökvist Dlugoszewska Created with: Suelem de Oliveira da Silva Sound design: David Kiers Set design: Numen/For Use Lighting design: Jonatan Winbo
Production: Cullberg Co-prodution: PACT Zollverein (Essen), Theater Freiburg (Freiburg) & Vitlycke – Centre for Performing Arts (Tanumshede) 
Touring
19.02.2022, PACT, Essen, Germany
18.02.2022, PACT, Essen, Germany
22.01.2022, Tanzquartier, Wien (AT)
21.01.2022, Tanzquartier, Wien (AT)
18.12.2021, HAU Hebbel am Ufer, Berlin (DE)
17.12.2021, HAU Hebbel am Ufer, Berlin (DE)
16.12.2021, HAU Hebbel am Ufer, Berlin (DE)
15.12.2021, HAU Hebbel am Ufer, Berlin (DE)
23.11.2021, Next Festival, Kortrijk (BE)
13.11.2021, Elverket, Dansens Hus, Stockholm (SE)
12.11.2021, Elverket, Dansens Hus, Stockholm (SE)
11.11.2021, Elverket, Dansens Hus, Stockholm (SE)
10.11.2021, Elverket, Dansens Hus, Stockholm (SE)
30.10.2021, Dansens Hus, Oslo (NO)
29.10.2021, Dansens Hus, Oslo (NO)
22.05.2021, Dansens Hus, Stockholm (SE)
21.05.2021, Dansens Hus, Stockholm (SE)
20.05.2021, Dansens Hus, Stockholm (SE)
05.05.2021, Norrlandsoperan, Umeå (SE) (postponed)
06.03.2021, HAU Hebbel am Ufer, Berlin (DE) (postponed)
05.03.2021, HAU Hebbel am Ufer, Berlin (DE) (postponed)
04.03.2021, HAU Hebbel am Ufer, Berlin (DE) (postponed)
20.02.2021, Tanzquartier, Wien (AT) (postponed)
06.02.2021, Dansens Hus, Stockholm (SE) (postponed)
05.02.2021, Dansens Hus, Stockholm (SE) (postponed)
04.02.2021, Dansens Hus, Stockholm (SE) (postponed)