Claire Vivianne Sobottke, Tian Rotteveel & Jared Gradinger
SOFTSCORES
As part of ›TRACKING TRACES‹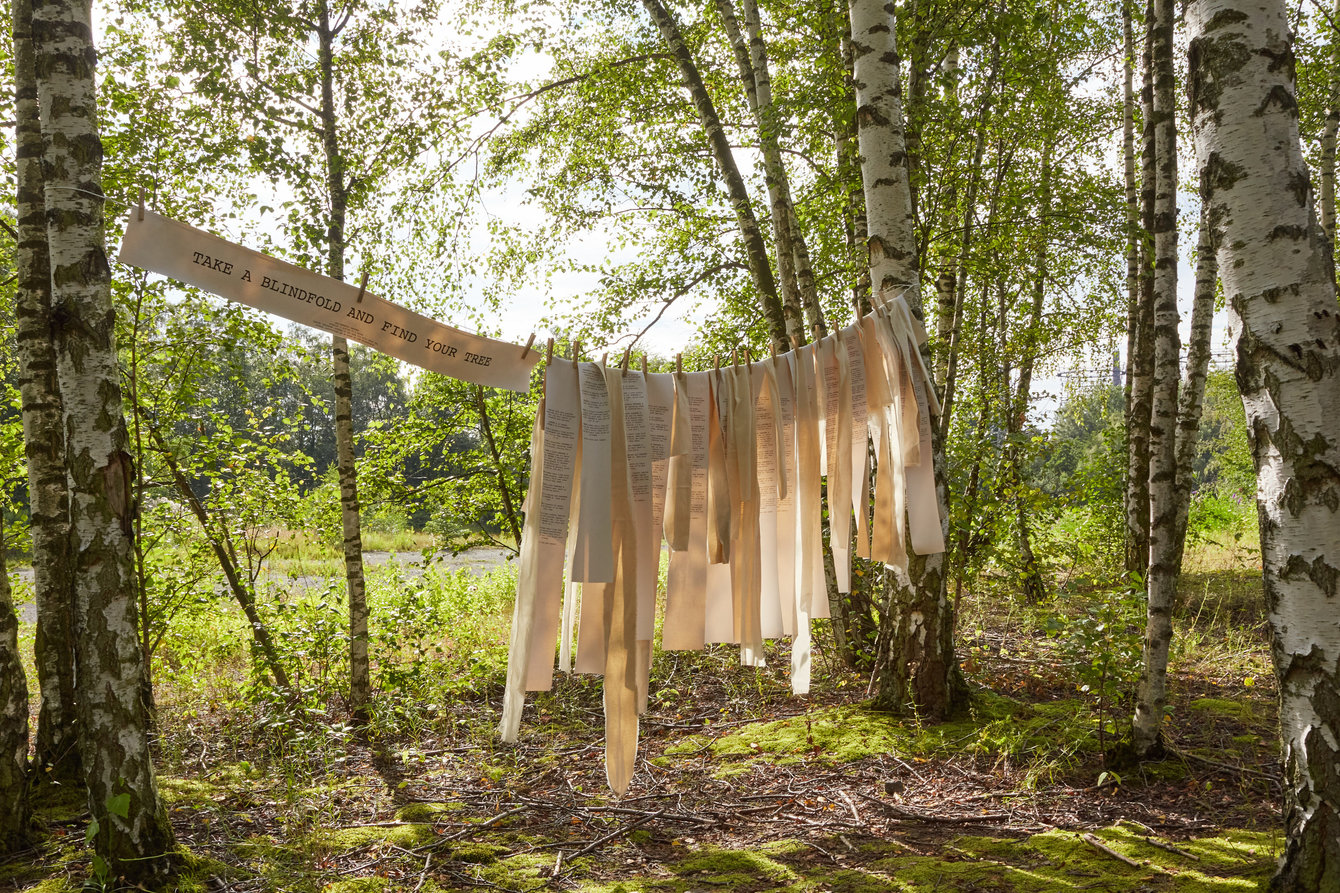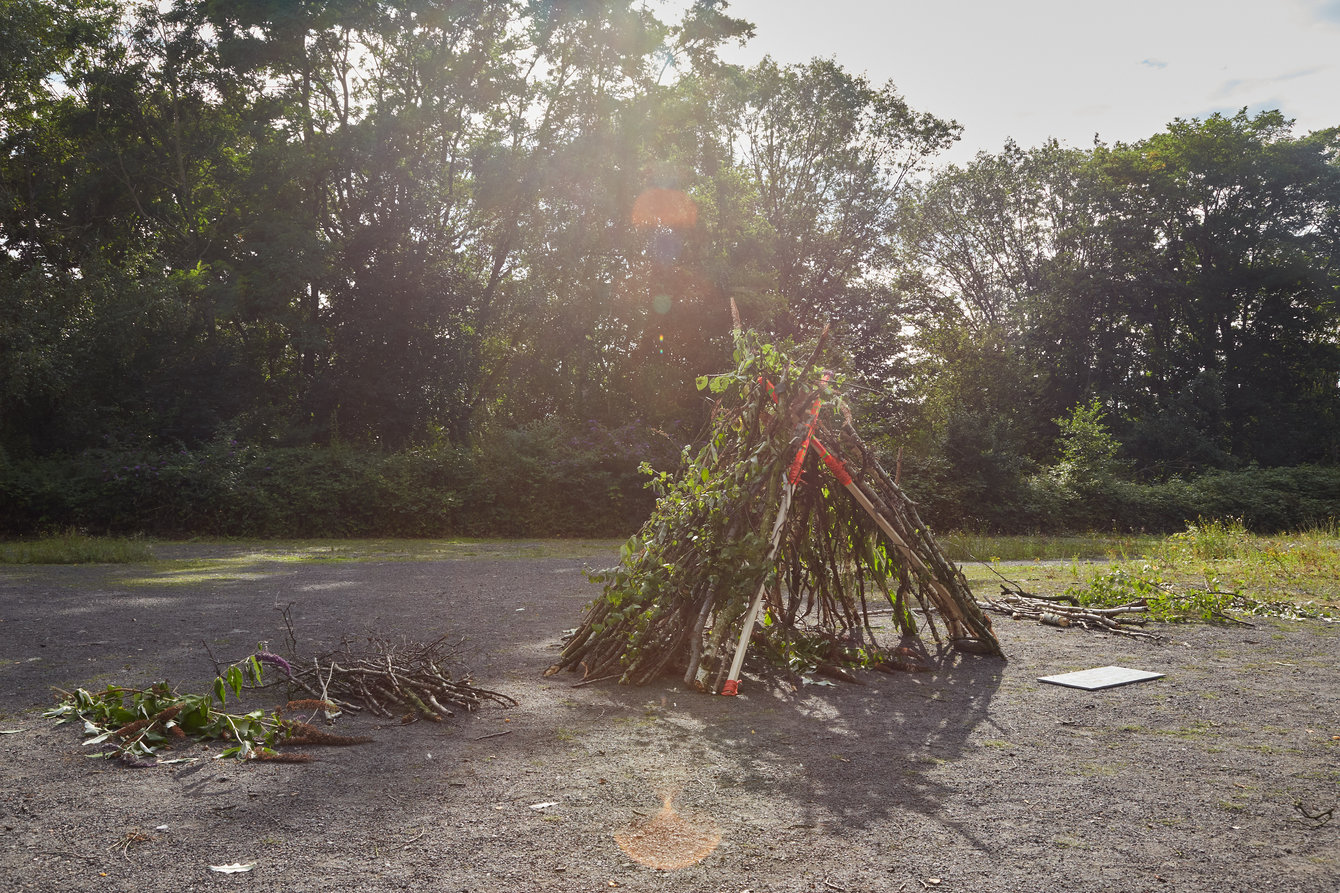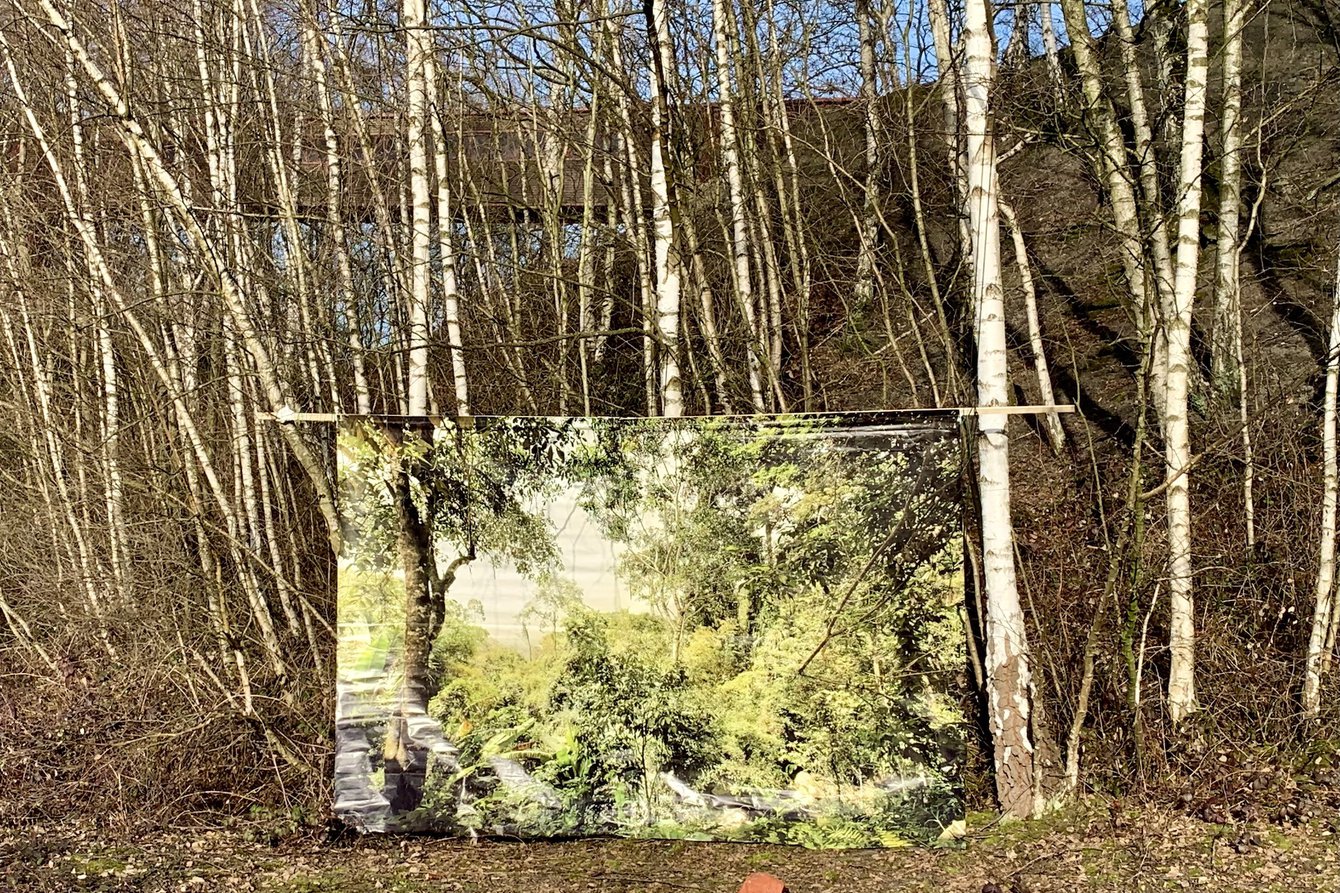 Free admission
The program will take place outside on the Zollverein colliery slagheap. This is located within walking distance from PACT. A map of the site will be available here shortly and on site at the weekend. The slag heap is not barrier-free accessible.
»For a while now, we are not gathering. We are not dancing together in a space, nor do we share listening to a concert, while the hand of a musician trembles. While the performing arts are homeless, the potential and necessity of artistic inquiry makes itself known. With these scores for the outside, we would like to offer something to do, something to feel, something to see, something to think, something to play or a mixture of them. We invite you to experience a soft spectacle without the presence of a performing artist or a theater stage. While walking in a landscape, you are invited to become part of different situations while accompanied by a series of scores.«
We developed the idea for the 'Soft Scores' during times of lockdown. It is essential for us to meet, to engage in conversation, entangle our thoughts with the mind of others, discuss, argue, be reminded to shift perspective, dance, touch and navigate intuitively to places we don't know yet how to name. How to keep on doing that when we can't gather? Soft Scores is an attempt to bring a group of artists together from a distance. Facilitate a gathering of their thoughts and practices and reformulate their scores and presence through mere material encounters along a pathway. We want to offer moments to be a body and enjoy the lilac that is growing so wildly now everywhere here at the Zollverein. How are and could you be part of nature?  How is and could nature be part of you? We have invited nine artists from different backgrounds and places to contribute a score to this pathway. 
As part of TRACKING TRACES – Live performances, sound installations and artistic messages from August 13 to 15.
Contributions by:
Tian Rotteveel: chair in darkness / score for fingers / score for noticing you came here / 
Tian Rotteveel is a composer and choreographer who has collaborated with established choreographers including Jeanine Durning, David Zambrano, Jeremy Wade, Tino Sehgal, Martin Nachbar, Hermann Heisig and Diego Gil. In his practice, he understands the body as the starting point of perception and the motor of expression from which composition is created. The body, as he describes it, is equally the instrument in itself.
Claire Vivianne Sobottke : Collaborative Shelter Practice / dear stranger it would be nice to talk / mirror/ seashore - hands / Please sing with me / score for slowing down 
Claire Vivianne Sobottke engages in the practice of dance, choreography and performance. She defines her work as place of resistance and undoing, where norms of thinking and seeing can be challenged or changed. Her choreographic works include 'strange songs' (2016) and 'Velvet' (2019). She has initiated and curated the feminist series 'Amazonas' (2017) and the durational event 'Songs for Love and Rage' (2018), in which discursive formats, performative practices, celebration and rituals allowed for a collective experience. Claire often works in collaborative processes with shared authorship and co - created 'WE BODIES' (2019) and FULL BODY FRONTAL (2020) She has collaborated with artists such as Meg Stuart/Damaged Goods, Tino Sehgal a.o. In her work she defines the body as a turbulent accumulation of concepts, histories, trauma, memories, projections, identities and magic. Dancing thus becomes a way of activating the knowledge of the body, of making its turbulence visible.
Jared Gradinger: Find your tree / Line - Score / Childhood garden 
Jared Gradinger is an interdisciplinary artist working in the fields of performance, dance, social art and ecology. Since moving to Berlin in 2002, he has been developing long-term collaborations and unique artistic practices, connecting community and Nature whilst exploring new forms of co-existence. He has been working with Angela Schubot since 2009 on the topic of debordering the body. He creates gardens that host human-nature encounters and encourage working with Nature as a partner. www.jaredgradinger.com
Carla Clemetine Pohl : artistic collaboration space and objects 
Carla Clementine Pohl *1979, Berlin, DDR is a costume and stage designer, light designer and Stylist. After graduating the diploma in architecture in 2008, Clementine did a swan dive into theatre. She worked at Centraltheater Leipzig from 2009 – 2011, where she collaborated with Johannes Schmit, Sebastian Hartmann, Institutet,Pernille Skaannsar, a .o Her works have been presented internationally, e.g. at Lofft Leipzig (DE), Schauspielhaus Graz (AUT), Sophiensäale Berlin(DE), Ballhaus Ost Berlin (DE), Südpol Luzern (CH), INKONST Malmö (SE), Teater Nordkraft Aalborg (DNK), TLH Sierre (SE), Martin Gropiusbau Berlin (DE) 2014 - 2019 Carla Clementine Pohl was working and researching within OBJECTIVE SPECTACLE which she founded withBerlin based artist Christoph Wirth.Since 2017 she works as stylist together with photographer Katja Strempel.
Katja Strempel: Graphic design and artistic collaboration on objects 
Katja Strempel ist Fotografin. 2018 gründete sie das Unternehmen Strempel's Photography Services, Fotografie im Auftrag der Kunst. Katja Strempel lebt und arbeitet in Berlin.
With further contributions by: 
Jeanine Durning: Approximately 13 possibilities for noticing  where you are when you can't make it to the mountain 
Jeanine Durning is a mover and maker who works mainly with choreographic situations among people, places, and things - using movement, speech, and perceptual trickery. She is from NY but currently works in Stockholm and is in the midst of creating a new work in London. For more unfinished info: www.jeaninedurning.com
Shannon Cooney: WHAT SEEMS LIKE ONE MAY BE MANY
Shannon Cooney: Canadian dancer, choreographer, dance educator, and Craniosacral practitioner based in Berlin. She has worked for over 20 years in the field of dance. She works as a creative facilitator for choreographers and the students. She has been creating and touring her work since 1992. In the last decade she has developed a teaching practice called Moveable Cinema which she teaches internationally
Beatrix Joyce: Untitled
Beatrix Joyce (UK/NL) is a dance artist and dance writer based in Berlin. She trained in Contemporary Dance at Laban, London and graduated with an MA in Sociology from Goldsmiths University in 2016. She works across the domains of dance, writing and installation and creates site-specific, intermedia and interactive performances. Beatrixjoyce.comInstagram: @ beatrixjoyce
Sigal Zouk: Light Shower
Tänzerin, Performerin und Vermittlerin im Bereich zeitgenössischer Tanz. Als Tänzerin arbeitete sie u.a. mit dem Ensemble der Batsheva Dance Company (1994-1996), mit Sasha Waltz (1999-2004), Meg Stuart (2005-2007 und heute) und Laurent Chétouane (2007-2015). Sigal unterrichtet an verschiedenen europäischen Tanzdepartements und Institutionen, und geht internationale Zusammenarbeiten mit bildenden Künstler*innen und Musiker*innen ein.
Litó Walkey: Three proposals and a booklet 
Litó Walkey is a Berlin-based artist whose work operates through writing and choreography. She performed and taught internationally with Chicago-based performance group Goat Island and held a long-standing teaching position at HZT Berlin. As PhD candidate in Performance Practices at Gothenburg University, her current research aims to create public spaces for critical thinking and experimentation unbound by single authorship, discipline or terminus. litowalkey.org
CA CONRAD: Three poems 
CA Conrad has been working with the ancient technologies of poetry and ritual since 1975.They are the author of Amanda Paradise (Wave Books, 2021). Other titles include The Book of Frank, While standing in line for Death and Ecodeviance. They received a Creative Capital grant, a Pew Fellowship, a Lambda Literary Award and a Believer Magazine Book Award. They teach at Columbia University in New York City and at Sandberg Art Institute in Amsterdam. 
Anna Muchin: SONG. / Dusk into Dawn 
Anna Muchinis a French-Greek artist and translator based in Brussels. A music composer, singer and performer, she works with photography, text, and sound to explore societal realities through everyday's 'little things'. Her artistic and academic background intertwine early classical piano and theory studies, years as national level rhythmic gymnast and a MA in Translation. As 'Scarlett O'Hanna', she has composed and produced records Cheap Bling Bling (2009), Impostor(2011) and Romance Floats (2014) and has toured in Europe, Usa and Japan. Her collaborations have included playing support for Wilco, Cocorosie, touring with She Keeps Bees, creating with Nate Kinsella (aka Birthmark), Peter Silberman (The Antlers), sound designing for dance, fashion or the cinema.
Márcio Kerber Canabarro:  TRACKING - Visual Cues for Hope 
Márcio Kerber Canabarro is a dancer with a Communication BA ( UNIJUI -BR) and a Performing Major (SEAD-AT) who loves poetry. With Aleks Borys he created the intervention TRACKING: Visual Cues for Hope and the installation COSMIC DEBRIS. With DEEPER F collective (HU) and Bela Associacao (PT9 he launched the digital publication CARE WHERE? Zine and Care - Activism, Art and Electronic Music gatherings, focus on how we build and transform our large community through the chain of our immediate affections and our ability to care. Márcio also works with Hodworks, Peter Pleyer and Meg Stuart. 
Season Butler: A plant will tell you who she is and what she wants, if you know how to ask
Season Butler is a London-based writer, performance artist and teacher, and an associate producer of the I'm With You art collective. Her performance practice explores notions of authorship, authority and normative economies of the gaze, the opportunities and traps of hindsight and hope and what it means to look forward to an increasingly wily future. Her recent work has appeared in the Baltic Centre for Contemporary Art, Latvian National Museum of Art, Barbican Centre and Tate Exchange. Her literary agent is Emma Paterson at Aitken Alexander. Her debut novel, Cygnet, is published by Dialogue Books in the UK and Harper Collins in the US. She recently completed a PhD in Creative Writing at Goldsmiths College, University of London. 
We would like to thank Marialena Marouda, Pieter Ampe, Alexander Nieuwenhuis 
A project by: Claire Vivianne Sobottke, Tian Rotteveel Artistic collaboration: Jared Gradinger With ›Softscores‹ by Anna Muchin, Beatrix Joyce, Lito Walkey, Sigal Zouk, Jeanine Durning, Jared Gradinger, Tian Rottevel, Shannon Cooney, Claire Vivianne Sobottke, Jeanine Durning and others
Supported within the framework of the Alliance of International Production Houses by the Federal Government Commissioner for Culture and the Media.