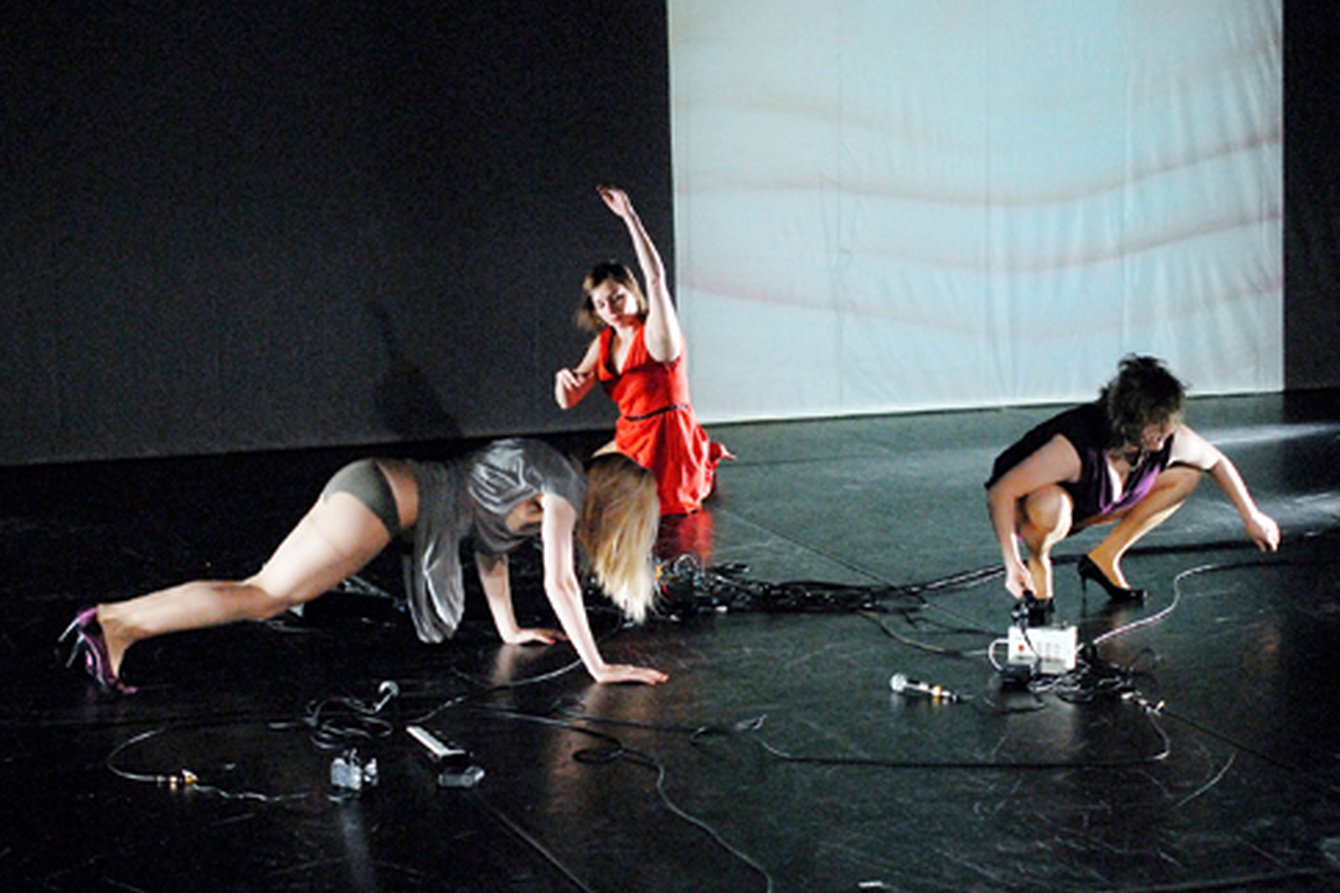 ›Because I'm so beautiful!‹ Moving in a field of tension somewhere between self-selling and self-concealing, three performers present themselves as objects; try out being shaped and misshapened. ›Cheeeese!‹, poses questions about self-portrayal and self-manipulation which are also everyday handcrafts in the world of theatre. By trying to alter their self-images, the performers influence the audience's sense of beauty. The ›beauty‹ system and its chain reactions of self-judgment and adapting to fit the mould, need to be broken: ›Cheeeese!‹ achieves this in unconventional, captivating and also disturbing aesthetic scenes.

After the interval: DJ-Set with Sylvie Kretzschmar
DJ Sylvi Kretzschmar (alias SKILLS) is unpredictable and genre-defying. She plays a wild mix of old favorites in a simple but inspired order. Without fades, without filters. Punk, House, Krautrock, Sixties; unknown experimental Electronica follow have-been dance floor hits. Sylvi Kretzschmar can also be seen during tanz nrw 11 at PACT Zollverein as a performer and musician in Gudrun Lange's production ›Cheeeese!‹
Gudrun Lange received her education in Rotterdam and New York and studied for two years with Jennifer Muller. She has worked as freelance choreographer since 2003 in association with venues including the Forum Freies Theater in Dusseldorf. Alongside her work with professional artists, she regularly develops pieces with young adults as well as solo performances. In 2009, she was chosen to take part in the residency programme at the K3 – Zentrum für Choreographie/ Tanzplan Hamburg at Kampnagel and also received a scholarship from the Kunststiftung NRW which enabled her to undertake research in Israel and Lebanon.

»Once again Gudrun Lange investigates the phenomena of popular culture and once again she does it with an innate understanding of sensuality coupled with a sense of humour. ... ›Cheeeese!‹ turns out to be a remarkable work, exciting, somewhat mysterious and, in a certain sense, punky.«



Thomas Hag, NRZ



Production, concept, performance: Gudrun Lange

Music, performance: Sylvi Kretzschmar

Dramaturgy, performance: Charlotte Pfeifer

Choreographic assistance: Judit Abegg

Organisation: Nicki Krisch, Nadja Lindner

Light: Tim Lenzing

Duration: 55 Minuten

www.gudrunlange.com



Production: Gudrun Lange

Co-production: Forum Freies Theater Düsseldorf, Ringlokschuppen Mülheim

Funded by: Kunststiftung NRW, Ministry for Families, Children, Youth, Culture and Sports of the State of North Rhine-Westphalia, Kulturamt der Landeshauptstadt Düsseldorf, NRW Landesbüro Freie Kultur, Stiftung van Meeteren

Supported by: Kampnagel Hamburg

Photo: © Oliver Paul