German Premiere, Performance in English
Performance

Performance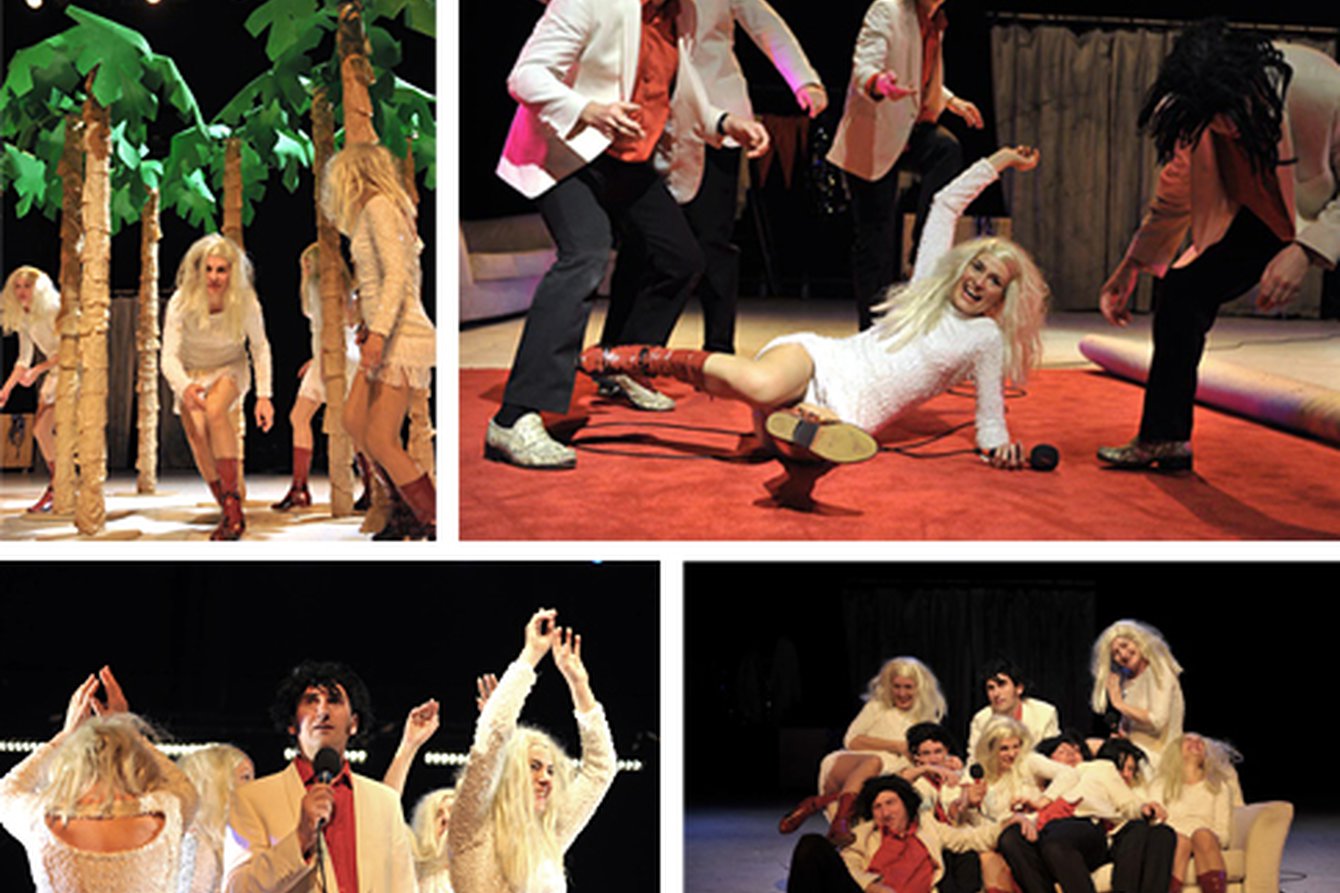 With a new creation for 2010, the German premiere of which is being shown at PACT Zollverein, Forced Entertainment is returning to the big stage with a big entourage: the nine performers find themselves in a territory of unintermitted, effusive dances, distorted voices, and discontinuous songs. Under glaring spotlights, distraughtly dancing girls and worn-out actors volunteer sentimental platitudes accompanied by light piano music. They tell absurd parables and field questions that remain unanswered. In ›The Thrill of It All‹, the world-renowned British experimental theatre company explores anew the medium of theatre, delving into its expressive possibilities in the narrowly circumscribed world in which we live, breathe, and tell stories. After the German Premiere on Wednesday 19th of May there will be an after show talk with Forced Entertainment!
World Premiere: 07.05.10 Kunstenfestivaldesarts (Brussels)
Concept and production: Forced Entertainment
Performed by: Thomas Conway, Amit Hadari, Phil Hayes, Jerry Killick, Richard Lowdon, Claire Marshall, Cathy Naden, Terry O'Connor, John Rowley
Directed by: Tim Etchells
Stage design: Richard Lowdon
Light design: Nigel Edwards
Music and sound: John Avery Production management: Ray Rennie
Co-production (as of: November 2009): Kunstenfestivaldesarts (Brussels), Hebbel am Ufer (Berlin), PACT Zollverein (Essen), Les Spectacles vivants – Centre Pompidou in cooperation with the Festival d'Automne (Paris).
Forced Entertainment is supported by the Arts Council England and the Sheffield City Council.
Touring
28.01.2012, Théâtre Garonne, Toulouse (FR)
27.01.2012, Théâtre Garonne, Toulouse (FR)
09.10.2011, Krakow Theatrical Reminiscences Festival, Laznia Nowa Theatre, Krakau (PL)
09.06.2011,  FACYL, Teatro Liceo, Salamanca (ES)
08.06.2011,  FACYL, Teatro Liceo, Salamanca (ES)
08.05.2011, Opera Națională Română din Timișoara, Timișoara (RO)
07.05.2011, Opera Națională Română din Timișoara, Timișoara (RO)
23.04.2011, Exodus Festival, Linhart Theatre, Ljubljana (SL)
09.04.2011, Künstlerhaus Mousonturm, Frankfurt a. M. (DE)
08.04.2011, Künstlerhaus Mousonturm, Frankfurt a. M. (DE)
07.04.2011, Künstlerhaus Mousonturm, Frankfurt a. M. (DE)
12.03.2011, Theaterhaus Gessnerallee, Zürich (CH)
11.03.2011, Theaterhaus Gessnerallee, Zürich (CH)
10.03.2011, Theaterhaus Gessnerallee, Zürich (CH)
03.12.2010, Tanzquartier, Wien (AT)
02.12.2010, Tanzquartier, Wien (AT)
26.11.2010, Rotterdamse Schouwburg, Rotterdam (NL)
20.11.2010, Contact Theatre, Manchester (GB)
19.11.2010, Contact Theatre, Manchester (GB)
18.11.2010, Contact Theatre, Manchester (GB)
17.11.2010, Contact Theatre, Manchester (GB)
16.11.2010, Contact Theatre, Manchester (GB)
06.11.2010, Riverside Studios, London (GB)
05.11.2010, Riverside Studios, London (GB)
04.11.2010, Riverside Studios, London (GB)
03.11.2010, Riverside Studios, London (GB)
02.11.2010, Riverside Studios, London (GB)
01.11.2010, Riverside Studios, London (GB)
31.10.2010, Riverside Studios, London (GB)
30.10.2010, Riverside Studios, London (GB)
29.10.2010, Riverside Studios, London (GB)
28.10.2010, Riverside Studios, London (GB)
27.10.2010, Riverside Studios, London (GB)
26.10.2010, Riverside Studios, London (GB)
20.10.2010, Warwick Arts Centre, Coventry (GB)
19.10.2010, Warwick Arts Centre, Coventry (GB)
16.10.2010, Sheffield Theatres, Sheffield (GB)
15.10.2010, Sheffield Theatres, Sheffield (GB)
13.10.2010, Nuffield Theatre, Lancaster (GB)
12.10.2010, Nuffield Theatre, Lancaster (GB)
09.10.2010, Festival d'Automne, Paris (FR)
08.10.2010, Festival d'Automne, Paris (FR)
07.10.2010, Festival d'Automne, Paris (FR)
06.10.2010, Festival d'Automne, Paris (FR)
25.05.2010, HAU Hebbel am Ufer, Berlin (DE)
24.05.2010, HAU Hebbel am Ufer, Berlin (DE)
23.05.2010, HAU Hebbel am Ufer, Berlin (DE)
22.05.2010, HAU Hebbel am Ufer, Berlin (DE)
21.05.2010, PACT Zollverein, Essen (DE)
20.05.2010, PACT Zollverein, Essen (DE)
19.05.2010, PACT Zollverein, Essen (DE)
10.05.2010, Kunstenfestivaldesarts, Brüssel (BE)
09.05.2010, Kunstenfestivaldesarts, Brüssel (BE)
08.05.2010, Kunstenfestivaldesarts, Brüssel (BE)
07.05.2010, Kunstenfestivaldesarts, Brüssel (BE)