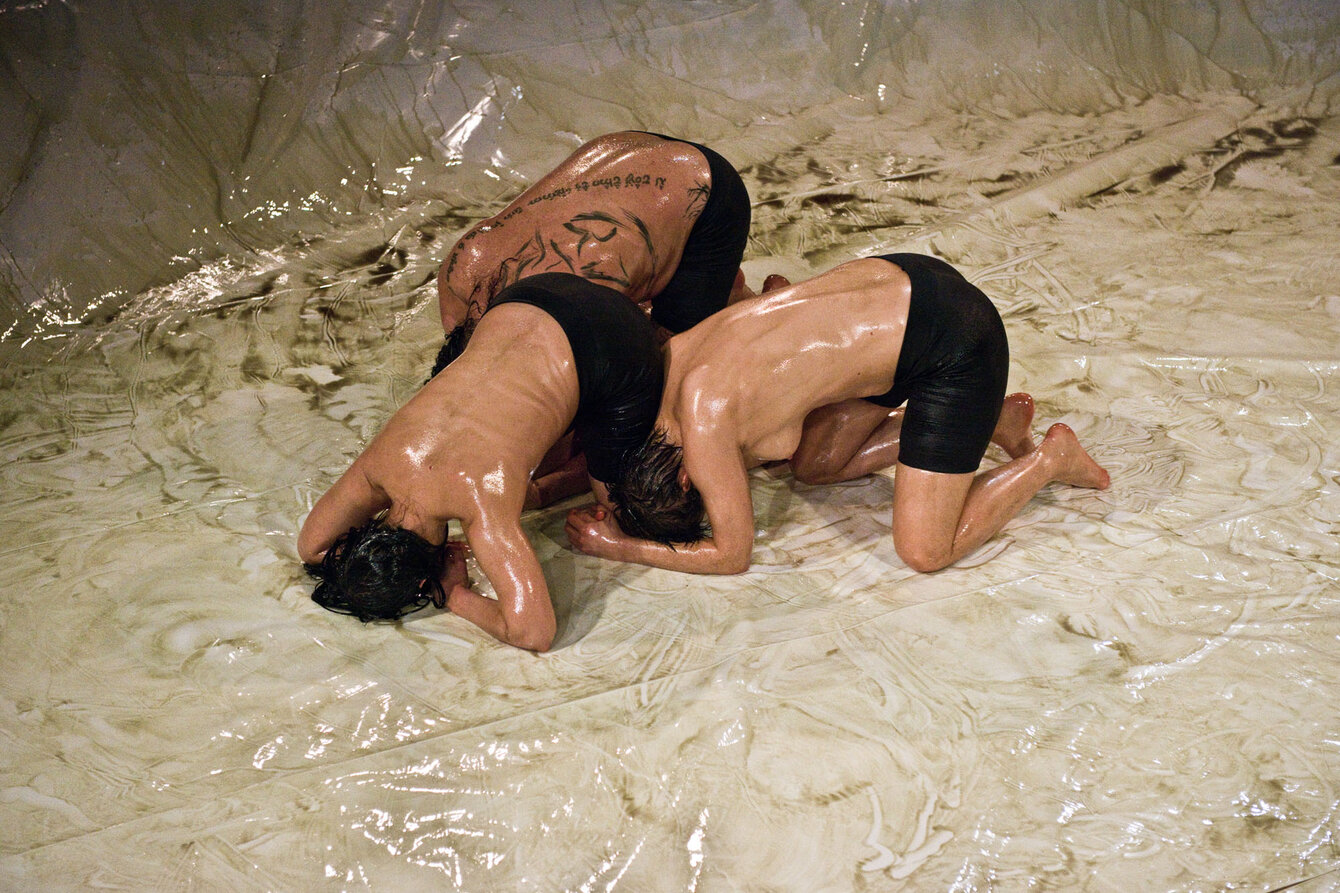 Live audio description in English. 
Tour tour available. Please register. 
With beanbags in the front rows.
Post-show-talk with the artists on June 2. 
TICKETS
Let's think back to the beginning, before the age of man: dirty, alighted on solid ground and at the same time longingly looking back to our origins in water. Freshly hatched, slippery, sun tickled skin. What happens when we think back to that beginning, when we search for a glimpse of the preciousness of life in those »lower« layers of our experience that have long since been sealed beneath the concrete of civilization?
Drawing on personal experiences connected to his physical disability, Michael Turinsky sketches a utopia of the human that opposes the upright, civilised, straightforward, aseptic, clearly demarcated, endlessly productive and – precisely because of this – endlessly destructive body with one that is close to the ground, cyclical, pulsating, metabolic, permeable and impure.
In ›SOILED‹ this very body is asserted as a profoundly human one. A body that fully savors its organic nature, a body that immerses itself in the memory of a deep connection with the earth and that draws strength from this connection.
During the performance there will be a live audio description in English creating an imaginative space that is accessible to blind and visually impaired people.
Touch tour: 
A tactile tour will be offered to blind and visually impaired audiences 60 minutes before the start of each performance. Visitors can feel the stage set and get in touch with the performers. The tactile tour can take place in German or English and lasts a maximum of 30 minutes. If you are interested, please contact us at service@pact-zollverein.de.
Artist talk:
After the performance on June 2, there will be a talk with Michael Turinsky and the participating artists. Please join!
Please note: 
The first part of the performance (about 25 minutes) takes place in the dark and quietly. Later, spherical sounds and beat-heavy music will be used in individual scenes. The performers will be upper body free. Over time, there will be a strong smell of pumpkin seed oil.
Choreographic direction: Michael Turinsky Performance & choreography: David Bloom, Sophia Neises, Liv Schellander Music: Tian Rotteveel Audio description: Monique Smith-McDowell Stage & Costumes: Jenny Schleif Light & Technical direction: Benjamin Maier Photo: Michael Loizenbauer Dramaturgical advice: Gabrielle Cram Creative collaboration: Tanja Erhart Production management: Anna Gräsel
Production: Michael Turinsky. Verein für philosophische Praxis Co-production: Kampnagel (Hamburg), Tanzquartier Wien, HAU Hebbel am Ufer (Berlin), PACT Zollverein (Essen), Künstler*innenhaus Mousonturm (Frankfurt) and Hessisches Staatsballet (as part of Tanzplattform Rhein-Main) Supported by: the City of Vienna Thanks to: the Gervasi Dance Company