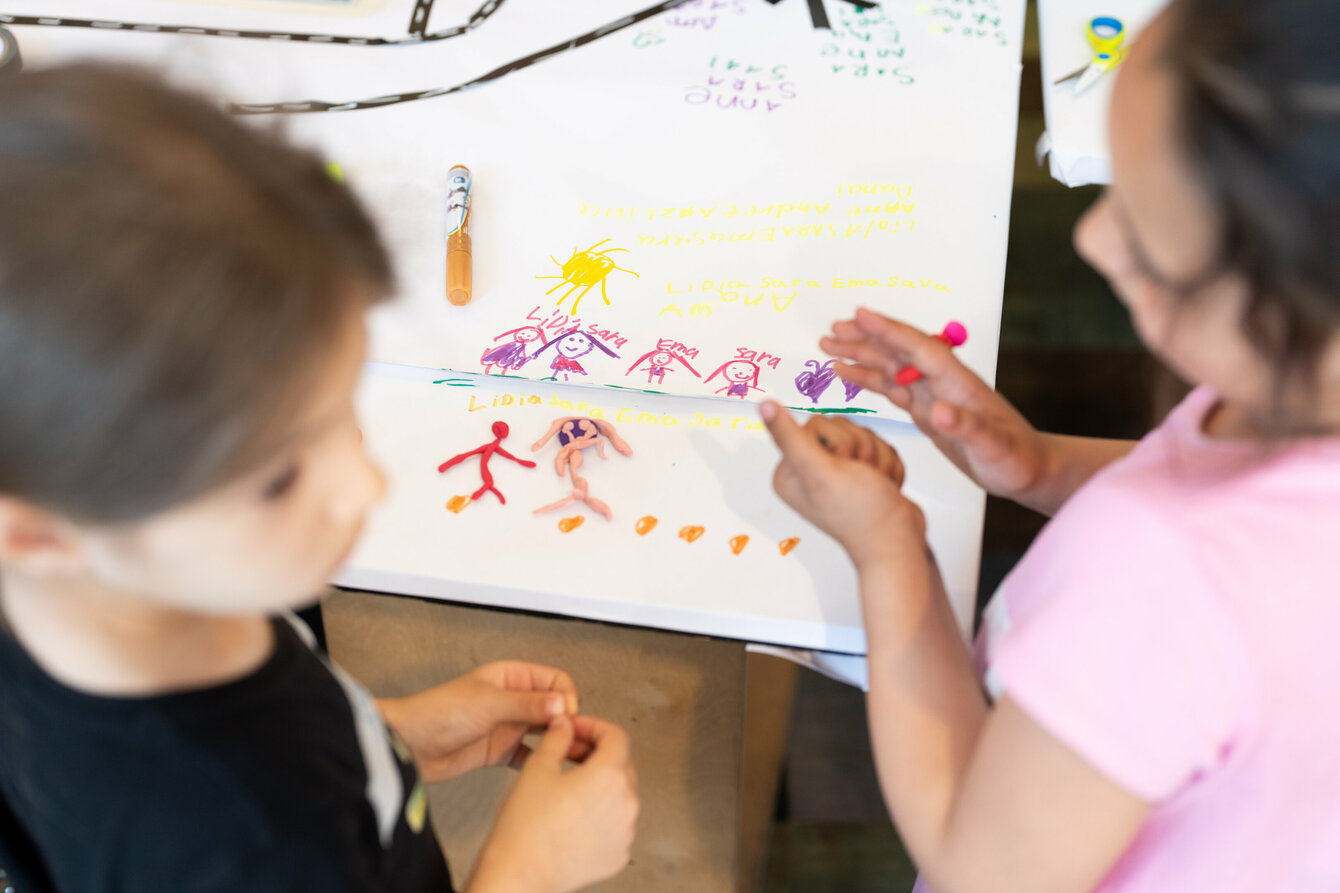 Every Friday, the ›Open WerkStadt for Kids‹ invites young people from the neighborhood to get involved in fun and creative activities together. Over the course of the year, we have many different exciting topics and cool activities on offer. Each month has its own theme, and at the end of the year we revisit everything we have experienced and learned together. The afternoons are led by our workshop leader Andrea who speaks Romanian, German, English, Italian & Spanish. There are no requirements for joining in the open WerkStadt. Everyone is welcome. At each session, paper and crayons are provided for everyone to draw or write down their thoughts. The ground rules for inclusive, respectful interaction are always decided jointly by all those taking part.
Topics:
April (07., 14. & 21.04.)
Podcast making The children make a podcast together on topics that are important to them. They answer questions like »What do I love? What am I afraid of? What do I want? Or what do I know for sure? « For the recordings, technology is used in a simple and creative way to have fun and try things out.
May (05., 12. & 19.05)
Knight's castle, fire engine & Co. At Let's Play we'll be building for all we're worth in May. With Lego bricks and other games, we'll be letting our imaginations soar as little master builders.
June (09., 16., 23. & 30.06.)
Exploring the neighbourhood Summer days are ideal for getting out and about to talk to people who work in the neighbourhood. What are their everyday lives like? And what is it like to work in a pharmacy or at the bakery?
July – Summer break
August (04., 11., 18. & 25.08.)
Let your music play The WerkStadt turns into a stage in August so that we can play and sing our favourite songs & hits throughout the month.
September (01., 08., 15., 22. & 29.09.)
Arts & Crafts In September, things get creative. Every Friday we'll be crafting something fun that we can take home with us: Pompom curtains, paper mosaics, origami and co.
28.04. & 26.05. Kids cinema special showings at the WerkStadt.
Free admission, please register via werkstadt@pact-zollverein.de.