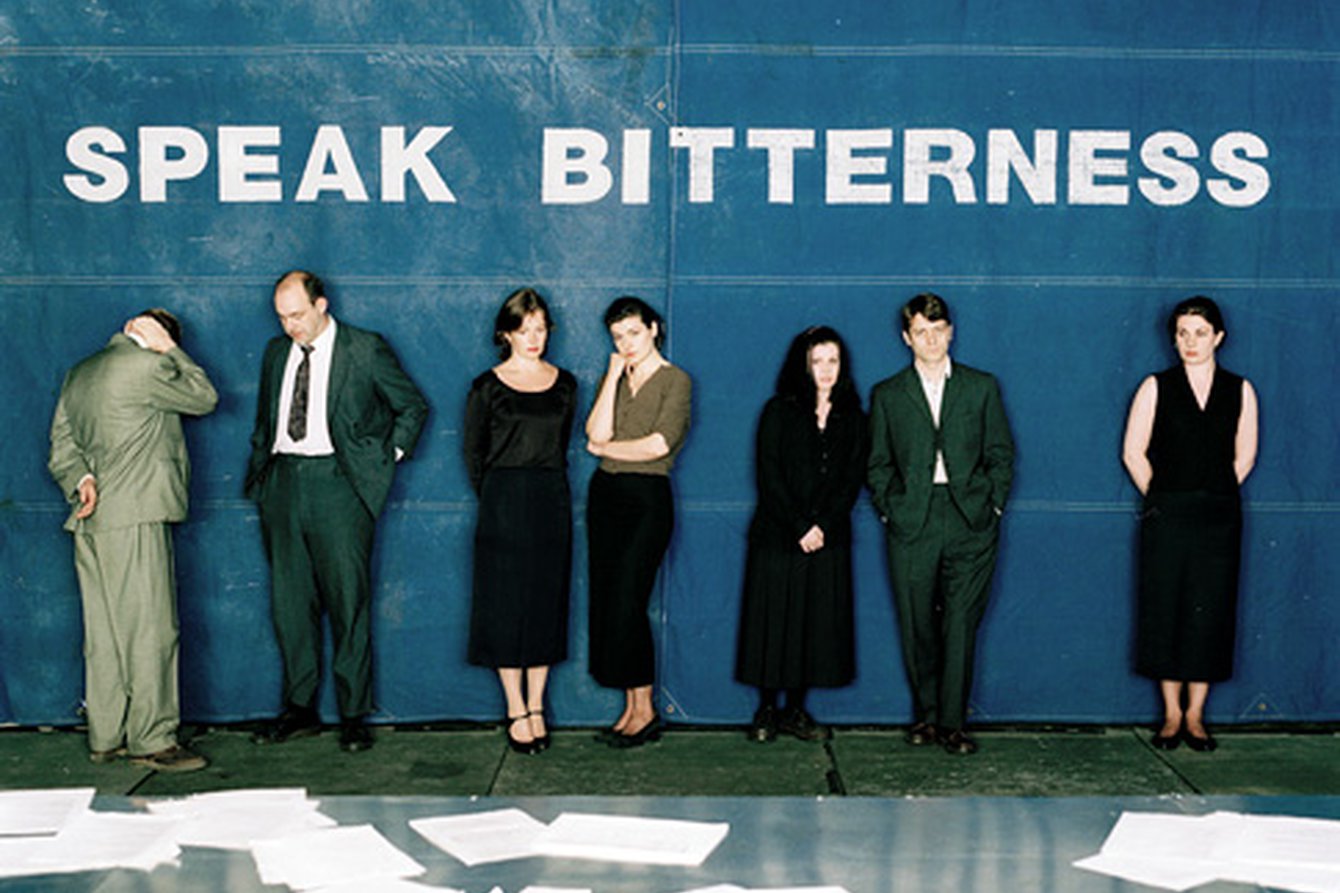 Forced Entertainment opens the JETLAG series with a six-hour version of ›Speak Bitterness‹. In this piece, the world-famous experimental theatrecompany takes on the task of confessing to simply everything: ranging from the smallest failures and neglects of the everyday to the greatest horrors of history, genocide and crimes against humanity. While the audience is free to come and go as they please, the performers are trapped in the space with their confessions. By turns reluctant and cowed, determined or even jovial, they admit to a long and diverse list of transgressions. This year marks Forced Entertainment's 25th anniversary and for JETLAG all six of the company's founding members, including artistic director Tim Etchells, will perform in this rare revival of ›Speak Bitterness‹ which originally premiered in 1994.

SATURDAY 28.02. 18.00 – 24.00 h, STUDIO 2
FILTHY WORDS & PHRASES

Video Installation in English


Entrance free
A lone woman stands at a blackboard in a deserted school hall. The list of words she writes on it is a catalogue of slang obscenity, sex acts, body parts and bodily functions: from love gun and hand job to clit, knob and lickety split.
Shot in one continuous seven-hour take using three cameras and a live vision mix, ›Filthy Words & Phrases‹ watches the performer on a journey through fascination, boredom, mild hysteria and near exhaustion in her task. The camerawork and vision mixing are also subject to the decays and mistakes inherent in the long duration of the work, creating a sense of ›real time‹ unfolding.
A wry and comical sex film without action, ›Filthy Words & Phrases‹ shows the hard work of language. Written in chalk on blackboard, the 'normally' unsayable, unwriteable and illegitimate is here framed as part of some exhaustive vocabulary-lesson-gone-wrong. The list runs from the silly, the archaic and the simply offensive to the hopelessly euphemistic and the incomprehensible. The text shows language at the very edges of its ability (and desire) to find names for bodies, substances and actions.
By: Hugo Glendinning / Tim Etchells and Forced Entertainment (1998)
›Speak Bitterness‹ was originally developed as a commission for the National Review Of Live Art (October 1994) in Glasgow.
Conceived and devised by the company

Performers: Tim Etchells, Cathy Naden, Robin Arthur, Claire Marshall, Richard Lowdon, Terry O'Connor


Text: Tim Etchells and the company


Direction: Tim Etchells


Design: Richard Lowdon


Soundtrack: John Avery


Lighting Design: Nigel Edwards
Forced Entertainment is regularly funded by Arts Council England and Sheffield City Council.
›Speak Bitterness‹ is presented at PACT Zollverein in the context of JETLAG, a series from Siemens Arts Program and PACT Zollverein
www.forcedentertainment.com
Photo: Hugo Glendinning