Kötter/Israel/Limberg
Gold & Coal / Water & Coltan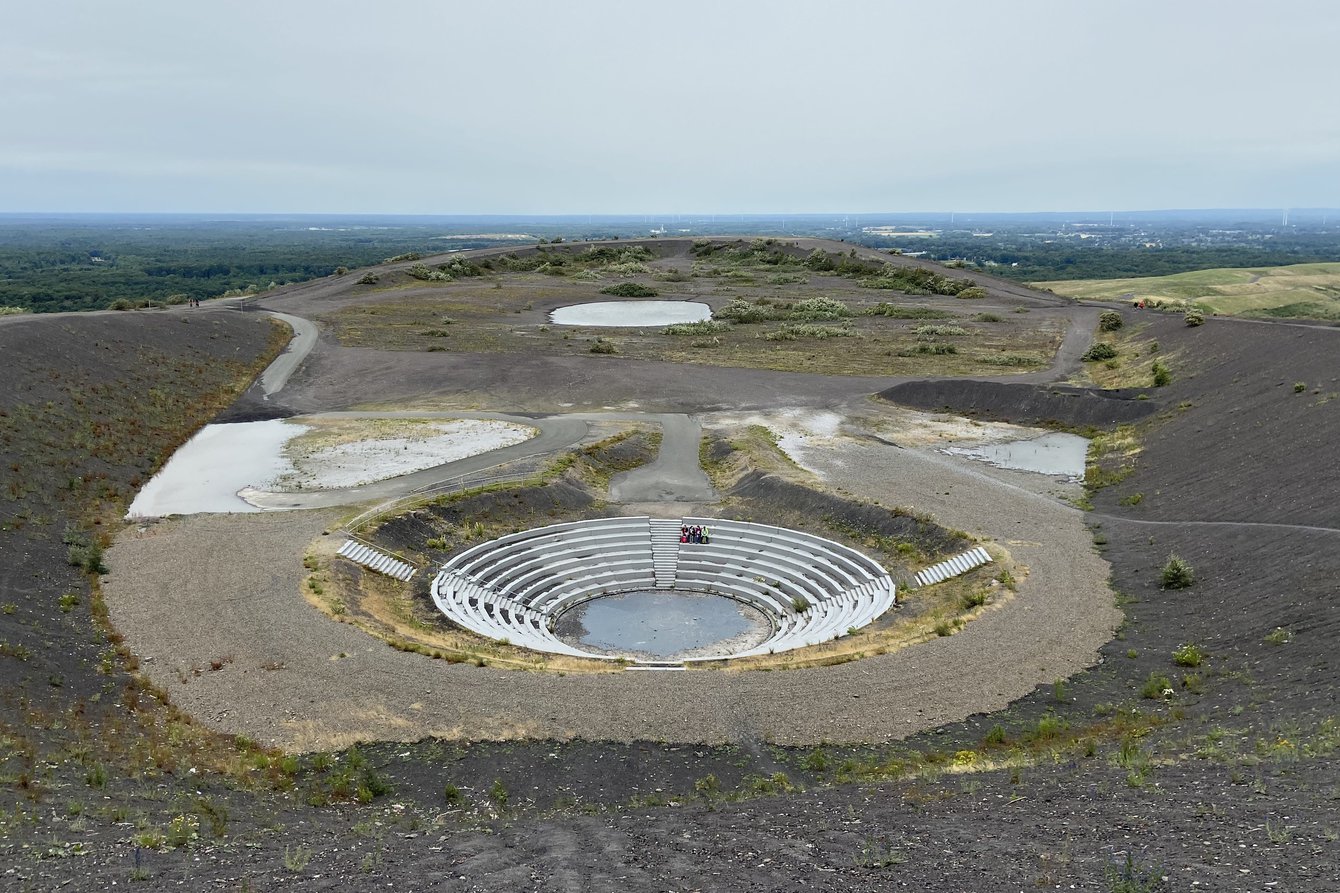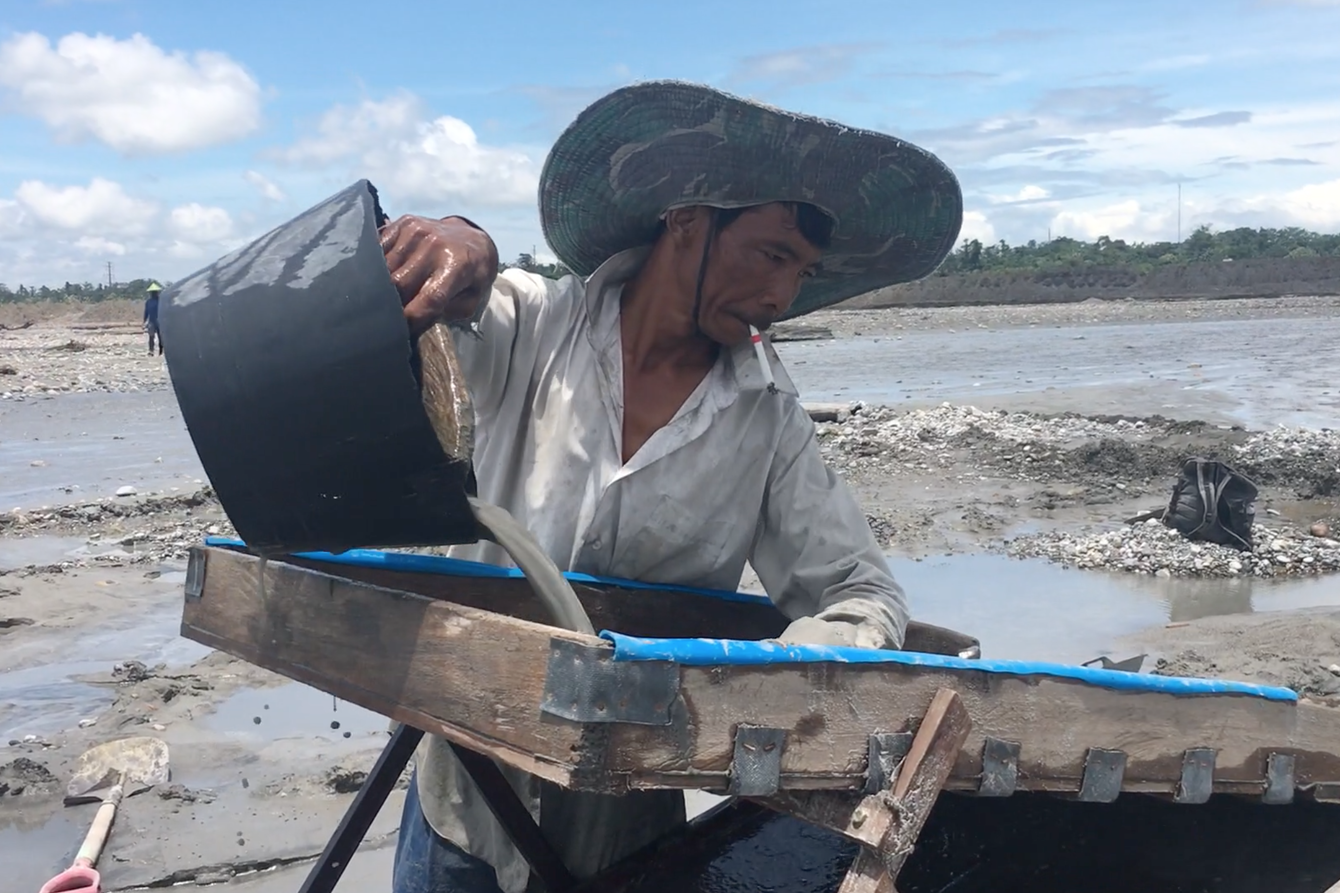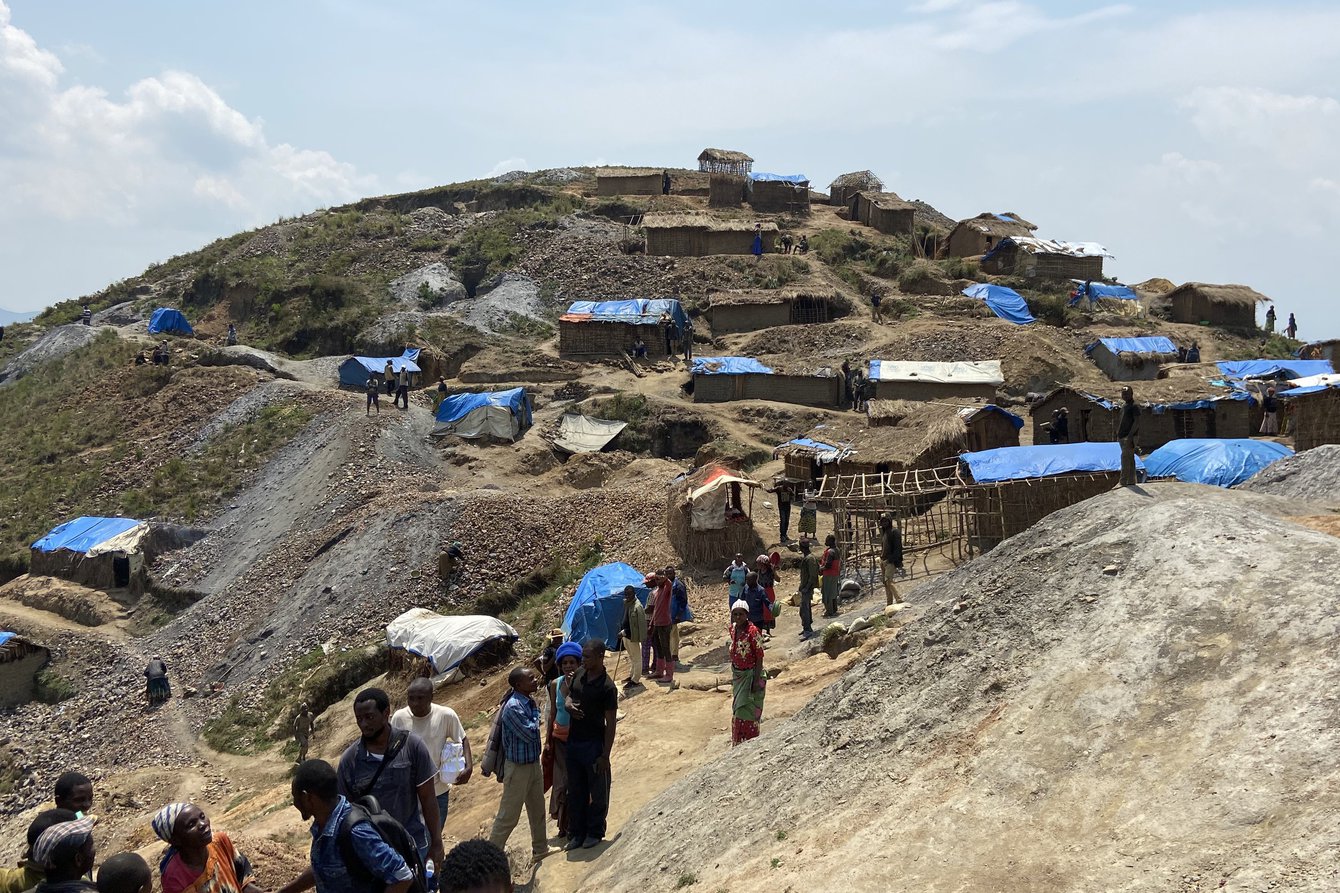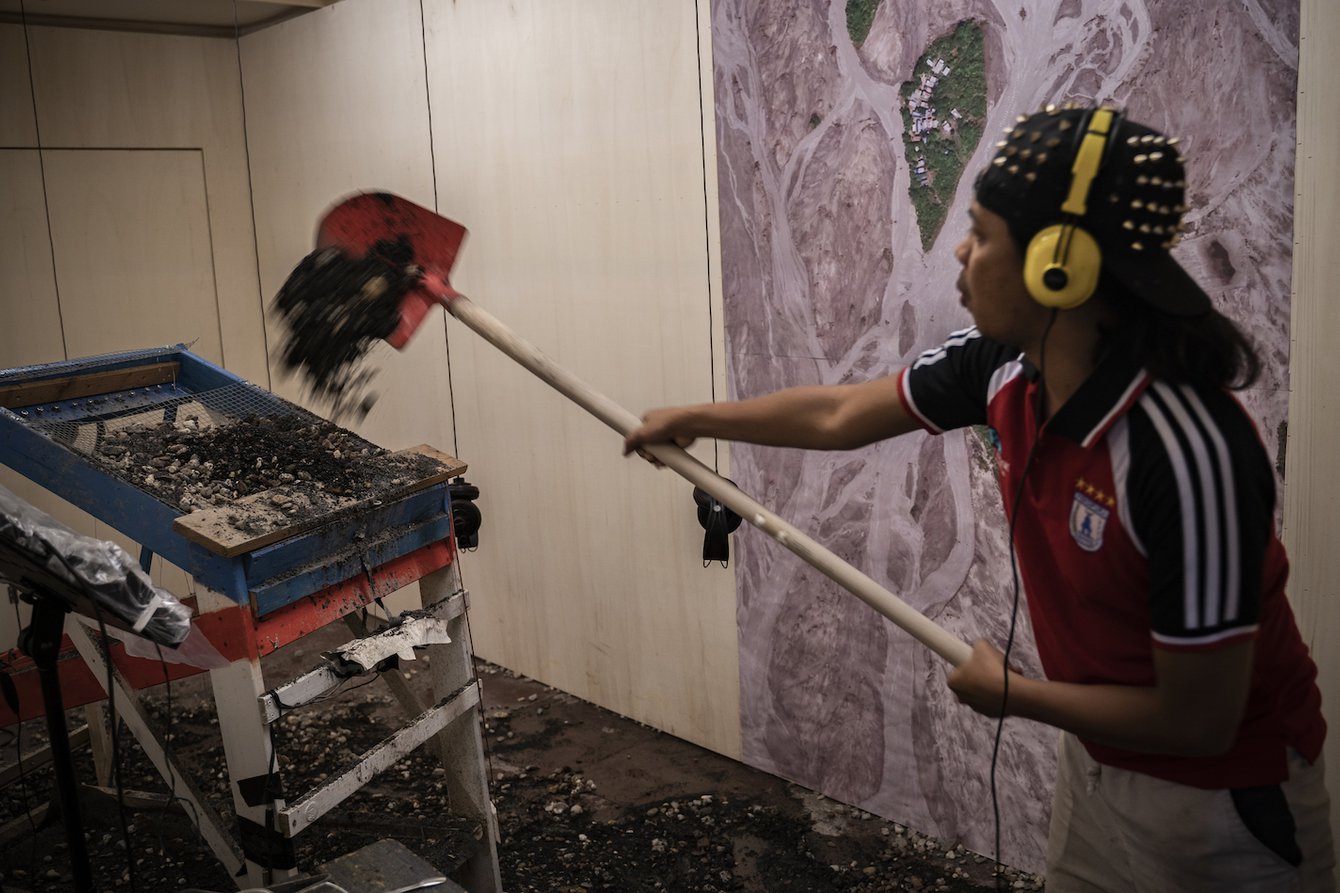 GOLD & COAL
Thurs 5.5. 19.00-20.50
Fri 6.5. 19.00-20.50*
Sat 7.5. 12.00-13.50
Time slot booking - starting every 10 minutes
Duration: 1h45
 
WATER & COLTAN
Sat 7.5. 19.00-20.50
Sun 8.5. 12.00-13.50
Sun 8.5. 19.00-20.50
Time slot booking - starting every 10 minutes
Duration: 1h45
In German & English
Please note the 3G rule and wear a face mask during your visit.
TICKETS
Corona safety rules
The series ›landscapes and bodies‹ by the artist collective Kötter/Israel/Limberg is a five-part immersive parcours through a sequence of inside spaces dedicated to the political, social and ecological consequences of mining and open-cast mining. The project explores local and global influences on landscapes and forms of coexistence and essentially addresses how mining irreversibly alters not only the landscape, but also the daily lives and living environments of local communities.
The chapter ›GOLD‹ looks at the overexploitation of the copper and gold mines of West Papua; ›COAL‹ in turn focuses on the re-naturalised Neuseenland (new lake land) of Leipzig. ›WATER‹ is an investigation of the continuous consequences of the extraction of raw materials in the Ruhr area and ›COLTAN‹ deals with the exploitative political and social structures of small-scale mining in eastern Congo. The four case studies draw parallels between distant places that have been seriously altered by resource extraction.
*PACT is part of the ›Auf die Plätze! Endlich! Los!‹(›On your marks! Get set! Go!‹) theatre relay race initiated by Performing for Future - Network for Sustainability in the Performing Arts. From the 1. May onwards, numerous theatres, festivals and cultural practitioners from all over Germany are setting out together on the path towards a sustainable future. In a relay race through the Federal Republic of Germany, theatres will host a variety of creative actions calling for more sustainability. On the 6. May, the baton passes to PACT where Daniel Kötter will hold a talk at 6 pm before the start of ›GOLD & COAL‹.
With: Yasmine Mugoli Bisimwa, Olande Emerance Byamungu, Hermann Heisig, Agustina Helena Kobogau, Darlane Litaay, Ikbal Lubys, Christian Chokola Muhigwa, Makisig Akin, Anna Zett Film: Daniel Kötter Set: Elisa Limberg Dramaturgy: Sarah Israel, Anna Ptak Sound design: Marcin Lenarczyk Sound design and technical direction: Martin Recker and Paul Hauptmeier Production assistance, artistic assistance: Melanie Albrecht, Dima Andami Djoehara Location manager: Yonri Revolt Translator for Bahasa Indonesia in Leipzig: Maria Joanita Godjali Management Indonesia: Ethnictro Production: ehrliche arbeit – freies Kulturbüro with Elena Liesenfeld
›GOLD & COAL‹ and ›WATER & COLTAN‹ is a Production by Kötter/Israel/Limberg created in Co-production with Residenz Schauspiel Leipzig, PACT Zollverein Essen and KunstFestSpiele Herrenhausen. Funded by the Doppelpass Fund of the German Federal Cultural Foundation and by the Kunststiftung NRW. Supported by the International Co-production Fund of the Goethe-Institut, the Goethe-Institut Kinshasa and the Goethe-Institut Jakarta. 
Touring
›Gold & Coal‹
24.06.2022, (360° Filmscreening), PACT Zollverein, Essen (DE)
23.06.2022, (360° Filmscreening), PACT Zollverein, Essen (DE)
07.05.2022, PACT Zollverein, Essen (DE)
06.05.2022, PACT Zollverein, Essen (DE)
05.05.2022, PACT Zollverein, Essen (DE)
08.11.2020, PACT Zollverein, Essen (DE) (cancelled)
07.11.2020, PACT Zollverein, Essen (DE) (cancelled)
06.11.2020, PACT Zollverein, Essen (DE) (cancelled)
01.11.2020, Festspielhaus Hellerau, Dresden (DE)
31.10.2020, Festspielhaus Hellerau, Dresden (DE)
30.10.2020, Festspielhaus Hellerau, Dresden (DE)
06.12.2019, Residenz Schauspiel, Leipzig, (DE)
05.12.2019, Residenz Schauspiel, Leipzig, (DE)
04.12.2019, Residenz Schauspiel, Leipzig, (DE)
24.11.2019, Residenz Schauspiel, Leipzig, (DE)
23.11.2019, Residenz Schauspiel, Leipzig, (DE)
22.11.2019, Residenz Schauspiel, Leipzig, (DE)
›Water & Coltan‹
26.06.2022, (360° Filmscreening), PACT Zollverein, Essen (DE)
25.06.2022, (360° Filmscreening), PACT Zollverein, Essen (DE)
09.05.2022, PACT Zollverein, Essen (DE)
08.05.2022, PACT Zollverein, Essen (DE)
07.05.2022, PACT Zollverein, Essen (DE)
26.09.2021, Residenz Schauspiel, Leipzig (DE)
25.09.2021, Residenz Schauspiel, Leipzig (DE)
24.09.2021, Residenz Schauspiel, Leipzig (DE)
23.09.2021, Residenz Schauspiel, Leipzig (DE)
22.09.2021, Residenz Schauspiel, Leipzig (DE)
21.09.2021, Residenz Schauspiel, Leipzig (DE)
12.09.2021, Biennale, Warschau (PL)
11.09.2021, Biennale, Warschau (PL)
05.09.2021, Kunstfest, Weimar (DE)
04.09.2021, Kunstfest, Weimar (DE)
06.06.2021, PACT Zollverein, Essen (DE) (cancelled)
05.06.2021, PACT Zollverein, Essen (DE) (cancelled)
06.06.2021, KunstFestspiele Herrenhausen, Hannover (DE) (cancelled)
05.06.2021, KunstFestspiele Herrenhausen, Hannover (DE) (cancelled)
04.06.2021, KunstFestspiele Herrenhausen, Hannover (DE) (cancelled)
03.06.2021, KunstFestspiele Herrenhausen, Hannover (DE) (cancelled)
21.03.2021, Residenz Schauspiel, Leipzig (DE) (postponed)
20.03.2021, Residenz Schauspiel, Leipzig (DE) (postponed)
19.03.2021, Residenz Schauspiel, Leipzig (DE) (postponed)
18.03.2021, Residenz Schauspiel, Leipzig (DE) (postponed)
17.03.2021, Residenz Schauspiel, Leipzig (DE) (postponed)
16.03.2021, Residenz Schauspiel, Leipzig (DE) (postponed)
21.02.2021, PACT Zollverein, Essen (DE) (postponed)
20.02.2021, PACT Zollverein, Essen (DE) (postponed)
19.02.2021, PACT Zollverein, Essen (DE) (postponed)