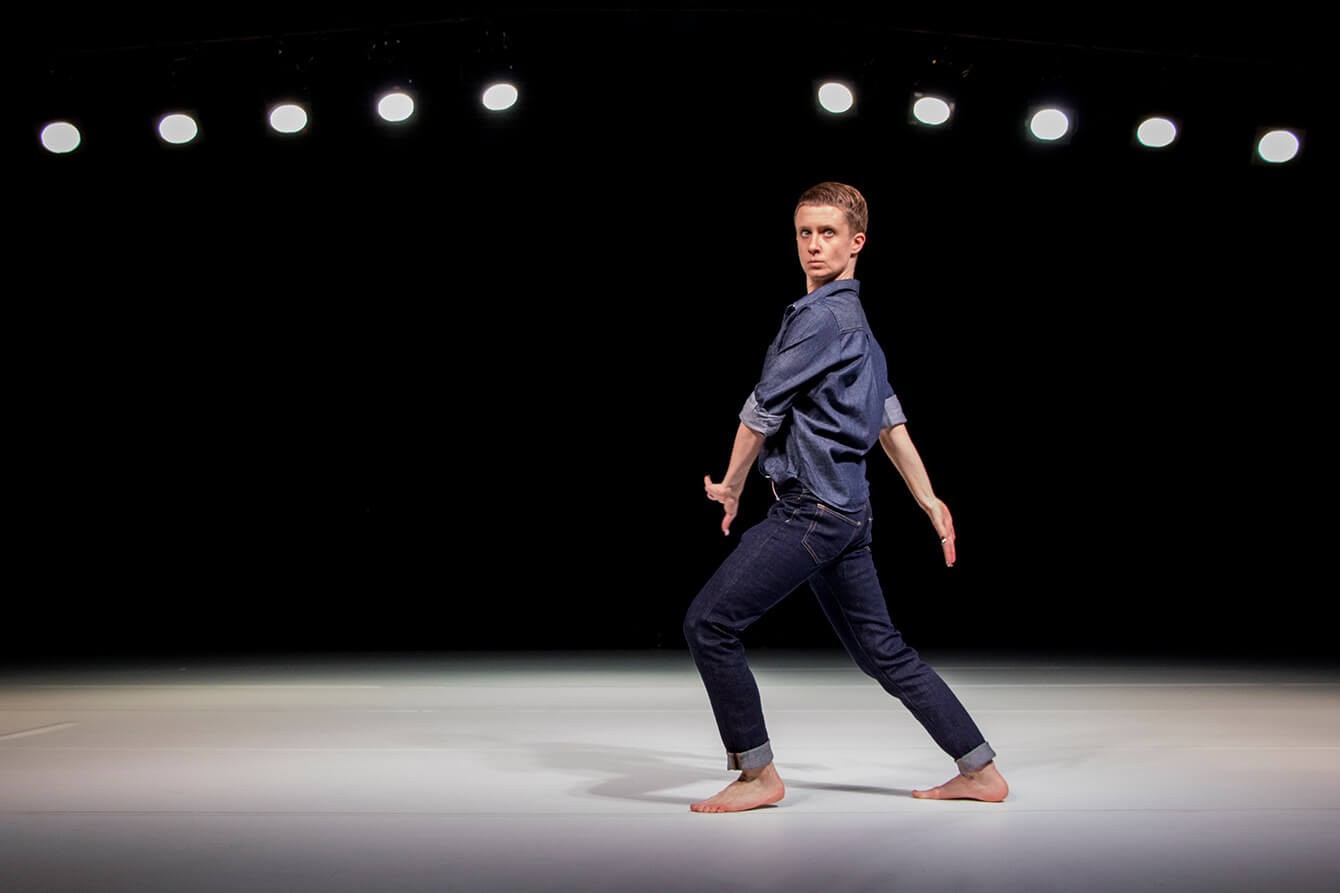 Adv. sales: 12€ / red. 7 €
Box office: 15 € / red. 9 €
incl. VRR-Ticket
In English
Tickets 17.02. 20h
How can a choreographer's legacy be preserved? In ›ECCE (H)OMO‹, Paula Pi transports ›Afectos Humanos‹, the dance cycle produced by the German choreographer and dancer Dore Hoyer (1911–67), into the present in the form of a reconstruction and reinterpretation. Although Dore Hoyer danced for Mary Wigman, among others, and left behind an extensive body of her own work, she has remained virtually unknown in the world of German dance since her suicide in 1967.
Produced between 1959 and 1962, ›Afectos Humanos‹ is composed of five short solos representing five emotions: vanity, desire, hatred, fear and love. Paula Pi recreates the piece for ›ECCE (H)OMO‹ in collaboration with choreographer Martin Nachbar, and translates Hoyer's gestures into a style of her own. The result is an intensive investigation into what it means when movements are expressed by different bodies, a choreographic language is reinterpreted and history is rearticulated in the present.  
Choreography, dance performance: Paula Pi Assistant, scenographer: Pauline Brun Dramaturgy, costume design: Pauline Le Boulba Lighting: Florian Leduc Dance transmission: Martin Nachbar Administration, production management: Bureau Produire, Claire Guièze, Cédric Andrieux Production: NO DRAMA Co-production: ICI - CCN de Montpellier/Languedoc-Roussillon Midi-Pyrénées within the framework of ›Life Long Burning‹, Centre national de la danse (Montpellier), PACT Zollverein (Essen), Honolulu (Nantes), CCN de Nantes, Théâtre de Poche de Hédé-Bazouges within the framework of ›Extension Sauvage‹ Support: Fonds Transfabrik – Franco-German fund for the performing arts Funding: DRAC Île-de-France – Ministère de la Culture
Based on an original choreography by Dore Hoyer with music by Dimitri Wiatowitsch. The rights to Dore Hoyer's archives are held by the German Dance Archive Cologne.
Touring
02.11.2018, Theater Center, Sevilla (ES)
01.11.2018, Theater Center, Sevilla (ES)
24.05.2018, Centre national de la danse CN D, Paris (FR)
23.05.2018, Centre national de la danse CN D, Paris (FR)
22.05.2018, Centre national de la danse CN D, Paris (FR)
27.04.2018, Charleroi Danse, La Raffinerie, Brüssel (BE)
17.02.2018, PACT Zollverein, Essen (DE)
25.11.2017, Théâtre National de Bretagne tnb, Rennes Cedex (FR)
24.11.2017, Théâtre National de Bretagne tnb, Rennes Cedex (FR)
23.11.2017, Théâtre National de Bretagne tnb, Rennes Cedex (FR)
21.03.2017, Centre national de la danse CND, Paris (FR)
24.05.2016, Honolulu Nantes, Nantes (FR)
08.04.2016, Palais de Tokyo, Paris (FR)
20.03.2016, Musée Unterlinden, Colmar (FR)
04.03.2016, Centre national de la danse CN D, Paris (FR)
06.11.2015, Centre national de la danse CN D, Paris (FR)