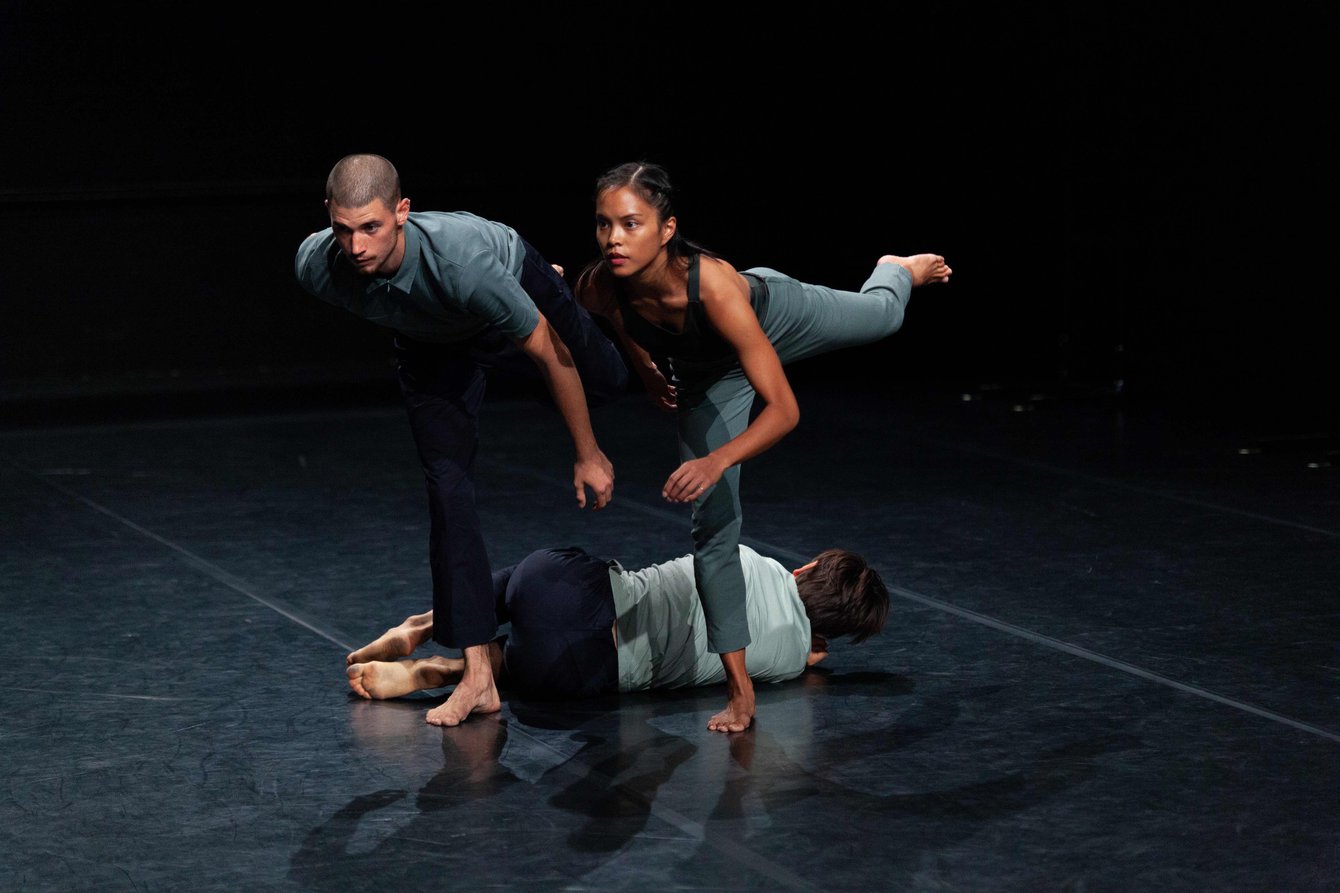 Adv. sales: 12 € / red. 7 €
Box office: 15 € / red. 9 €
incl. VRR-Ticket
The show on Nov. 1 is part of the NOW! Festival für Neue Musik.
Currently no reservations possible
»It has been a long time waiting since there was something so marvellous, foreign, new, strange and special to discover in contemporary dance.« Wiebke Hüster, FAZ
How can one gesture inform another, how can an incomplete movement evoke complex bodily experiences or stimulate our physical memory?
In his previous works ›Removing‹ (2015) and ›Faits et gestes‹ (2016), which both premiered at PACT, choreographer Noé Soulier explored different ways in which gestures relate to other movements, can refer to something beyond themselves, or even suggest bodily experiences.
In ›The Waves‹, the P.A.R.T.S. graduate who also holds a masters in philosophy, pursues and expands this exploration by visiting the intersections between precise set movement phrases, simple rules of interactions and pure improvisation within a structure where neither dance nor music is based on its counterpart. Strikingly laced with sudden changes of direction, shifts of focus, attempts to divert momentum or maintain balance, the resulting composition is a fascinatingly complex experience that seems to draw its power from the very incompleteness of its elements and invites viewers to tap into their own physical and psychological memories.
›The Waves‹, is created by six dancers and two musicians from the Brussel based Ictus Ensemble which has participated in various productions by Anne Teresa De Keersmaeker since the 1990s, toured internationally and performed at renowned festivals including the Donaueschinger Musiktage, the Wittener Tage für Neue Kammermusik and the Ruhrtriennale.
Choreography: Noé Soulier Performance: Stephanie Amurao, Lucas Bassereau, Meleat Fredriksson, Yumiko Funaya, Anna Massoni, Nans Pierson Music: Noé Soulier, Tom De Cock, Gerrit Nulens Interpretation: Ensemble Ictus (Tom De Cock and Gerrit Nulens, percussions) Lights: Victor Burel
Production: ND Productions (Paris) Executive producer: Centre national de danse contemporaine CNDC (Angers) Coproduction: PACT Zollverein (Essen), Tanz im August / HAU Hebbel am Ufer (Berlin), La Place de la Danse – CDCN (Toulouse / Occitanie), Chaillot – Théâtre national de la Danse (Paris), Festival d'Automne à Paris, CN D Centre national de la danse (Pantin), Opéra de Lille, Theater Freiburg, Teatro Municipal do Porto, Kaaitheater (Brussels)
With the support of Direction Régionale des Affaires Culturelles d'Île-de-France – Ministère de la Culture et de la Communication au titre de l'aide à la structuration With the participation of Fonds Transfabrik – Franco-German Fund for performing arts
Since July 2020, Noé Soulier has taking over the direction of the CNDC of Angers. The CNDC of Angers is subsidized by the Ministry of Culture – DRAC des Pays de la Loire, the city of Angers, the Region Pays de la Loire, the Department Maine et Loire.
Touring
06.05.2020, Scène Nationale de Saint-Quentin-en-Yvelines, Montigny Le Bretonneux (FR) (cancelled)
16.04.2020, CDCN La Manufacture, Bordeaux (FR) (cancelled)
08.04.2020, Théâtre de Cornouaille, Quimper (FR) (cancelled)
11.03.2020, Theater im Pfalzbau, Ludwigshafen (DE)
06.03.2020, Saarländisches Staatstheater, Saarbrücken (DE) 
15.01.2020, STUK Kunstencentrum, Löwen (BE)
21.07.2019, Festival les lieux mouvants, Lanrivain (FR)
25.05.2019, Theater Freiburg, Freiburg (DE)
19.05.2019, KunstFestSpiele, Hannover (DE)
25.04.2019, Scène nationale d'Orléans, Orléans (FR)
20.03.2019, Opéra de Lille, Lille, (FR)
19.03.2019, Opéra de Lille, Lille, (FR)
02.02.2019, Kaaitheater, Brüssel (BE)
01.02.2019, Kaaitheater, Brüssel (BE)