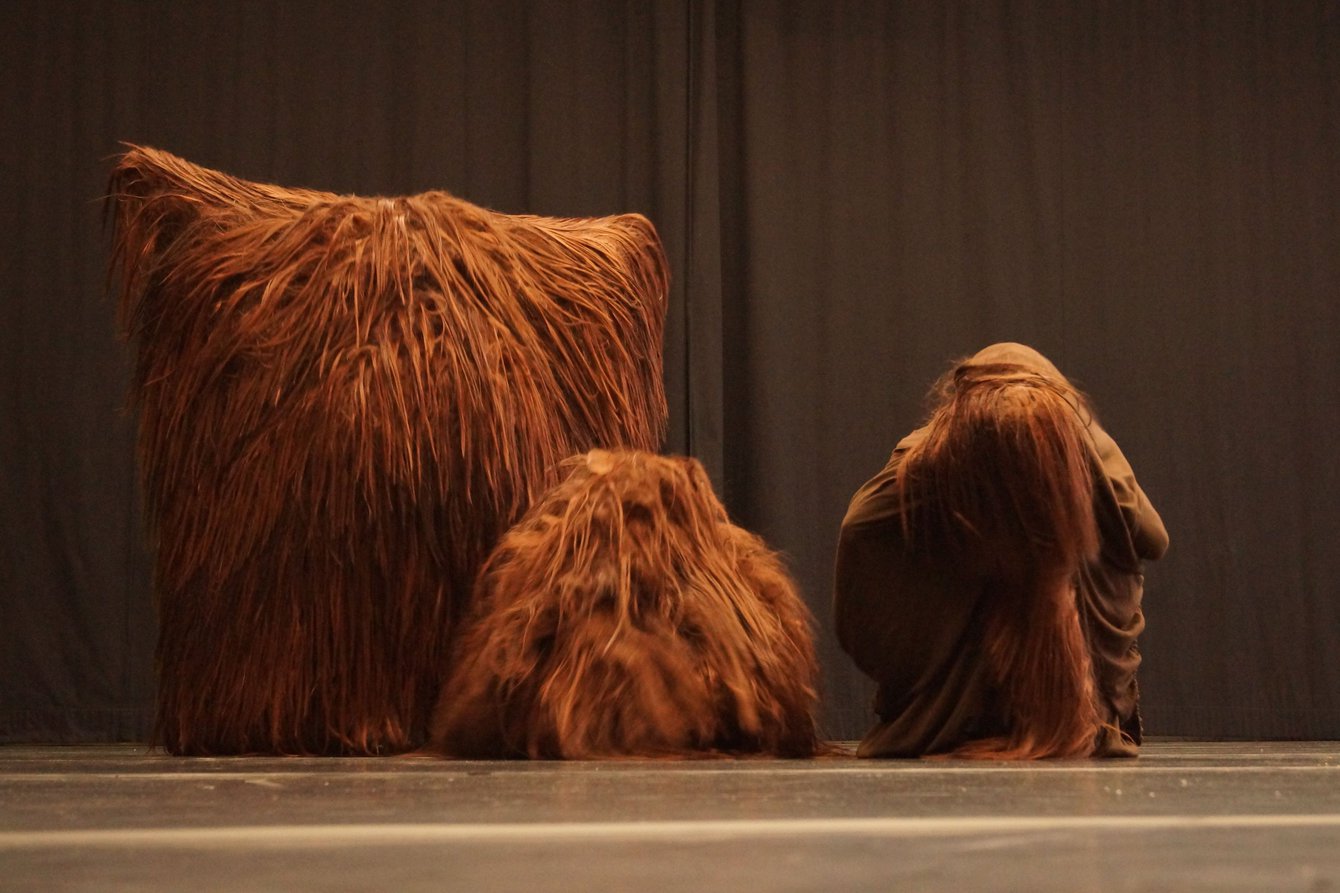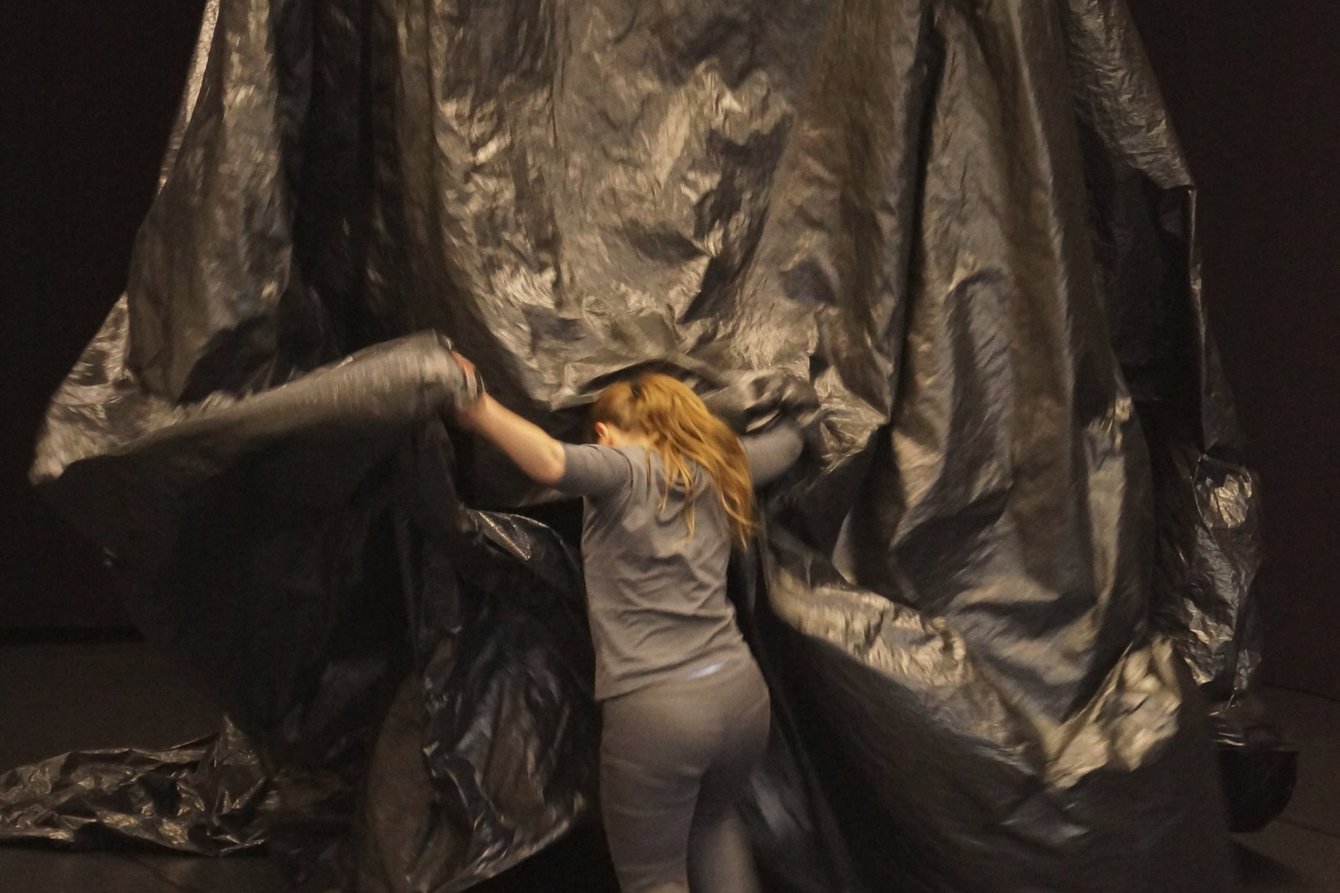 The dance platform for young people ›dynamo‹ gets underway with ›BURACO‹ (hole) a performance for children by Brazilian choreographer Elisabete Finger. Using a host of different materials, she and the dancers create a landscape in which everything is perforated and waiting to be explored. Diving in and out, disappearing, crisscrossing and resurfacing, the performers reveal an exciting world of vibrant colours behind what's apparently visible.  The piece was created in part in residency at PACT Zollverein and is a children friendly performance experience for audience members between the ages of 0-99.
Concept, direction and creation: Elisabete Finger
Creation, performance: Cinira Macedo, Jamil Cardoso, Sandro Amaral 
Dramaturgical assistance: Lito Walkey, Xenia Walkey Hauf
Scenography, costumes: Elisabete Finger, Marion Montel
Production: Candida Monte, Wellington Guitti (Brazil), Ana Rocha (Germany)
Supported by: Rumos Itaú Cultural Dance Prize 2012/2014, Funarte Petrobras Klauss Vianna Dance Prize 2012 (Brazil), Senate Chancellery Cultural Affairs Berlin 
Co-production: Uferstudios (Berlin)
Support and residencies: PACT Zollverein (Essen), Fabrik Potsdam 
Thanks to: Barbara Friedrich, Eva Maria Hoerster, Gustavo Bitencourt, Thiago Granato, Neto Machado, Jorge Alencar, Danilo Viana, Kerem Gelebek, Lena Sommer, Murilo Moregola
This event takes place as part of the network project DÉPARTS and is supported by the European Union's program ›Culture‹.
Touring
20.11.2019, Sesc, Vila Guiomar, Santo André (BR)
17.11.2019, Sesc, Vila Guiomar, Santo André (BR)
15.11.2019, Sesc, Vila Guiomar, Santo André (BR)
14.10.2018, Um Novo Olhar – Festival de Artes para a Primeira Infância, Sesc Jundiaí, Jundiaí (BR)
19.05.2018, Virada Cultural – Sesc Av Paulista, São Paulo (BR)
28.04.2018, Sesc 24 de Maio, São Paulo (BR)
21.04.2018, Sesc 24 de Maio, São Paulo (BR)
14.04.2018, Sesc 24 de Maio, São Paulo (BR)
25.02.2018, Sesc Campinas, Campinas (BR)
06.08.2017, Teatro da Caixa, Recife (BR)
05.08.2017, Teatro da Caixa, Recife (BR)
04.08.2017, Teatro da Caixa, Recife (BR)
05.03.2017, Sesc Pompeia, Sao Paulo (BR)
04.03.2017, Sesc Pompeia, Sao Paulo (BR)
22.01.2017, Sesc Santos (BR)
26.10.2016, Sesc Arsenal, Cuiabá (BR)
25.10.2016, Sesc Arsenal, Cuiabá (BR)
13.10.2016, Teatro Sesc Centro, Goiânia (BR)
12.10.2016, Teatro Sesc Centro, Goiânia (BR)
12.10.2014, Instituto Inhotim, Brumadinho (BR)
11.10.2014, Instituto Inhotim, Brumadinho (BR)
10.10.2014, Instituto Inhotim, Brumadinho (BR)
31.08.2014, Itaú Cultural, São Paulo (BR)
30.08.2014, Itaú Cultural, São Paulo (BR)
24.08.2014, IC 8, Salvador (BR)
15.06.2014, Schaubühne, Leipzig (DE)
14.06.2014, Schaubühne, Leipzig (DE)
13.02.2014, Uferstudios, Berlin (DE)
12.01.2014, Fabrik Potsdam, Potsdam (DE)
17.12.2013, PACT Zollverein, Essen (DE)
17.11.2013, Espaço Cênico, Curitiba (BR)
18.11.2013, Espaço Cênico, Curitiba (BR)
17.11.2013, Espaço Cênico, Curitiba (BR)
16.11.2013, Espaço Cênico, Curitiba (BR)
15.11.2013, Espaço Cênico, Curitiba (BR)
14.11.2013, Espaço Cênico, Curitiba (BR)
13.11.2013, Espaço Cênico, Curitiba (BR)
10.11.2013, FID Forum International de Dança, Belo Horizonte (BR)
09.11.2013, FID Forum International de Dança, Belo Horizonte (BR)
03.11.2013, Festival Panorama, Rio de Janeiro (BR)
02.11.2013, Festival Panorama, Rio de Janeiro (BR)
31.08.2013, Tanz im August, Uferstudios, Berlin (DE)
15.06.2013, Mostra Rumos Itaú Cultural Dança, São Paulo (BR)