Presented by PACT Zollverein for the Ruhrtriennale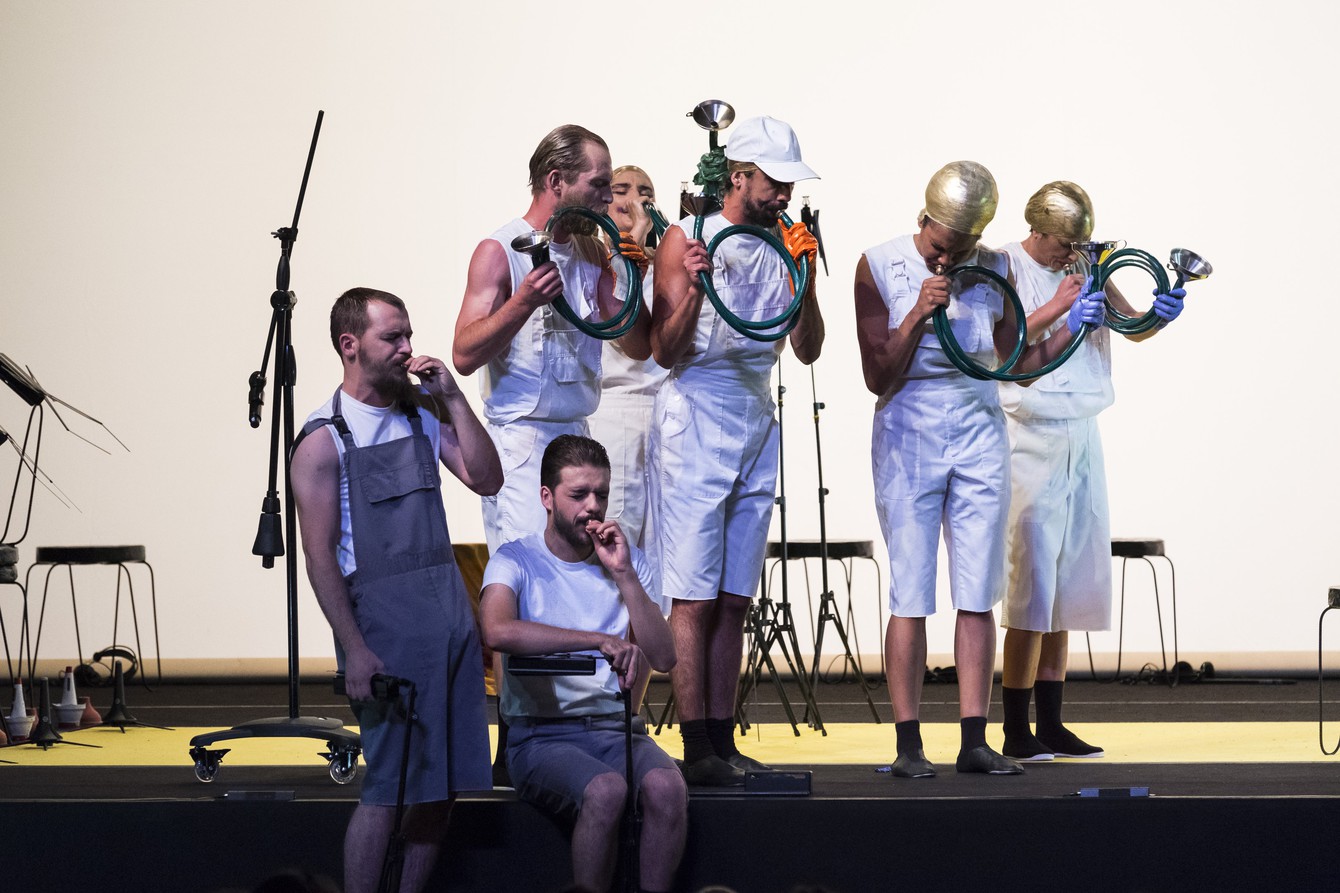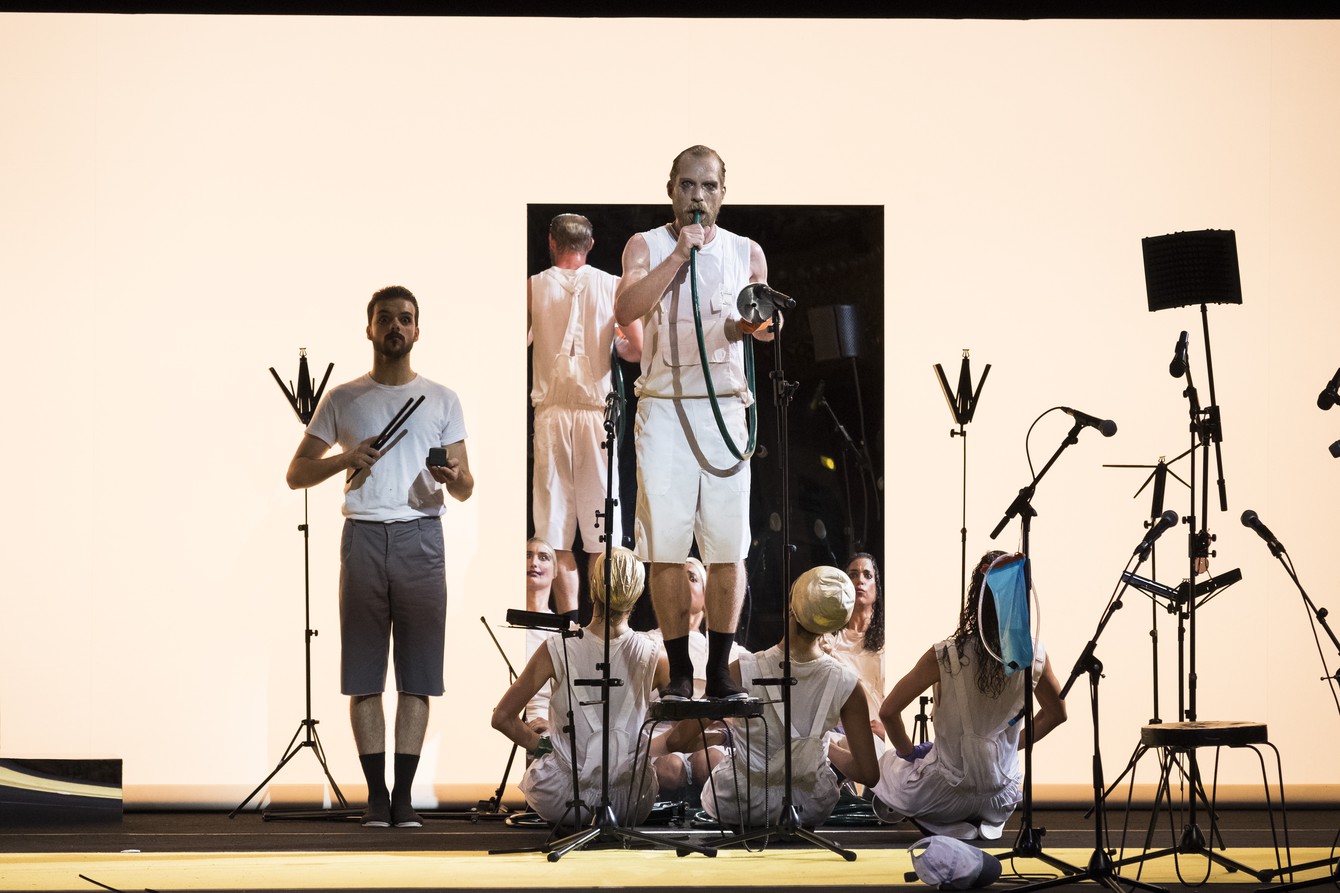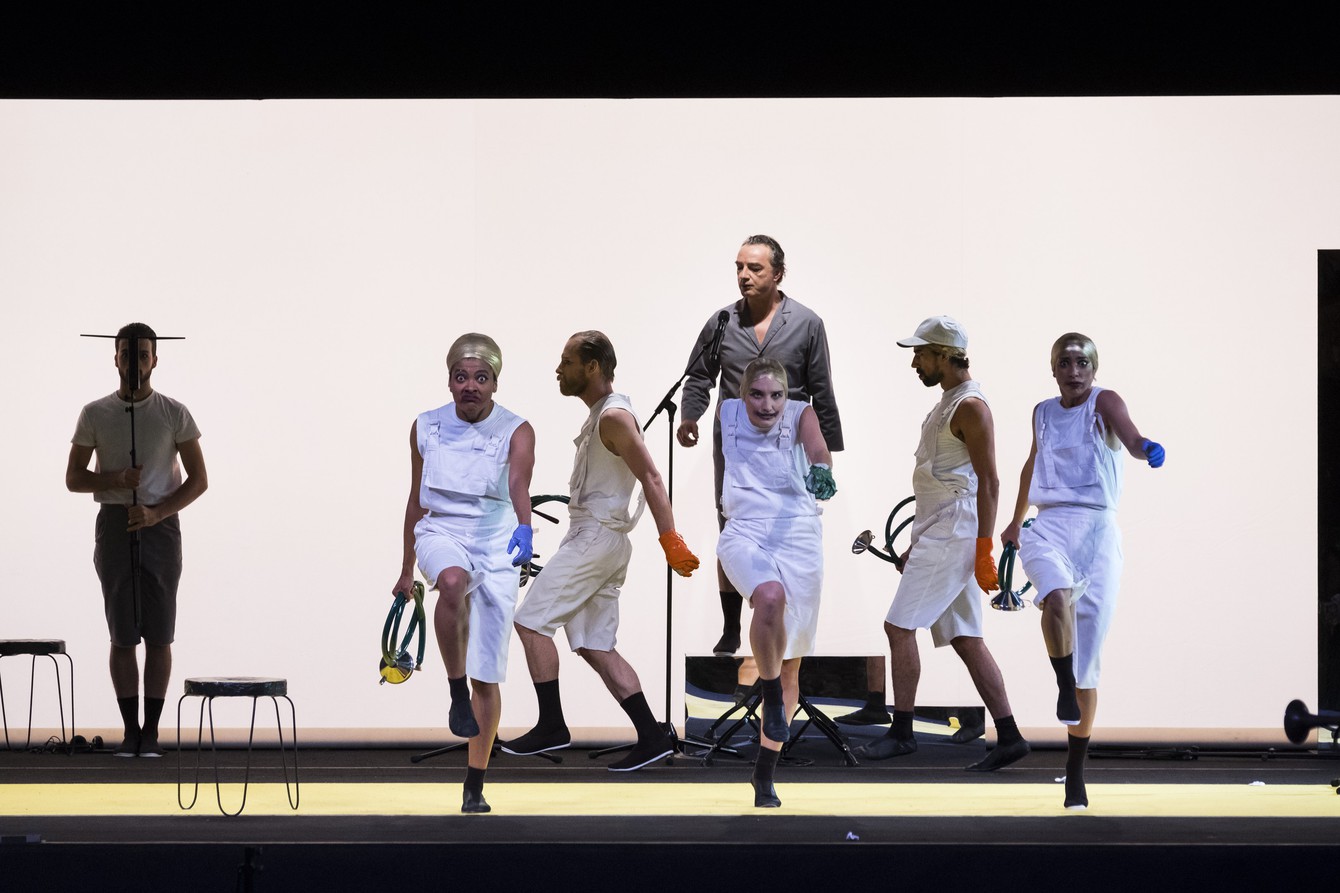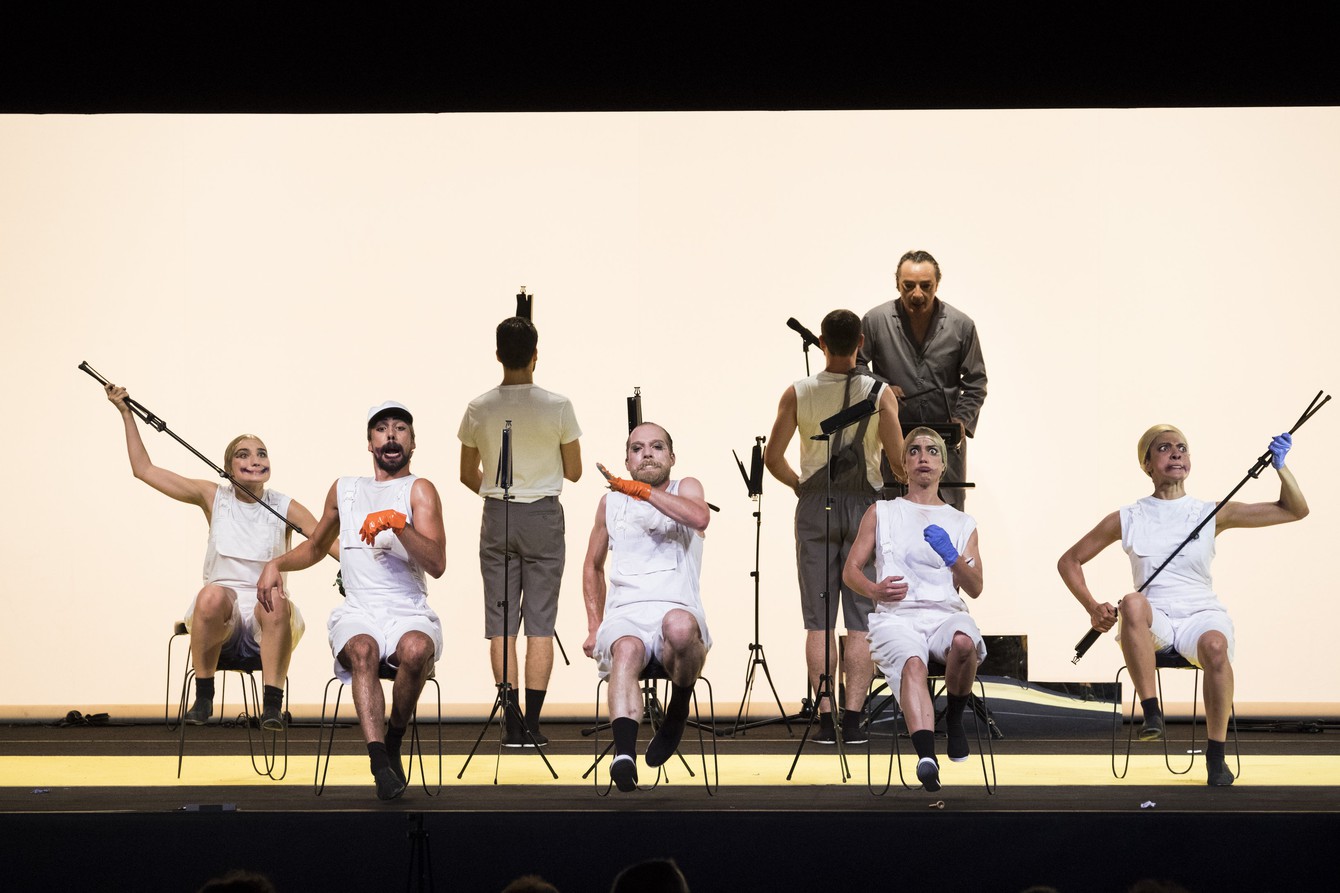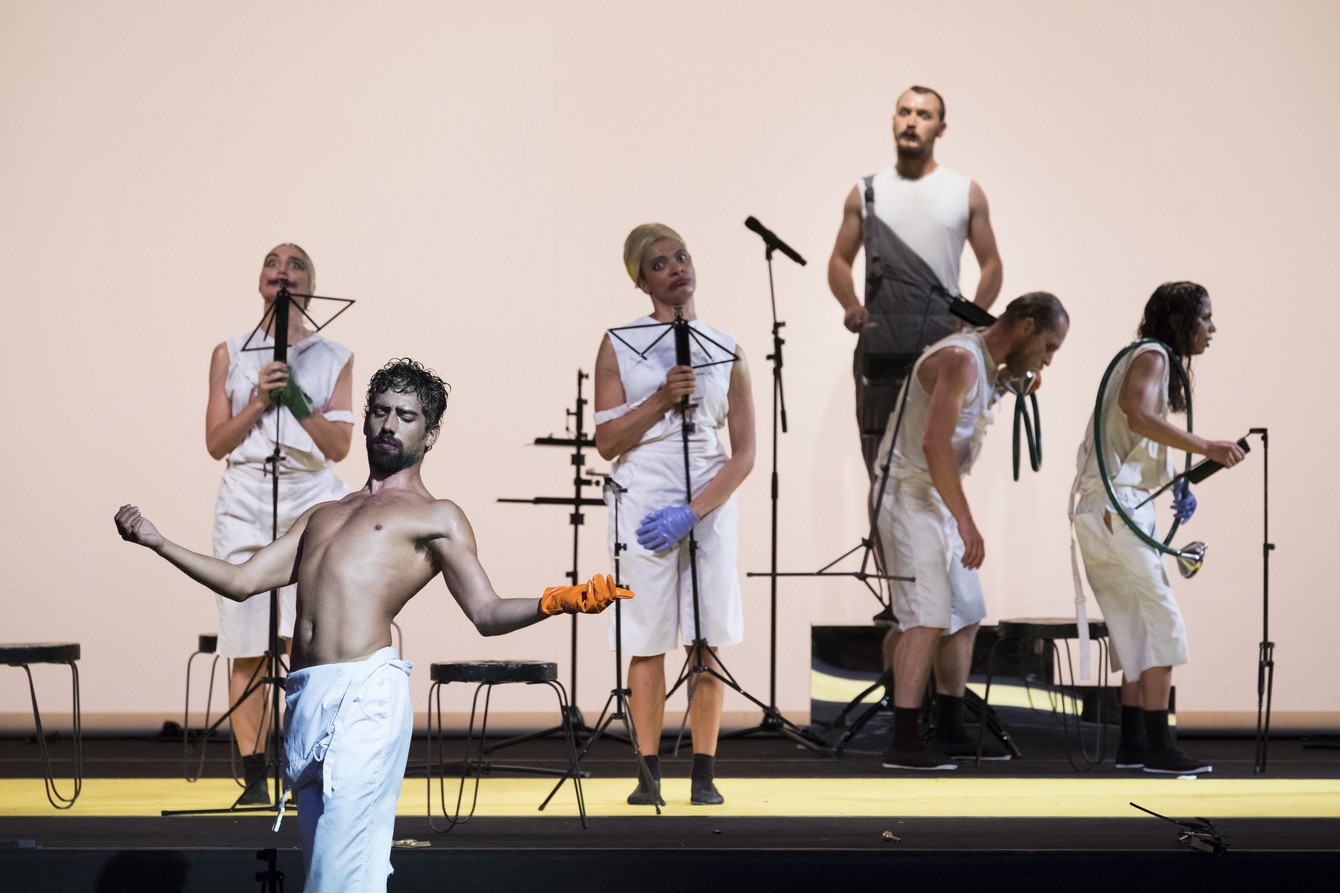 Marlene Monteiro Freitas' frenetic choreography alternates between dioynisan and appolonian states and finds amazing images to show how conventions inscribe themselves into the human body. Both high and pop culture, the grotesque and the ridiculous, self-improvement and ecstatic surrender all combine in one transgressive work. The ensemble of dancers and trumpeters exhaust themselves to the point of collapse, undergoing a constant metamorphosis and striving in bizarre manner for the purge of the title.
Choreography: Marlene Monteiro Freitas Lighting design and space: Yannick Fouassier Sound Design: Tiago Cerqueira Stools: João Francisco Figueira, Luís Miguel Figueira Research: Marlene Monteiro Freitas, João Francisco Figueira With: Andreas Merk, Betty Tchomanga, Cookie, Cláudio Silva, Flora Détraz, Gonçalo Marques, Guillaume Gardey de Soos, Johannes Krieger, Lander Patrick, Marlene Monteiro Freitas, Miguel Filipe, Tomás Moital, Yaw Tembe Co-production: TNDMII (Lisbon); Kunstenfestivaldesarts (Brussels), steirischer herbst festival (Graz) and Alkantara (Lisbon) with the support of the NXTSTP- Culture Programme of the European Union; NorrlandsOperan (Umeå); Festival Montpellier Danse 2017 (Montpellier), Bonlieu Scène nationale Annecy (Annecy) and La Bâtie-Festival de Genève (Geneva) in the framework of FEDER - programme Interreg France-Suisse 2014-2020; Teatro Municipal do Porto (Porto), Le Cuvier – Centre de Développement Chorégraphique (Nouvelle-Aquitaine), HAU Hebbel am Ufer (Berlin), International Summer Festival Kampnagel (Hamburg), Athens and Epidaurus Festival (Athens), Münchner Kammerspiele (Munich), Kurtheater Baden (Baden), SPRING Performing Arts Festival (Utrecht), Zürcher Theater Spektakel (Zurich), Nouveau Théâtre de Montreuil – centre dramatique national (Montreuil), Les Spectacles Vivants / Centre Pompidou (Paris), Residency support O Espaço do Tempo (Montemor-o-Novo), Montpellier Danse à l´Agora, cité internationale de la danse, ICI - centre chorégraphique national Montpellier - Occitanie / Pyrénées-Méditerranée / Direction Christian Rizzo - dans le cadre du programme de résidence Par/ICI (Montpellier) Acknowledgements Cristina Neves; Alain Micas; Bruno Coelho; Christophe Jullian; Louis Le Risbé; Manu Protopopoff; ACCCA – Companhia Clara Andermatt (Lisbon); ESMAE (Lisbon); ESTC (Lisbon)
Presented by PACT Zollverein for the Ruhrtriennale.