Double event with premiere
Performance

Film screening and Lecture (in English)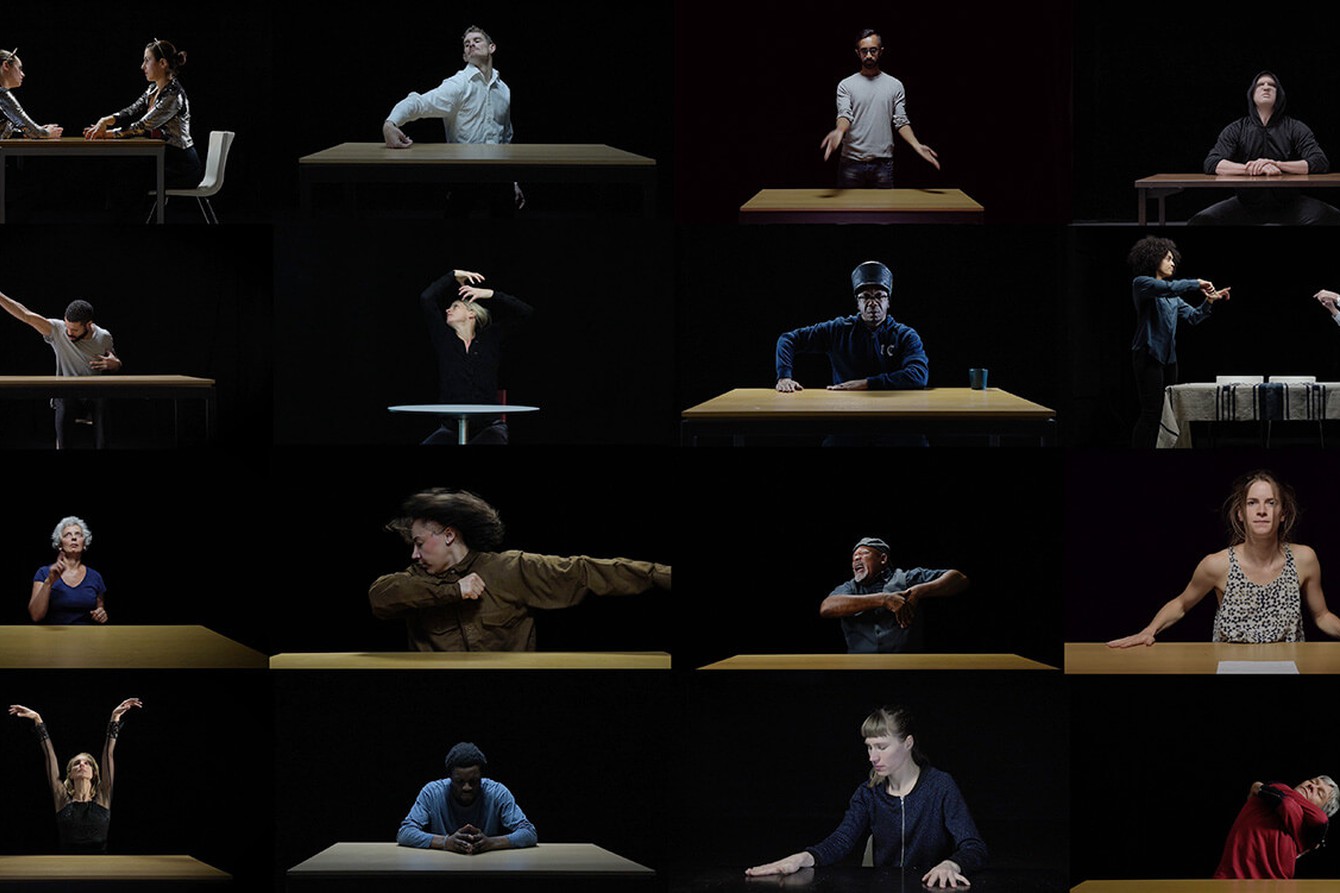 Adv. sales: 8 € / red. 5 €
Box office: 9 € / red. 6 €
incl. VRR-Ticket
20 min. Lecture
Intermission
120 min. Film
Tickets 03.02. 20h
"It can be hard to articulate all that goes into becoming and being a dancer, but the project known as 52 Portraits does so on a refreshingly human scale, without oversimplifying." The New York Times (über ›52 Portraits‹)
"(...) an impressionistic portrait of the profession." The Guardian (über ›52 Portraits‹)
52 Portraits
Film
An epic love song written to an art form: ›52 Portraits‹ began life as an online project, but can be seen here in its cinematic version as a 2-hour journey, conjuring an imagined community of artists whose difference clarifies also what connects us. Encompassing artists including William Forsythe, Tim Etchells, Mette Ingvartsen and Eleanor Bauer, each portrait frames its subjects within a self-choreographed gestural language, accompanied by biographical songs, poetically arranged by Matteo and Francesca Fargion, which reveal their passions, politics and doubts. The film seeks to overturn aesthetic hierarchies and open a dialogue between otherwise conflicting approaches, backgrounds and beliefs.
She Dancing
Lecture with live music
Following this, in the context of an imagined rock concert, performer Katye Coe argues in ›She Dancing‹ towards the spoken agency of the dancer and specifically the dancer's experience as one where rich information is often held in silence.  ›She Dancing‹ is part of the project ›Music For Lectures‹ that aims to collide academic practice with the actuality of performance and continues Burrows and Fargion's recent work of creating often in proximity and collaboration with somebody else's work.
›52 Portraits‹
A film by Jonathan Burrows, Matteo Fargion, Hugo Glendinning Production: Lucy Clarke-Bishop for Sadler's Wells (London) Jonathan Burrows and Matteo Fargion are co-produced by Kaaitheater (Brüssel), PACT Zollverein (Essen), Sadler's Wells Theatre (London), BIT Teatergarasjen (Bergen) Management: Nigel Hinds
›She Dancing‹ 
By Katye Coe Music: Jonathan Burrows, Matteo Fargion, Francesca Fargion
Touring
›She Dancing‹

09.10.2019, NottDance Festival, Nottingham (GB)
29.06.2019, Hebden Bridge Festival, Hebden Bridge (GB)
13.06.2018, mac, Birmingham (GB)
20.05.2018, KunstFestSpiele Herrenhausen, Hannover (DE)
03.02.2018, PACT Zollverein, Essen (DE)