IMPACT15

Active Ingredients
26.–29. November 2015
with:
HALORY GOERGER
CIRIACIDISLEHNERER
ENSEMBLE MUSIKFABRIK
Now in its eleventh outing, IMPACT looks at three outstanding artistic positions that question possible aesthetic principles in art and society in an experimental and playful manner. Through the juxtaposition of unusual methods, systems and approaches in music, theatre and architecture, an unmistakable space emerges for uncovering and interweaving individual fields of action.
The award-winning Cologne based Ensemble Musikfabrik explores contemporary and experi­mental forms of communication in music and performance.
Halory Goerger, co-founder of the French-Belgian theatre collective L'Amicale de Production, sees himself as more of a craftsman than a creative and devises spectacular systems in which he playfully reflects on the world of theatre, the influence of language on human relationships, the spirit of society, the relationships between technology, knowledge and power and the principles of drama. Savvas Ciriacidis and Alex Lehnerer lead the Zurich based architecture office Ciriacidis­Lehnerer and were the general commissioners of the German contribution to the architectural Venice Biennale 2014. Both architects are concerned with examining architecture as a cultural practice and evaluating its strengths and potential to communicate.
With the support of the Kunststiftung NRW, there are ten scholarships available for IMPACT15 covering the symposium fee and hotel costs. Any­one can apply to be considered for a scholarship.
IMPACT15 is aimed at artists, advanced students, academics and journalists working in the fields of dance, theatre, art, media art, film, music and architecture.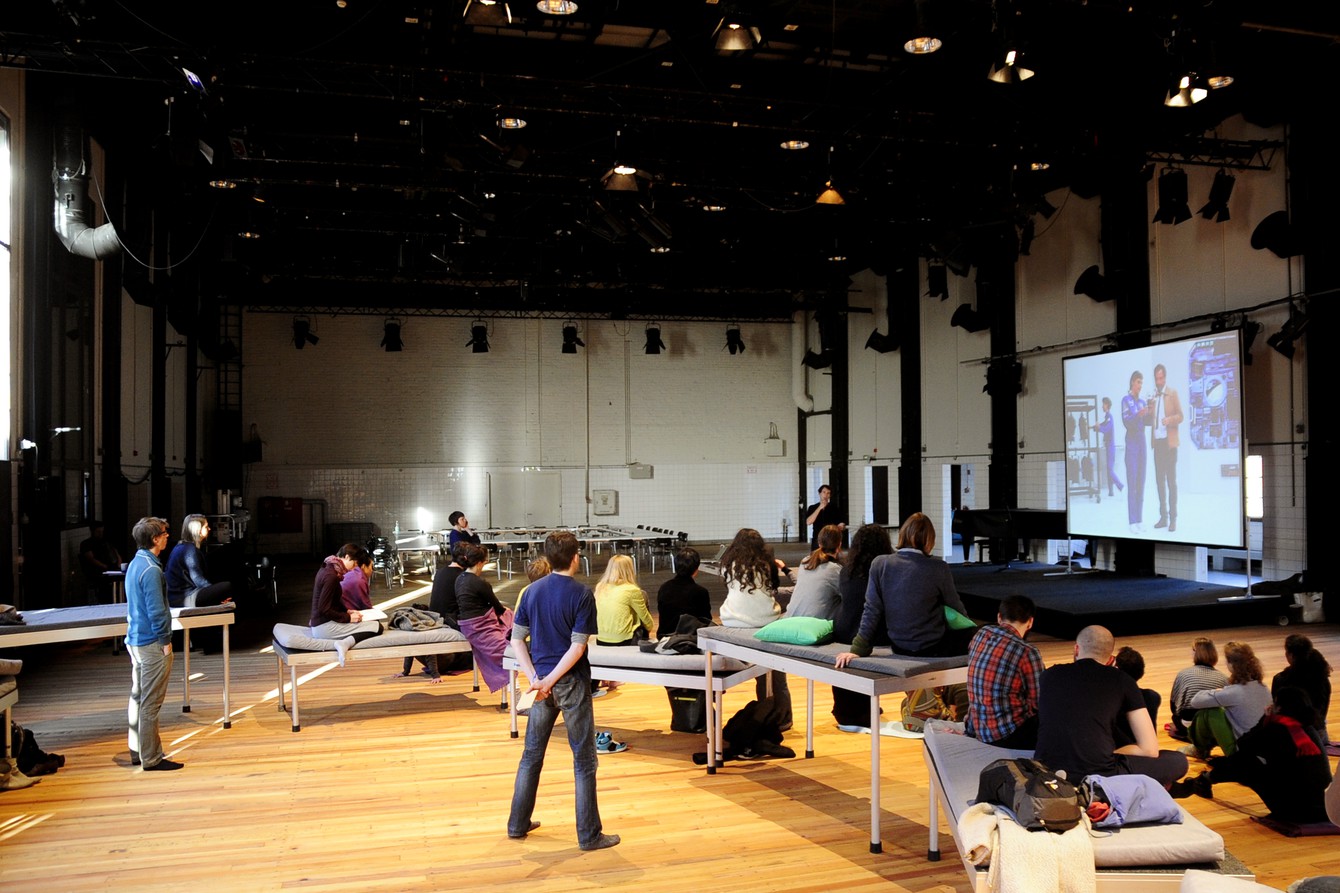 EPISODES
Symposium Episode 1
FRI 27.11.15
Halory Goerger - ›L'Amicale de production‹ (FR/BE)
Halory Goerger designs performances and installations instead of building houses or repairing animals – that way everyone's better off. He studied Literature and Information Science and is preoccupied by the history of ideas as this was the only theme not yet dealt with by the time he started to work as an artist. Goerger, born 1978, arrived 2004 at performance and the visual arts via poetry.
Together with Antoine Defoort and Julien Fournet he founded the ›L'Amicale de Production‹ cooperative (Brussels & Lille) which, since 2010, has been pooling and collectively utilizing resources for production, administration, dissemination and logistics. The artists propose answers to topical aesthetic and economic questions and reflect on the theme of production. Goerger's performances and installations have been seen at the Festival d'Avignon, kunstenfestivaldesarts, Biennale de la Dance in Lyon, at the Dublin Theatre Festival, the Centre Pompidou Metz and the Wiener Festwochen.
Workshop
Alongside French choreographer Mylène Benoit and the IMPACT15 participants, Halory Goerger will look at the essence and strengths of theatre. Referring to his current performance ›Corps diplomatique‹, participants are placed in situ as a group of five hobby astronauts on their way into space, writing daily about theatre and its possibilities.
Symposium Episode 2
SAT 28.11.15
CiriacidisLehnerer (DE)
Savvas Ciriacidis and Alex Lehnerer lead the Zurich based architecture office CiriacidisLehnerer since 2012. Both architects are concerned with examining architecture as a cultural practice and evaluating its strengths and potential to communicate. Their practical and theoretical work has been published internationally and won several prizes. Alex Lehnerer, born 1974 in Erlangen, currently holds a position as Assistant Professor of Architecture and Urban Design at the Department of Architecture at ETH Zurich and from 2008–2012 held a professorship at the University of Illinois' School of Architecture. He received his PhD from ETH Zurich and is a graduate of the University of California in Los Angeles (UCLA). Savvas Ciriacidis, born 1975 in Stuttgart, studied architecture at the Technical University of Stuttgart and graduated from eth Zurich before becoming a practicing architect in Zurich. From 2006 to 2013, he was a researcher and lecturer in the Department of Architecture and Design under the direction of Prof. Christian Kerez at ETH Zurich. Lehnerer and Ciriacidis are the general commissioners of ›bungalow germania‹, the German contribution to the 14th international architecture exhibition – la Biennale di Venezia 2014.
Performing Architecture – Architecture as a weapon
In their workshop, which will take the form of a type of field research, the architects will look with the participants for a day at the now redundant Wuppertal Play House and endeavor to activate and reappropriate different spaces within the building that still testify to their original purposes.
Symposium Episode 3
SUN 29.11.15
Ensemble Musikfabrik (DE)
Since their founding in 1990, Ensemble Musikfabrik has been considered a key protagonist of contemporary music. The 16 musicians produce new, unknown works, unusual in their medial form and often self-commissioned. The traditional form of a conductor led concert ensemble is expanded through interdisciplinary projects with live-electronics, dance, theatre, film, literature, visual arts, as well as chamber music, lecture-performances and improvisations. The ensemble of soloists from Cologne present the results of this work, often accomplished in close cooperation with the composer, in up to one hundred concerts a year at home and abroad, at festivals, in their own concert series ›Musikfabrik im WDR‹ and in regular audio productions. Due to their unusual contextual profile and high artistic standing, Ensemble Musikfabrik are in demand worldwide to partner prominent conductors and composers.
spielBar-Workshop
Ensemble Musikfabrik will lead the participants in performing New Music which is conceptually very open and offers the music-makers an opportunity to involve themselves in the process of compositional design, to improvise and to be creatively active. Neither knowledge of instruments nor the ability to read music are needed.