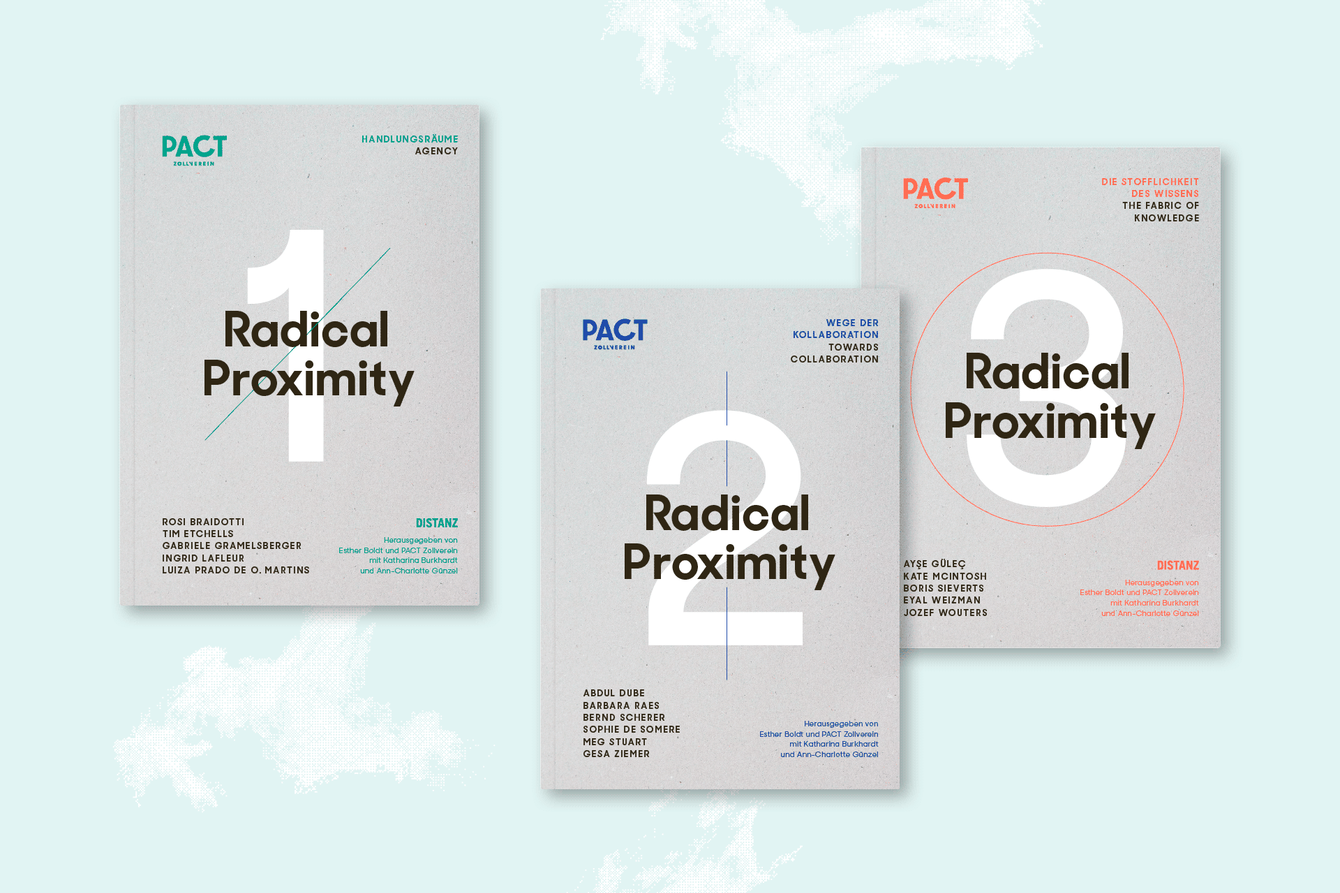 The ›Radical Proximity‹ series will be published by DISTANZ Verlag to coincide with PACT's 20th anniversary. Spanning three volumes, the series brings together essential elements of PACT's transdisciplinary program. As such, it is not a retrospective of 20 years of program work, but rather a compact and forward-looking examination of the scope for thought and action of this unique place. The volumes include interviews, essays, and visual contributions by pioneering protagonists from the fields of science and activism, art and philosophy, all of whom address urgent questions of our time in an inspiring manner.
Agency
The present moment—a time of profound change—challenges our understanding of subjectivity and our capacity to act: With an essay by Rosi Braidotti and interviews with Tim Etchells, Gabriele Gramelsberger, and Ingrid LaFleur, as well as an artwork by Luiza Prado de O. Martins, the first volume in the series pursues the potential latent in critical, self-empowering, and collaborative practices and seeks out the possibilities that lie in establishing speculative spaces.
ISBN 978-3-95476-510-2 (Vol 1)
Towards Collaboration
We will not be able to overcome the imminent challenges and upheavals of our time on our own: With an essay by Meg Stuart and interviews with Bernd Scherer, Sophie De Somere, Barbara Raes, and Gesa Ziemer, as well as a zine by Abdul Dube, volume two of the series addresses practices of togetherness, collaboration, and co-presence that challenge the imagination and foster trust.
ISBN 978-3-95476-511-9 (Vol 2)
The Fabric of Knowledge
Traditional categories and horizons of meaning are quickly losing their power: With interviews with Kate McIntosh, Eyal Weizman, Ayşe Güleç, and Boris Sieverts, along with an artwork by Jozef Wouters, volume three in this series investigates what science and research overlooks, and suggests practices that experimentally and performatively set knowledge and apparent certainties in motion.
ISBN 978-3-95476-512-6 (Vol 3)
Ed. Esther Boldt and PACT Zollverein with Katharina Burkhardt and Ann-Charlotte Günzel, German/English, Softcover, 16,8 × 23,4 cm, each volume 144 pages, numerous colour illustrations, each volume € 18, all 3 books € 40.