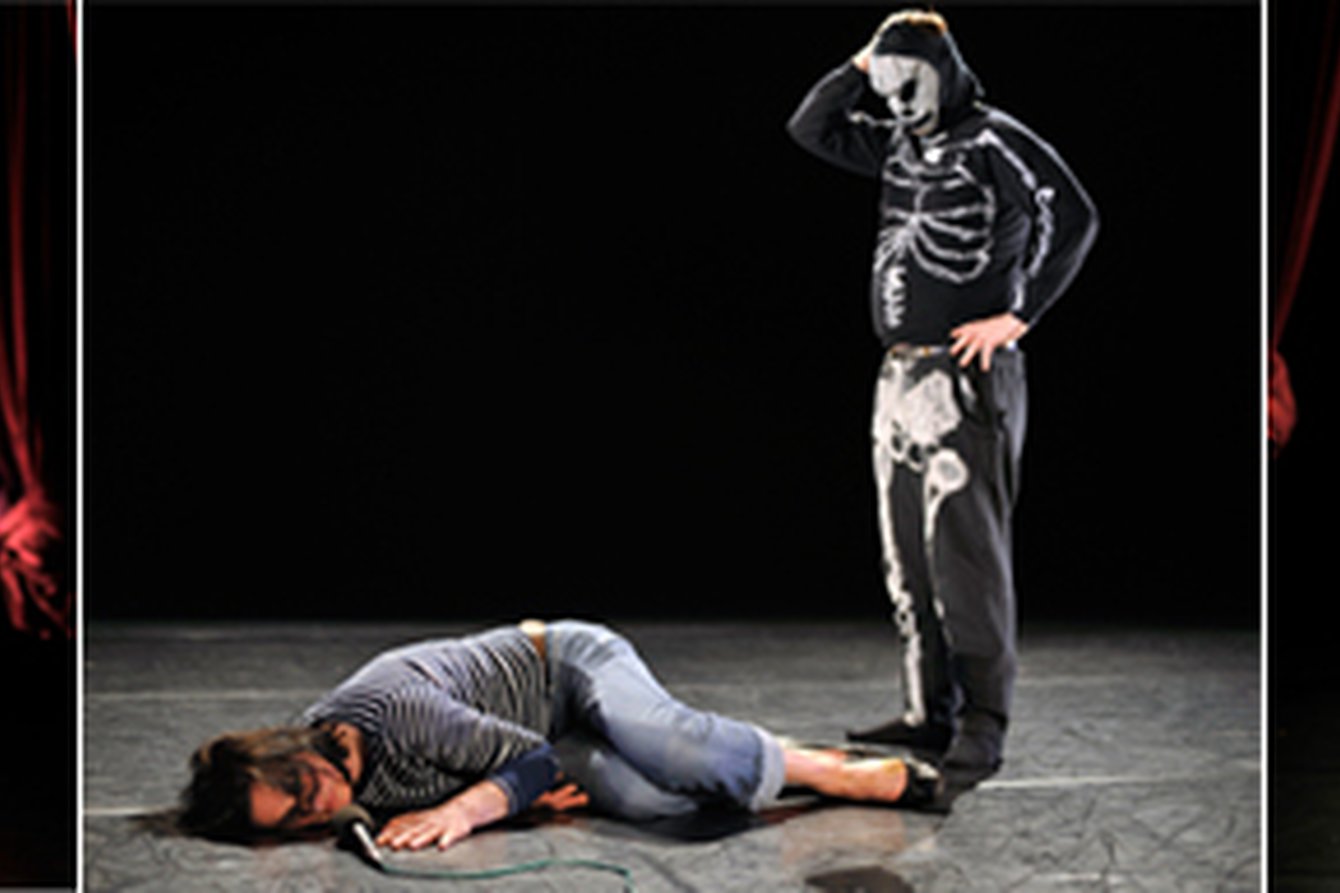 Having opened at PACT Zollverein in 2008 and toured internationally to popular and critical acclaim, Forced Entertainment's ›Spectacular‹ returns to the stage in Essen for one performance only.

A lone performer takes to the stage, explaining that the show we're watching is somehow different tonight. The atmosphere is different, his entrance was off, the lights are wrong, some scenery is missing, some performers are absent. The tone is all wrong. Things are somehow falling to pieces, or maybe things are just now falling into place. The audience reaction, our protagonist says, is not quite what he expected, not quite what he's used to. Perhaps the fact he is dressed as a skeleton has something to do with it.

Intimate and comical Forced Entertainment's Spectacular slowly and seductively winds the audience into the world of a missing performance. Our skeleton host seems relaxed about it, cracking jokes, staying chatty and amiable. But still something's wrong. The fact that the next performer who comes on-stage is caught up in some long, melodramatic and agonised death scene may also explain the shift in tone.
a decidedly different ›good night out‹
The Times

›Spectacular‹ strips the flesh off theatre and gets right down to the bone.
Time Out
Premiere: 15.05.2008
PACT Zollverein (Essen)
Conceived and devised by Forced Entertainment: Robin Arthur, Richard Lowdon, Claire Marshall, Terry O'Connor, and Cathy Naden.
Direction: Tim Etchells
With: Robin Arthur and Claire Marshall
Designer: Richard Lowdon
Lighting designer: Nigel Edwards
Co-production: BIT Teatergarasjen (Bergen), HAU (Berlin), Les Spectacles vivants - Centre Pompidou (Paris), Theatre Garonne (Toulouse), Tramway (Glasgow), PACT Zollverein (Essen)
Forced Entertainment is funded by Arts Council England and Sheffield City Council.
www.forcedentertainment.com