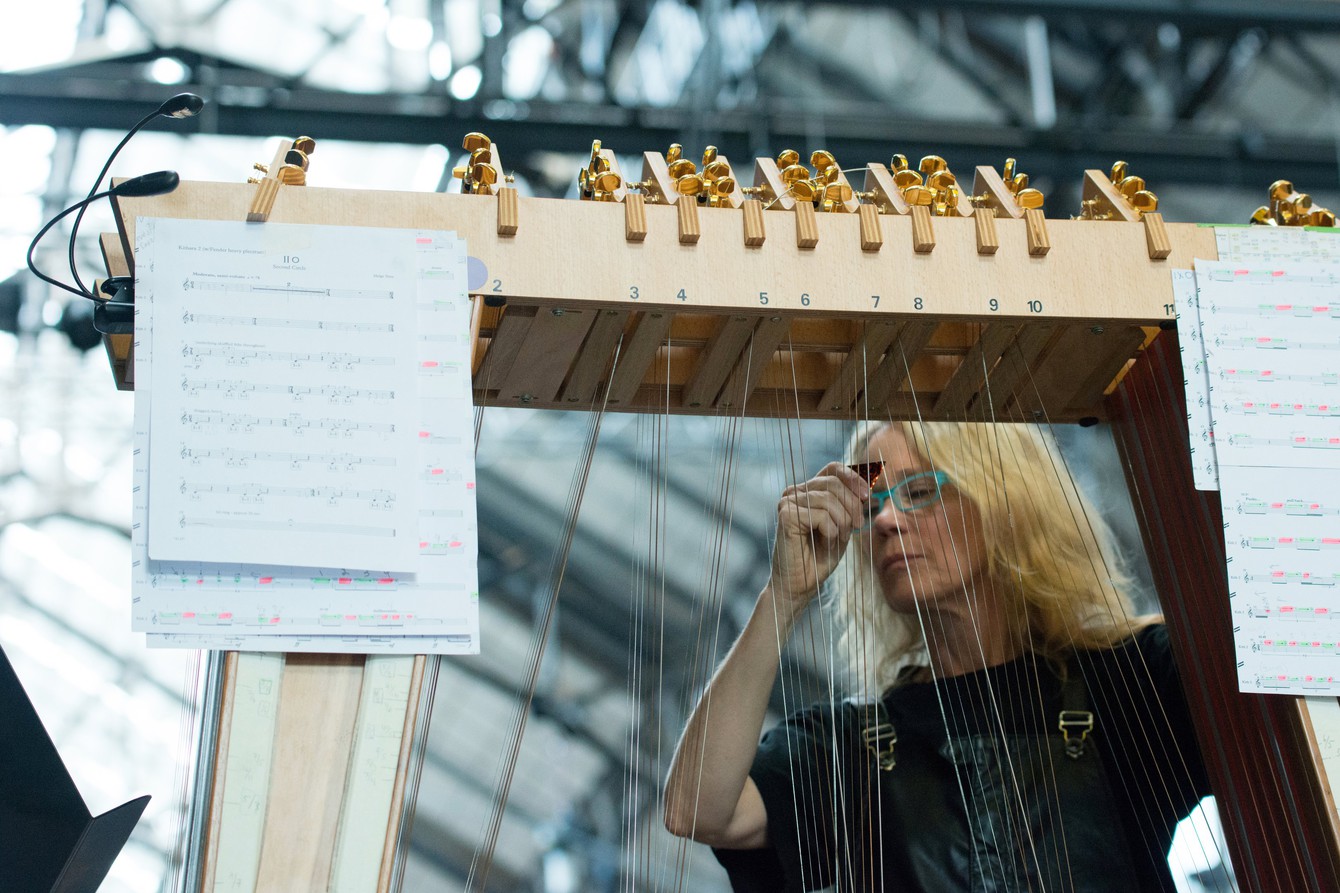 With ›PACT x Ensemble Musikfabrik‹ the Cologne-based ensemble performs a special chamber concert series at PACT. Curated by individual ensemble members, the concerts take upon the popular ›Monday Concerts‹ that the ensemble has been presenting in its Cologne studio since 2011. The audience is invited to get to know the musicians and their personal, artistic and aesthetic focal points. The respective programme curators appear as solo performers and offer insights into their reasons for selecting the featured pieces.

PACT enjoys a long-standing, creative collaboration with the Ensemble Musikfabrik. Founded in 1990, it is one of the leading ensembles of contemporary music and works at the interface between experimental possibilities of expression and performative art. Firmly carrying the new, courageous and out of the ordinary in its DNA, the ensemble operates on a democratic basis whereby all decisions are made by the musicians themselves.
Horn player Christine Chapman and lighting designer Lea Letzel have devised a programme drawing on the dialogue between music and light art. In 1934, film pioneer Mary Ellen Bute created with ›Rhythm in Light‹ the possibly first purely abstract film about light which was shown in public theatres in America. As a prelude to ›Moondog Monologue‹ by the street musician, composer and poet Moondog, the lighting system makes its own musical contribution. Then, following the fireworks of Milica Djordjevic's wind trio ›Phosphorescence‹, the concert concludes with the sounds of Harry Partch's majestic microtonal instrument, Kithara II.
CHRIS NE CHAPMAN /
FLORENTIN GINOT
Neues Werk

MARY ELLEN BUTE
Rhythm in Light
Film

JING WANG
Yan for shell horn

LOUIS THOMAS HARDIN
ALIAS MOONDOG
Moondog Monologue
MELVYN POORE
Accord

MILICA DJORDJEVIC
Phosphorscene

HELGE STEN
IX O aus Sow Your Gold in the
White Foliated Earth
Horn, Kithara II, Curator: Christine Chapman Trumpet: Marco Blaauw Trombone: Bruce Collings Tuba: Melvyn Poore Double bass: Florentin Ginot Lighting design, Curator: Lea Letzel Lighting direction: Martin Schmitz