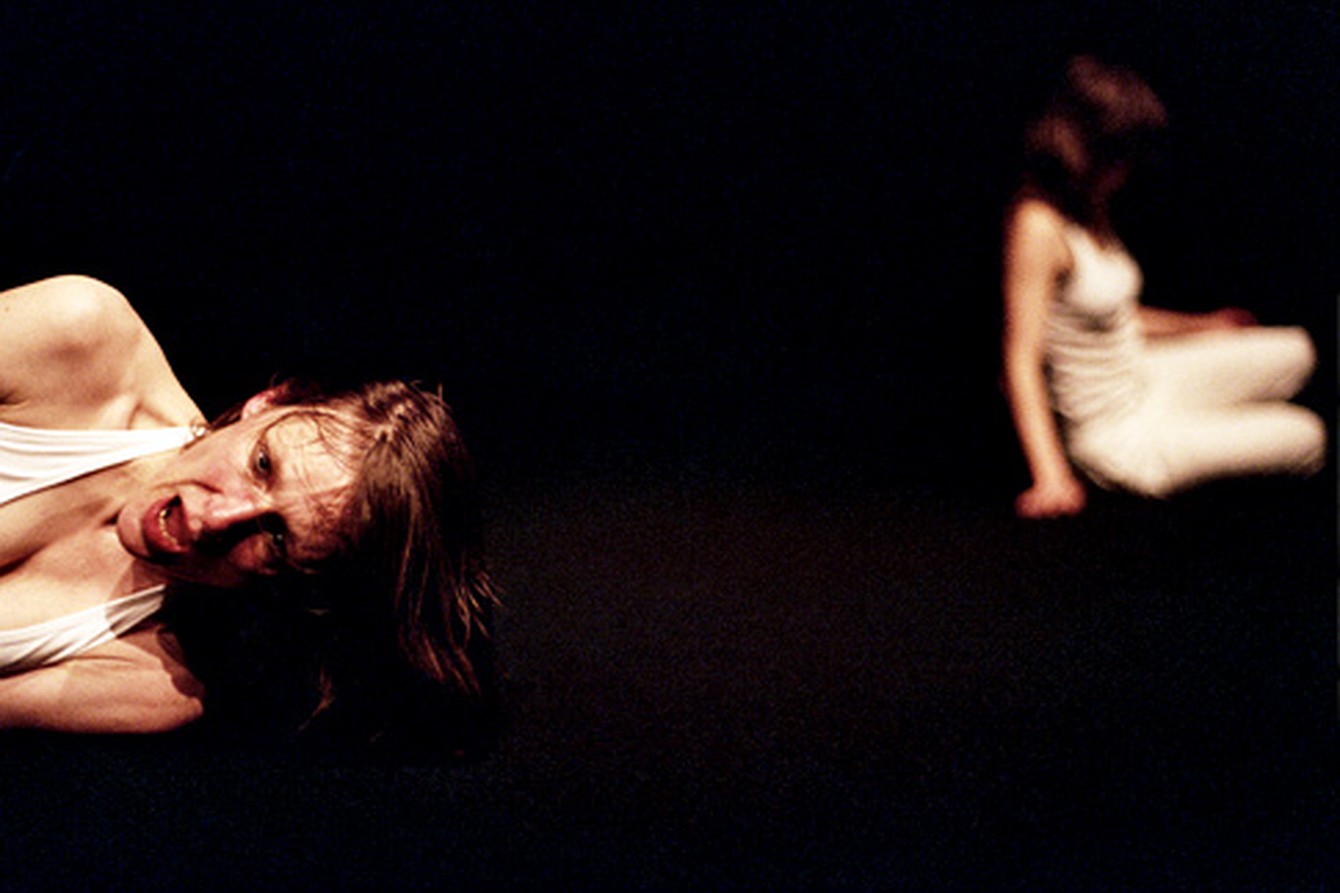 ›Dance # 1 / Driftworks‹ continues the exploration of physical techniques of expression and perception of movement which Eszter Salamon began in her piece ›Nvsbl‹ in 2006. Set to music by Terre Thaemlitz, Salamon has developed a sophisticated duo together with Christine De Smedt based on the improvisation techniques of Body-Mind-Centering, in which expression arises out of movement and not vice versa. By passing through various phases of observing, experiencing and remembering different body systems, the two dancers construct a choreography of ephemeral, changing bodies: ›Dance # 1 / Driftworks‹ plays perpetually with perception and constitutes a serious search for the meaning and necessity of movement.
Premiere: 27.05.2008 Kunstenfestivaldesarts (Brussels)
Concept: Eszter Salamon
Choreography & dance: Christine De Smedt, Eszter Salamon

Light: Sylvie Garot
Sound: Terre Thaemlitz

Technical director: Raphael Vincent
Production/Organisation: Alexandra Wellensiek
Production assistance/costume realisation: Isabelle Decannière
Co-production: Kunstenfestivaldesarts (Brussels), PACT Zollverein (Essen), Les Spectacles Vivants-Le Centre Pompidou (Paris), steirischer herbst festival (Graz)
Supported by: Hauptstadtkulturfonds (Berlin), Hebbel am Ufer (Berlin) and Botschaft (Berlin)
Co-produced by NXSTP with the support of the European Unions Culture Programme within the framework of Saison France-Nordrhein-Westfalen 2008/2009 
Sponsored by the State Government of North Rhine-Westphalia           
The performances take place as part of the network project DÉPARTS and are supported by the European Union's program ›Culture 2000‹.
Thanks to: Les Brigittines (Brüssel), La Raffinerie / Charleroi-Danses (Brüssel), Kunstencentrum Vooruit (Gent), Valérie Berckmans, Pieter van Bogaert, Inne Box, Bojana Cvéjic, Jan Deca, Aude Dierkens, Marcel et Célina De Smedt, Xavier Le Roy, Alex Roccoli, Chris Segers
www.eszter-salamon.com