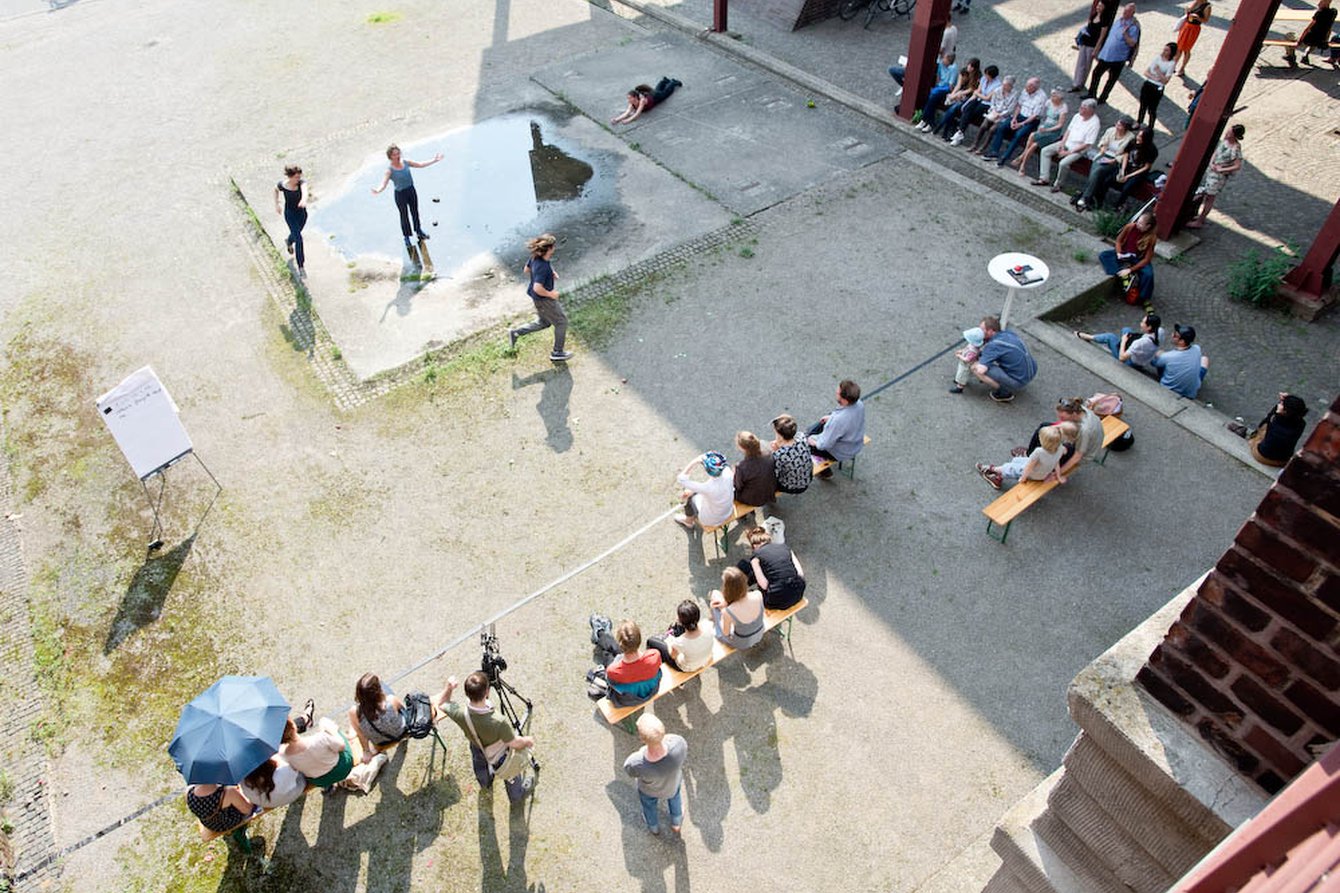 Feldstärke 2016

Interdisciplinary platform
for arts schools and
academies in NRW
Feldstärke NRW (North-Rhine Westphalia) 2016 took place from 1st to 4th July 2016 at PACT. The four-day programme was divided into an internal and a public part.
Internal part
A: Workshop with Xavier Le Roy und Scarlet Yu
On the second and third days, half of the Feldstärke participants at a time attended a workshop with the artists Scarlet Yu and Xavier Le Roy. They developed ideas and concepts around the theme of the body as sculpture.
B: Independent group work phaseIn parallel with the above workshop, the participants worked in four self-selected groups on specific themes which they had chosen during a group discussion on the second day. From the two-day group work, four artistic offerings emerged: a concert, two performances and a workshop. These were presented to the public in the form of a tour.
Public part
The public part of Feldstärke invited interested parties to experience the diverse and inter-disciplinary creations of the students in the form of a public tour. As in previous years, PACT Zollverein made every room in the building available for this including cloakrooms, changing rooms, showers, hallways, conservatory etc.
Participants
23 students, from Ruhruniversität Bochum (studying theatre studies and staging research), Folkwang Hochschule Essen (studying dance, photography, orchestral music and physical theatre), Universität Witten/Herdecke (studying cultural studies, philosophy and cultural practice), Kunsthochschule für Medien Köln (studying media arts), Hochschule Düsseldorf (studying culture, aesthetics, media), Hochschulübergreifendes Zentrum Tanz Berlin (studying contemporary dance, context, choreography), FH Dortmund
Sebastian Bös
Nicoletta Cappello
Silvia Ehnis Pérez Duarte
Hannah Krebs
Jens Eike Krüger
Lena Kunz
Miriam Rieck
Kristin Lovsky
Sophie Meuresch
Julia Turbahn
Stephanie von Gelmini
Finn Wagner
Nina Weber
Sebastian Wolf
Lisa Heinz
Luise Flügge
Clara Gohmert
Seulki Hwang
Mijin Kim
Soo Yeon Kim
Isabell Klara Przemus
Mirjam Schirk
Philipp Seliger