Falling Into Place
A note on ›End Meeting for All‹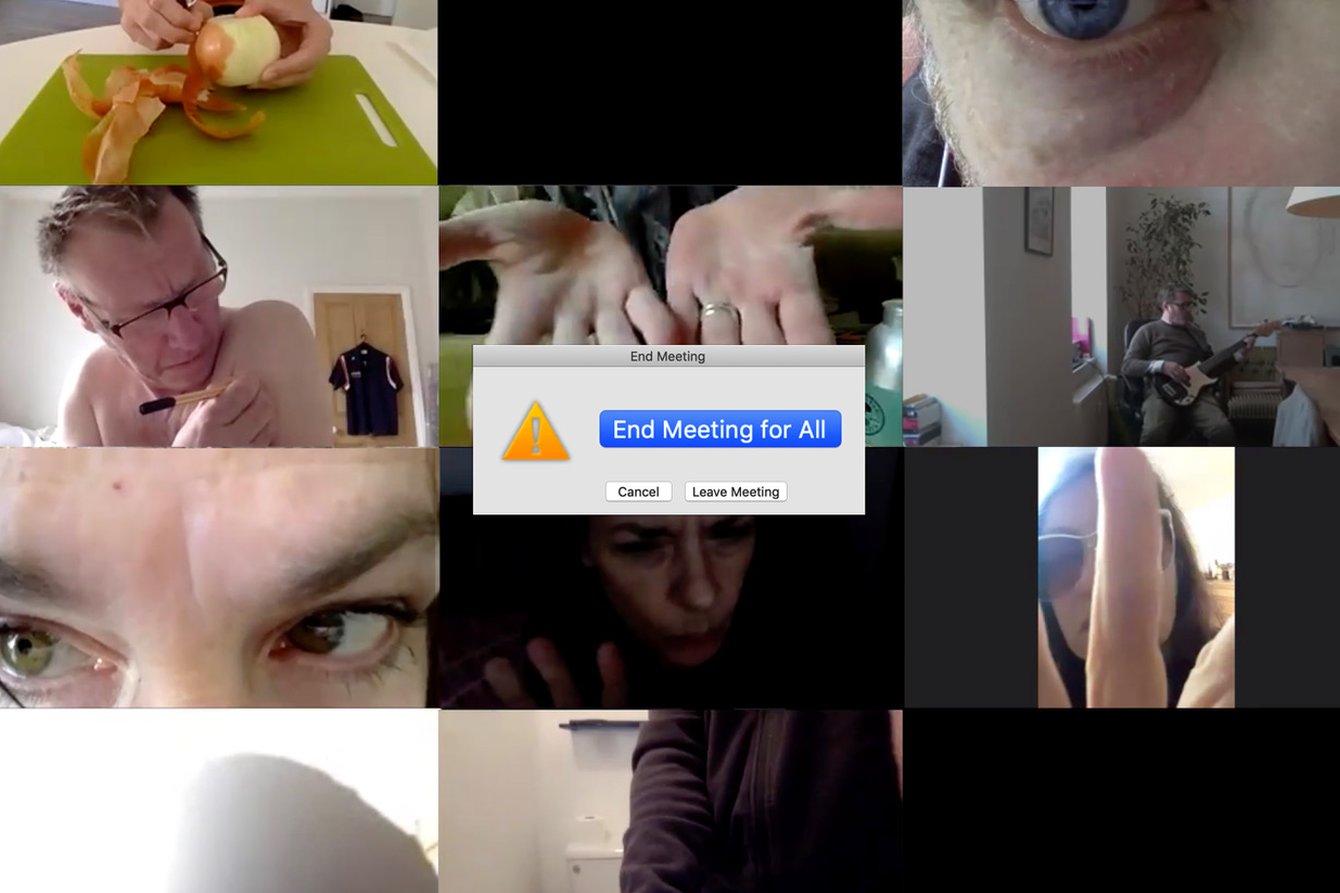 This project – in the form of three short improvised video pieces, linked or connected as chapters – had its informal beginnings in the early days of the lockdown in the UK. In early March we had abandoned physical rehearsals in Sheffield for a new theatre work, ›Under Bright Light‹, which was due to open in Germany on 23rd April. Instead of working, everyone was home alone dealing, in different circumstances, with the unfolding reality and stresses of the pandemic. In the weeks that followed, like everyone else, we met up online, discussing the situation, health and fears for the future, our now-cancelled-or-postponed plans, the survival of the company, doom from the newspaper, frustrations with the UK government. Although we weren't working on anything creative, and had no particular impulse to do so at that point, I realised we were slowly starting to understand the Zoom grid as a kind of stage – a space we shared but in which we were nonetheless both connected and disconnected. As theatre makers who've long had an interest in collage as a methodology, something chimed with this, and with the way that the grid of screens brought together different partially connected realities in different cities, the screen a kind of membrane or imperfect portal between worlds.
Preparations for ›End Meeting For All‹ began with the kinds of improvisation (fooling around) that characterise work in Forced Entertainment's studio – experiments without clear goal, in which the 'situation' at hand and materials of different kinds are tested, manipulated, undermined, their problems or limits embraced and subverted. We were drawn to content that came directly from the context – from the experience and introspection of lockdown, concerns about health and family, the very particular problems of communicating online and the collision of theatrical ambitions with crowded and cluttered domestic situations. 
We're no strangers to working online; meetings with some people present only remotely have long been part of the mix and we did our first live stream – of the durational performance Speak Bitterness – back in 2008. Since then, thanks to presentations of 24-Hour Quizoola!, And on the Thousandth Night, 12am: Awake & Looking Down and Complete Works: Tabletop Shakespeare via internet, it's often felt that particular works have made their rightful place in that kind of broadcast, where the improvised onscreen action can be paralleled by exchange from audience on Twitter, Facebook and other platforms. 
This new work we're presenting now – End Meeting For All – is a strange hybrid object though; recorded live in a single take, each episode is streamed as a recording – a fixed trace of past time. The work itself has gone from conception to rehearsal / preparation and recording in a rapid process that's been (like human interaction for so many people at the moment) entirely remote. In working quickly, we've developed a rough and ready approach that embraces the jagged edges inherent in the medium, relishing the mistakes, technical limits, unruly energies and chaotic possibilities of our six-screen Zoom grid, learning on our feet to compose and make comical and poetic moves inside a dramaturgy that weaves between the different screens. 
The end result – cross-cutting people in different locations, contradictory impulses played out over one another – comes in three episodes that share a mediated theatricality whilst proposing their own quite distinct flavours and atmospheres. There are dysfunctional conversations, private rituals and dressing up games, melodramas alongside everyday banter, poignancy wrapped in absurdity, irreverence masking fear, intimacy held in tension by distance. It's a work that's arisen from the fraught context we're all in, marked by our finding ways to support each other and our wider communities, made in the frame of our sheltering from the horror, meanwhile devouring news, counting and waiting out the days, while our government stumbles around. It's a fragment of 'now' falling into place via improvisation, a notebook sketch in three parts, non-scenes for an impossible theatre, a kind of echo-location, a reaching for something. 
We hope you enjoy the work. 
Stay safe. Hold politicians to account. Support those who are vulnerable.

Tim Etchells, for Forced Entertainment, April, 2020.