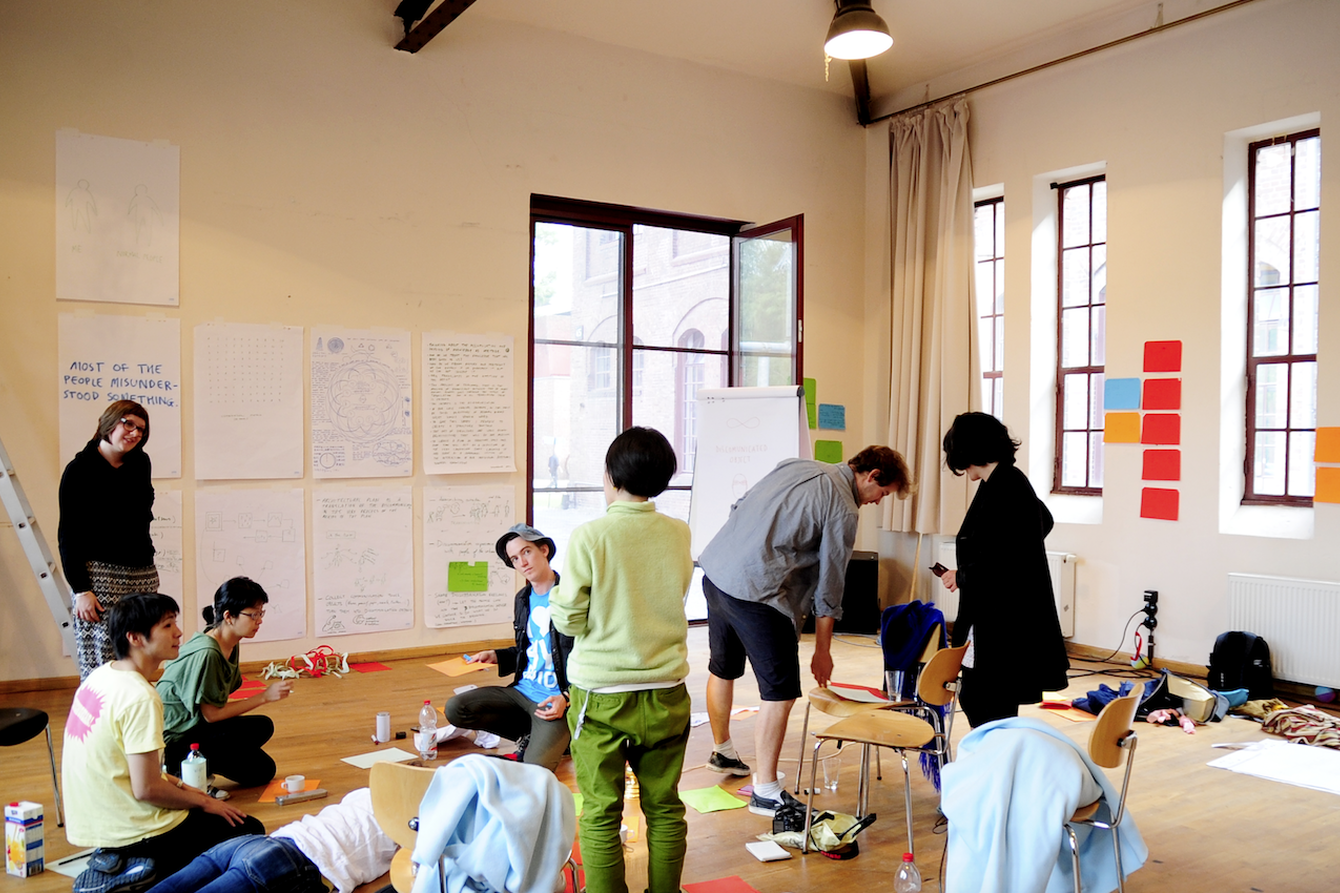 Feldstärke 2007

Interdisciplinary platform
for arts schools and
academies in NRW
FELDSTÄRKE 2007
feldstärke, the interdisciplinary platform for arts schools and academies, was held for the third time at PACT Zollverein from 25.05. – 28.05.07.
PARTICIPANTS
52 students from the
Fachhochschule Dortmund (Communications Design - Photo and Graphic Design Departments)
Kunstakademie Düsseldorf (Sculpture class Prof. Martin Gostner)
Universität Duisburg-Essen (Communications Design - Art and Design, Photography Departments)
Folkwang Hochschule Essen (Dance Department)
Institute for Computer Music und Electronic Media (ICEM) of the Folkwang Hochschule Essen
Hochschule für Musik Köln (Dance Department)
Kunsthochschule für Medien, Köln
Kunstakademie Münster (Photography class Prof. Daniele Buetti, Sculpture class Prof. Maik Löbbert and Prof. Dirk Löbbert)
›feldstärke 07‹ comprised of an internal programme for the participating students and numerous events open to the general public.
PUBLIC PROGRAMME
The public programmes on the first and last evening of feldstärke 07, gave the general public opportunity to view an extensive self curated exhibition of the students' work as well as live performances. As in previous years, PACT Zollverein placed the whole building, including changing rooms, showers, hallways and winter garden, at the students disposal for their exhibition.
PARTICIPANTS EXHIBITION - PHOTOGRAPHY / INSTALLATION / FILM / VIDEO / GRAPHICS / PAINTING / MIXED MEDIA / SOUND ART / SCULPTURE:
Annika Janssen, Elena Schneider, Dirk Rose, Katrin Hauser, Peter Roth, Lennart Selle, Christine Steiner, Johanna Flammer, Sabine Minkwitz, Jessica Prentzel, Jeannette Schnüttgen, Nicole Dierolf, Frauke Dräger, Stefanie Pluta, Christoph Esser, Felix Gienger, Claudia Lindner, Ayse Tasci, Anselm Bilbo Bauer, Daniel Burkhardt, Kerstin Ergenzinger, Kai Welf Hoyme, Florian Kuhlmann, Franziska Windisch, Maria Bätge, Caroline Bayer, Philipp Kern, Lioba Keuck, Anna Kitaigorodsky, Daniela Neuhaus, Peter Schloß.
STAGE PROGRAMME – DANCE / CHOREOGRAPHY:
Felix Berner, Vincent Bozek, Orlando Rodríguez, Guido Orgs, Michael Hess, Julian Stierle, Verena Brakonier, Maximilian Pothmann, Simona Ewert, Marie-Laure Fiaux, Christiana Heil, Fernanda Carvalho Lima, Photini Meletiadis, Ursula Nill, Romy Schwarzer, Christian Speidel.
CONCERT – ICEM:
Jagyeong Ryu, Jan Hendrik Rusch, Johannes Schmidt, Bijan Tavili, Florian Mattil.
INTERNAL PROGRAMME
WORKSHOP PART 1: LED PRACTICAL EXPERIENCE
The first internal working day was led by Isabelle Schad who gave a dance/movement workshop.
WORKSHOP PART 2: INDEPENDENT PRACTICAL EXPERIENCE
On the second day the students worked independently in small mixed disciplinary groups on the theme of ›Perspective‹. They presented their results that evening in the form of (crossmedia-) performances, videos, installations and a ›Blind Walk‹.
RESUMEE
feldstärke's strength and quality proves to be twofold. On the one hand, it lies in the chance to offer students from different disciplines a communal place to get to know each other and work together; a place for exchange and debate, reflection and discussions about their own and unfamiliar working practices, about their own media in the context of other disciplines, about similarities and differences in various forms of art education, production and assertions. It lies in challenging the students to get involved with the unknown in collaborative processes and to seize the opportunity of drawing on a multiplicity of approaches and ideas.
And on the other hand, feldstärke gives students a chance to develop site specific works and undertake experiments and to put their work up for debate in an environment that offers maximal freedom and openness and is, at the same time, secluded from pressures to perform associated with art institutions and the public eye.
We are delighted that feldstärke 07 has resulted in many enduring co-operations and associations which actively encourage us to continue holding and developing the project.