CALL FOR PARTICIPATION: ›I AM YOUR BODY‹
DGS translation: Benedikt J. Sequeira Gerardo
Join a Working Group of D/deaf and Hard of Hearing people
 to explore alternative sound sensing through AI
Deadline: 02. January, 2023 – 23:59 Online Application
With this open call PACT Zollverein, artist Marco Donnarumma and the Intelligent Instruments Lab seek five D/deaf and hard of hearing persons interested in participating in and contributing to the research underpinning Marco Donnarummas forthcoming new project entitled ›I Am Your Body‹. The selected candidates will experience a creative path together as a Working Group and each will receive a fee of 900 euro for their participation and commitment.
The project ›I Am Your Body‹ engages, artistically and scientifically, with the relation between artificial intelligence (AI) and the embodied knowledge enshrined in D/deaf and hard of hearing bodies. The project originates from reflections on Marco Donnarummas own hearing impairment – a genetic, degenerative sensorineural hearing loss in both ears – and builds on his previous works with AI robotics and new interfaces for musical expression – installations and performances that critically investigated technology and body politics.
The Working Group – consisting of five selected participants plus the artist – will conduct artistic research on the corporeal experiences of deaf bodies through varied methods. These will include critical thinking dialogues, movement experiments, creation of audiovisual material, and hands-on sessions with unique prototypes of AI musical instruments. The latter are being developed by our scientific partner, the Intelligent Instruments Lab at the Iceland University of the Arts.
The creation process of the Working Group will drive Marco Donnarummas work towards the creation of a media art installation and an art & technology performance. Both artworks will premiere at PACT in Essen in September 2023, accompanied by an exhibition and a public program of lectures and seminars where the creative research of the group and other relevant experts will be presented. Participants will be able to personally present the work of the group, as long as they want to, and will be permanently credited in the authorship captions of the artworks.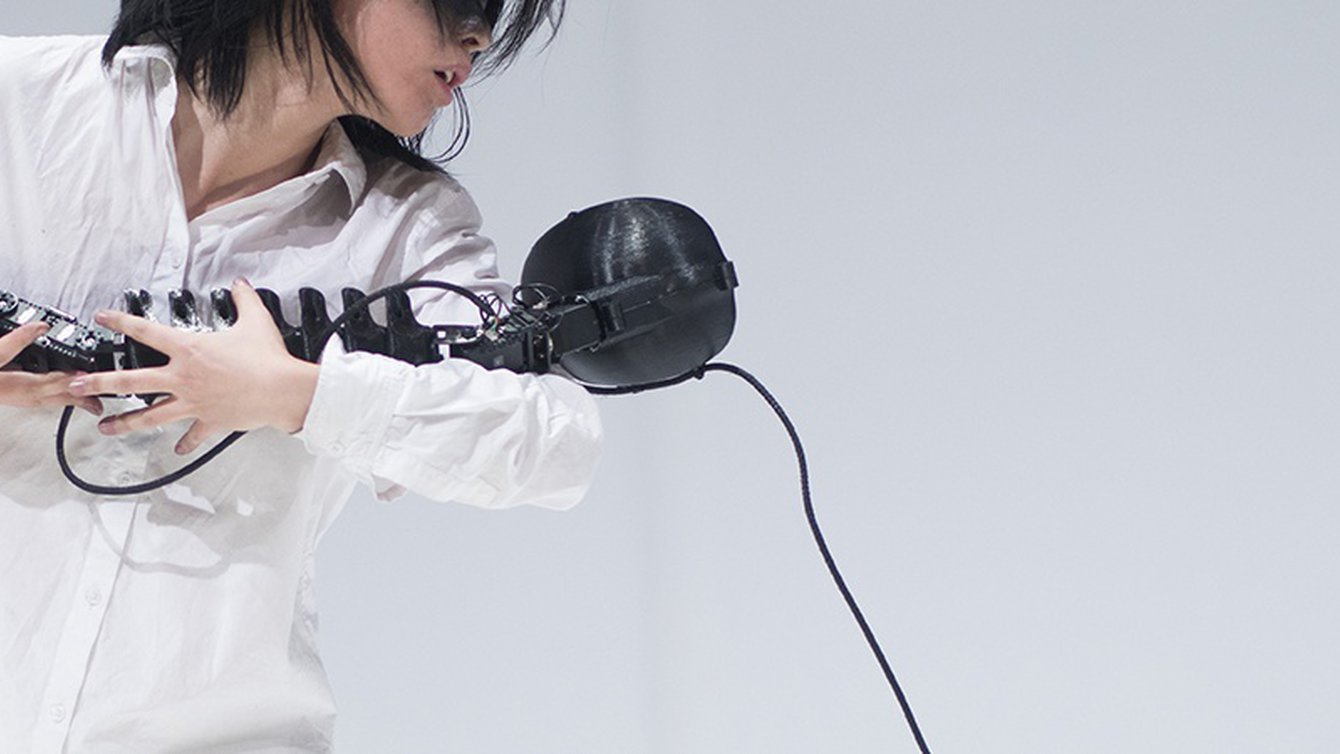 When & What
Committing to the project entails participating in a series of 6 group sessions, 3 online and 3 in person at PACT Zollverein, Essen. Ideally, participants will also attend the final event at the same venue, where the research of the group will be presented in the form of an exhibition. The group sessions will be held in English and/or German, depending on the needs of the participants. A German sign language (DGS) interpreter will be present at all online and in-person sessions of the Working Group.
Below is a detailed schedule. Exact dates are to be defined and may be subjected to slight changes according to the needs of the participants and the artist:
Intro Session #1 – Online – 1.5h, mid February, 2023

Working Session #2 – Online – 3h with 30 minutes break, end of February, 2023

Working Sessions #3, #4, #5 – In person – 6 hours with 1 hour break, April 2023

Wrap up Session #6 – Online – 3h with 30 minutes break, end of July, 2023

Final Event – In person – One evening, end of September, 2023
Who can apply?
The artistic and research nature of the project requires that participation to this open call is reserved to people with any degree of deafness, hearing impairment or altered auditory perception. While we are unfortunately unable, at a technical level, to host people with cognitive disabilities, we welcome folks with other conditions intersecting with their hearing impairment.
We aim to form a heterogeneous group of people from different backgrounds and with diverse expertise, and therefore candidates from all walks of life are encouraged to apply. Working in arts, culture or research is relevant but it is neither required nor a selection criteria. However, an interest in sensorial experimentation, arts and technology and/or sound is important. All kind of bodies, genders and identities are welcome and encouraged to apply.
The fee for selected group members is already secured through our funding structure.
How to apply?
Please submit your application by filling out the online form at the link below by 02. January, 2023 – 23:59. At the end of January, a first selection of participants will be invited for individual, online interviews (with a DGS translator, when needed). The final selection will be announced in the beginning of February 2023.
If you have any questions, please email: kotryna.slapsinskaite@gmail.com
›I Am Your Body‹ is a production by Marco Donnarumma, funded by the Ministry of Culture and Science of the State of North Rhine-Westphalia as a Medienkunstfellow, co-produced by PACT Zollverein and with scientific support from Intelligent Instruments Lab at the Iceland University of the Arts in Reykjavík.