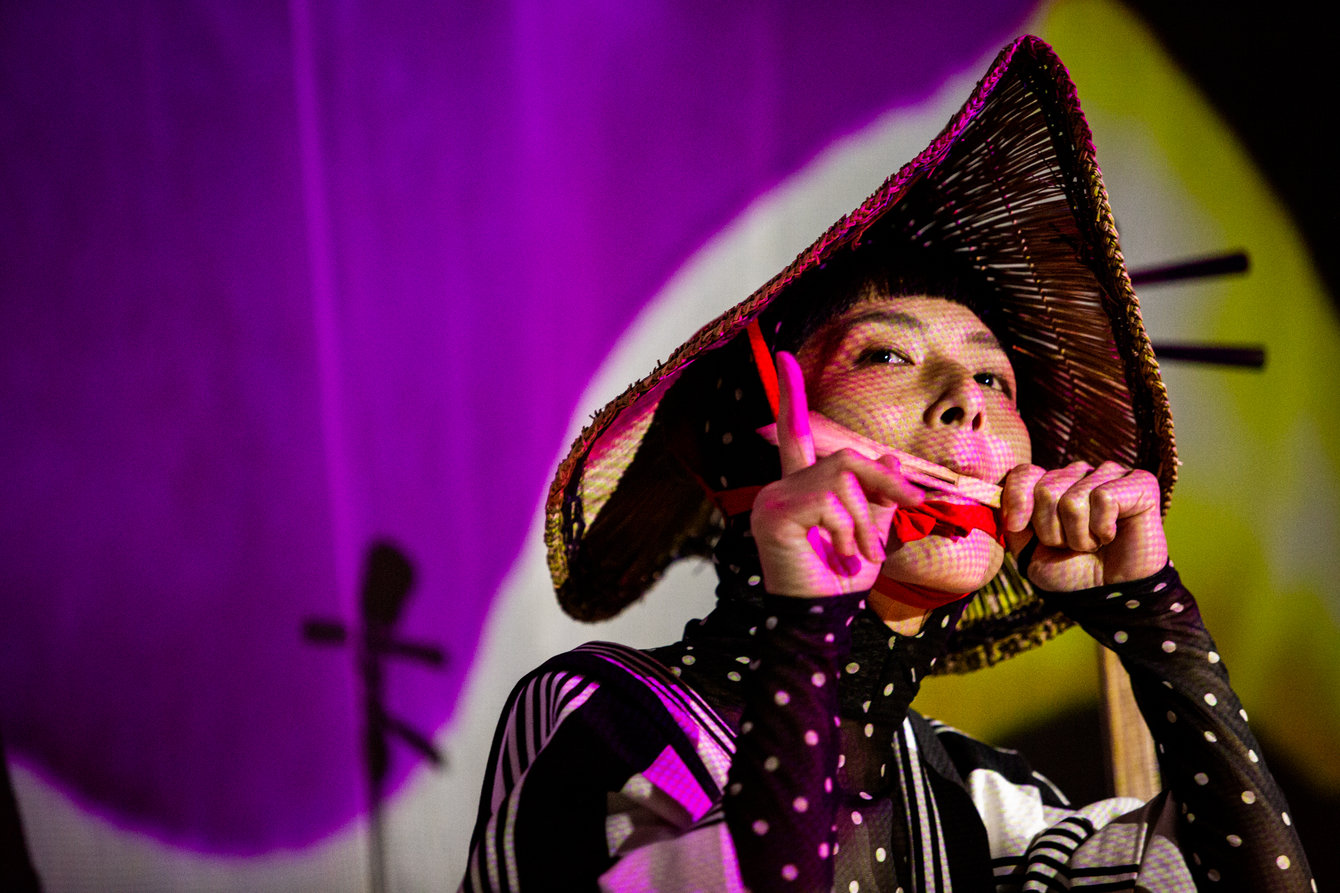 Age: 6+ | Tickets: 5€
Duration approx. 50 minutes
Important for your visit:
2G+ rule applies to all visitors over the age of 16: proof of booster vaccination; recovery (max. 3 months) after second vaccination; full vaccination (twice) and proof of test (no longer than 24h) plus ID card required
School age children under 16: school ID card or similar proof of regular testing required
Under school age children: voluntary lollipop tests available on site
For all visitors: medical face masks are mandatory throughout the building as well as during the performance
TICKETS
Welcome to roundABOUT. Zonzo Compagnie's new mini-arena opens its doors for the first time. It is a circular magic box that can accommodate a small audience and a soloist and literally surround them with video and sound.
Japanese percussionist Tsubasa Hori sets foot in this magical arena. Her world is that of the Taiko drum, but she also plays a whole range of instruments. Accompanying herself on the Shamisen, she sings songs and narrates.
Her starting point is the Bon dance: a colorful, festive ritual in honor of the spirit realm, the realm of the ancestors that is celebrated extensively in Japan. With video projections by Sarah Yu Zeebroek and Willem Mertens, she evokes a wonderful world, a roundabout of changes and metamorphoses. German director Vera Tussing is responsible for the dramaturgy of the piece and assists Tsubasa with the choreography.
Konzept, Musik, Performance Tsubasa Hori Dramaturgie & Choreographie Vera Tussing Visual design Sarah Yu Zeebroek Video animation Willem Mertens Bühne Wouter V An Looy Sound design Jo Thielemans Technik Arthur de Vuyst Kostüm Johanna Trudzinski Assistenz Kostüm Lisa Gambey
Eine Produktion von Zonzo Compagnie & ChampdAction in Koproduktion mit Handelsbeurs und KAAP Unterstützt von Flanders und Tax Shelter measure of the Belgian Federal Government.