PACT Café
Get together for families /// CANCELLED
Wed 11.03.20

15 h – 18 h

Wed 18.03.20

15 h – 18 h

Wed 25.03.20

15 h – 18 h

Wed 01.04.20

15 h – 18 h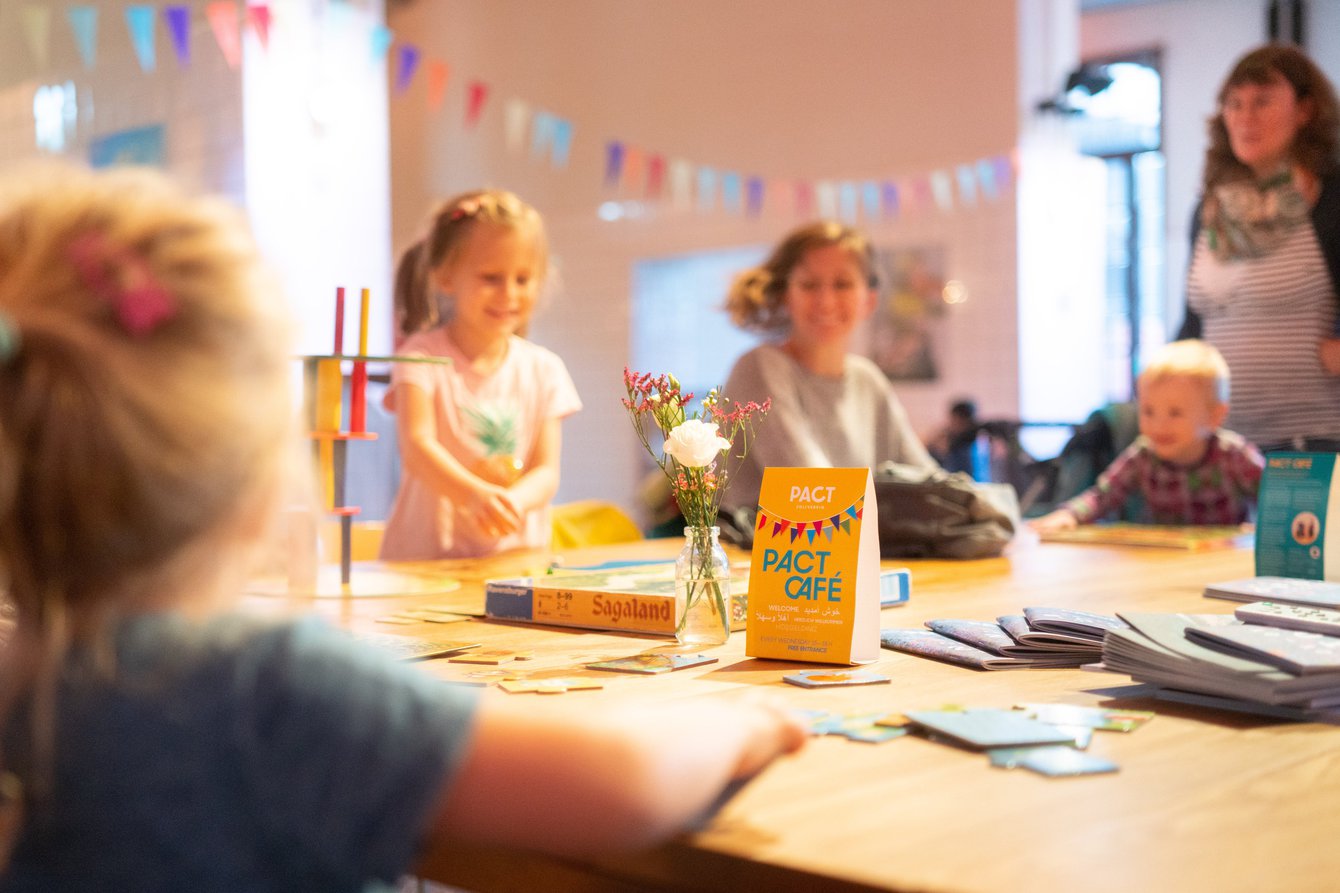 In order to curb the spread of the corona virus and protect our audience and the people we directly work with, PACT and its satellite space, the WerkStadt, are suspending all public events until the end of April in accordance with the decree of the Ministry of Labor, Health and Social Affairs of the State of North Rhine-Westphalia and the recommendations of the Robert Koch Institute. We are exploring alternative non-audience based formats – but more about this soon! In the meantime, we thank you for your understanding and if you have any questions please don't hesitate to contact us at service@pact-zollverein.de.
//
Every Wednesday afternoon local families are invited to drop by the ›PACT Café‹, a friendly informal space for conversation and exchange run with the support of the team of the BLAUER ELEFANT Zollverein children's and family centre. There's complementary tea and coffee for the grown-ups and a play corner generously equipped with wooden toys, books, board games and handicraft materials for children of all ages. Those between the ages of 4 and 6 also have the opportunity to join in playful movement activities under the guidance of a dance teacher. The movement group is free and open on a drop-in basis. No previous dance experience or knowledge of German is required.
Her Çarşamba günü saat 15:00 ile 18:00 arası, PACT sizi ›PACT Cafe'ye‹ davet ediyor: tiyatro fuayesi bir buluşma yeri, fikir alışverişi için bir merkez ve aynı zamanda da bir oyun alanı olacaktır. Çocuk ve aile merkezi Blauer Elefant Zollverein ile sizi ücretsiz kahve ve çay eşliğinde bir araya gelip, sohbet etmek ve aynI zamanda salonu beraber kullanmaya davet ediyoruz.
Tüm çocuklar için ahşap oyuncaklar, çocuk kitapları, masa oyunlarından oluşan bir oyun alanı ve el sanatları için gereken malzemeleri sunuyoruz. 4 ve 6 yaş arası çocuklar bir dans eğitmeni eşliğinde ve bir oyun içerisinde dans haraketleri yapmayı öğrenecektir. Kapımız her zaman acıktır; her zaman katılmanız mümkündür. Dans deneyimi veya Almanca dil bilgisi gerekli değildir.
A project within the framework of the Alliance of International Production Houses supported by the Federal Government Commissioner for Culture and the Media
Contact
tel: +49 (0)201.289 47 00