IMPACT04

Strategies and scope of theatrical practices
08. - 10. November 2004
with:
BLAST THEORY (GB)
BALLETT FRANKFURT (DE)
RIMINI PROTOKOLL (DE)
IMPACT04 considers strategies, methodologies and tools used in theatre practices today. Taking part are three leading groups all of whose work explores the extents, confines and possibilities of theatre and theatrical spaces. BLAST THEORY (GB), BALLETT FRANKFURT (DE) und RIMINI PROTOKOLL (DE/CH) offer an insight into their working practices, ideas and projects.
Lectures, live and multimedia presentations as well as group discussions and actions held in spaces both in and around PACT Zollverein generate a conducive atmosphere for experimenting and reflecting.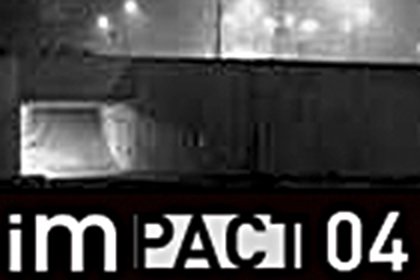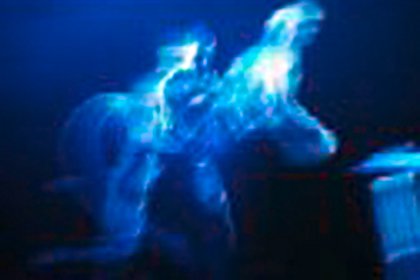 EPISODES
Symposium Episode 1
MON 08.11.04
RIMINI PROTOKOLL (DE/CH)
"The best art is reality itself: copied, reassembled, reflected and shown to an audience for appraisal" (Milo Rau)
Rimini Protokoll is the label of three young authors and directors from Germany and Switzerland, Helgard Haug, Stefan Kaegi and Daniel Wetzel who have gained reputation for their theatre campaigns and actions in public spaces and for directing Ready-Made Performers in theatre spaces, as in, for example, "Deutschland 2" (2002), in which voters represented and copied their elected representatives in a live doubled hearing of the German Parliament. In the last few years their projects have been included in every contemporary theatre festival in Germany and also shown extensively abroad. Critics have described the three graduates of the Giessen Institute for Applied Theatre Studies as the "protagonists and founders of the new reality trends on stage" as well the "up-and-coming directors of the year" in 2003.
More informationen under: http://www.rimini-protokoll.de
WORKSHOP
During the symposium, Rimini Protokoll will discuss their previous projects and experiment with concepts they are currently working on.
Symposium Episode 2
TUE 09.11.04
BALLETT FRANKFURT (DE)
When William Forsythe was appointed artistic director of Ballett Frankfurt in 1984, he set out to create challenging original works, which were removed from conventional ballet, and to build a new audience. Since this time, Forsythe has developed a unique ballet aesthetic that does not deny traditional ballet technique but which deconstructs/constructs, dismantles, re-orders, varies, broadens and challenges the lexicon. Based on Forsyhte's "Improvisation Technology", his company generates and modifies movement material right up to and including the moment of actual performance "to overcome the choreography and get back to what the dance really is."
WORKSHOP
Rebecca Groves (dramaturge Ballett Frankfurt), two theoreticians closely associated with the company, Frank Werner (journalist and Laban specialist) and Gerald Sigmund (author, critic) as well as Ballett Frankfurt company members, Christine Buerkle and Talal Al-Muhanna, offer an insight into William Forsythe's working methods and choreographic processes in both theory and practice. building on this, they will show repertoire extracts and offer participants opportunities to test the system for themselves based on example material. In addition to this, they will employ video projections which make it possible to experience the works from the perspective of the active protagonists.
Symposium Episode 3
WED 10.11.04
BLAST THEORY (GB)
"We look at ways to have a more substantive dialogue between us and our audience. And technology came into our work as a tool that could be used to do that." (Matt Adams)
Blast Theory is one of the most adventurous artists' groups in Britain, based in London since 1991. Pioneering the use of new technologies within performance contexts, the work explores interactivity and the relationship between real and virtual space to ask questions about the ideologies present in the information that envelops us. For the past three years, Blast Theory has been exploring the convergence of online and mobile technologies in collaboration with the Mixed Reality Lab, University of Nottingham, to create groundbreaking new forms of performance and interactive art, mixing audiences across the internet, live performance and digital broadcasting. Follwoing two BAFTA award nominations, Blast Theory won the Golden Nica at the Prix Ars Electronica, Linz, in 2003.
More information under:  https//www.blasttheory.co.uk
WORKSHOP
Ju Row Farr and Matt Adams will show recent works using mobile technologies such as "Uncle Roy All Around You" and will contrast them with smaller gallery based works such as TRUCOLD and "An Explicit Volume". Ju and Matt will discuss the balance between intuitive, studio based practice and large scale, technologically demanding collaborative works.