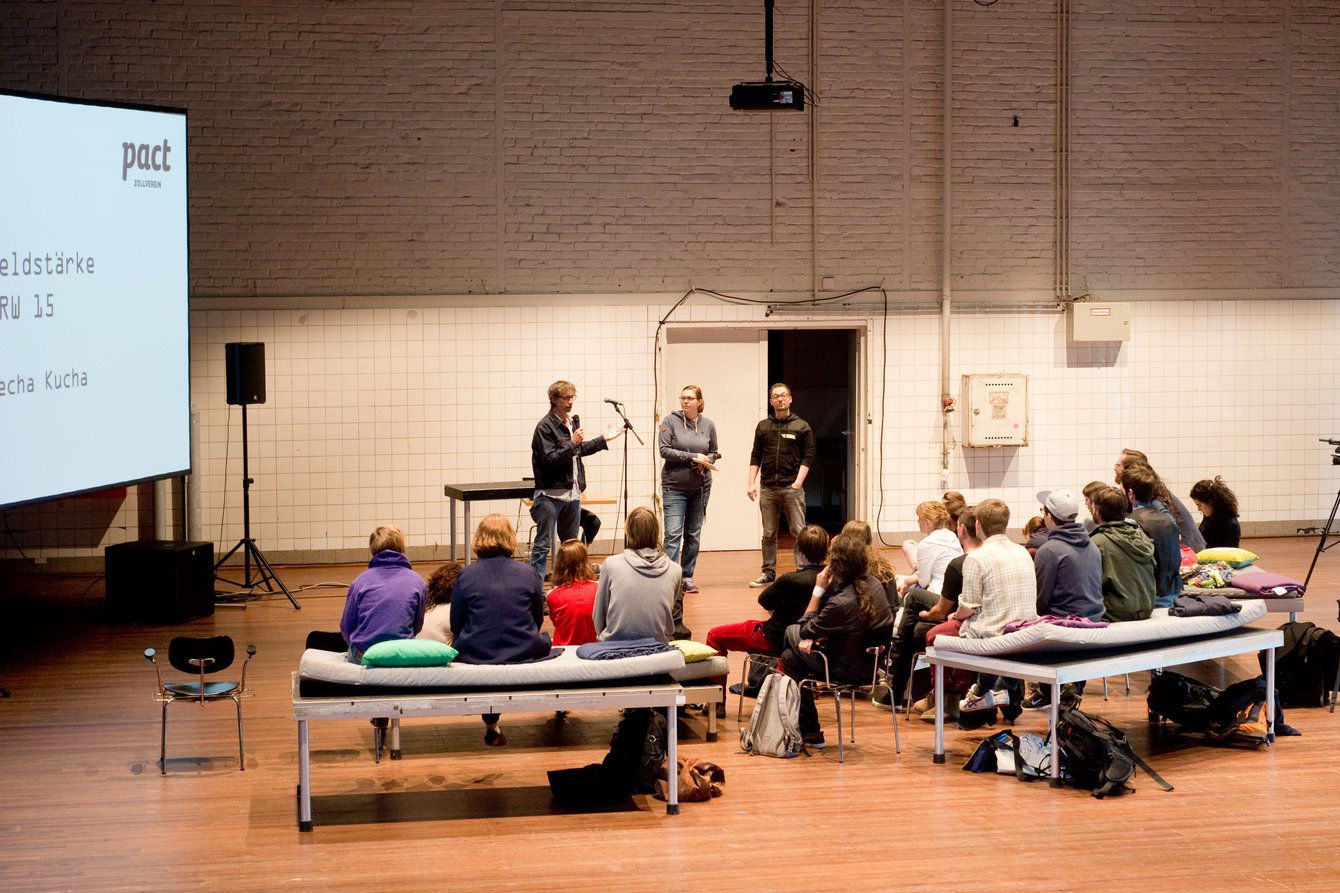 Feldstärke 2015

Interdisciplinary platform
for arts schools and
academies in NRW
The 2015 edition of Feldstärke took place between 11th and 13th May 2015. The four-day programme was divided into an internal and a public part.
A summary
For four days, young artists worked with the resources offered by their surroundings. Sometimes the space was open, sometimes closed. They changed location, re-oriented themselves, dissolved elements and re-configured them. In an exploratory lab environment, they tried out new approaches: fearless, free and focussed. They scrutinised both the nature and the techniques of field research. Not only did they experience the space around them, their actions also contributed to new spatialisation and spatial orders. Feldstärke 2015 gave 23 students and graduates from North-Rhine Westphalia the impetus to develop future interdisciplinary projects with the contacts they made, as well as to focus their own trans-disciplinary processes. They will hopefully continue to find and open up empty spaces, to discover and uncover new forms.
(By Milena Cairo)
Participants
23 students from
Fachhochschule Dortmund (Faculty of Photography)
Kunstakademie Düsseldorf (Faculty of Visual Arts)
Folkwang Hochschule Essen (Faculties of Dance, Photography, Heterotopia Graduate Programme and Industrial Design)
Hochschule für Musik und Tanz Köln (Faculuties of Dance and Dance Dissemination in contemporary contexts)
Kunsthochschule für Medien, Köln (Faculty of Media Arts)
Bergische Universität Wuppertal (Faculty of Design and Media Studies)
Ruhr Universität Bochum (Faculties of Scenic Research, Theatre Studies and comparative literature)
Internal part
A: A visit to the "Palace of Projects"
This year's edition started with a visit to the exhibition 'The Place of Projects', by artists Olya and Emilia Kabakov, housed on the Zollverein site. The visit was followed by a plenary discussion about the extent to which concepts, ideas and impressions suggested by the 'Palace of Projects' could be used in the up-coming workshops.
B: Independent group work phase
The participants worked in five self-selected groups to develop previously agreed themes: structural systems, craft-making and exposure, the dimensions of perspective, archaeologies and utopias and frictions and fractures.
Public part - 16. May 2016
The public part of Feldstärke 2015 offered external visitors the opportunity to see the work of the students in the form of a tour on the last day of the programme.
Participants
Laura Brechmann, ›Einlagerung [Bereinigung] for Feldstärke 2015‹, Installation
Anna Budniewski, ›NewWindow #7‹, ›NewWindow #12‹, Photographie
Carmen Casagrande, ›ALI_AS‹, Videodokumentation
Ali Chakav, ›Don't disturb my circle (Archimedes)‹, Soundperformance
Mattias Engling, ›Öffentliche Wahrnehmung (AT)‹, Installation
Clara Sofía Fernández, ›Engung und Weitung‹
Dwayne Holiday, ›Untitled‹, Videodokumentation, › Appropriate(ing) Identities/ Verb(al)izing Ritual ‹, Lecture/Demonstration
David Jankowiak, ›Untitled‹, Photograhie
Jana Mila Lippitz, › Ein Mensch dreht sich weg und ein Zweig biegt sich‹, › Berg‹, ›Das Alte Land‹, ›Untitled‹, Photographie
Esta Mastkovic, ›Temporal separation of context and it's content‹, Videodokumentation
Julia Nitschke, Julia Nitschke und Helene Ewert: ›Absagen an Krieg (eine Dokumentation)‹, ideodokumentation
Ira Ottmann, ›Untitled‹, Lichtinstallation
Anja Plonka, ›Im Orbit des Imaginären‹, Performance/Installation
Tania Reinicke, ›Versuchsanordnung (2015)‹
Luísa Marinho Saraiva, ›Why be happy when you could be interesting?‹, Performance
Matthias Schneck, ›raise your flag‹, Installation
Marcel Stahn, ›Not yet titled‹, Video
Diana Treder, ›Blau ist blau.‹, Performance
Stephanie von Gelmini, ›konstrukt‹, Photographie
Anne Weyler, ›Gemölde (2015)‹, Installationsdokumentation
Johannes Windolph und Jan-Philipp Winkler, ›1970 bis 1994 - Material" (Work in progress)‹, Installation