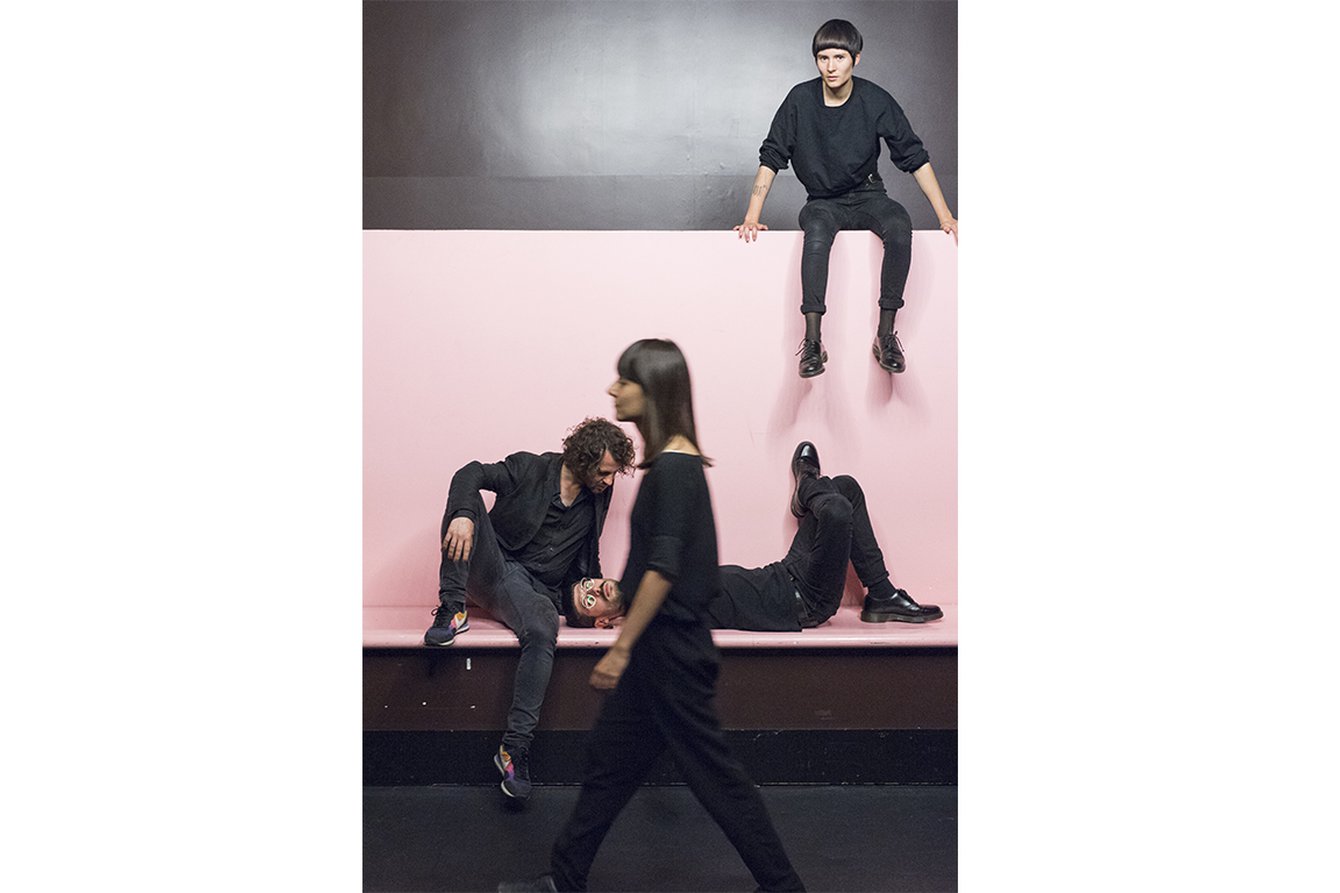 3 Fragen // K.A.U.&Wdowik
1. In eurer Arbeit ›RETURN OF A GODDESS‹ reist ihr mit einer 1:1-Kopie einer Statue der aztekischen Gottheit Chicomecoatl durch Mexiko. Was hat Originalität bzw. Kopie im Kunstkontext für eine Bedeutung für euch?
Darüber wurden Bände geschrieben und besonders in der Konzeptkunst auch immer wieder künstlerisch dazu gearbeitet. Angefangen von Walter Benjamins Begriff der Aura über Marcel Duchamp, Andy Warhol, Sturtevant, bis zu unzähligen Kunstwerken und Künstler*innen die sich heute damit beschäftigen, auch im Theaterkontext z.B. im Rahmen des Re-enactments. Wie lässt sich etwas Immaterielles darstellen, wiederholen, nachempfinden, vervielfältigen?
Besonders interessant ist es für uns, diese Frage heute im Hinblick auf die anthropologischen Sammlungen der europäischen Museen und ihren kolonialen Hintergrund zu stellen. Ist es nicht grotesk, dass einer der größten Sammlungen originaler ägyptischer Kulturgüter im British Museum in London beherbergt ist? Oder dass die echten Gebeine ermordeter Herero und Nama bis vor kurzem noch in deutschen Museen lagen? Oder dass nun in Berlin die ethnologische Sammlung in eine Kopie des preußischen Stadtschlosses zieht? Dass europäische Staaten Kopien ihrer Museen in den Kolonien erbauten? Hier wurde und wird der Umgang mit Originalen und Kopien zur Machtdemonstration.  
Unser Projekt schließt an diese Fragen an. Wir haben kurzerhand eine 1:1-Kopie der Göttinnenstatue Chicomecoatl aus der Sammlung des Humboldt-Forums herstellen lassen und uns mit ihr auf eine Reise durch Mexiko begeben. Dabei sind wir auf der gleichen Strecke wie Humboldt im Jahr 1804 gereist und haben verschiedene Personengruppen – Dorfgemeinschaften, Archäolog*innen, Anthropolog*innen, Künstler*innen, Journalist*innen und Aktivist*innen – getroffen. Die dabei entstandenen Aufnahmen waren für uns überraschend, vor allem als wir erkannten, dass zwischen Original und Kopie wenig Unterschied gemacht wurde, da beides nur Träger oder Stellvertreter für immaterielle Mächte und Energien sind.
Die Figur nicht in Mexiko zu lassen, sondern für unser Kunstprojekt wieder zurück nach Deutschland zu nehmen, ist eine Sache, die uns sehr beschäftigt. War das ein zweiter Diebstahl? Aber es war doch nur eine Kopie. Oder?
2. Was war die skurrilste Erfahrung während eurer Reise mit der Skulptur?
Während wir mit der Kopie einer Wettergottheit durch Mexiko gereist sind haben uns zunehmend Wetterphänomene eingeholt. Mit der Zeit konnten wir die Häufigkeit der Phänomene nicht mehr ignorieren: Wolkenbrüche, Gewitter, Überschwemmungen, golfballgroßer Hagel, dann sogar ein Erdbeben bei unserer Rückkehr nach Mexico City. Als dann auch noch der Vulkan Popocatepetl bei unserer Ankunft Asche spuckte, waren wir mit rationalen Erklärungen am Ende. Natürlich können das auch alles Zufälle sein, aber wer glaubt heute schon noch an Zufälle.

3. Wie habt ihr während der Residenz bei PACT an dem Projekt weiter gearbeitet?
Zunächst mussten wir einen Moment der Ohnmacht überwinden. Denn der Umgang mit kolonialen Objekten ist ja verständlicherweise ein Minenfeld. Das mussten wir alles erst einmal fassen und auch verstehen, was dieses Objekt in Deutschland im Museum, bei uns auf der Bühne und in Mexiko bedeutet. Zu Beginn haben wir deshalb unsere eigene Position und Haltung kritisch hinterfragt: wer sind wir? Für wen wollen und können wir sprechen? Wen können wir kritisieren?
Dann haben wir mit den Performer*innen Lea Kieffer und Rocio Marano Miguez einen persönlichen Zugang zu dem Objekt gesucht und uns ihm über verschiedene Körperpraktiken angenähert. Ziel war es, eine mögliche Haltung zu einer Situation zu finden, die unmöglich ist und schwer auszuhalten – nämlich dass dieses Objekt hier ist, mit dem Hintergrund unserer Erfahrungen in Mexiko.
Einblick // Studio 2 - PACT Zollverein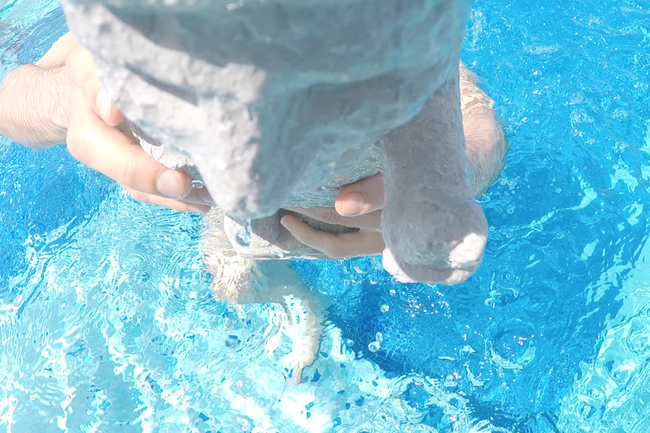 ›RETURN OF A GODDESS‹ entwirft eine Fantasie über den Umgang mit kolonialen Objekten. Dafür reisten K.A.U.&Wdowik im Sommer 2018 gemeinsam mit einem mexikanischen Filmteam auf den Spuren Alexander von Humboldts von Mexico City bis nach Veracruz. In ihrem Gepäck: eine 1:1 Kopie einer Statue der aztekischen Gottheit Chicomecoatl, deren Original im Jahr 1805 durch Humboldt nach Preußen gelangte und bis heute Teil der ethnologischen Sammlung Berlins ist. 
Die Reise der Kopie hätte in Mexiko ein Ende finden können. Sie war angekommen, am richtigen Ort. Aber ein Happy End gab es nicht. Stattdessen entschied sich das Team, die Geschichte des Originals zu wiederholen. Sie brachten die Kopie zurück nach Berlin. Das Wiederholen dieses Akts der Gewalt, die Bürde und Macht, die damit einhergeht, ist Ausgangspunkt der Performance ›RETURN OF A GODDESS‹ , in Zusammenarbeit mit den Tänzer*innen Lea Kieffer und Rocio Marano.