#ResidencyInsights SPRUNGBRETT <> TANZRECHERCHE NRW
Joana Kern / Sonja Reischl / Wenta Ghebrehiwet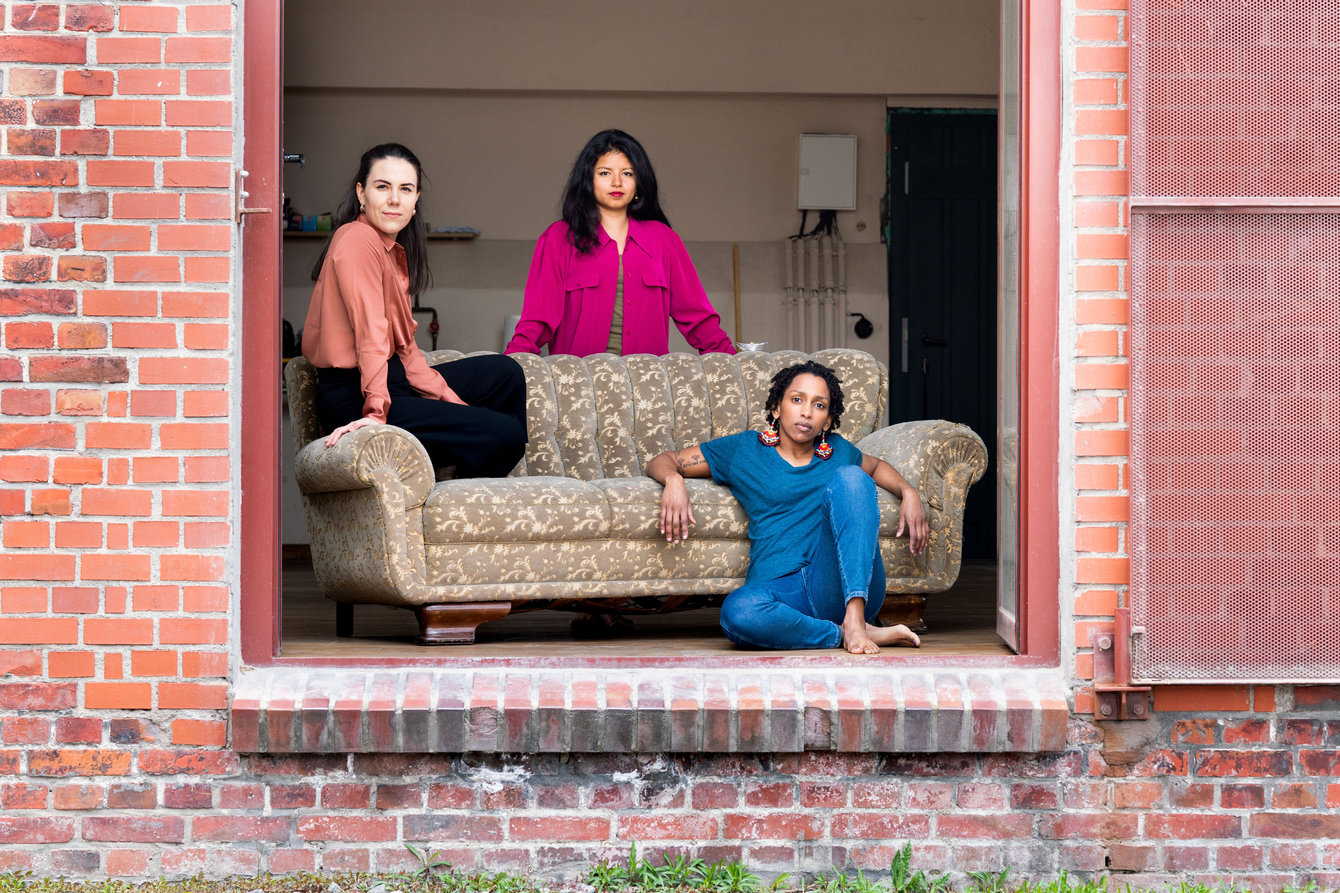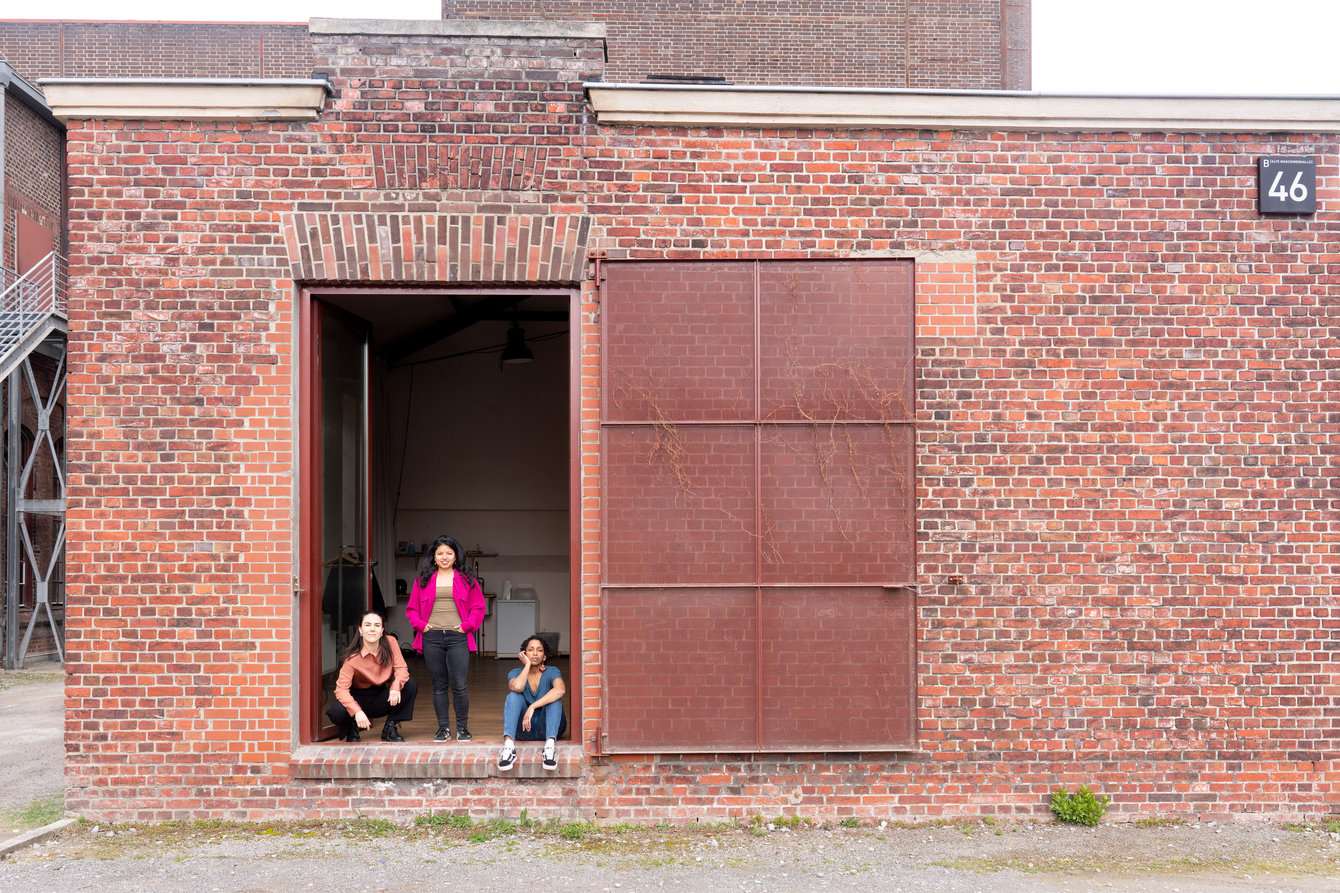 Mit dem Format SPRUNGBRETT <> TANZRECHERCHE NRW bilden das Festival tanz nrw und das NRW KULTURsekretariat eine besondere Allianz für ergebnisoffene Recherche-Residenzen. Seit 2015 ermöglichen die Kooperationspartner gemeinsam mit dem tanzhaus nrw Düsseldorf und PACT Zollverein aufstrebenden Künstler:innen in Nordrhein-Westfalen die vertiefte Auseinandersetzung und die Erforschung eines Themas sowie die Entwicklung neuer Ideen.
Eure Recherche-Residenz steht unter dem Titel ›FeminineX‹. Ihr befasst Euch darin mit Euren Identitäten als Frau. Welche Aspekte haben Euch in der Recherche besonders beschäftigt?
Wer bin ich als Frau? Wer bin ich als Tänzerin? Bin ich ›weiblich‹? Werde ich als weiblich gelesen? Mit diesen Fragen beschäftigen wir uns individuell und als Kollektiv schon seit längerer Zeit. Die Residenz hat uns die Möglichkeit und den Raum gegeben, diesen Fragen durch Bewegungsrecherchen und Gesprächen unter uns und mit anderen Frauen tiefer auf den Grund zu gehen. In den vier Wochen haben wir einen Safe Space geschaffen, um gesellschaftlichen Vorstellungen zu entfliehen. Wir erforschten individuell unser Wesen als Frau und spürten zugleich eine gewisse Energie, die wir alle in uns tragen und die uns als Frauen verbindet.
Jede von uns hat das Gefühl, dass es etwas in uns gibt, das unterdrückt wird. Doch woher kommt diese Unterdrückung? Was machen Medien, unsere jeweiligen Kulturen, die Tanzszene, Erwartungen von Familie, Männern und sogar anderen Frauen mit uns und unserer Wahrnehmung? Hier hatten wir den Freiraum unbefangen zu sein und gewisse Bewegungen und Gefühle zuzulassen.
Mit ›FeminineX‹ möchten wir die Box der Weiblichkeit zerbrechen und Raum und Freiheit schaffen für den Facettenreichtum jeder einzelnen von uns. So fanden wir zum Beispiel in unserer Recherche verschiedene Arten der Sinnlichkeit und bekamen mehr und mehr Mut zur Unbefangenheit, mit dem wir auch andere Frauen anstecken wollen.
Ihr seid ein rein weibliches Urban Dance-Kollektiv. Welche Rolle spielen Genderthemen Eurer Wahrnehmung nach in diesem Tanzgenre?
Unser Interesse an den Themen ›Weiblichkeit‹ und ›Identität als Frau‹ gerade auch in der ›urbanen‹ Tanzwelt ist aus den Beobachtungen entstanden, die wir in den letzten Jahren in unserem Umfeld gemacht haben. Uns sind zwei Dinge aufgefallen:
Zum einen betitelt sich die urbane Szene mit Offenheit, Respekt und Unity. Wenn man in Battles und Events guckt, fällt aber auf: Von 5 Jury-Mitgliedern ist häufig nur ein Mitglied eine Frau, es gibt selten einen weiblichen DJ oder Host und selbst die Workshopleiter sind überwiegend Männer.
Zum anderen sehen wir, dass zumindest in unserem Umfeld Frauen in der Szene oft zurückhaltender sind als Männer: Es nehmen zum Beispiel oft weniger Frauen als Männer an Battles teil; weniger Frauen veranstalten große Events.
Wie entstehen diese Phänomene? Was passiert da genau, dass sich Frauen in Zurückhaltung üben und eher temporär auf der Fläche sind? Wieso machen wir uns so klein?
In seinem Artikel ›There Were Females That Danced Too: Uncovering the Role of Women in Breaking History‹ beschreibt Serouj Aprahamian aka Midus, dass Frauen schon immer Teil der Hip Hop-Geschichte und Breaking-Szene waren. Manchmal aber eben von sich aus temporär von der Bildfläche verschwunden sind oder sich mehr im Hintergrund gehalten haben. Andererseits wurden Frauen oft auch von außen unsichtbar gemacht. Die Kommerzialisierung und die Narrative der Medien haben dazu beigetragen, den Anschein zu erwecken, dass Hip Hop und Breaking ›Männerdomänen‹ seien, denn oft werden und wurden den weiblichen Protagonistinnen keine Aufmerksamkeit geschenkt und nur die männlichen Pioniere und Akteure sichtbar gemacht.
SPRUNGBRETT ist ein Recherche-Format. Welche Möglichkeiten gab Euch diese Art von ergebnisoffener Residenz?
Diese Art von ergebnisoffener Recherche hat uns die Freiheit gegeben, einfach auszuprobieren. Erst ohne den Druck etwas abliefern zu müssen, konnten wir tiefer in die Thematik gehen und uns öffnen.
Unsere Arbeitsweise ist sehr intuitiv. Eine erzählt etwas, die andere hat eine Idee für eine Impro-Aufgabe, wir probieren aus, beobachten, halten fest, verfeinern. An manchen Tagen flowt es, wir schwitzen und powern uns bis abends aus, an anderen Tagen reden wir auch einfach nur und nehmen uns Zeit, die Dinge auf uns wirken zu lassen.
Jede von uns hat einen anderen kulturellen Hintergrund, den wir als Inspirationsquelle sehen und in unsere Arbeit einfließen lassen. So haben wir uns zum Beispiel ausgetauscht, was in unseren jeweiligen Kulturen als ›weiblich‹ gilt und was wir selbst wertschätzen.
An einem der Tage hat uns Wenta ein Video mitgebracht, das eritreische Frauen und Männer beim Tanzen zeigt. Es gibt spezielle Bewegungen, die nur von Frauen und nur von Männern ausgeführt werden. In Improvisationssessions haben wir dann diese Elemente genutzt und sie in unseren eigenen Tanz integriert.
Auch wenn Frau sein teils auch mit Schmerz verbunden ist, wollen wir unsere Arbeit auf keinen Fall aus der Opferrolle entwickeln. So versuchen wir, an viele Themen auf humorvolle Weise heranzugehen. Dazu haben wir zum Beispiel Alltagssituationen gesammelt, in denen von Frauen eine ganz bestimmte Art von Verhalten oder Bewegung erwartet wird. Ein Beispiel: »Liebe Frauen, bindet euch doch mal auf einem öffentlichen Platz eure Schuhe, ohne dabei in die Hocke zu gehen oder den Po ›einzufahren‹. Wie fühlt ihr euch?« Ist es nicht krass, wie simple, alltägliche Situationen uns ständig daran erinnern, unsere Haltung zu wahren?
Ihr seid während Eurer Residenz auch in den Austausch mit anderen gegangen. Könnt Ihr darauf noch näher eingehen?
Neben unserer Bewegungsrecherche hatten wir die Möglichkeit, uns mit Yeliz Pazar und Bahar Gökten, Mitglieder des urbanen Frauenkollektivs Nutrospektif, über das Leben einer Künstlerin auszutauschen.
In einem Workshop mit der Performance Künstlerin Zoe haben wir mehr über den Tanzstil Voguing erfahren, der seine Wurzeln in der New Yorker Schwarzen und Latinx LGBTQ+ Community, genannt Ballroom Community, hat. Ballroom bietet seit jeher einen sicheren Raum für marginalisierte Personen, um die eigene Geschlechtsidentität zu erfahren und neue Formen der Gender Expression zu kreieren.
Sabina Stücker und Philipp Schaus haben immer ein offenes Ohr für uns und haben uns Feedback gegeben und ihr Know-How über die Produktion eines Tanztheaterstücks mit uns geteilt. An dieser Stelle herzlichen Dank für eure Zeit, eure Hilfe, euer Teilen von Wissen und euren Support!
Die Residenz war ein voller Erfolg für uns und wir sind super dankbar und zufrieden. Wir sehen es als Anfang unserer eigenen Reise als Kollektiv und das Format als großes Beispiel für die Förderung junger Tanzschaffender auch aus der ›urbanen‹ Welt!
Am 3.5.21, 18:30 Uhr werden die Rechercheergebnisse im Rahmen von tanz NRW online präsentiert.