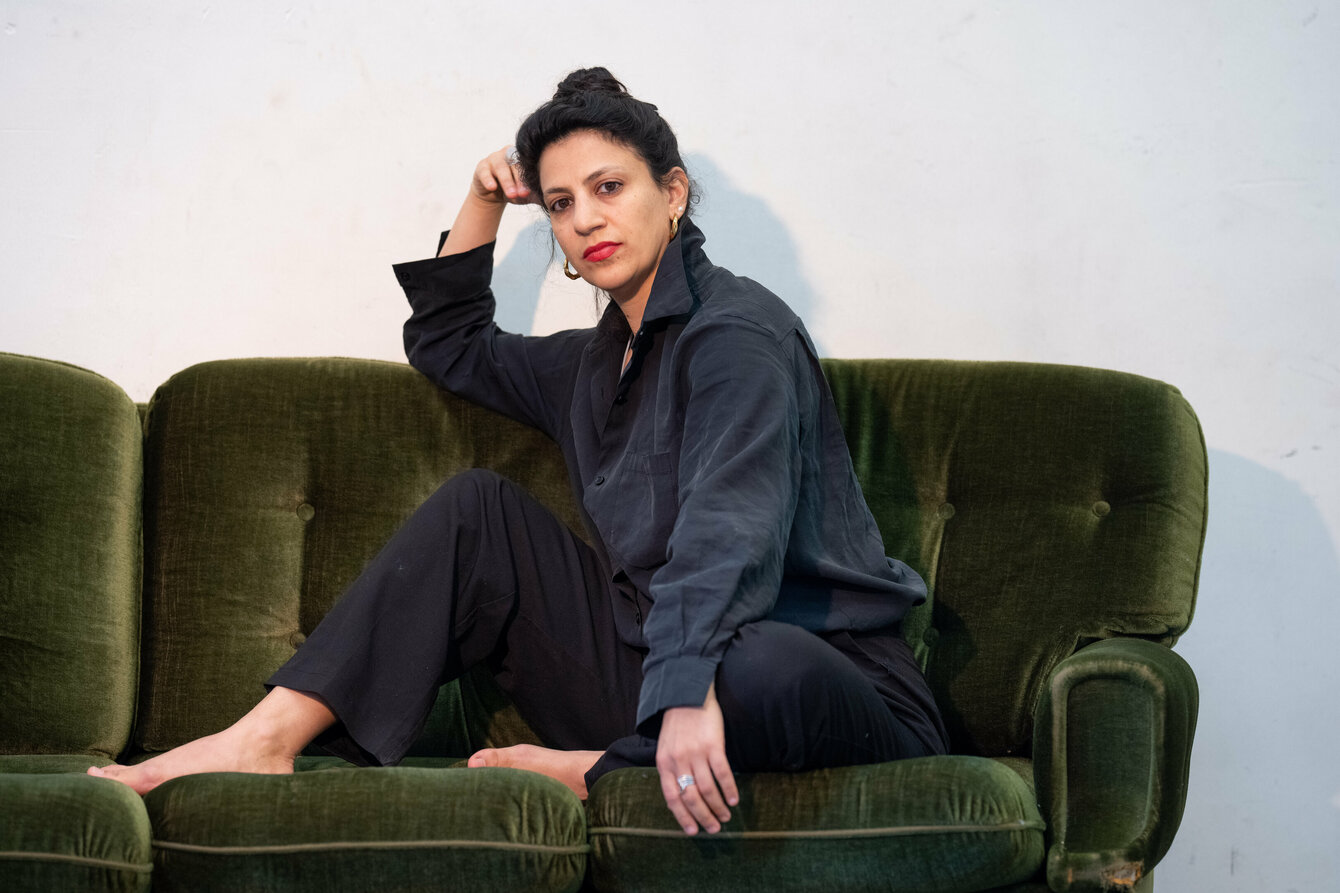 Sahar Damoni's new work is a multi-disciplinary solo performance installation which continues her research around reproductive and sexual freedom, bodily autonomy, and the impact of abortion for Arab women. The work will combine movement, photography and video projection, and textiles that serve as a visual art element.
In her last work, ›Eat Banana and Drink Pills‹, Sahar focused on the personal and social ramifications of her own experience of abortion as a single woman in Arab society. For the ›New work‹ , Sahar's research shifts to the physical and intangible dimensions of the surgical abortion procedure and the conscious and subconscious after-effects – including the drugs used to anesthetize the patient and the physical and mental states these can induce. This development of her research stems from her personal experience having a surgical abortion during which she was partially conscious while under full anesthesia
The visual elements of the installation, the body, sound, images and textures will combine to create multiple landscapes of experience for the performer and the viewer.
The work will be performed by Sahar Damoni and created in collaboration with Corinna Rosteck. Corinna Rosteck is a German artist working between photography, video art, and installation.
»During the residency at PACT which is the first phase of the rehearsals I was trying out the elements of the installation on the space and how the movement of the body reacted to it. Me and Corinna were questioning and brainstorming if the body and mind »remember« the violence of the act of surgery and if the mind can be present during the procedure and even feel it in real time and what the implications are of this. Together we research and spotlight the fragments of the body taken from different angles of movement through her images and video. We tried to combine our vision from videos and pictures to fill the space, interacting with the thread as part of the installation in the choreography and dramaturgically.«
The soundscore will be composed by Donato Deliano and Sarah Holcman will serve as an artistic advisor to the work. 
Biography: 
Sahar Damoni is a Palestinian dancer, choreographer, and dance teacher from Shafa-amer in the Galilee whose body of work deals with the challenges she faces as a woman in an Arab and Palestinian society.

Sahar holds a Bachelor of Dance and Movement for Practicing Teachers from Kibbutzim College of Education, Technology and Arts. She danced with the Kibbutz Contemporary Dance Company before she began making her own work.
Sahar's work has been presented in various festivals and platforms in Palestine\Israel and abroad including: Movement Research at the Judson Church (NYC), Ramallah Contemporary Dance Festival, Internationale Solo-Tanz-Theater Festival Stuttgart, Echo Dance Festival of Northern Ireland, HANGARTFEST (Italy), Postsdamer Tanztage (Germany), and Curtain Up, International Exposure and InitimaDance (Tel Aviv), among others. She has been invited to lecture about her work at Tel Aviv University, Sapir College, Kibbutzim College, and Ben Gurion University, and University of the Arts.

In 2018 Sahar attended Ponderosa in Germany and participated in ›Translucent Borders‹, a project exploring ways that dancers and musicians act as catalysts for creative engagement across geographic, cultural, and economic borders, sponsored by New York University and Jacob's Pillow. In 2019 Sahar was invited to participate in Un/Controlled Gestures, a seminar on dance and body politic, organized by the Goethe Institute, Morocco. She was invited by Movement Research, NYC, for a month-long residency and performance at Movement Research at the Judson Church as part of GPS/Global Practice Sharing.

In 2020 Sahar performed in Virtual Performances including La MaMa Experimental Theatre Club, SATURDAY MORNING LIVE – Dead End | Tehran/Ankara/Palestine; and Festival de Danza Contemporánea, Mexico City. In 2021, Sahar was commissioned to create a Sadim for Staatstheater Kassel in Germany. She participated in the IIAC Residency and Moving Arts Lab, NYC, 2022.

In 2023 Sahar is part of the Deeper Lectures series by Gibney Dance Center in NYC. She begins the creation of a new work during a 5-week residency at PACT.