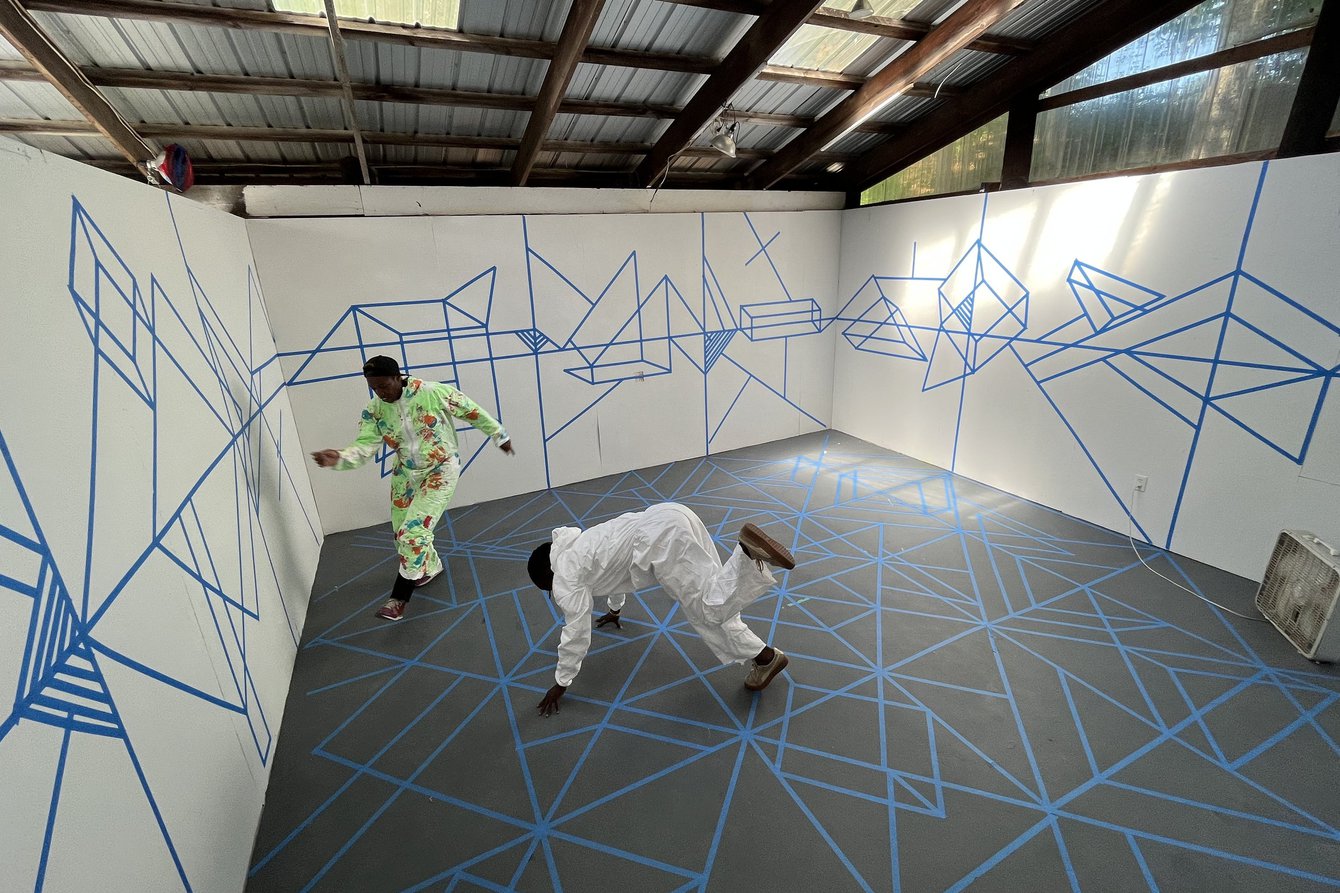 »In my work I have been staring into the face of questions regarding Black liberation, anarchism, play, and the ways our current order of  relations can give way to modes of being that are inherently liberatory from modernity's framing. This is articulated via sound and movement exploration that center Hip Hop as an anarcho-choreographic modality.
I put to task Sekou Heru's Rhythmmetrics, Lorenzo Kizomba's Black Anarchist Federation, and my own experiences playing Hop scotch and playing with rope to carefully and disruptively go on a journey toward marronage.
In residency at PACT the exploration of sonic landscapes takes precedent through the creation of games and movement heavily influenced by a state-side urban Black lens. We invite community to bear witness to some of our findings and encourage them to seek emancipation through play.« – cat mahari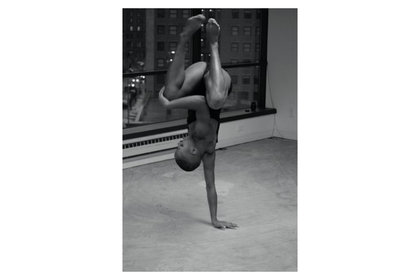 cat mahari's practice is built from a richly layered body history, stemming from an archive of research, physical training and intent to manifest an intellectual, material and informal legacy of Blk liberation through documentation. By examining personal marks and socio-genealogical maps, she explores inner and outer environments. Their film ›Sugar in the Raw‹, is a surrealist-inspired exploration of Blk intimacy, trust, and touch via Chicago House and Stepping. At AfroFuturist Festival 2022 they helmed a collaborative multi-media and medium installation on Blkness, Violence, and AfroSino relationality. Currently, mahari is preparing Blk Ark: the impossible manifestation - a multimodal reflective of marronage, anarchism, Hip Hop, and play to be completed 2025.
In 2021 mahari was named the City of Chicago Esteemed Artist Awardee in Dance and received a 2021 3Arts award in dance. mahari's works include the Afro Sci-fi Krump film Imprints & Traces, and multi-disciplinary performance ›BAM!‹ for which cat received a CSF Generative Performing Artist Fellowship. ›BAM!‹ is an immersive ensemble work, focusing on Blackness, Amerikkka, and violence. mahari's post-disciplinary work, the mixtape series violent/break vol i and vol ii, has received national and international development support at Brink Festival (London), High Concept Labs (Chicago), and Imir Scene Kunst (Norway). mahari is a culture bearer of Hip Hop and House; former member of the Krump family Gool, with a BFA in dance performance from the Conservatory of Music & Dance at the University of Missouri - Kansas City and M.A. in performance, practice, and research from the Royal Central School of Speech and Drama.
Website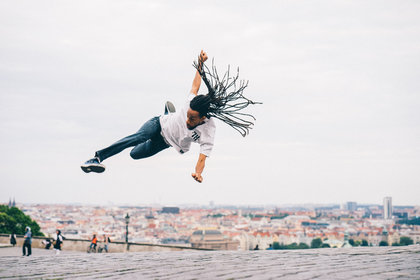 Jarius »ManOfGod« King is a Black Arts performing artist and instructor. A member of Rhythm Attack (Hong Kong) from 2006-2020 and a current member of Motion Disorderz (USA), his beginnings as a dancer began in the year 2000 via the art of Breaking (commercially referred to as »Breakdance«).  As part of Awesome Style Konnection, a dance group based out of his hometown Chicago, he became versed in multiple dance disciplines. Having been described as having an »unorthodox style of dancing«, King draws on his experiences with music, dance, martial arts, and creative movement to inform his practice and instruction. His passion for Black art-forms as a connector of people from various backgrounds led to him co-founding ›Breakin' The Law: International Festival of Urban Movement‹ (2004-2014) at the University of Wisconsin-Madison.
King is also a professional DJ and event MC; known as King G.N.S. (pronounced »Genius«). Highlights of his career include over fifty competitive awards, performance residencies for the NBA's Chicago Bulls & Milwaukee Bucks, a selected performer for Xavier La Roy, Scarlett Yu, and Tino Sehgal's works at Tai Kwun Museum (Hong Kong), and receiving the University of Wisconsin-Madison's ›Forward Under 40 Award‹ for his work in arts education and community engagement.