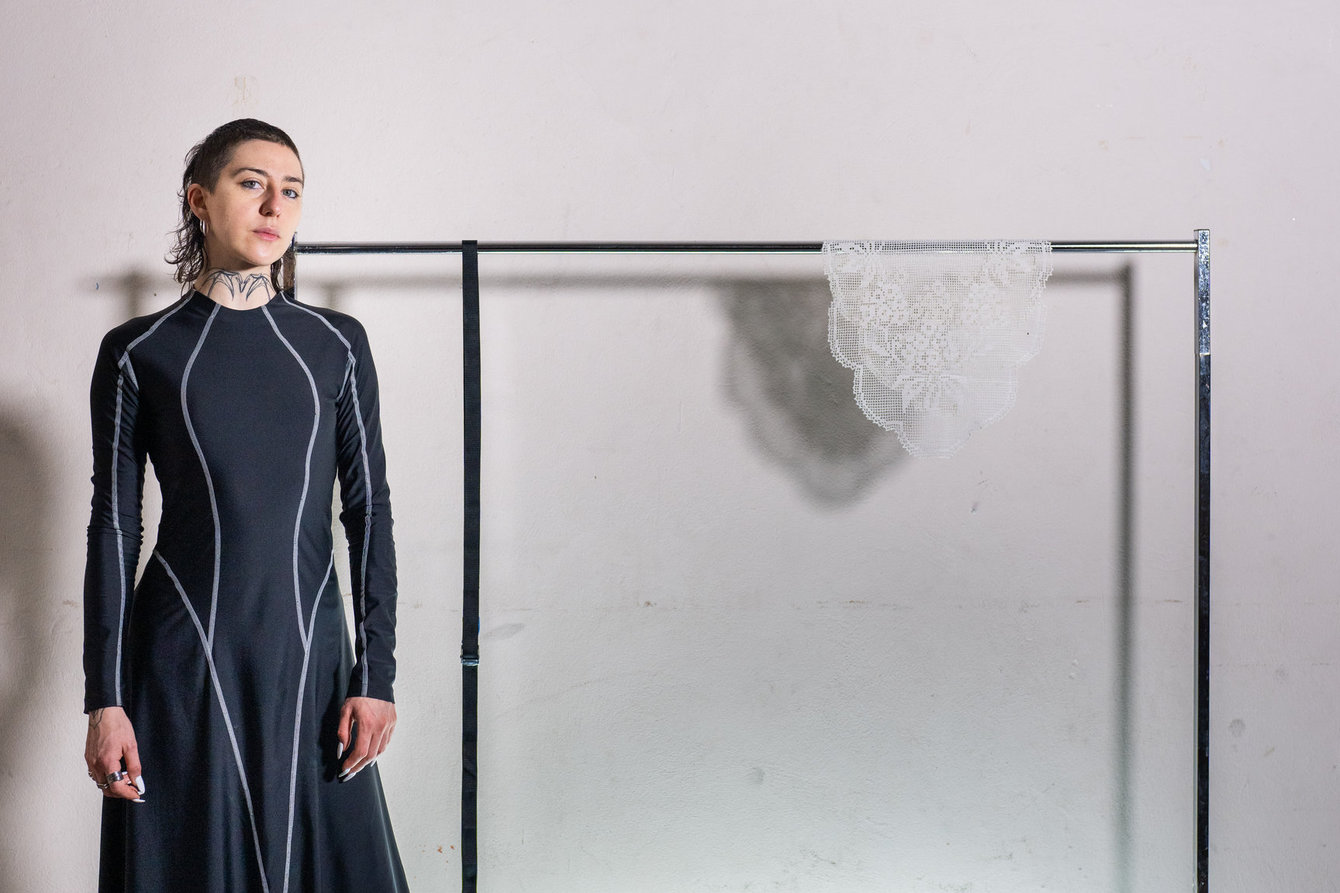 Göksu Kunak about their residency at PACT:
»Somewhere in this world, not so far away from where you're reading this now, people are being sentenced to life in prison, or being tortured; their voices are not heard anymore. Atrocities of a government cause pain. While the nationalistic ideals are being proliferated—as a part of the  monthly deal, the country wants to land on the moon fifty-three years after the original landing. On the one hand, some authorities demands to go to a planet, since the moon is already been discovered. On the other hand, some authorities think it's vigorous since it's rejecting the trajectory of the Western timing. »If we land there now, it will be the first time that someone has stepped on the moon.« If I go to the moon today, it means that it's new, it's just happened!
I'm a writer, performance artist and researcher based in Berlin. I was born and lived in Ankara, Turkey, until the age of 25, so most of my work has still a lot to do with The South West Asia (The Middle East), the politics around the region as well as science fiction. My interest lies in (queer) chronopolitics, Arabesk culture and late modernities; Orientalism, self-Orientalization. The weapon industry of the West, is inevitably a point that I focus on as well, since the whole region is being destroyed because of oil and weaponry.
Recently I've begun to dive in kuir (queer in Turkish) camouflage and self censorship as resilience and safety methods. My recent research revolves around two aspects:
1)      The world of the book Acayip Mahlukat, the imagination of Zekeriyyâ bin Muhammed el-Kazvînî in relation to Transmutation/Camouflage, Identity Construction and Kuir
2)      Selfcensorhip as self-defense and resilience strategy and use of science/speculative fiction in conversation with Acayip Mahlukat
At PACT I mainly focused on the second bullet point. Here are some notes from the residency:
How to make porn without showing much: the invisibility. SELFCENSORSHIP AS A FORM OF CAMOUFLAGE HYPER MASCULINITY AS CAMOUFLAGE BEING A TOMBOY AS CAMOUFLAGE KINKY MINIMALISM  HIDING MY FEATURES FOR SELFCENSORSHIP THATS CAMOUFLAGE TEXT VERY MINIMAL AND AT ONE POINT IT REVEALS PORN GORE TRANSGRESSION
BEING SLOW
CONTAINING A LOT OF ATTENTION
STRENGTH CONTAINING THE FORCE
AND ITS CAMOUFLAGE IS HIDING THE POWER
BALLET IS CAMOUFLAGE WITH ITS HYPERGENDERED HISTORY EXTREME VISIBILITY IS ANOTHER FORM OF CAMOUFLAGE.
THE ACT OF WALK
JUST THE ACT OF WALKING ITSELF BEING A DANGER
FOR SOME FOLKS.
WALKING LIKE A MAN
WALKING IN A HYPERMASC/HYPERFEM FASHION
FOR SAFETY
TO FEEL SAFE TO BE SAFE
QUEER CAMOUFLAGE ON THE BORDER
PASSING AS A MODERATELY FEMME WOMAN
SPEAKING THE LINGO OF
THE NAIVE GIRL
POLYSEMIOUS GESTURES (FIST)
PORN AS A DEFENSIVE MASQUERADE
THE FIST TO SMASH A FACE TURNS INTO A FIST ON THE STREETS TO DEMONSTRATE AND THE SAME FIST BECOMES THE FORCE OF PLEASURE
TRANSFORMATION OF A FIST CAMOUFLAGE OF A FIST
TAQIYYA OF THE FIST WAS THE ONE FOR
TOUCHING THE INNERSKIN ORGANS OF
CAMOUFLAGE IS THE HYPER VISIBILITY YET WITH ABSTRACTION
THATS PORN: MANIPULATING THE TERMS OF VISIBILITY IN SPACE
THATS CAMOUFLAGE: MANIPULATING THE TERMS OF VISIBILITY IN SPACE
WHILE KUIR IS BEING FORCED TO BE IN THE GROUND THE FIGURE COMES TO THE SURFACE AS HPERMASCULINITY IS A FORM OF CAMOUFLAGE FITTING IN IF CAMOUFLAGE IS FITTING IN
Besides the things I've learned around the research, I had personal insights in relation to emotions. I've realised that I still don't know how to ask what I need. Although I've been working with institutions, the possibilities that are given at PACT surprised me and taught me to ask better. Here comes the Affect theory, on the contrary to how most of the institutions function: our emotions and our differences around these emotions matter. Needs, and care matter. This process reminded me, again, that emotions are very valuable in art making, or in any kind of labor.«