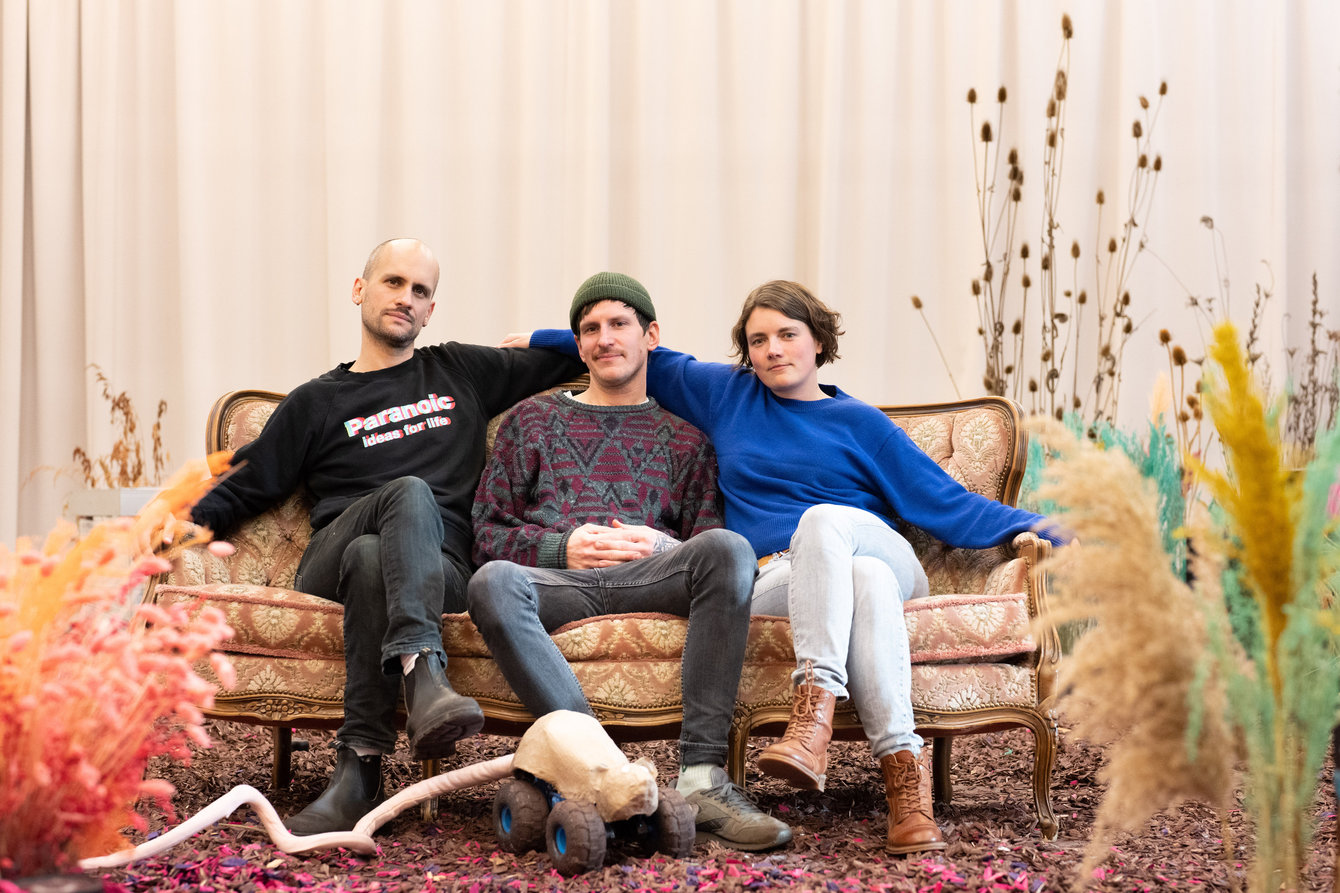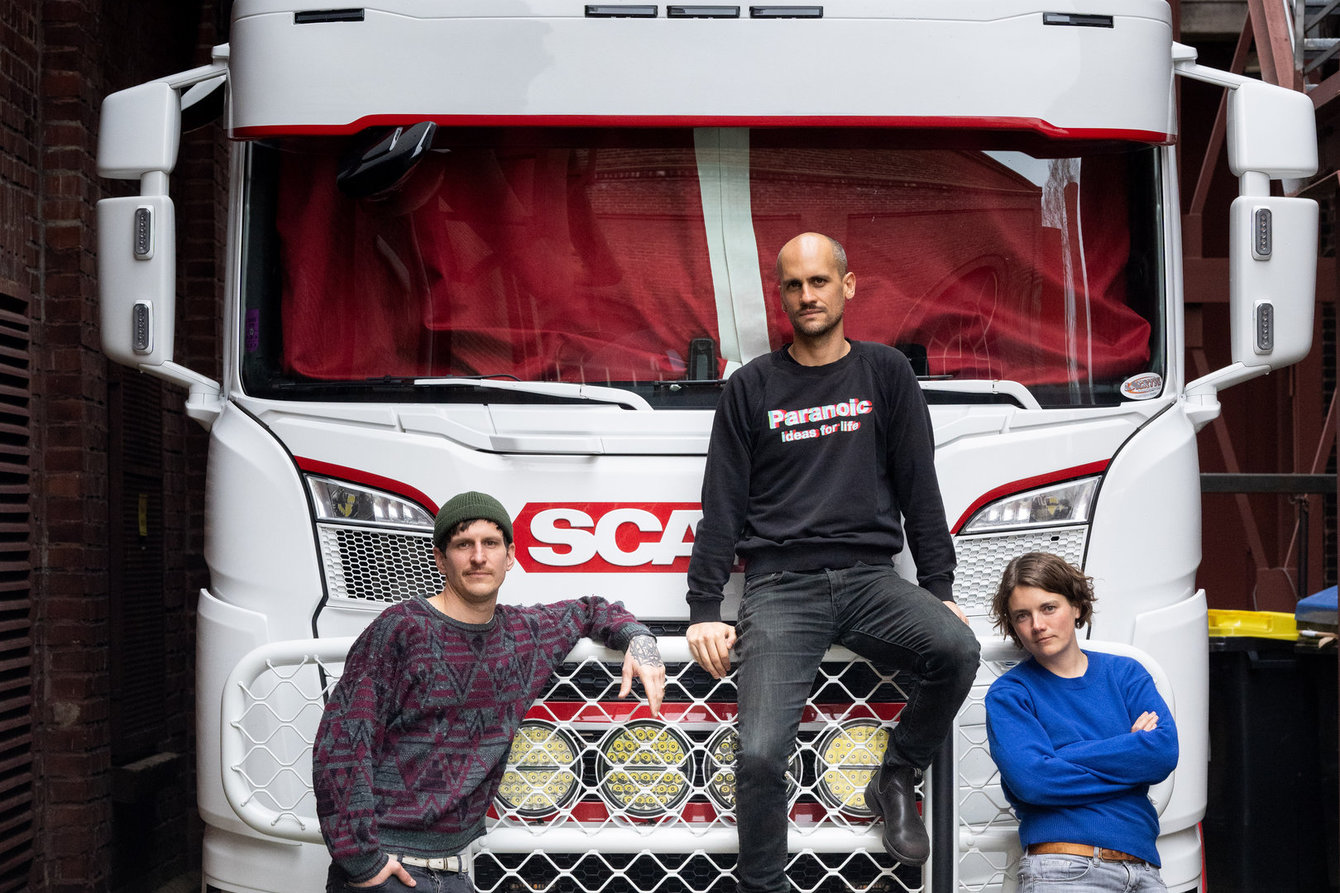 Die Residenz bei PACT nutzen HARTMANNMUELLER als dritte und letzte Probenphase für ihre aktuelle Produktion ›EDEN - Die Stimmung war ganz gut bis zum Schluss‹ und widmen sich dabei der Frage: Was war eigentlich los im Garten Eden? An den Grenzen und Verläufen von Tanz, Performance und Theater entwerfen die beiden Performer:innen HARTMANNMUELLER in der Produktion ein sinnliches Szenario von einem Naturzustand, der höchstwahrscheinlich keiner war. In ihrem Garten Eden werden nicht nur die menschlichen Widersprüche als Zwischentöne und Farbverläufe erfahrbar. Tiere sprechen, Gott ist ein Spanner, der sich durch sein Dasein selbst in Frage stellt und die diskursiv mit reaktionärem Denken identifizierte Natur bringt ins Spiel, dass sie zwar auf immer ungeliebt sein wird, wir aber auf sie angewiesen bleiben. Ein Abend in diesem Garten ist wie ein letztes Abendmahl, bestehend aus den Früchten vom Baum der Erkenntnis: We are born naked and the rest is drag! Amen.
Über HARTMANNMUELLER
Auf der Bühne und in den ausdrucksstarken Fotokampagnen zeigen sich HARTMANNMUELLER als Kunstfiguren, die gekonnt mit Stereotypen und popkulturellen Ästhetiken spielen und den Betrachtenden ein Augenzwinkern hinterherschicken. Ihr künstlerisches Profil spannt sich zwischen Humor und Ernsthaftigkeit, Tanz und Performance, verschiedenen Genderrollen, Klischees und Träumereien. Im Zentrum steht dabei der Mensch in seinen Verhaltensweisen als verschrobenes Wesen, das permanent Sinn zu kreieren versucht und sich doch im Unsinn wiederfindet. Dabei unterhalten, fordern und strapazieren sie ihr Publikum im besten Sinne. Stilistisch orientieren sie sich an Mitteln der Film- und Popkultur der 80er und 90er Jahre. Ihre Stücke sind Räume voller Poetik, in der jedes Requisit, jedes Kostüm, jeder Soundschnipsel Träger einer weiteren Storyline sein kann, die wir oft glauben zu kennen – um dann doch von HARTMANNMUELLER ein ganz eigenes Leben eingehaucht zu bekommen und unsere Vorstellungen hinterfragen. 
Hinter HARTMANNMUELLER verbergen sich die zwei Choreographen und Performer Simon HARTMANN und Daniel Ernesto MUELLER. Sie lernten sich 2006 während ihres Studiums zum Bühnentänzer an der Folkwang Universität der Künste in Essen kennen und gründeten 2011 das Künstlerkollektiv HARTMANNMUELLER. 2015 erhielten sie den Förderpreis der Stadt Düsseldorf im Bereich der Darstellenden Kunst. 2021/23 erhalten sie zudem die Spitzenförderung des Landes NRW.