IMPACT22 – LOCAL FABRICS
On Practices of Emergence

Symposium, tours and workshops with Boris Sieverts, Selvagem – Cycle of Studies about Life and Social Pleasure Center

9. — 13. November 2022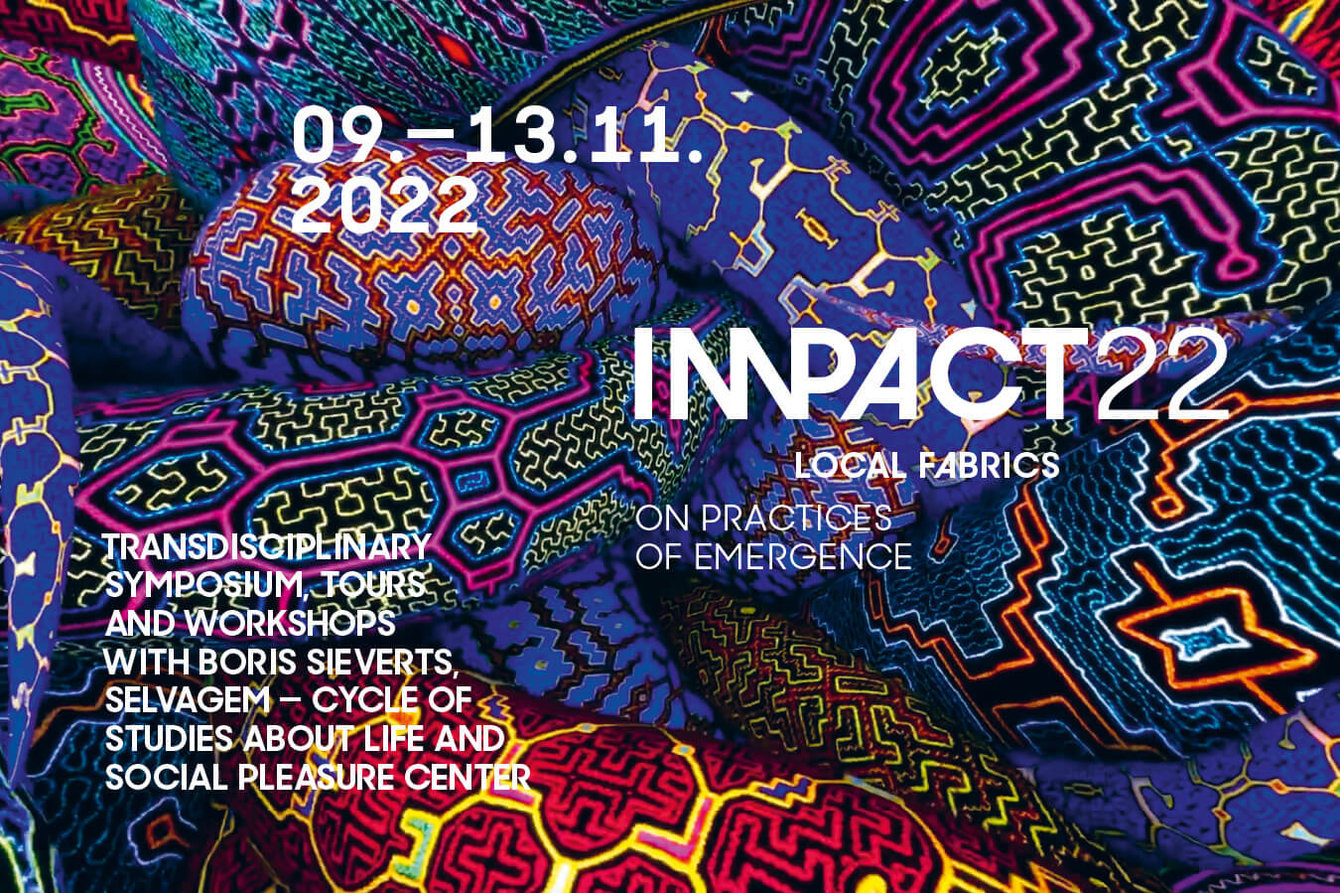 The body, urban space, cultural and social relations, the biosphere, the technosphere, you name it - robust local structures that influence, disrupt and support each other while remaining visibly or covertly connected are at work everywhere. ›On Practices of Emergence‹ enquires into strategies, practices and processes that strengthen exchange relations on a local and immediately perceptible level. What are the epistemological resources we ought to cultivate and make visible because they continue to be marginalised and excluded?
IMPACT22 has signed up three experts – Selvagem – Cycle of Studies about Life, Social Pleasure Center and Boris Sieverts – as co-convenors who will provide thought-provoking impulses.
Their practice encompasses, interrogates and correlates urbanism, context-bound knowledge resources and body-based resilience experiences. They will take the participants on urban walks, introduce them to somatic activism and set up various dialogue formats.
Programme
Courtesy of his ›Bureau for City Breaks‹, Boris Sieverts has been offering guided tours through the grey areas of our conurbations for locals and tourists alike since 1997. He uses sophisticated spatial sequencing to establish scenic connections for environments otherwise considered disparate in the extreme, and develops visions and close readings of the explored areas. He is a founding member of the Metropolitan Trails Academy, an international association of urban walkers imparting techniques of wayfinding and creative spatial exploration.

For this year's edition of IMPACT, Sieverts takes the audience on a full-day tour of Zollvereinland - eine Rundreise übertage. The Zollverein coalmine industrial complex owned most of the buildings, infrastructure and land beneath the surface of which it carried out its dirty work. It is as if the districts of Stoppenberg, Schonnebeck and Katernberg were welded together to form a connective tissue – a subtly effective state of affairs.
Bringing into dialogue traditional forest knowledge, science and arts, Selvagem – Cycle of Studies about Life aims to amplify indigenous voices and their cosmologies. ›Selvagem‹ creates a space for a rich variety of communication forms while inspiring reflection about human actions and interactions with all living beings on the planet, the cosmos and spirituality. Through different activations (talks, notebooks, audiovisuals) available for free and in different languages, the project's purpose is to bring to more and more people all over the world knowledge that goes beyond the Anthropocene and is not conventionally taught in schools.
Selvagem – Cycle of Studies about Life – is an experience of connecting knowledge deriving from indigenous, academic, scientific, traditional and other sources. Most of the studies - notebooks, conversations, reading cycles, audiovisuals – are offered free of charge.
Social Pleasure Center (SPC) is a hub and harbor for hosting access to somatic healing and communal activities for connection and resilience. It gathers primarily but not exclusively the LGBTQI+ community with a strong liaison to the Berlin dance and art scene. SPC intersects migrant cognitive labour, solidarity initiatives linked to social justice and is centered on pleasure as an organizing principle, in the line of a joyful yet militant feminist praxis. SPC is especially concerned with generating a culture paradigm that off-sets the imperative of a private and self-reliable self, promoting instead an intermediary zone of healing and belonging, beyond the nuclear family, the workplace and the entertainment industry. It has in mind the model of a community center, where activities are offered on a donation base, and it dreams of it being partly subsidized as an artistic space for agency building or social choreography.
Caitlin Fisher, Heather Purcell and Maria F. Scaroni draw on the SPC culture of connection and somatic post-activism to host the IMPACT 22 participants into body-based experiences, to support embodiment as crucial for meeting the current times.
Gallery: IMPACT22