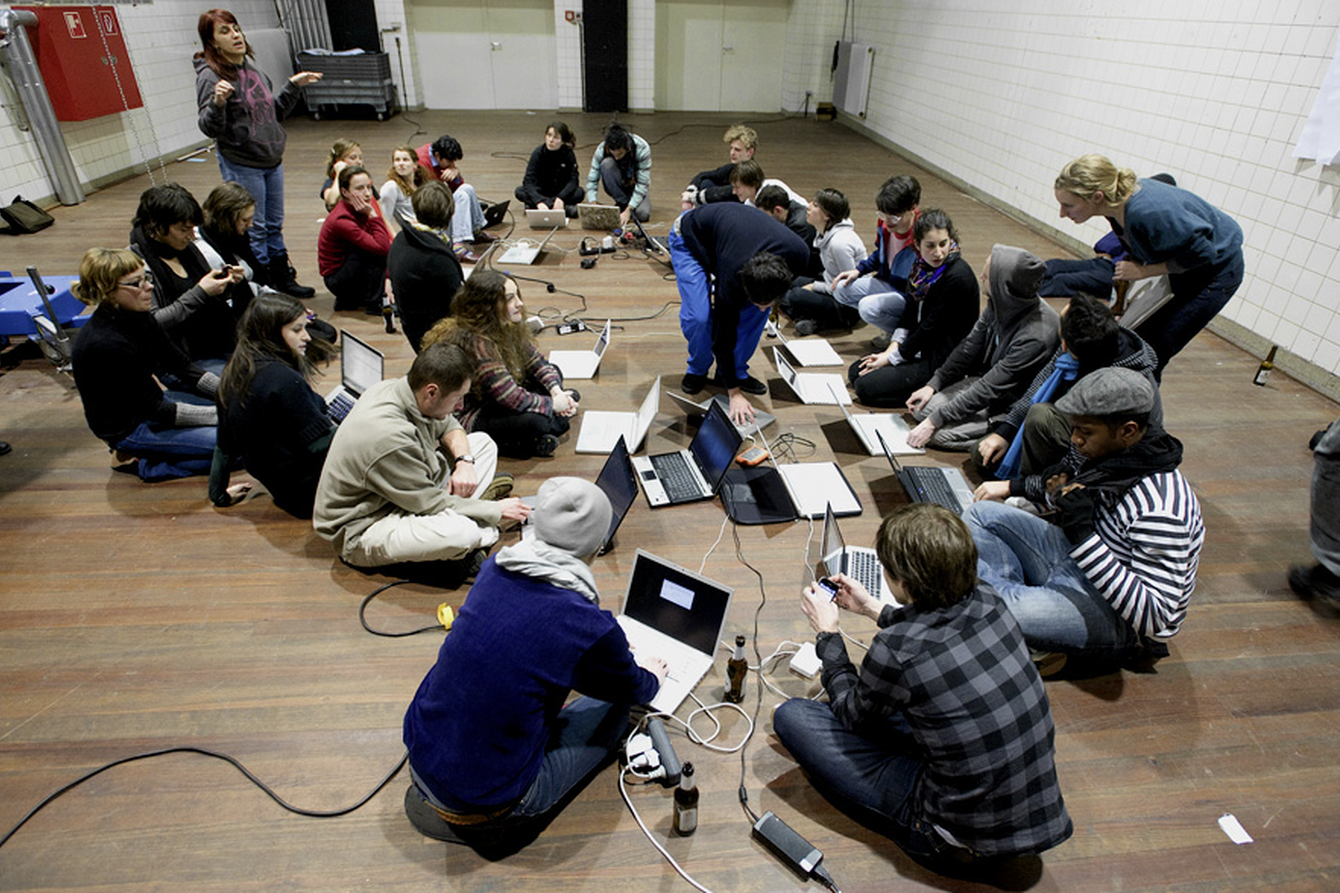 Feldstärke 2012

Interdisciplinary platform
for arts schools and academies in NRW
The latest edition of the regional version of Feldstärke saw PACT Zollverein once again become a cultural base camp, providing space for the networking of cultural and institutional resources from across North-Rhine Westphalia. In the seventh incarnation of the trans-disciplinary research format, 35 students from various higher education institutions formed temporary learning and working communities in the former pithead baths. Focussing on the urban characteristics of the Ruhr Valley, as well as on their own areas of interest, they worked with open minds and used collaborative processes to explore inter-disciplinary working.
At the end of the three days, the public section of the programme offered a glimpse of the ideas and approaches developed during Feldstärke 12 NRW. All of the spaces in the PACT Zollverein building – stages, showers, hallways, studios, foyer and conservatory – were available for the event which featured works in the fields of performance, photography, graphics, video, film, installation, media arts, dance and music.
PARTICIPANTS
UNIVERSITIES
Fachhochschule Dortmund
Folkwang Universität der Künste Essen
Hochschule für Musik und Tanz Köln
Kunsthochschule für Medien Köln
Kunstakademie Münster
Ruhr-Universität Bochum
PARTICIPANTS
Group 1: Laura Susanna Burgener, David Jankowiak, Arne Strackholder, Stephanie von Gelmini, Anna Ziegler
Group 2: Anja Plonka, Ophelia Young, Changje Hong, Anne Linke, Manuel Talarico, Rosa Wernecke, Jan Möllmer
Group3: Marion Flor, Susanne Griem, Jaebong Jung, Valérie Kommer, Katja Kottmann, Maximilian Schmötzer, Karoline Strys
Group 4: Theresa Duck, Marie Hanna Klemm, Sirkka Muth, Nemo Nonnenmacher, Stephanie Sczepanek
Group 5: Lara Bechauf, Marcus Becker, Bianca Xavier de Mendonca, Philine Herlein, Elke Swoboda
Group 6: Maximiliane Barth, Désirée Langenbrink, Jonas K. K. Onny, Thomas Reul
INTERNAL PART
Guided practice
The first day of the internal part of the programme consisted of a workshop led by the artists Kattrin Deufert and Thomas Plischke (deufert +plischke, www.deufertandplischke.net).
Independent practice
On the second day, students explored the theme of 'accident' in small, mixed disciplinary groups. The resulting work – and in some cases documentation and sketches - was presented to the other participants in the evening in the form of (cross-media) performance, video and installation.
PUBLIC PART 7TH + 10TH JUNE 2012
INSTALLATIONS
Jan Möllmer, Tanz: ›Cue‹
Laura Burgener, Marie Hanna Klemm, Jan Möllmer, Jonas K.K. Onny und Ophelia Young, Intervention: ›Der bewegte/-liche Raum‹
Anja Plonka, Dokumentation: ›do you believe in magic‹
Jaebong Jung, Video: ›Eine Landschaft‹
Jonas K.K. Onny, Videoinstallation mit Tanzperformance: ›DUB ‹
Lara Bechauf, Dokumentation: ›T-Performance‹
Arne Strackholder, Video: ›skog‹
Changje Hong, Fotoserie: ›View the scenes‹
David Jankowiak, Fotografie: ›Ohne Titel‹
Stephanie Sczepanek, Fotobuch: ›Marlies, April 1968 bis Januar 2012‹
Nur Donnerstag: Manuel Talarico, Performance ›clonal‹
Nur Sonntag: Manuel Talarico, Video: ›Superdude‹
Anne Linke, Installation: ›Mars‹
Katja Kottmann, Künstlerbuch: ›à fil‹
Marcus Becker, Installation: ›Helios‹
Thomas Reul, Installation: ›ingeniositäts Vestibül‹
Désirée Langenbrink, Video: ›temporal loop
Nemo Nonnenmacher, Rauminstallation: ›Mein Name ist Hor‹
Rosa Wernecke, Lichtinstallation: ›Everything but Nothing‹
Anna Ziegler, Mixed-media Installation: ›eigentlich ist alles ganz anders – etüde‹
Maximiliane Barth, Mixed Media: ›Drei Hasen‹
Theresa Duck, Installation: ›Memories heavier than 23 kilogram‹
Maximilian Schmötzer, Videos: ›and we all shine on‹ und ›going in circles‹ (S.XX)
Stephanie Sczepanek und Manuel Talarico, Videodokumentation der Installation / des Environments ›ai! ai! ai!‹
Stephanie von Gelmini, Videoinstallation: ›chiffre‹
PERFORMANCE PROGRAMME
Bianca Xavier de Mendonca, Lecture Performance: ›Ohne Titel‹ (ca. 45 min.)
Susanne Songi Griem, Performance: ›wiewohl .‹ (ca. 15 min)
Valérie Jennifer Kommer, Tanz ›Unmittelbar No.2‹ (ca. 15 min.)
Elke Swoboda, Elektroakustische Musik: ›Vineta‹ (6 min.)
Marie Hanna Klemm, Tanz: ›You don't go irgendwo‹ (ca. 10 min.)
Philline Herlein, Tanz: ›Gegebenenfalls‹ (ca. 15 min.)
Marion Flor, Sirkka Muth und Karoline Styrs, Performance: ›Einräumen. Ausräumen‹ (ca. 30 min.)
Additionally, there was a showing of the work developed during Feldstärke by the six participant groups.