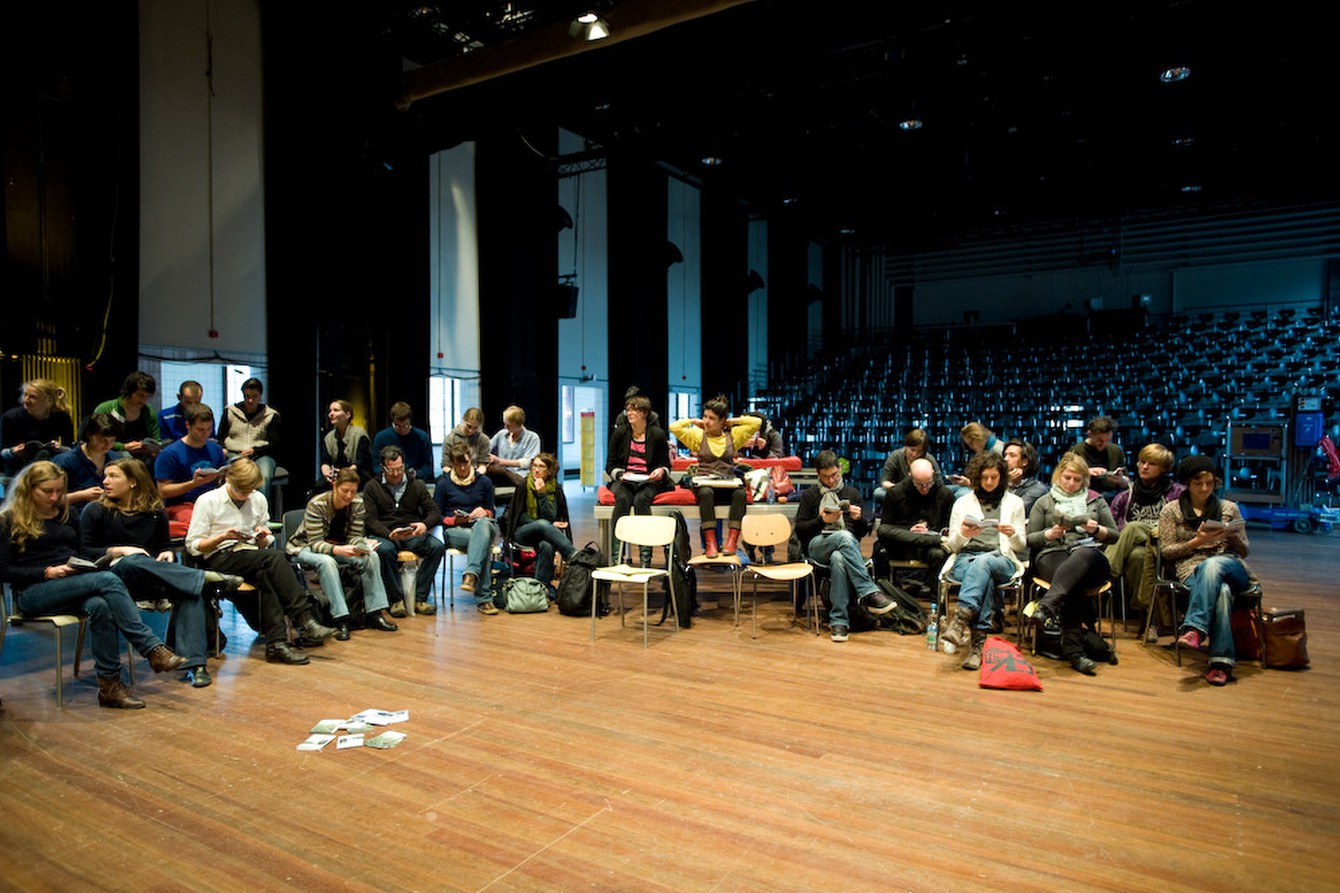 Feldstärke 2006

Interdisciplinary platform
for arts schools and
academies in NRW
FELDSTÄRKE 2006
feldstärke, the interdisciplinary platform for arts schools and academies, was held for the second time at PACT Zollverein from 28.04. – 01.05.06.
PARTICIPANTS
50 students from the
Fachhochschule Dortmund (Communications Design - Photo and Graphic design departments)
Kunstakademie Düsseldorf (Photography class Prof. Ruff))
Universität Duisburg-Essen (Communications Design - Art and Design, Photography departments)
Folkwang Hochschule (Dance Department and the Institute for Computer Music und Electronic Media – ICEM)
Hochschule für Musik Köln (Dance Department)
feldstärke 06 comprised of an internal programme for the participating students and numerous events open to the general public.
PUBLIC PROGRAMME
Events open to the general public included the performances  - ›Lehmen lernt‹ from Thomas Lehmen (DE) and "Knockout" from Rebecca September(BE).
In addition to this, there were two opportunities to view an extensive exhibition of the students own work as well as live performances.  Presented throughout the building,  the exhibition was curated by the students themselves and incorporated examples of dance, performance, photography, graphics, painting, film/video and installations. Students from the ICEM gave a public concert on the last day.
PARTICIPANTS EXHIBITION – PHOTOGRAPHY / INSTALLATION / FILM / VIDEO / GRAPHICS / PAINTING / MIXED MEDIA:
Dorothee Germer, Tim Holthöfer, Claudia Dreyße, Gregor Sailer & Jörg Jäger, Julia Majewski & Martin Varga, Julia Reschucha & Cordula Diebold, Nele Jordan & Edna Weiß, Kathrin Spirk, Anja Kopylkow, Johannes Naumann, Christoph Westermeier, Christiane Kues, Christiane Kues & Rachid Maazouz, Monika Leitner, Anna Byrdy & Monika Leitner, Melanie Stegemann, Do-Hyun Kim, Stefanie Pluta & Nicole Dierolf, Sandra Loreck, Maren Reinecke, Susanne Elsässer, Philipp Gallon & Kerstin Meincke, Lisa Meinen, Claudia Lindner.
STAGE PROGRAMME – DANCE / CHOREOGRAPHY:
Anca Huma, Chikako Kaido, Andy Zondag, Tsai-Chin Yu, Heloise Fournier, Hyun-Jin Kim, Fan-Yun Lo, Drosia Triandaki, Chryssanti Bompa, Paul Hess, Irene Schröder Nannette Werthmann, Jasmina Schebesta, Lara Vetter-Diez.
CONCERT – ICEM:
Jihyun Kim, Jagyeong Ryu, Jan Rusch, Johannes Schmidt, Bijan Tavili, Florian Mattil.
INTERNAL PROGRAMME
WORKSHOP PART 1: LED PRACTICAL EXPERIENCE
The first internal working day was led by Thomas Lehmen who gave a dance/movement workshop on the theme of ›structures‹.
WORKSHOP PART 2: INDEPENDENT PRACTICAL EXPERIENCE
On the second day the students worked independently in small mixed disciplinary groups on the theme of ›borders‹. They presented their results that evening in the form of interactive performances, videos and photographs - in part of documentary or sketched nature -, an ›experiment‹ and an interactive audio game.
RESUMEE
feldstärke clearly demonstrates how important it is to offer up-and-coming artists a forum that gives space to ideas, experiments, reflection and exchange – space, removed from the evaluating and often restrictive views of institutions or the art industry, where artistic and also social questions can be approached through a combination of practice and theory.The fact that many students resolved to continue with the collaborations they formed during the 4 days working together affirms that feldstärke plays an important role in supporting networking between artists in our region.