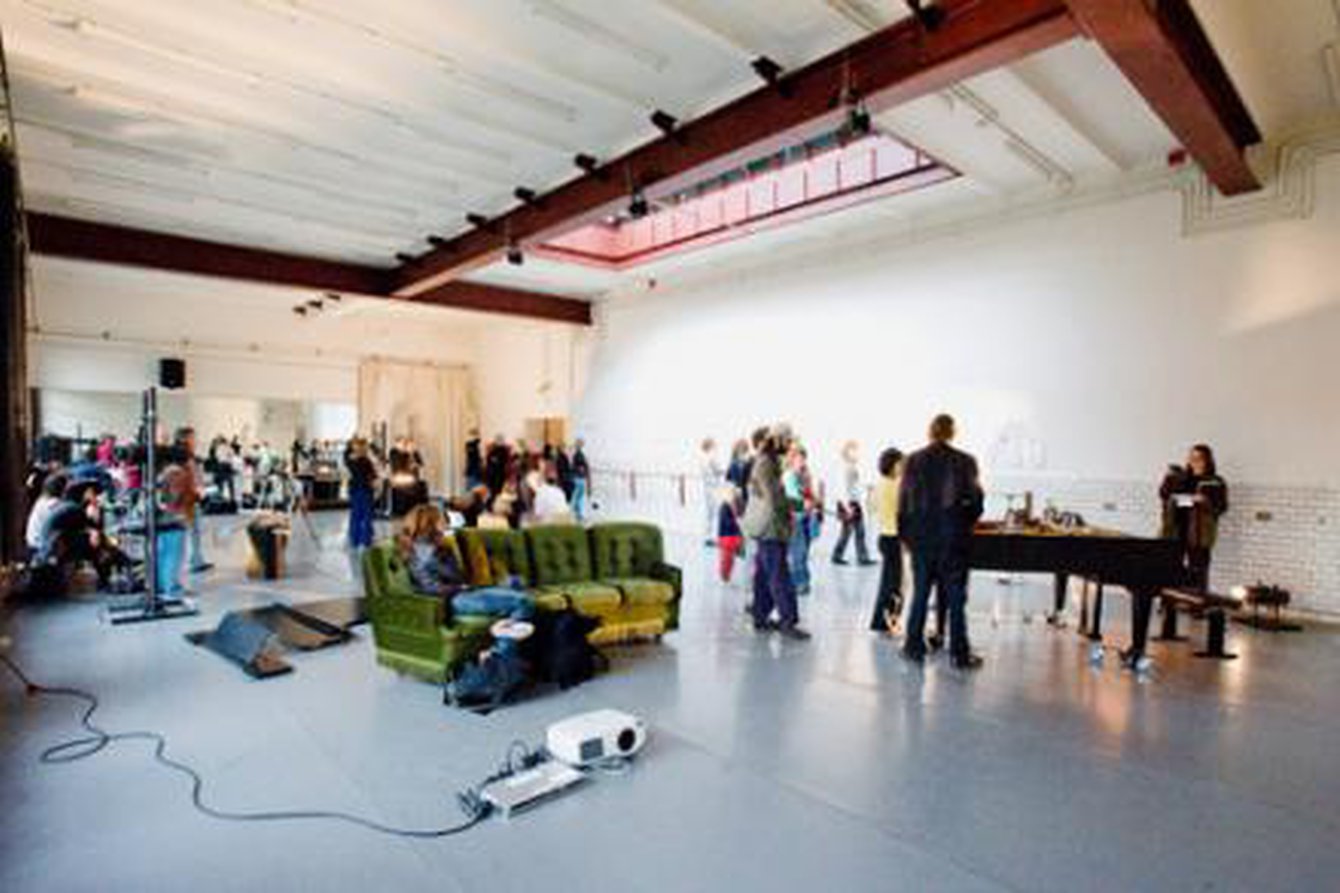 Agora 2010 / FELDSTÄRKE INTERNATIONAL

Interdisciplinary platform
for arts schools and
academies in NRW
AGORA 2010 / FELDSTÄRKE INTERNATIONAL
For a second time, AGORA 2010 / Feldstärke International offered advanced students from different disciplines and backgrounds a chance to take part in a unique transdisciplinary exchange: 44 students from 18 universities in Germany, France, Istanbul and Los Angeles, following courses in photography, film/video, design, landscape architecture, music, dance, performance, painting, sculpture and new media, met over the period of a year for three one-week editions held in turn at three partner locations: PACT Zollverein, Essen, in January, Le CENTQUATRE, Paris, in April and ¨cˇu'm"a*, Istanbul, in October. Here they formed temporary learning and working communities, took part in discussions and exchanges and could practically test out bridging the gap between other disciplines and cultures. Between editions they used social networks to keep in contact and continue discussions.
Bound by the ideas of self-directed learning and self-initiative, collaborative processes were at the forefront of all three encounters. Themes were not set but chosen instead by the students based on detailed introductions to the specific characteristics of their respective working locations as well as their own interests and curiosity for the unfamiliar. AGORA 2010/ Feldstärke International thus offered an experimental space for trans-disciplinary field research. At the same time, it left behind the secure parameters of known territory and confronted the students with insecurity, doubt and the unknown – in permanent overload: how can you, within a short period of time, discover commonalities, differences and interests? Who do you want to work with and why? How do you behave in a group if you are used to working alone? How do you find a common language? Do you have to reaffirm your own ideas or can you throw yourself into the unknown? This deliberately interdisciplinary framework, generated a creative potential that was characterized by the spark of an initial idea, group dynamics and the (im)possibility of finding consensus. All of this led in turn to the development of viewpoints that seemed liberated from the constraints of the public eye.
Over the course of the three editions, co-operations, connections to the hosting international art centers and, not least, project ideas that in some cases developed into the beginnings of further projects, unfurled. In future, Feldstärke International's initiators intend to continue developing the project with different partners in order to encourage, on the one hand, long term co-operations and networks between young artists and, on the other, between international art centers and educational institutions.
EXCHANGE I
24. – 31. JANUARY 2010, PACT ZOLLVEREIN, ESSEN
The first edition of AGORA 2010 / Feldstärke International, held within the framework of the tanzplan essen 2010 project, invited the students to work in the Metropole Ruhr. Following an intensive getting to know each other session and a detailed introduction to the location which included small guided tours through the region, the students set out in small interdisciplinary working groups to explore the surroundings on their own terms. Addressing urban, social and artistic questions, they tested, exchanged, discarded and reassembled techniques and methodologies, language forms and boundaries. In the year of the RUHR.2010 Cultural Capital of Europe, the region's snow-covered industrial landscapes provoked thought about the history of different places, their roles in the present day and about identifying with them and creating public awareness for their existence. The students worked on devising emotional maps as well as dances which followed geographic sketches, performances that gave voice once more to the found or the forgotten, or videos about the ephemeral nature of artistic meetings and actions.
At the end of the edition, they presented their project drafts during a public showing.
EXCHANGE II
29. MARCH – 04. APRIL 2010, LE CENTQUATRE, PARIS
The second edition of Feldstärke International 10 was held at Le CENTQUATRE in Paris. The young artists brought with them their experiences and results from the first edition in order to continue their prior theoretical and practical research in small groups in the new surroundings. While some of the groups continued to collaborate in the same formations as in Essen, others regrouped. This edition also opened with an introduction to the area and tours led by French students to parts of Paris far removed from the usual tourist circuit. The arts center Le CENTQUATRE, a former funeral home in the 19th Arrondissement of Paris, awakened in itself the students' curiosity for the surrounding area: attempts followed at combining art and daily life, at involving local people in interviews, videos and installations that uncovered questions and issues present in their neighborhood. The students opened outdoor cafés and mobile gardens and literally transported their outward surroundings into the art centers' space.
The week also ended with a presentation of projects which was open to the general public.
EXCHANGE III
03. – 10. OCTOBER 2010, ¨CˇU'M"A*, ISTANBUL
The third and final edition of Feldstärke International 10 was held in October and organized by ¨cˇu'm"a* in Istanbul. Following a welcome address and introduction to the region, the students set out in pre-determined working groups, on theme based field trips through Istanbul. Before the meeting commenced, the Turkish students had offered the others a choice of different themes related to specific areas of the city, social phenomena and cultural issues which subsequently served as working material for the edition. This approach made the extent to which work can be influenced by the location in which it is created, particularly clear. The students were captured by the city's unique vitality, variety and contradictions that override rules and regulations and render set restrictions porous. Here in particular they held intense debates about cultural similarities and differences, the suggestive power of a location and arts' possibilities under difficult circumstances. In the world of art, the students danced with Romani people, were led by an alternative Istanbul guide to unseen locations, watched fishermen on the Galata Bridge pay witness to the underside of the colorful, contradictory city between the Orient and Occident and attempted, in drawings, photographs and videos, to trace its disparate layers.
This edition also ended with a presentation of projects which was open to the general public.
PARTNERS
www.104.fr
www.c-u-m-a.org
www.calarts.edu
PARTICIPATING EDUCATIONAL INSTITUTIONS
GERMANY
Fachhochschule Dortmund; Folkwang Universität der Künste, Essen; Institut für Computermusik und Elektronische Medien der Folkwang Universität der Künste (ICEM), Essen; Hochschule für Schauspielkunst 'Ernst Busch' Berlin; Justus Liebig Universität Gießen; Kunsthochschule für Medien Köln; Ruhr-Universität Bochum
FRANCE
Conservatoire national supérieur de musique et de danse de Lyon; École supérieure du Centre national de danse contemporaine Angers; École nationale supérieure du paysage de Versailles-Marseille; École nationale supérieure des arts decoratif, Paris; École nationale supérieure des beaux-arts, Paris; La Femis, Paris
TURKEY
Istanbul Bilgi University; Istanbul Technical University / MIAM (Dr. Erol Ucer Centre for Advanced Studies in Music), Istanbul; Mimar Sinan Fine Arts University, Istanbul; Yildiz Technical University, Istanbul
USA
California Institute of the Arts (CalArts)
tanzplan essen 2010 is supported by Tanzplan Deutschland. Tanzplan Deutschland is an initiative by the German Federal Cultural Foundation.  AGORA 2010 / Feldstärke International is carried out in cooperation by PACT Zollverein (Essen) and CENTQUATRE (Paris). Generous support has also been provided by the Franco-German Youth Office. In the scope of the European Capital of Culture RUHR.2010.
Choreographisches Zentrum NRW GmbH is supported by the Ministry for Families, Children, Youth, Culture and Sports of the State of North Rhine-Westphalia and the City of Essen
Tanzlandschaft Ruhr is a Kultur Ruhr GmbH project