BERLIN


Zvizdal [Chernobyl - So far so close]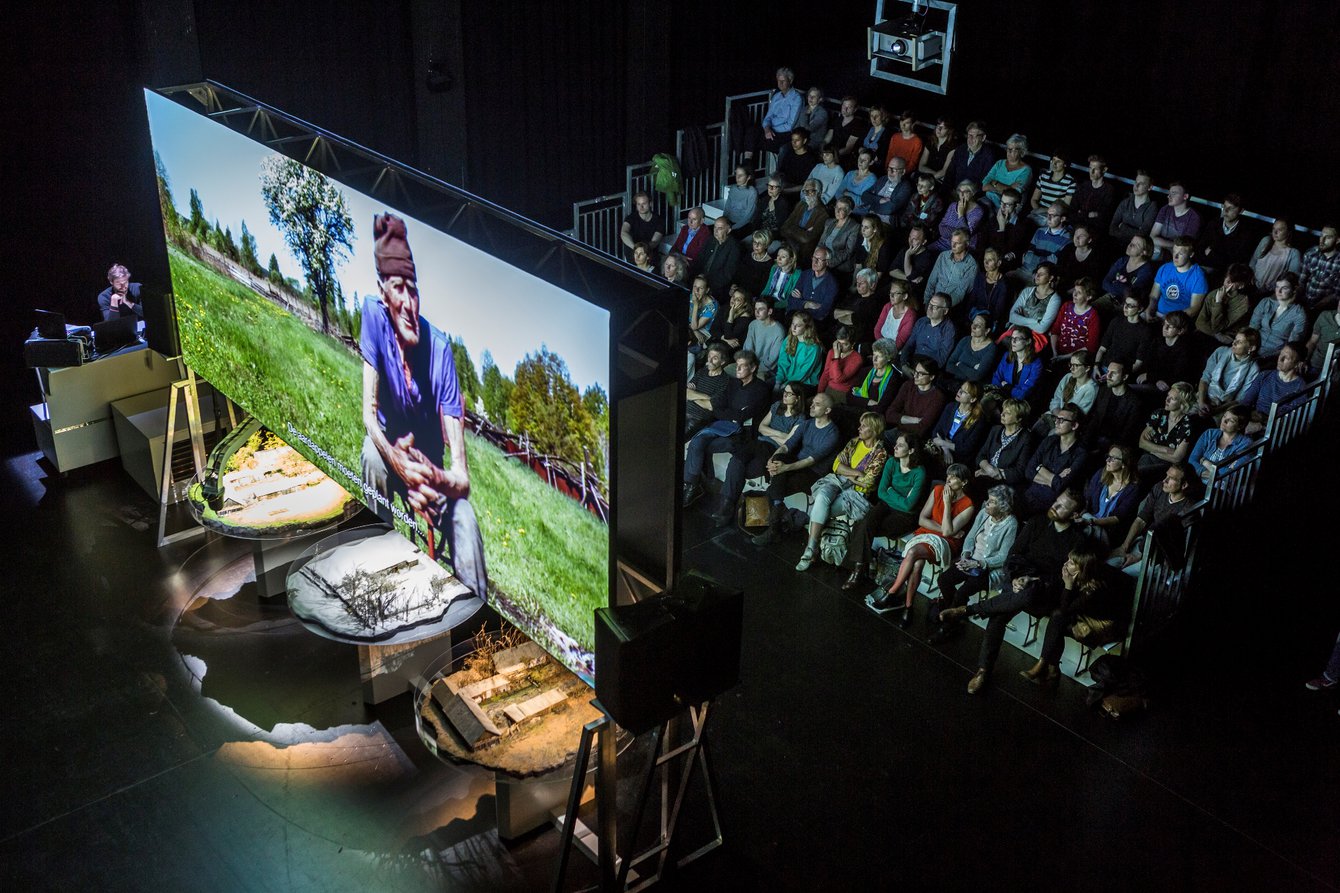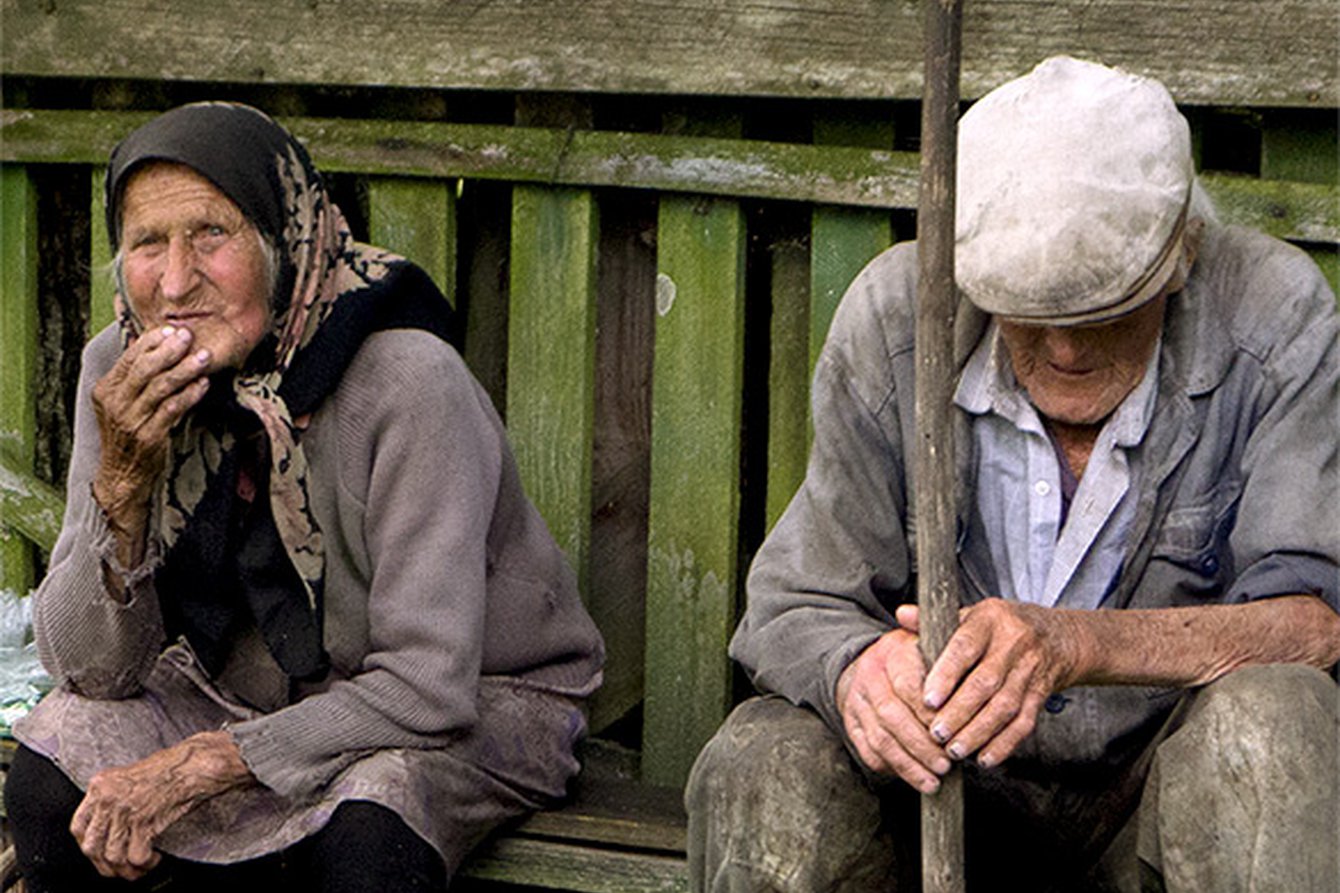 Over the course of five years BERLIN accompanied Pétro and Nadia through bouts of toothache, vodka, superstition, song and prayer. Far removed from voyeurism, ›Zvizdal - [Chernobyl - So far so close]‹, which premiered in May to great success at the renowned Kunstenfestivaldesarts in Brussels, is an intense portrait of solitude, survival, poverty, hope and of love between two elderly people living with the invisible, scentless omnipresence of radiation. Blending video documentary and performance, ›Zvizdal‹ incorporates three scale models of the couple's house and grounds depicting three seasons. Images of these models are repeatedly interspersed in the film work projected on a large screen above them in which BERLIN effortlessly amalgamate images, conversations and observations with concrete and meta strands of reflection. Following its German Premiere in Essen, the production can be seen at the Foreign Affairs festival of contemporary performing arts in Berlin.

ARTIST TALK with Bart Baele (BERLIN) on Friday, 1.7., after the performance.
»THE FORBIDDEN WORLD OF ZVIZDAL AND ITS COUNTRYSIDE IS BEAUTIFUL, AND SO IS THIS MASTERPIECE BY BERLIN.« THE ARGUS
»Armed with cameras, interview techniques, editing tables and actors, BERLIN portrays reality like a painter used to do: with a bit more color, lively angles of incidence and a brush setting that betrays a critical undertone.« Knack Focus
With: Nadia & Petro Opanassovitch Lubenoc
Concept: Bart Baele, Yves Degryse, Cathy Blisson
Scenography: Manu Siebens, Ina Peeters, BERLIN 
Interviews: Yves Degryse, Cathy Blisson
Camera & editing: Bart Baele, Geert De Vleesschauwer
Interpreter: Olga Mitronina
Soundtrack & mixing Peter Van Laerhoven
Construction set: Manu Siebens, Klaartje Vermeulen, Dirk Stevens, Kasper Siebens, Kopspel, Rex Tee [stagiair]
Mechanics: Joris Festjens, Dirk Lauwers
Scale model: Ina Peeters, with the help of Puck Vonk, Rosa Fens en Thomas Dreezen
Graphics: Jelle Verryckt
Website: Stijn Bonjean
Communication, production: Laura Fierens
Business management: Kurt Lannoye
Administrative support: Jane Seynaeve
Co-production: Het Zuidelijk Toneel (Tilburg), PACT Zollverein (Essen), Dublin Theatre Festival, CENTQUATRE (Paris), Kunstenfestivaldesarts (Brüssel), BIT Teatergarasjen (Bergen), Künstlerhaus Mousonturm (Frankfurt am Main), Theaterfestival Boulevard (Den Bosch), Onassis Cultural Centre (Athen)
In collaboration with: deSingel (Antwerp)
With support of: the Flemish Government

Thanks to: Wim Bervoets, Brice Maire, Lux Lumen, Els De Bodt, Pascal Rueff, Morgan Touzé, Christophe Ruetsch, Isabelle Grynberg, Nadine Malfait, Natalie Schrauwen, Katleen Treier, Piet Menu, Anthe & Ama Oda Baele, Remi & Ilias Degryse
www.berlinberlin.be
Touring
22.06.2022, PACT Zollverein, Essen (DE)
15.03.2022, Pilar, Brüssel (BE)
15.07.2021, De Spil, Roeselare (BE)
14.07.2021, De Spil, Roeselare (BE)
19.11.2020, De Spil. Roeselare (BE) (verschoben)
24.10.2020, Leietheater, Deinze (BE)
23.10.2020, Leietheater, Deinze (BE)
18.09.2020, CC Palethe, Pelt (BE)
20.05.2020, CC De Woeker, Oudenaarde (BE) (verschoben)
16.05.2020, Mayfest, Bristol (GB) (entfallen)
15.05.2020, Mayfest, Bristol (GB) (entfallen)
14.05.2020, Mayfest, Bristol (GB) (entfallen)
04.03.2020, la Scène nationale, Orléans (FR)
03.03.2020, la Scène nationale, Orléans (FR)
19.01.2020, Les Tombées de la Nuit, Rennes (FR)
18.01.2020, Les Tombées de la Nuit, Rennes (FR)
15.11.2019, Les Quinconces L'espal Scène nationale du Mans, Le Mans (FR)
14.11.2019, Les Quinconces L'espal Scène nationale du Mans, Le Mans (FR)
13.11.2019, Les Quinconces L'espal Scène nationale du Mans, Le Mans (FR)
27.10.2019, Zona K, Mailand (IT)
26.10.2019, Zona K, Mailand (IT)
03.10.2019, CC Nova, Wetteren (BE)
02.10.2019, CC Nova, Wetteren (BE)
09.09.2019, Stadsschouwburg Utrecht, Utrecht (NL)
02.06.2019, Salisbury International Arts Festival, Salisbury (GB)
01.06.2019, Salisbury International Arts Festival, Salisbury (GB)
29.05.2019, CC Sint-Niklaas, Sint-Niklaas (BE)
28.05.2019, CC Sint-Niklaas, Sint-Niklaas (BE)
17.05.2019, Le Volcan, Scène nationale du Havre, Le Havre (FR)
16.05.2019, Le Volcan, Scène nationale du Havre, Le Havre (FR)
15.05.2019, Le Volcan, Scène nationale du Havre, Le Havre (FR)
09.05.2019, Theater De Blauwe Kei, Veghel (NL)
17.04.2019, Theater De Blauwe Kei, Veghel (NL) (postponed)
16.02.2019, DiverseWorks, Houston, TX (US)
15.02.2019, DiverseWorks, Houston, TX (US)
10.02.2019, Fusebox Festival, Austin, TX (US)
09.02.2019, Fusebox Festival, Austin, TX (US)
08.02.2019, Fusebox Festival, Austin, TX (US)
02.02.2019, PuSh Festival, Vancouver (CA)
01.02.2019, PuSh Festival, Vancouver (CA)
31.01.2019, PuSh Festival, Vancouver (CA)
26.01.2019, Walker Art Center, Minneapolis, MN (US)
25.01.2019, Walker Art Center, Minneapolis, MN (US)
19.01.2019, Cincinnati Contempor, Cincinatti, OH (US)
18.01.2019, Cincinnati Contempor, Cincinatti, OH (US)
12.01.2019, Wexner Center for the Arts, Columbus, OH (US)
11.01.2019, Wexner Center for the Arts, Columbus, OH (US)
06.11.2018, Politik im Freien Theater, München (DE)
05.11.2018, Politik im Freien Theater, München (DE)
19.10.2018, Centre Culturel Agora PNC, Boulazac (FR)
18.10.2018, Centre Culturel Agora PNC, Boulazac (FR)
08.10.2018, Cc Scharpoord, Knokke-Heist (BE)
05.10.2018, Theater Junushoff, Wageningen (NL)
03.10.2018, 30CC, Leuven (BE)
02.10.2018, 30CC, Leuven (BE)
01.10.2018, Cc 't Getouw, Mol (BE)
27.09.2018, Theater Heerlen, Heerlen (NL)
02.08.2018, Theater aan Zee, Oostende (BE)
01.08.2018, Theater aan Zee, Oostende (BE)
30.07.2018, Theater aan Zee, Oostende (BE)
16.06.2018, Freiburg Festival, Freiburg (DE)
15.06.2018, Freiburg Festival, Freiburg (DE)
08.06.2018, Toneelhuis, Antwerpen (BE)
07.06.2018, Toneelhuis, Antwerpen (BE)
03.06.2018, Kunstfestspiele Herrenhausen, Hannover (DE)
02.06.2018, Kunstfestspiele Herrenhausen, Hannover (DE)
30.05.2018, La Passerelle, Saint-Brieuc (FR)
29.05.2018, La Passerelle, Saint-Brieuc (FR)
25.05.2018, Théâtre de Lorient, Lorient (FR)
24.05.2018, Théâtre de Lorient, Lorient (FR)
23.05.2018, Théâtre de Lorient, Lorient (FR)
20.05.2018, L'Autre Festival, Capdenac (FR)
19.05.2018, L'Autre Festival, Capdenac (FR)
16.05.2018, L'Apostrophe, Cergy-Pontoise (FR)
15.05.2018, L'Apostrophe, Cergy-Pontoise (FR)
11.05.2018, Maria Matos, Lissabon (PT)
10.05.2018, Maria Matos, Lissabon (PT)
27.04.2018, Casino Koksijde, Koksijde (BE)
20.04.2018, CC De Herbakker, Eeklo (BE)
13.04.2018, Théâtre Arles, Arles (FR)
12.04.2018, Théâtre Arles, Arles (FR)
07.04.2018, L'Estive, Foix (FR)
06.04.2018, L'Estive, Foix (FR)
28.03.2018, CC Belgica, Dendermonde (BE)
14.03.2018, Kaserne, Basel (CH)
13.03.2018, Kaserne, Basel (CH)
03.02.2018, Kampnagel, Hamburg (DE)
02.02.2018, Kampnagel, Hamburg (DE)
01.02.2018, Kampnagel, Hamburg (DE)
16.12.2017, GC De Kluize, Oosterzele (BE)
13.12.2017, CC Berchem, Antwerpen (BE)
09.12.2017, Maillon, Straßburg (FR)
08.12.2017, Maillon, Straßburg (FR)
07.12.2017, Maillon, Straßburg (FR)
06.12.2017, Maillon, Straßburg (FR)
05.12.2017, Maillon, Straßburg (FR)
22.11.2017, CC Brugge, Brügge (BE)
16.11.2017, CC Strombeek, Strombeek-Bever (BE)
08.11.2017, De Velinx, Tongeren (BE)
18.10.2017, TAP, Poitiers (FR)
17.10.2017, TAP, Poitiers (FR)
15.10.2017, Carré Colonnes, Bordeaux (FR)
14.10.2017, Carré Colonnes, Bordeaux (FR)
11.10.2017, Steirischer Herbst, Graz (AT)
10.10.2017, Steirischer Herbst, Graz (AT)
08.10.2017, 4+4 Days in motion, Prag (CZ)
07.10.2017, 4+4 Days in motion, Prag (CZ)
01.10.2017, Festival TNT, Terassa (ES)
30.09.2017, Festival TNT, Terassa (ES)
26.09.2017, Festival Divadelna, Nitra (SK)
25.09.2017, Festival Divadelna, Nitra (SK)
22.09.2017, Les Francophonies, Limoges (FR)
21.09.2017, Les Francophonies, Limoges (FR)
09.09.2017, Nederlands Theaterfestival, Amsterdam (NL)
08.09.2017, Nederlands Theaterfestival, Amsterdam (NL)
07.09.2017, Theater aan het Spui, Den Haag (NL)
06.09.2017, Rotterdamse Schouwburg, Rotterdam (NL)
18.07.2017, Mittelfest, Cividale del Friuli (IT)
17.07.2017, Mittelfest, Cividale del Friuli (IT)
18.06.2017, Oerol Festival, Terschelling (NL)
17.06.2017, Oerol Festival, Terschelling (NL)
16.06.2017, Oerol Festival, Terschelling (NL)
15.06.2017, Oerol Festival, Terschelling (NL)
14.06.2017, Oerol Festival, Terschelling (NL)
13.06.2017, Oerol Festival, Terschelling (NL)
12.06.2017, Oerol Festival, Terschelling (NL)
11.06.2017, Oerol Festival, Terschelling (NL)
10.06.2017, Oerol Festival, Terschelling (NL)
09.06.2017, Oerol Festival, Terschelling (NL)
23.05.2017, Figurentheaterfestival, Erlangen (DE)
22.05.2017, Figurentheaterfestival, Erlangen (DE)
19.05.2017, ILT Festival, Aarhus (DK)
18.05.2017, ILT Festival, Aarhus (DK)
11.05.2017, Onassis Cultural Cen, Athen (GR)
10.05.2017, Onassis Cultural Cen, Athen (GR)
01.05.2017, No Strings Attached, Mainz (DE)
30.04.2017, No Strings Attached, Mainz (DE)
28.04.2017, Mousonturm, Frankfurt a.M. (DE)
27.04.2017, Mousonturm, Frankfurt a.M. (DE)
23.04.2017, De Brakke Grond, Amsterdam (NL)
22.04.2017, De Brakke Grond, Amsterdam (NL)
19.04.2017, De Leest, Izegem (BE)
08.04.2017, Beursschouwburg, Brüssel (BE)
07.04.2017, Beursschouwburg, Brüssel (BE)
23.03.2017, SICK! Festival, Manchester (GB)
15.03.2017, De Werf, Aalst (BE)
10.03.2017, Scène Nationale Aubusson, Aubusson (FR)
09.03.2017, Scène Nationale Aubusson, Aubusson (FR)
07.03.2017, Le Parvis, Tarbes (FR)
06.03.2017, Le Parvis, Tarbes (FR)
01.03.2017, Le Phénix, Valenciennes (FR)
23.03.2017, Vooruit, Gent (BE)
22.03.2017, Vooruit, Gent (BE)
18.02.2017, C-Mine, Genk (BE)
10.02.2017, Rotondes, Luxemburg (LU)
09.02.2017, Rotondes, Luxemburg (LU)
21.01.2017, Natlab, Eindhoven (NL)
20.01.2017, Natlab, Eindhoven (NL)
21.12.2016, Nona / CC Mechelen, Mechelen (BE)
20.12.2016, Nona / CC Mechelen, Mechelen (BE)
17.12.2016, Festival d'Automne, Paris (FR)
16.12.2016, Festival d'Automne, Paris (FR)
15.12.2016, Festival d'Automne, Paris (FR)
14.12.2016, Festival d'Automne, Paris (FR)
13.12.2016, Festival d'Automne, Paris (FR)
12.12.2016, Festival d'Automne, Paris (FR)
11.12.2016, Festival d'Automne, Paris (FR)
10.12.2016, Festival d'Automne, Paris (FR)
07.12.2016, CC Maasmechelen, Maasmechelen (BE)
04.12.2016, Festival d'Automne, Paris (FR)
03.12.2016, Festival d'Automne, Paris (FR)
02.12.2016, Festival d'Automne, Paris (FR)
01.12.2016, Festival d'Automne, Paris (FR)
30.11.2016, Festival d'Automne, Paris (FR)
26.11.2016, BIT Teatergarasjen, Bergen (BE)
25.11.2016, BIT Teatergarasjen, Bergen (BE)
24.11.2016, BIT Teatergarasjen, Bergen (BE)
20.11.2016, NEXT Festival, Menen (BE)
19.11.2016, NEXT Festival, Menen (BE)
11.11.2016, De Lawei, Drachten (NL)
09.11.2016, De NWE Vorst, Tilburg (NL)
03.11.2016, De Kring, Roosendaal (NL)
31.10.2016, CC Hasselt, Hasselt, (BE)
29.10.2016, Theater Kikker, Utrecht (NL)
28.10.2016, Theater Kikker, Utrecht (NL)
27.10.2016, CC Berchem, Antwerpen (BE)
22.10.2016, De Grote Post, Oostende (BE)
20.10.2016, de Warande, Turnhout (BE)
19.10.2016, de Warande, Turnhout (BE)
18.10.2016, Parktheater, Eindhoven (NL)
14.10.2016, Rotterdamse Schouwburg, Rotterdam (NL)
13.10.2016, Chassé Theater, Breda (NL)
01.10.2016, Dublin Theatre Festival, Dublin (IR)
30.09.2016, Dublin Theatre Festival, Dublin (IR)
29.09.2016, Dublin Theatre Festival, Dublin (IR)
17.09.2016, Zwolse Theaters, Zwolle (NL)
02.09.2016, Theater Spektakel, Zürich (CH)
01.09.2016, Theater Spektakel, Zürich (CH)
31.08.2016, Theater Spektakel, Zürich (CH)
28.08.2016, Noorderzon, Groningen (NL)
27.08.2016, Noorderzon, Groningen (NL)
26.08.2016, Noorderzon, Groningen (NL)
25.08.2016, Noorderzon, Groningen (NL)
14.08.2016, Theater op de Markt, Hasselt (BE)
13.08.2016, Theater op de Markt, Hasselt (BE)
07.08.2016, Theaterfestival Boul, Den Bosch (NL)
06.08.2016, Theaterfestival Boul, Den Bosch (NL)
05.08.2016, Theaterfestival Boul, Den Bosch (NL)
29.07.2016, Centrale Fies, Dro (IT)
28.07.2016, Centrale Fies, Dro (IT)
08.07.2016, Berliner Festspiele, Berlin (DE)
07.07.2016, Berliner Festspiele, Berlin (DE)
02.07.2016, PACT Zollverein, Essen (DE)
01.07.2016, PACT Zollverein, Essen (DE)
25.05.2016, Brighton Festival, Brighton (GB)
24.05.2016, Brighton Festival, Brighton (GB)
23.05.2016, Brighton Festival, Brighton (GB)
21.05.2016, deSingel, Antwerpen (BE)
20.05.2016, deSingel, Antwerpen (BE)
19.05.2016, deSingel, Antwerpen (BE)
15.05.2016, Kunstenfestivaldesar, Brüssel (BE)
14.05.2016, Kunstenfestivaldesar, Brüssel (BE)
13.05.2016, Kunstenfestivaldesar, Brüssel (BE)
12.05.2016, Kunstenfestivaldesar, Brüssel (BE)