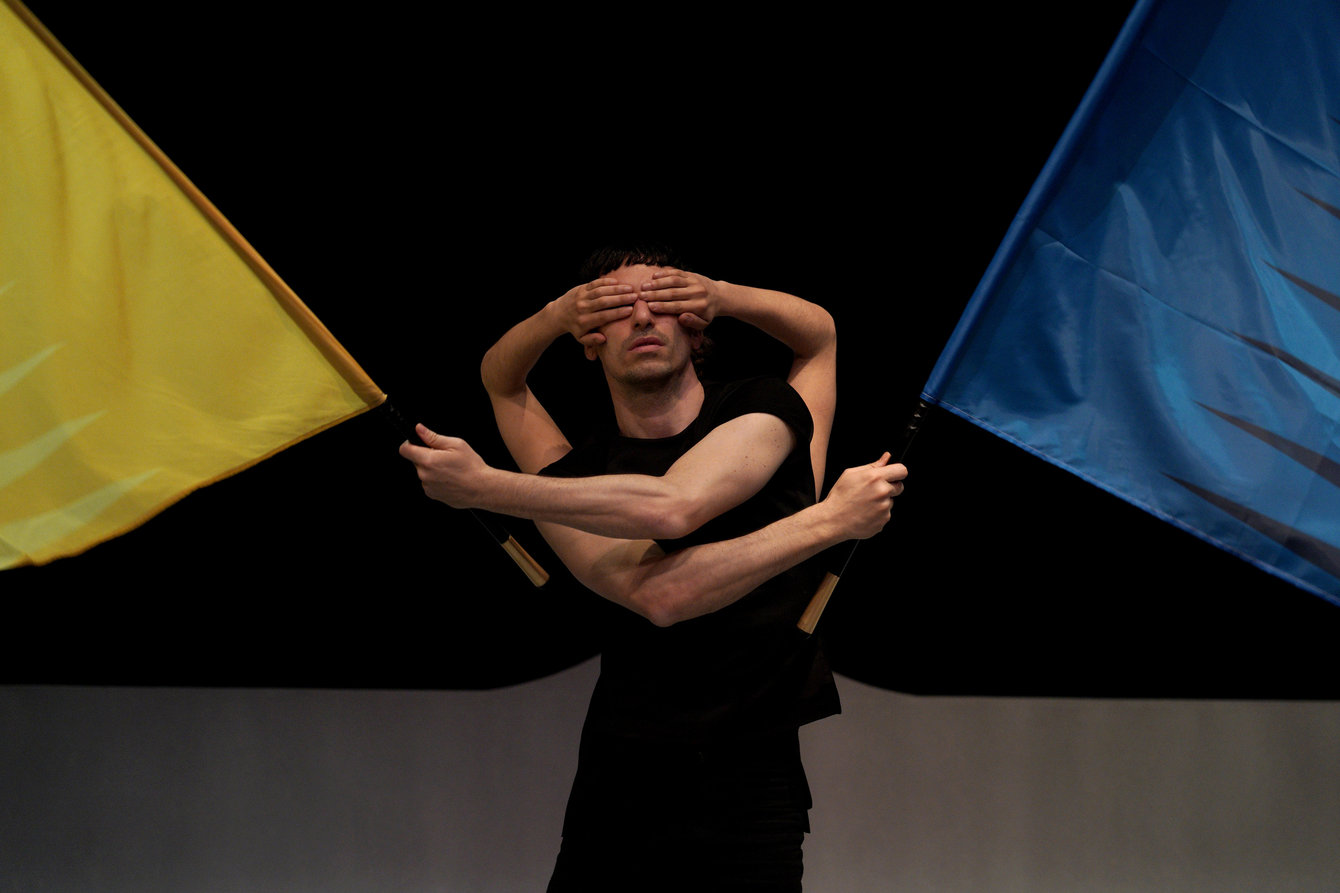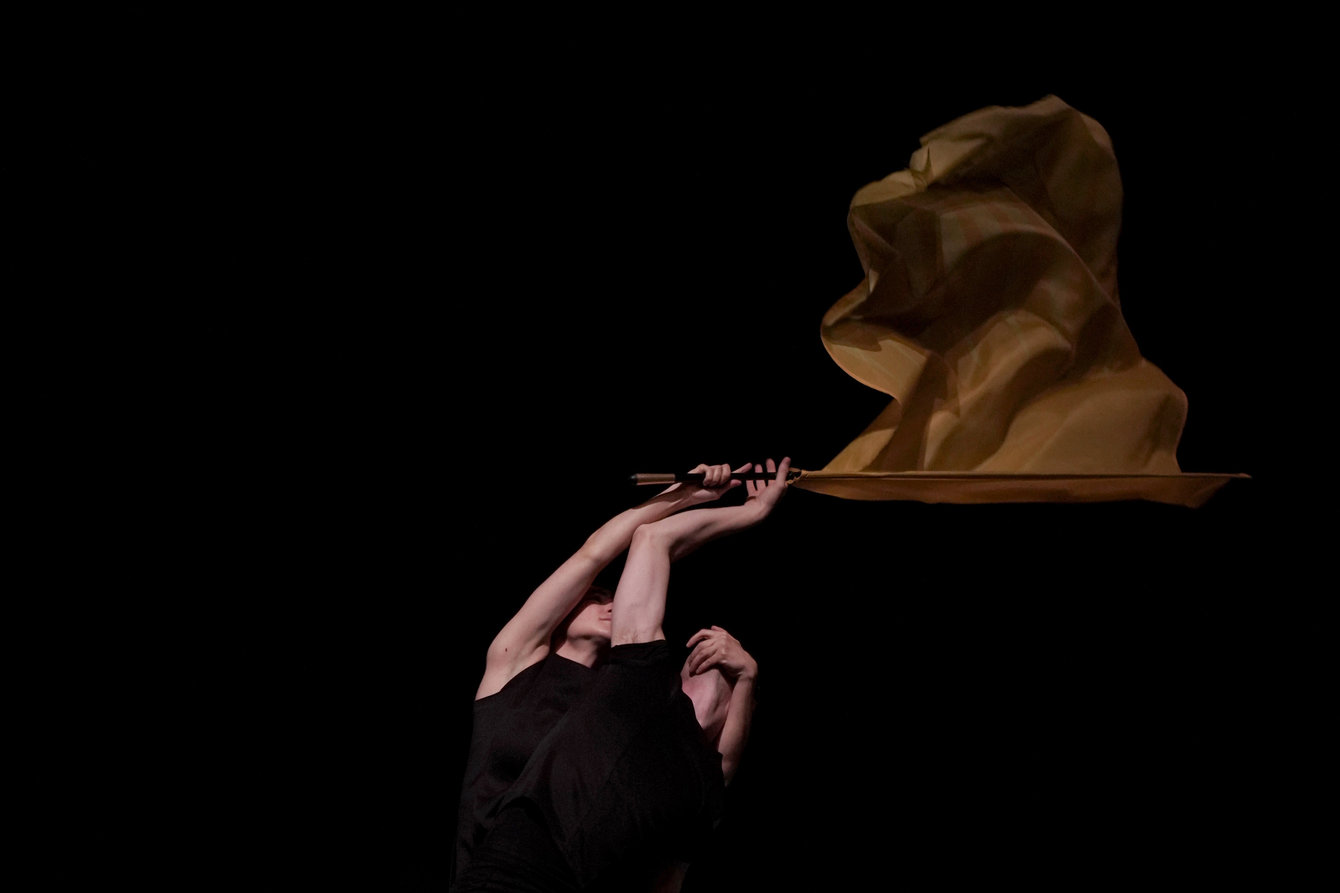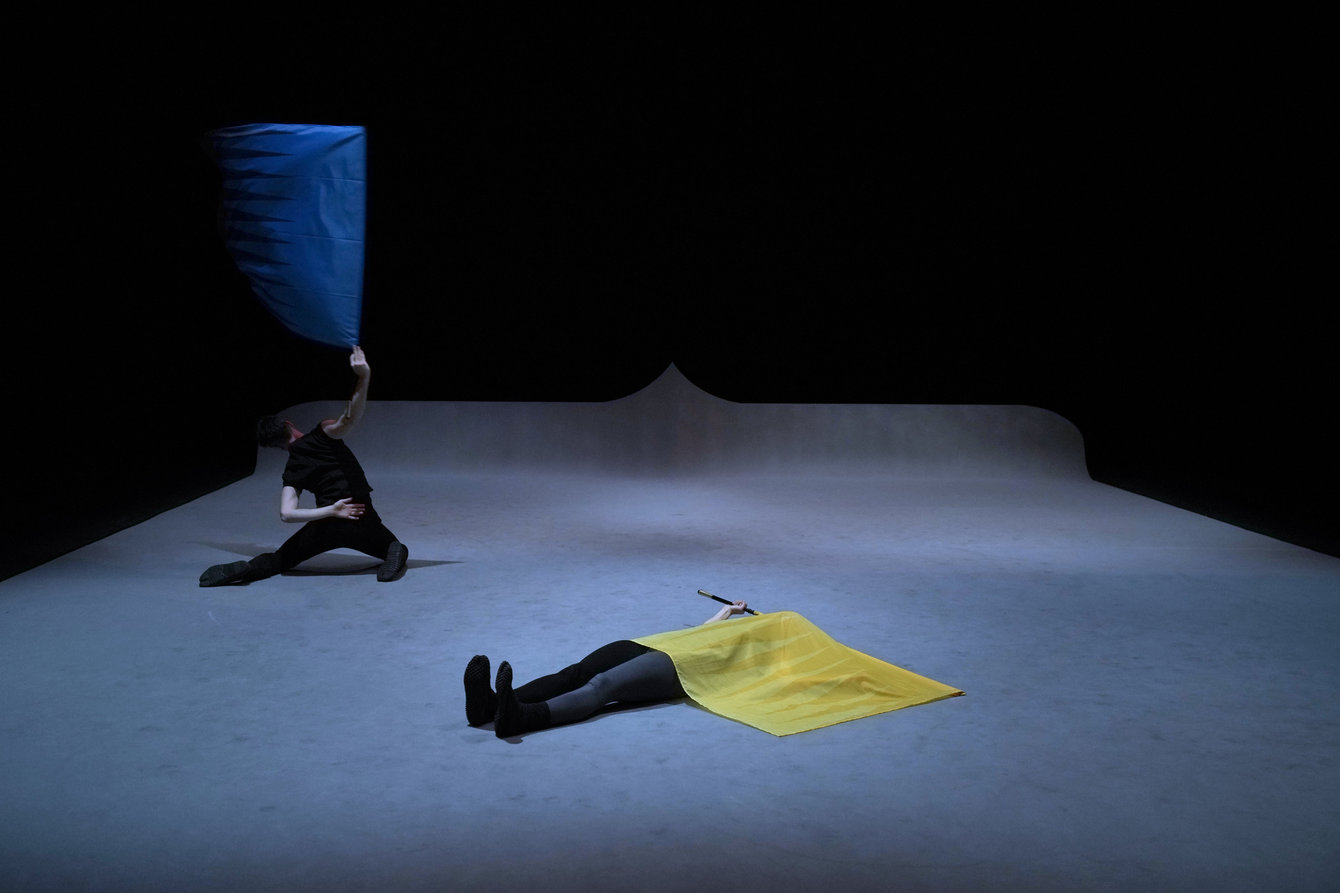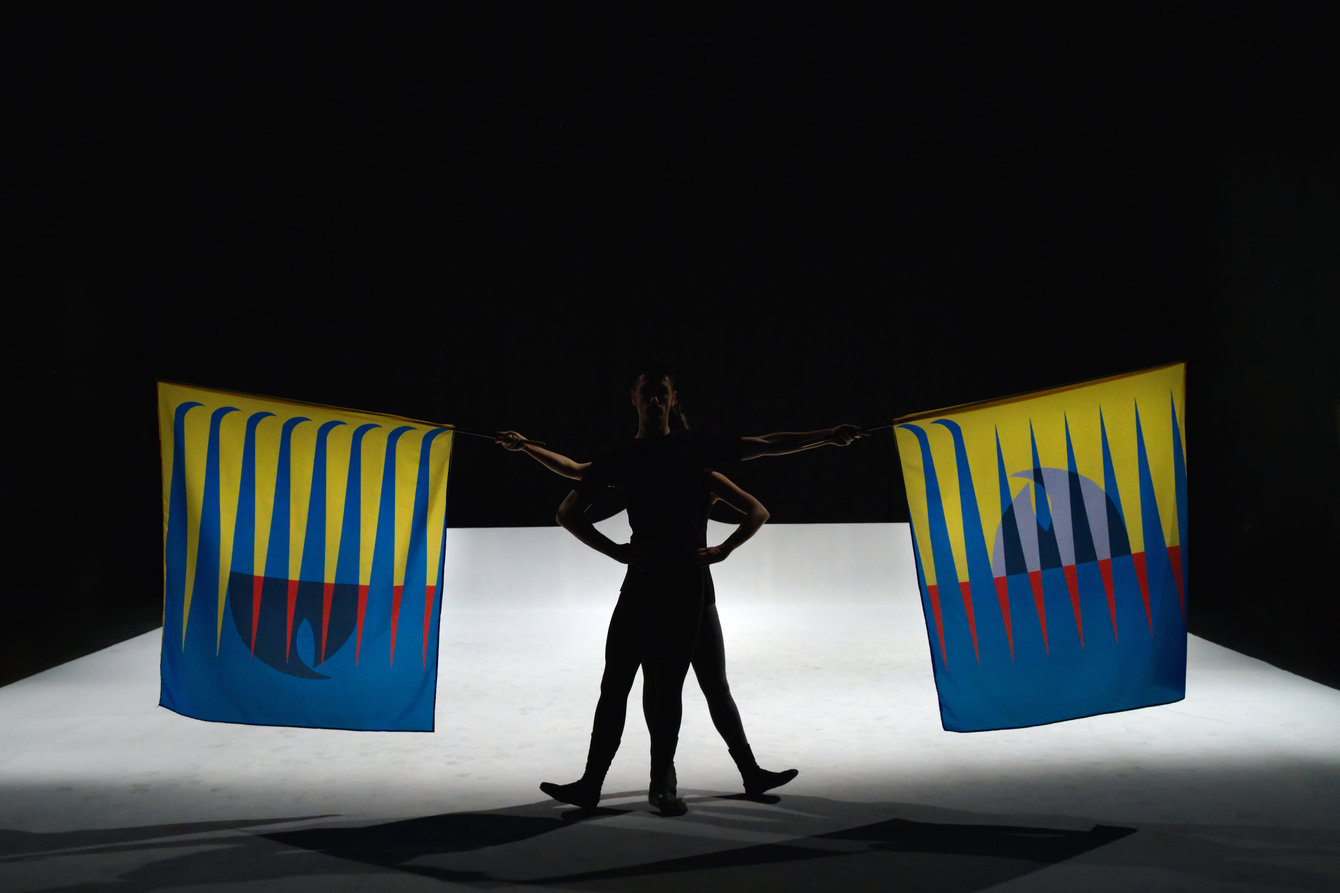 Presale 15€ / red. 10€
Box office 20€ / red. 15€
TICKETS
The colourful symbols, medieval beasts, unaccustomed signs and fantastic chimeras that adorn flags and banners are the subject of heraldry, of vexillology.
As if slipping out of the fabric of eternally fluttering flags, heraldic symbols are used to tell stories, create myths and stage power: on emblematic battlefields, conflicts are waged and partnerships sealed. In their latest work, Ginevra Panzetti and Enrico Ticconi explore the inexhaustible variety of heraldic imagery and the elaborate tradition of flag-waving.
The title giving exclamation ›ARA! ARA!‹ denotes in itself a bold heraldic image: the bird ARA, which is used as a symbol of rising power. This bird is however not a majestic, fearsome bird of prey like the eagle, but instead a much more harmless and seemingly amusing example – the parrot. An exotic iconic animal in Western eyes, this colourful linguistic acrobat represents in flag lore the desire for advancement. Much like the seductive nature of power, the parrot's friendly and gregarious temperament tempts us to ignore the futility of repeating and imitating patterns of the past without reflecting on their outcomes or consequences.
Choreography, performance, visual conception: Ginevra Panzetti & Enrico Ticconi Sound, design, composition: Demetrio Castellucci Snare, percussions, recording: Michele Scotti Light design: Annegret Schalke Set design realization: Laila Rosato Flag design: Ginevra Panzetti Costume realization: Julia Didier Flag-waving coach: Carlo Lobina, Flag-wavers of Arezzo Technical care: Michele Piazzi Touring & distribution: Aurélie Martin Italian production management: VAN (Federica Giuliano, Eleonora Cavallo) German production management: Uta Engel
Production: Ginevra Panzetti & Enrico Ticconi, Associazione Culturale VAN (Bologna) Co-Production: PACT Zollverein (Essen), La Briqueterie CDCN du Val-de-Marne (Vitry-sur-Seine) within the framework of accueil-studio funded by the Ministry of culture, DRAC IDF (Paris), KLAP Maison pour la Danse (Marseille), Théâtre de Vanves (Vanves), Triennale Milano Teatro (Milano) Funded by: Hauptstadtkulturfonds Supported by: The Fondation d'entreprise Hermès within the framework of the New Settings Program  Supported through: Programme Etape Danse, sustained by Institut français d'Allemagne - Bureau du Théâtre et de la Danse, Maison CDCN Uzès Gard Occitanie, théâtre de Nîmes-scène conventionnée d'intérêt national – Art et Création - danse contemporaine, Fabrik Potsdam, DGCA - ministère de la Culture et de la Communication, the city of Potsdam, Mosaico Danza (Interplay Festival of Turin), Radialstiftung
Artistic residency program: NAOcrea - Ariella Vidach AiEP; Teatro Félix Guattari - Masque Teatro; CSC Bassano del Grappa; PACT Zollverein; Armunia; Schaubühne Lindenfels; Sosta Palmizi.
Thanks to: Teatro Comandini - Societas; Anghiari Dance Hub.
Ginevra Panzetti/Enrico Ticconi are supported by DIEHL+RITTER/TANZPAKT RECONNECT, which is funded by the Federal Government Commissioner for Culture and the Media as part of the NEUSTART KULTUR initiative.
Touring
15.04.2022, Les Subsistances, Lyon (FR)
14.04.2022, Les Subsistances, Lyon (FR)
13.04.2022, Les Subsistances, Lyon (FR)
09.04.2022, PACT Zollverein, Essen (DE) (cancelled)
08.04.2022, PACT Zollverein, Essen (DE) (cancelled)
17.03.2022, Artdanthé Festival, Théâtre de Vanves, Paris (FR)
23.01.2022, Fonderia Aterballetto, Reggio Emilia (IT)
20.01.2022, Teatro Stabile dell'Umbria - Perugia (IT)
04.12.2021, Potsdamer Tanztage, Fabrik, Potsdam (DE)
03.12.2021, Potsdamer Tanztage, Fabrik, Potsdam (DE)
20.10.2021, PODIUM 2021 - La Rampe, Echirolle (FR)
17.10.2021, Romaeuropa Festival, Dancing days, Roma (IT)
16.10.2021, Romaeuropa Festival, Dancing days, Roma (IT)
08.10.2021, New Settings - Théâtre de la Cité Internationale, Paris (FR)
07.10.2021, New Settings - Théâtre de la Cité Internationale, Paris (FR)
21.07.2021, FOG Triennale Milano Performing Arts, Milano (IT)
20.07.2021, FOG Triennale Milano Performing Arts, Milano (IT)
17.07.2021, Kilowatt Festival - Dance Hub, Sansepolcro (IT)
03.07.2021, Inequilibrio Festival, Castiglioncello (IT)
10. - 16.06.2021, (Video-on-Demand), Open Spaces Festival, Berlin (DE)
21.05.2021, Interplay, Torino (IT)
12.02.2021, KLAP Maison pour la Danse, Marseille (FR)