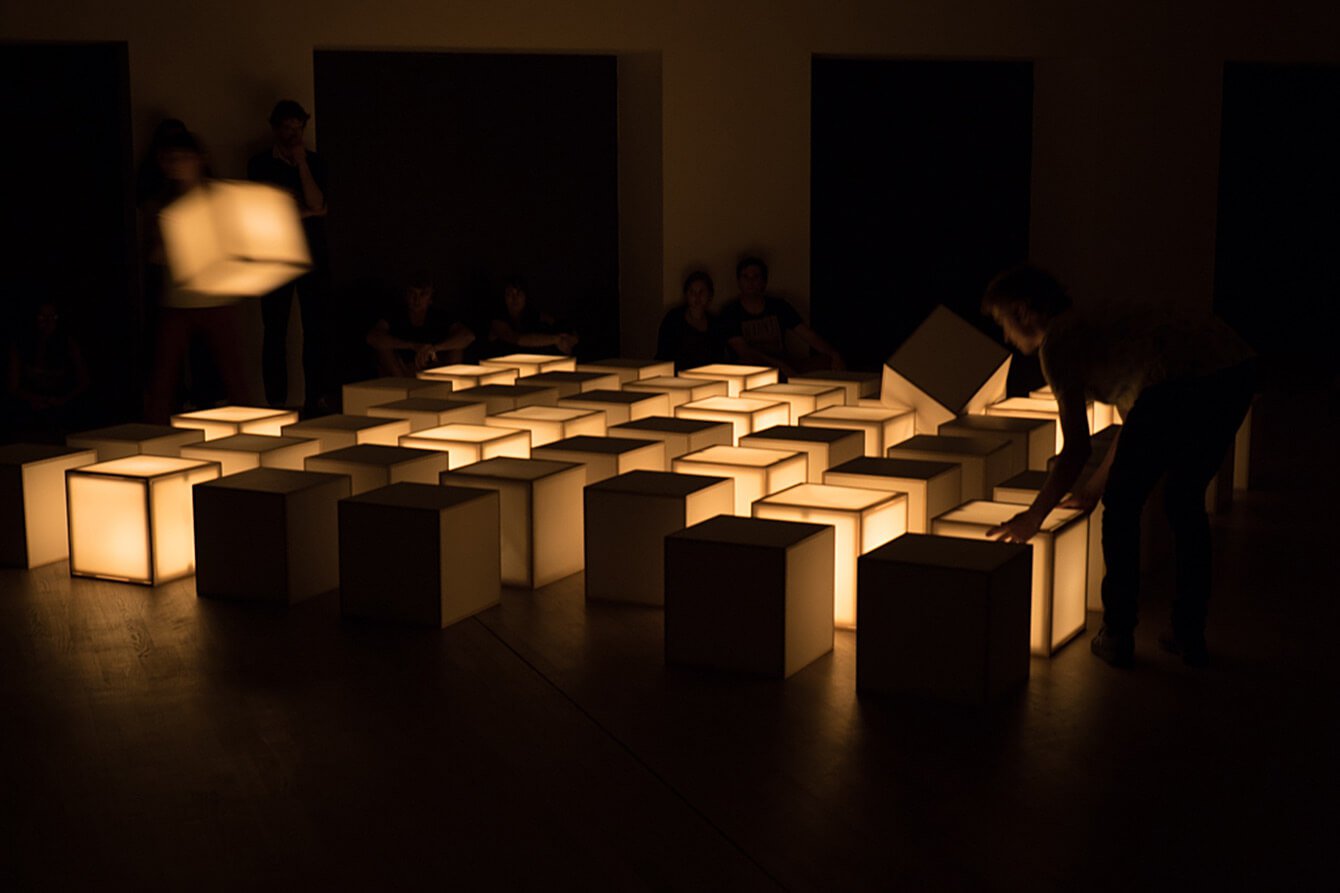 Zur Entwicklung von ›distant voices‹
›Nach einer Reihe von Arbeiten, die gezielt auf konkrete Räume ausgerichtet waren, verspürten wir das Bedürfnis, unsere Auseinandersetzung mit dem Thema Raum zu vertiefen und uns dabei insbesondere mit den Auswirkungen von räumlichen Anordnungen auf den Körper und dessen Wahrnehmung zu befassen:
Was geschieht, wenn ein architektonischer Raum seine eigenen Grenzen überschreitet? Wenn eine Situation aus ihrer räumlichen Begrenztheit ausbricht? Was, wenn Rahmen und Normen sich auflösen und sich auf andere Räume verlagern? Wie verändern sich dadurch die physischen und sensorischen Beziehungen zwischen dem Publikum und den Performer*innen? Welches Verhalten resultiert daraus? 
Der Entstehungsprozess von ›distant voices‹ begann mit spielerischen Versuchen unter dem Titel ›Conversation‹. Im Zuge dieser öffentlichen Interventionen begannen wir uns für den Einfluss von Räumlichkeit auf den Körper zu interessieren. Wir experimentierten mit einer modularen, wandelbaren Struktur beweglicher Objekte (weiße Würfel). Allmählich verlagerte sich das Wechselspiel von Objekten und Körpern, Architektur und Bewegung aus einer persönlichen Ebene in die öffentliche Sphäre. Danach wurden Ergebnisse dieses Versuchs und die während ›Conversation‹ gesammelten Erfahrungen für den Bühnenraum weiterentwickelt und ›distant voices‹ nahm weiter Form an.
›distant voices‹ wurde am 10. Oktober 2014 im belgischem Löwen im STUK – Haus für Tanz, Bild und Klang uraufgeführt und ging anschließend international auf Tournee. Während dieser Tournee reifte der Entschluss aus dem bestehenden Material eine fortlaufende Performance-Installation zu konzipieren. Die Installation zeigen wir nun das erste Mal bei PACT, wo sie sich ihren Weg durch das Foyer, über die Flure bis nach draußen bahnen wird.‹
fieldworks
fieldworks: PORTRAIT
15. - 17. Juni 2018
Behind the Development of ›distant voices‹
›After a series of location-specific productions, we felt the need to continue our exploration of space, and particularly of the effects of spatial organization on the body and perception. 
What happens if an architectural space overflows its own boundaries? What if a situation breaks out of its spatial limits? What if its setting and codes dissolve by spreading to other spaces? And how does this affect the physical, perceptual and behavioral relationships between audience members and performers?
The creation process of ›distant voices‹ started with a series of playful performative explorations entitled ›Conversation‹. During this series of public interventions, we started to investigate the impact of spatial organization on the body by playing with a modular, transformable structure of moveable objects (white cubes), and by gradually transposing the interplay between objects and bodies, between architecture and movement from the intimate space to public space. The results of the research and the experiences gained through these ›Conversations‹ were then taken into the black box, where ›distant voices‹ was further developed.
›distant voices‹ premiered on 10. October 2014 at STUK - House for dance, image and sound in Leuven, Belgium, after which it toured internationally. During this tour, the idea grew to create an ongoing performative installation. This installation will be presented for the first time at PACT, and will spread through the foyer, and corridors, and out into the local surroundings.‹
fieldworks
fieldworks: PORTRAIT
15. - 17. June 2018