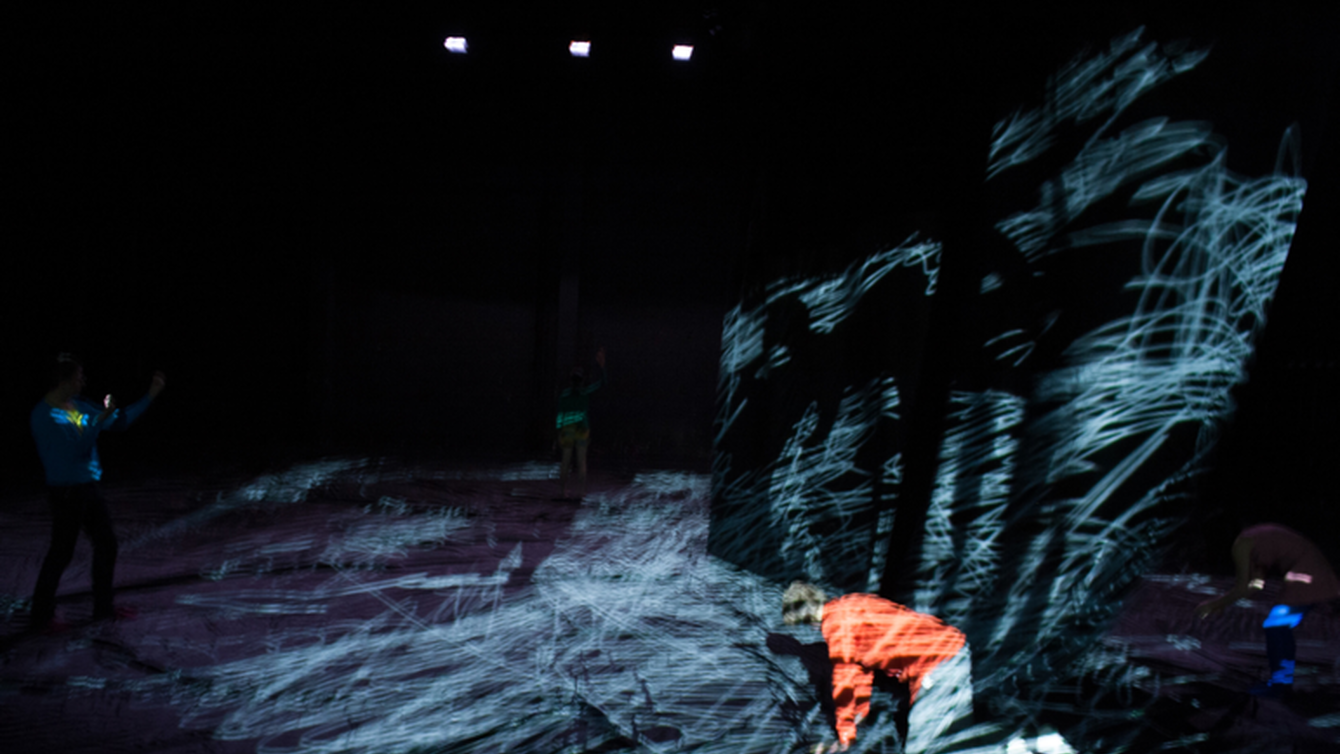 Unsere Kollaboration (Heine Avdal & Yukiko Shinozaki) begann 1996. Unser erstes Duett wurde am Dixon Place in New York konzipiert und gezeigt. Wir haben bis heute mehr als 20 Tanzprojekte auf die Bühne gebracht. (Inzwischen sind wir auch verheiratet und haben zwei Kinder.)
Wenn wir uns in ein neues Projekt stürzen, stellen wir uns bewusst die Frage, wie wir den Arbeitsprozess gestalten wollen. Die Beobachtung von Alltagssituationen und die Aufgeschlossenheit gegenüber neuen künstlerischen Praktiken sind wichtige Faktoren in unserem Schaffen.
'Performativität' steht im Mittelpunkt unseres Werks, das den Begriff der Bewegung als heterogene Mischung unterschiedlicher Medien fassen lässt.
Unsere Arbeit ist gleichermaßen in den Bereichen Performance, Tanz, Bildende Kunst, Video, Musik und Technologie verankert. Auch deshalb kollaborieren wir regelmäßig mit anderen Künstler*innen, von denen jeder eigene Vorstellungen, Ideen, Herangehensweisen und Medien in den Schaffensprozess einbringt. Ihre Beiträge sind für unsere Projekte von entscheidender Bedeutung.
Zu den Leitmotiven unserer künstlerischen Arbeit gehören das Verhältnis zwischen Performer*innen und Publikum, ein gleichberechtigtes Verhältnis aller Elemente der Performance sowie die Auseinandersetzung innerhalb von theatralen und alltäglichen Räumen. Jede unserer Performances spielt mit dem Spannungsverhältnis zwischen Körper und Objekten, mit den Kontrasten von Körper und Geist, Fakt und Fiktion, Wirklichkeit und Darstellung, dem Greifbaren und dem Unsichtbaren, dem Biologischen und dem Synthetischen. 
Unser gegenwärtiger Schwerpunkt liegt auf der Aufteilung von Raum. In unseren oft auf lokale Gegebenheiten zugeschnittenen Performances fragen wir danach, wie konventionelle Raumvorstellungen unsere Wahrnehmung und Bewegungen an privaten wie an 
öffentlichen Orten beeinflussen. Durch Akzentverschiebungen und Manipulationen versuchen wir unerwartete Überschneidungen zwischen verschiedenen Raumvorstellungen zum Vorschein zu bringen. Wir sind der Poesie im Alltag auf der Spur und hinterfragen, was sich den Anschein des Selbstverständlichen gibt. So erscheinen allzu vertraute Räume in neuem Licht. Uns eint die Hoffnung, dass unsere Arbeit die Art und Weise, wie wir die Welt sehen, ändern kann.
Heine Avdal & Yukiko Shinozaki
fieldworks PORTRAIT
15. - 17. Juni 2018
Our collaboration (Avdal & Shinozaki) started in 1996. We created and showed our first short duet at Dixon Place in New York. We continued to dance together and have created more than 20 projects so far. (We also got married and have 2 children together.)
When we embark on a new project, we always question what kind of process we want to go through. Observing situations we face in our daily lives and exploring new kinds of artistic practice are important to us.
We are concerned with 'performativity', and allow for an open interpretation of movement as a heterogeneous combination of a variety of media.
Our work draws on a broad range of disciplines and expertise: performance, dance, visual arts, video, music, and technology. Therefore, we collaborate with various artists, who each contribute concepts and ideas to the artistic process, using their own individual approach and medium of choice. Their contributions are vital to our projects.
Recurrent themes in our work include the relationship between performer and spectator, a non-hierarchical approach to the various elements of a performance, and the exploration of both theatrical and non-theatrical environments. Every performance plays on the tension and contrast between body and objects, body and mind, fact and fiction, reality and representation, the tangible and the invisible, the organic and the artificial.
Our current focus is on the distribution of space. In our, often location-specific, performances we question how spatial conventions affect the way we experience and move through private/public places. Through slight shifts or manipulations, we aim to reveal unexpected intersections between the different components of a space. By challenging what we take for granted and searching for poetry within our daily lives, we aim to shed new light on spaces we already know. We hope our work can change the way we see the world.
Heine Avdal & Yukiko Shinozaki
fieldworks PORTRAIT
15. - 17. Juni 2018