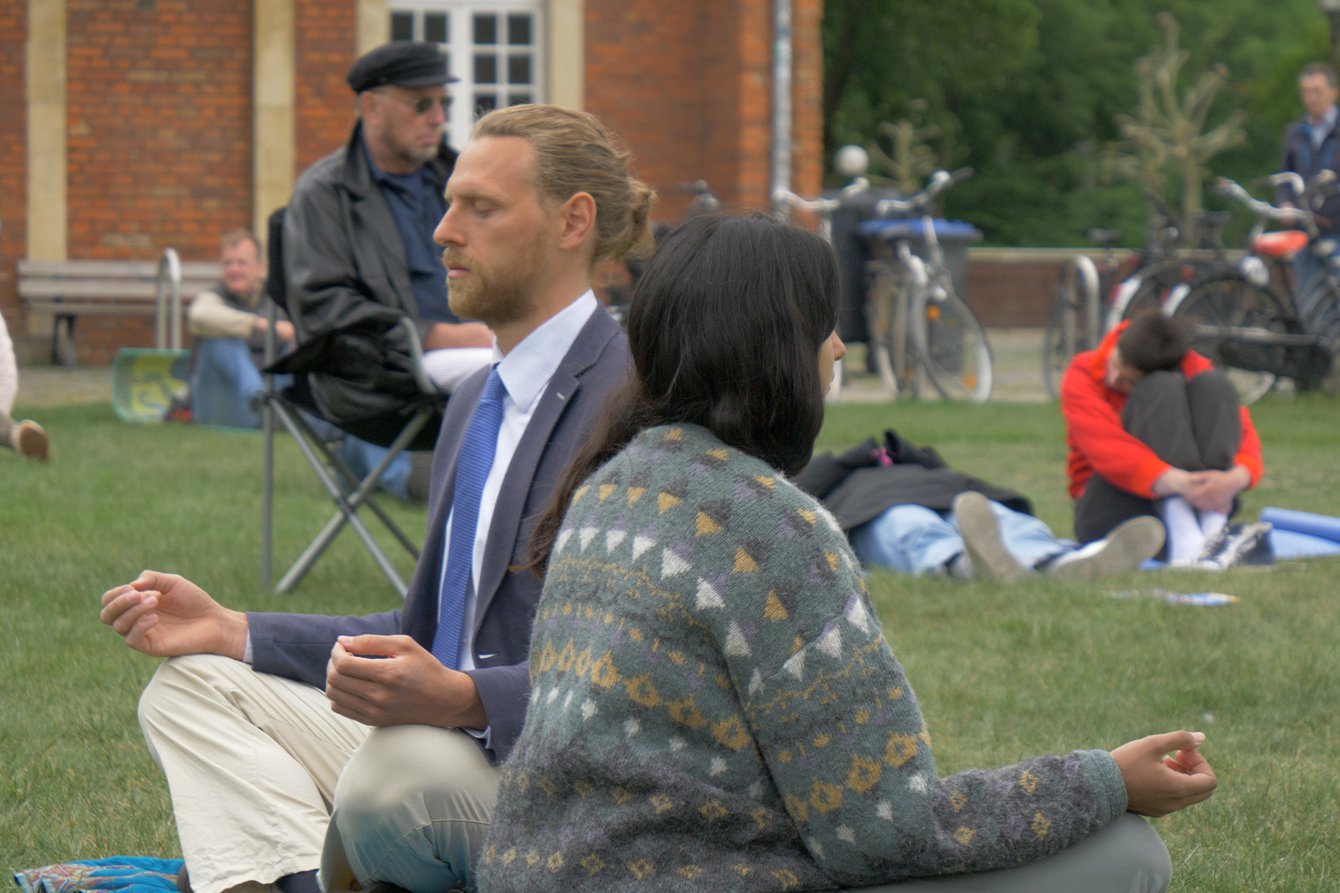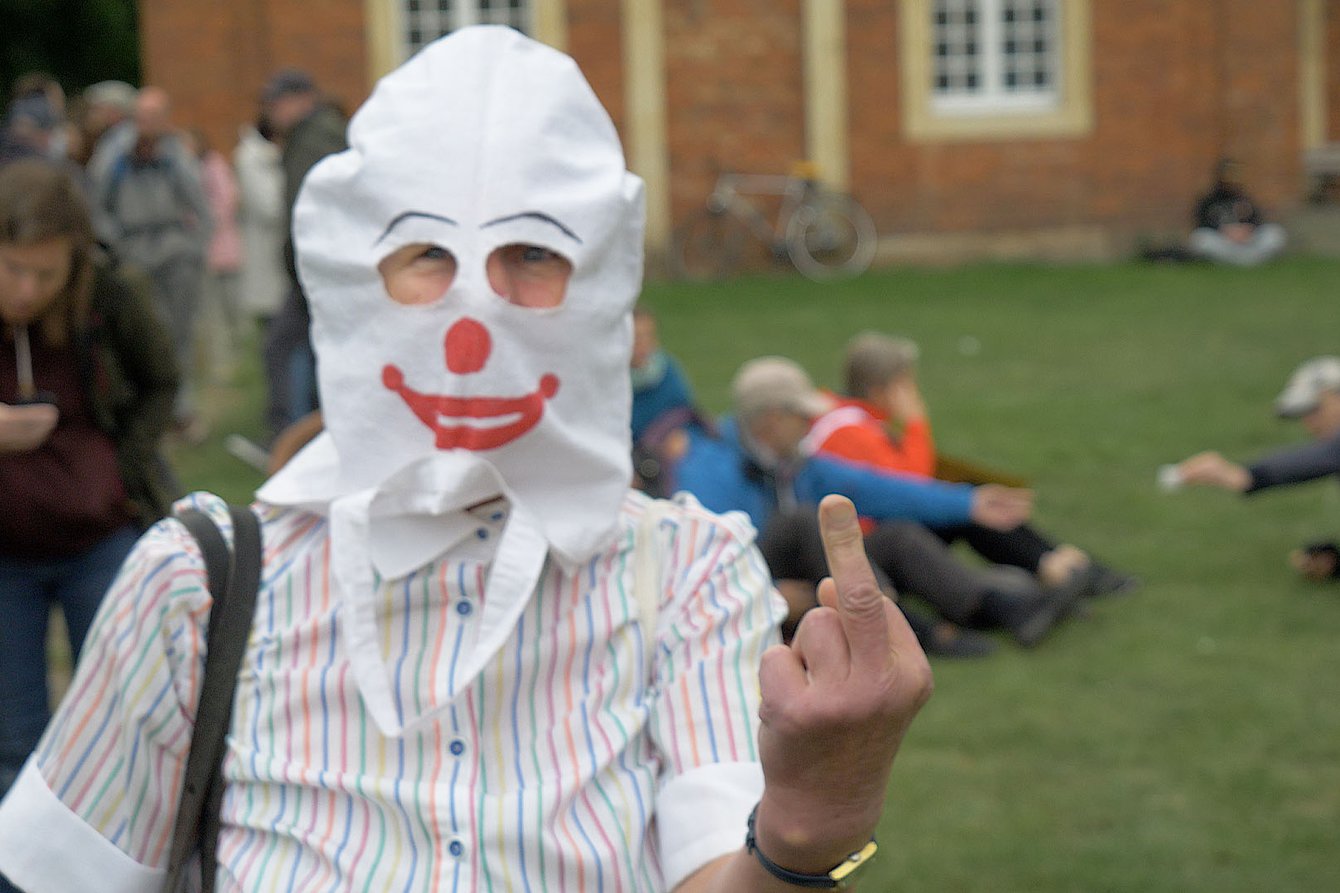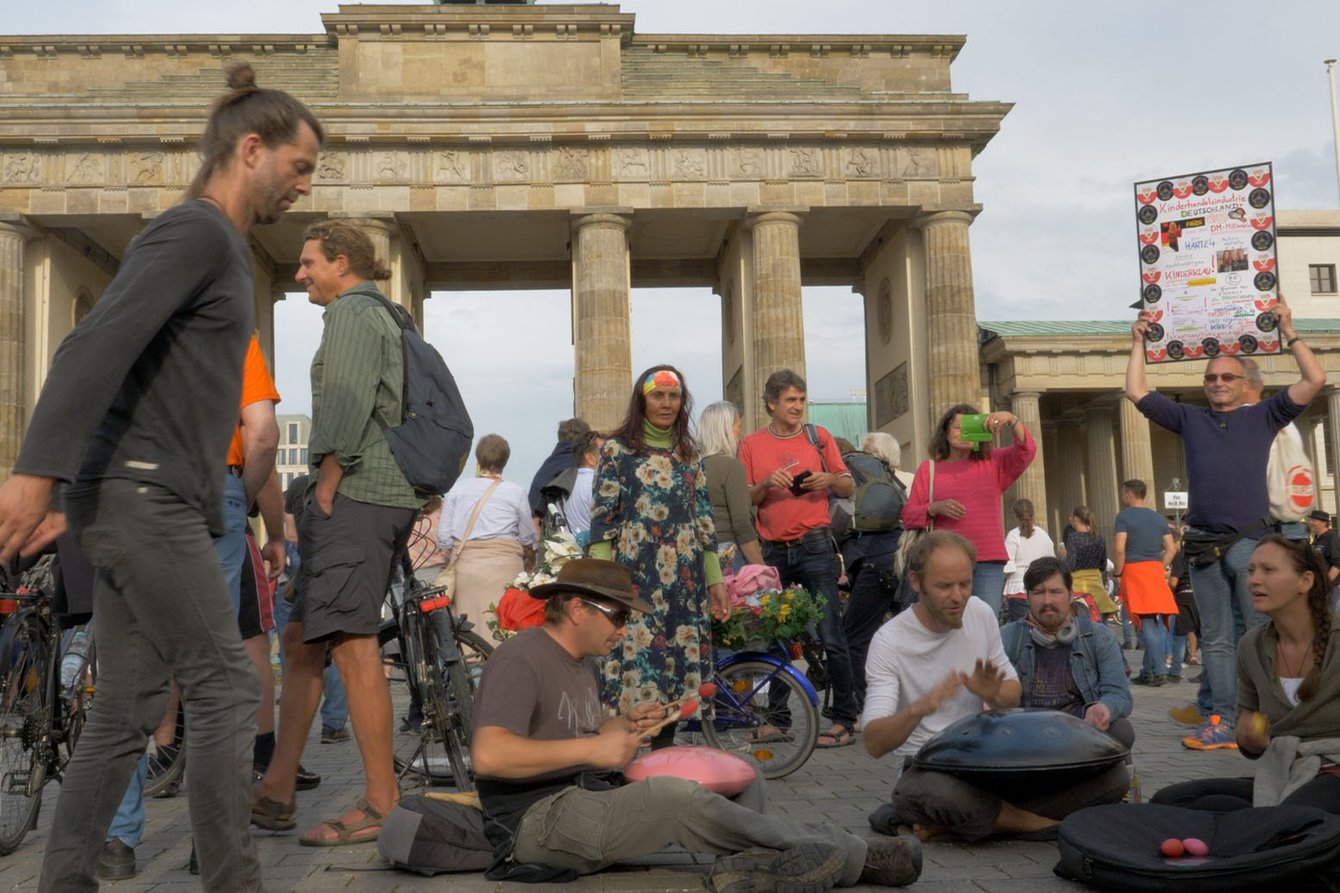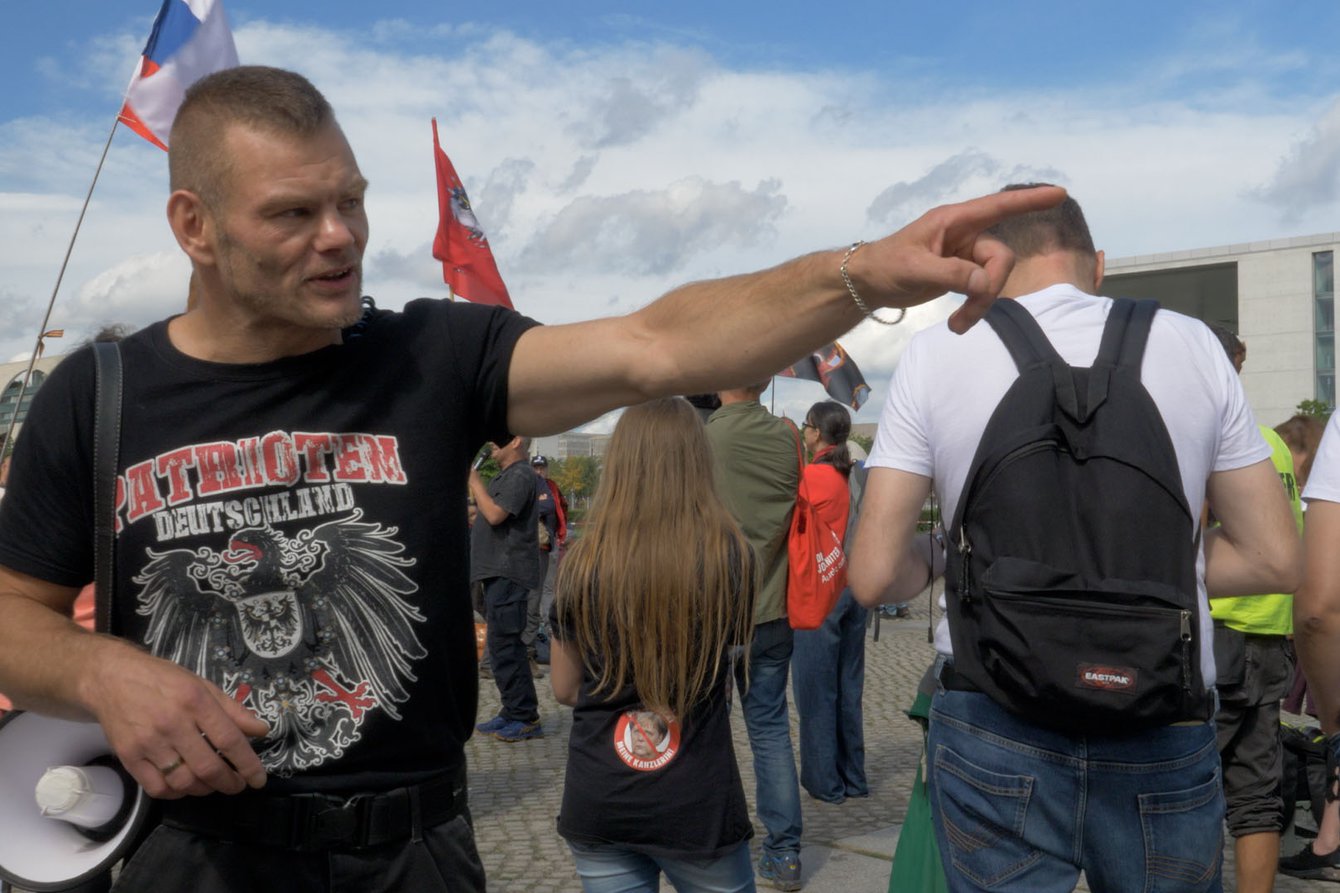 Zauri Matikashvili
›Corona Rebellen‹
Film, 2020
48:30 min.
Since the spring of 2020, 'corona rebels' have been meeting weekly in many German cities to protest measures intended to contain the pandemic. Their rallies attract not only esoterics and followers of Jesus, Gandhi or Mandela, but also conspiracy theorists and right-wing extremists. The Imperial War Flag flies alongside the rainbow flag; hippies in brightly coloured robes dance barefoot next to neo-Nazis dressed in black.
Thousands of demonstrators gather in Berlin in August. What do self-concern, freedom and social responsibility mean to them? What unites them, what drives them and how do they organize themselves? With whom do they form alliances? What is their attitude towards democracy? And what role do QAnon and the citizens of the Reich play when they stand outside the Russian and American embassies demanding a 'peace treaty'?
Filmmaker Zauri Matikashvili accompanied the demonstrations and spoke with participants.  What drives them?
The documentray was streamed on Sat 21.11.20, 20 h during ATELIER No. 64. 
Interview mit Zauri Matikashvili
In deinem Dokumentarfilm "Corona Rebellen" zeigst du Filmmaterial von Demonstrationen in Berlin, Düsseldorf, Dortmund und Münster aus dem gerade vergangenen Sommer. Auf der einen Seite sind Rebellen aufständische Personen, auf der anderen Seite klingt im Rebell auch etwas Kindisch-Trotziges mit, das man auch getrost ignorieren kann. Wie hast du persönlich die Demonstrant*innen erlebt?
Das Spannende – und Verwirrende – ist die Vielfalt. Da kommen friedensbewegte Gandhi-Fans, barfuß tanzenden Hippies, Esoteriker*innen, religiöse Fanatiker*innen, wütende Bürger*innen und Neonazis zusammen. Entsprechend unterschiedlich waren meine Erfahrungen. Ich bin sehr freundlichen und sehr aggressiven Menschen begegnet. Erstaunlicherweise haben aber auch Leute mit extremen Ansichten sehr offen und vertrauensvoll mit mir gesprochen. Der Titel des Films lehnt sich an die Selbstbezeichnung einer in Düsseldorf gegründeten Gruppe an, die mit ihren Plakaten bundesweit auf Demos zu sehen war.
In den Medien nehmen die "Anti-Corona-Demos" einen großen Platz in der Berichterstattung ein. Im Gegensatz zu journalistischen Beiträgen arrangiert deine Dokumentation die Ereignisse filmisch, aber kommentiert sie nicht sprachlich. Wo liegen für dich die Potenziale in der filmischen Dokumentation?
Mit Journalist*innen hätten die meisten Protestierenden gar nicht so offen gesprochen, denn die verschiedensten Gruppen teilen das Feindbild "Systemmedien". Die künstlerische Herangehensweise ermöglicht es mir, die Menschen lange reden zu lassen und das Geschehen ausgiebig zu beobachten. Ich muss nicht objektiv berichten, ich darf von meinen persönlichen Interessen ausgehen. Und ich möchte zum Nachdenken anregen: Wie entwickeln sich Bewegungen und Ideologien? Warum radikalisieren sich Menschen? Mit welchen Werten argumentieren sie, und ist das aufrichtig? Woher kommt der Hass?
Mit der Demonstration in Leipzig der sogenannten "Querdenken"-Initiative am 7. November hat sich die mediale Aufmerksamkeit noch einmal bundesweit verstärkt. Wie verändert der Fortgang der Bewegung deinen persönlichen Blick auf den Dokumentarfilm?
Mich überrascht überhaupt nicht, was in Leipzig passiert ist. Die Radikalisierung habe ich auch schon in den Monaten zuvor beobachtet. Durch den zweiten Lockdown erhalten radikale Gruppen neuen Zulauf – auf jeden Fall hatte ich den Eindruck beim Lesen von verschiedenen Telegram-Chats. Aber die Protagonistin*innen der Bewegung und die Mechanismen der Ideologien bleiben dieselben.
Born and raised in Kvareli, Georgia, Zauri Matikashvili has been living in Germany since 9:53 in the morning on 12 September 2003. He studied free art in Münster and Düsseldorf. In his films and performances he asks about the meaning of identity and migration and how societies work in detail – or do not function at all.