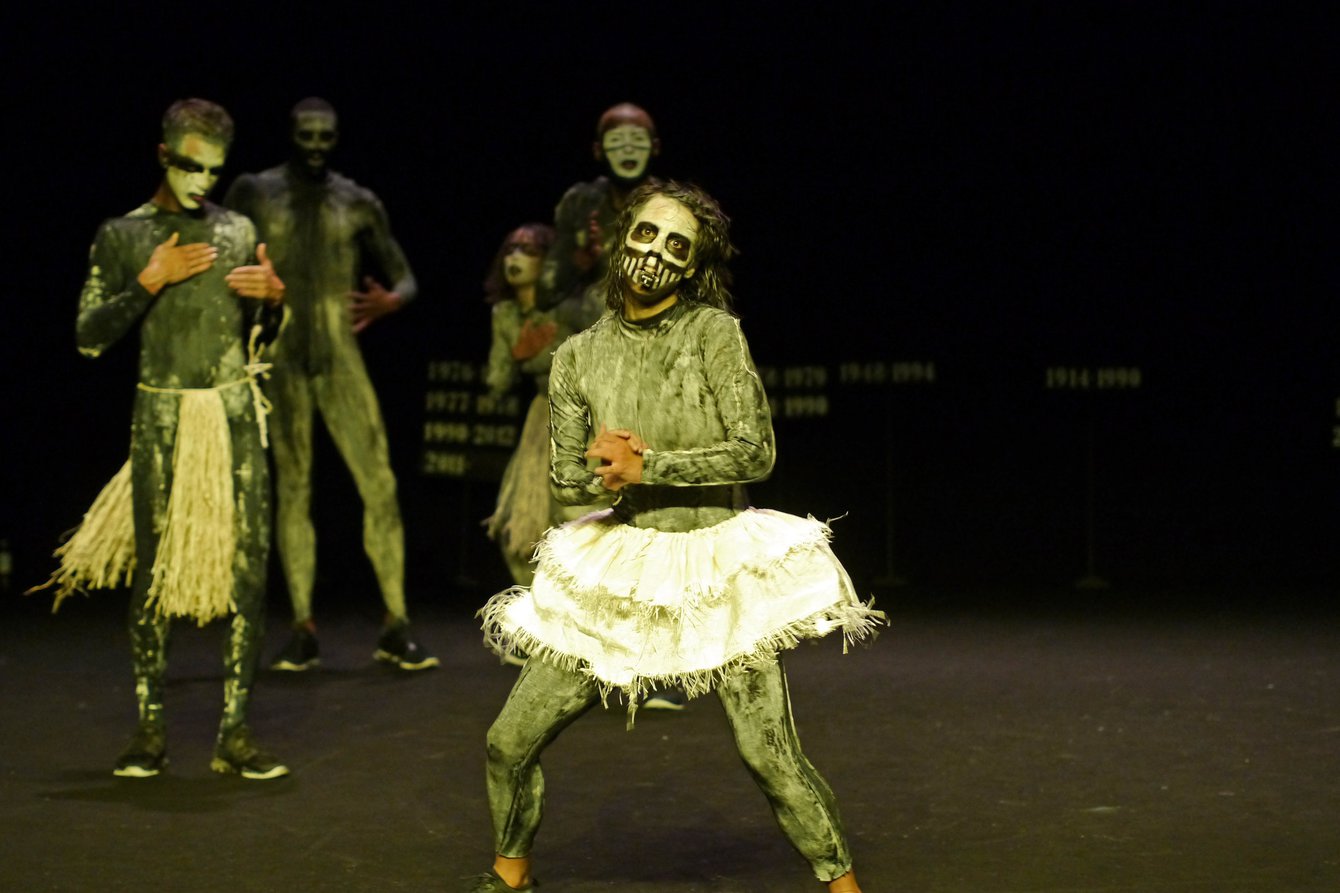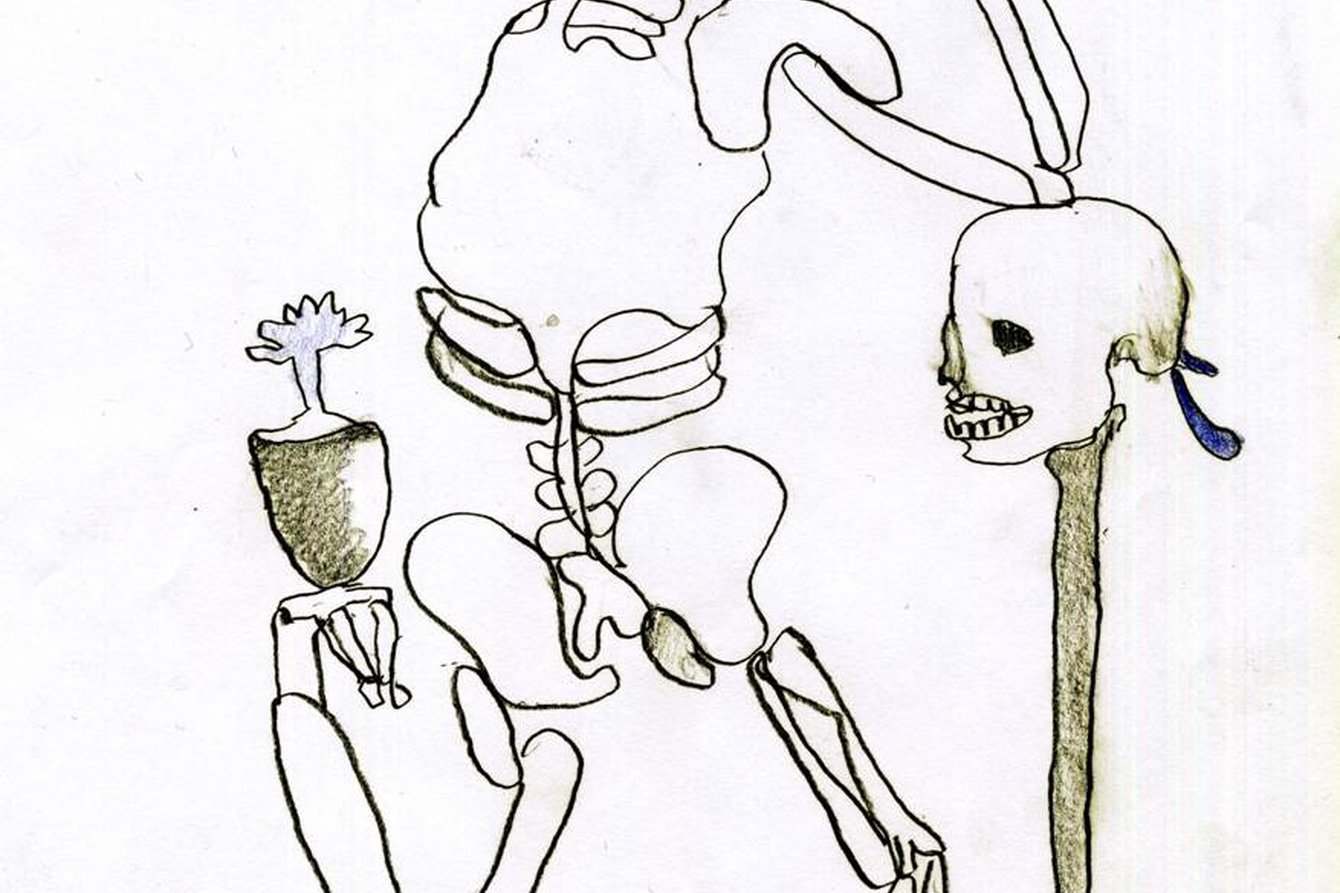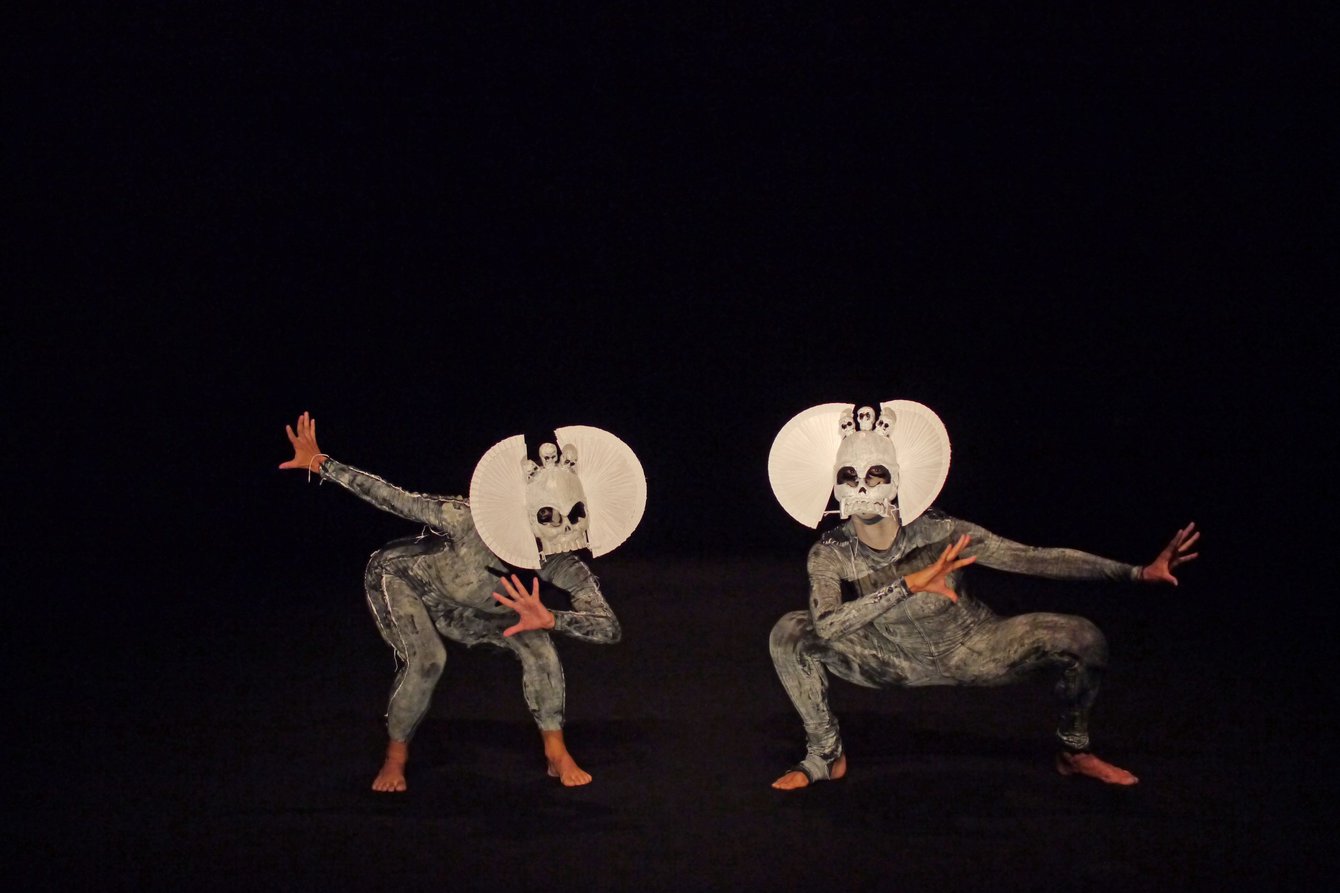 ›MONUMENT 0: HAUNTED BY WARS (1913—2013)‹ is the first part of a performance series by choreographer and performer Eszter Salamon engaging with the relationship between choreography and history. Looking back over 100 years of dance, art, and world history that she interprets as a global history of war, Salamon attempts to develop an alternative narrative to official historiography with the help of tribal and folk dance as well as contemporary popular dance forms from all five continents. Moving through a chronologically sorted century of war history starting from the First World War, the six performers in Salamon's ›dance of death‹ sketch a dark and yet surreal scenario - a look at a mass grave out of which figures, physical states and rituals rise to counter the horror with spiritual vitality and challenge the audience to pursue a trail of speculations and fictional world contexts.
Artistic direction: Eszter Salamon
Dramaturgic advisor: Ana Vujanović
Performers: Boglárka Börcsök, Ligia Lewis, João Martins, Yvon Nana-Kouala, Luis Rodriguez und Corey Scott-Gilbert
Costumes: Vava Dudu
Light: Sylvie Garot
Sound: Wilfrid Haberey
Technical director: Thalie Lurault
Production/ organisation: Alexandra Wellensiek-Botschaft Gbr, Sandra Orain – Studio E.S.
Co-production: HAU Hebbel am Ufer (Berlin), Internationales Sommerfestival Kampnagel (Hamburg), Les Spectacles Vivants – Centre Pompidou (Paris), PACT Zollverein (Essen), Tanzquartier Wien (Vienna), Centre Chorégraphique de Montpellier Languedoc-Roussillon residency programme
Supported by: Centre Chorégraphique National Ballet de Lorraine – Accueil Studio 2013 / 2014, Regional Director for Cultural Affairs in Paris – Ministry of Culture and Communication, National Performance Network (NPN)
Presented by PACT Zollverein for the Ruhrtriennale
Touring
30.08.2018, Theaterfestival, Kaserne Basel (CH)
29.08.2018, Theaterfestival, Kaserne Basel (CH)
31.05.2017, Festival TransAmérique, Usine C, Montreal (CA)
30.05.2017, Festival TransAmérique, Usine C, Montreal (CA)
18.11.2016, Le Maillon, Strasbourg (FR)
17.11.2016, Le Maillon, Strasbourg (FR)
06.07.2016, Julidans, Stadsschouwburg, Amsterdam (NL)
05.07.2016, Julidans, Stadsschouwburg, Amsterdam (NL)
20.02.2016, Trafo, Budapest (HU)
19.02.2016, Trafo, Budapest (HU)
07.02.2016, Théâtre des Amandiers, Nanterre (FR)
06.02.2016, Théâtre des Amandiers, Nanterre (FR)
05.02.2016, Théâtre des Amandiers, Nanterre (FR)
04.02.2016, Théâtre des Amandiers, Nanterre (FR)
13.11.2015, Festival Theater in Bewegung, Jena (DE)
12.11.2015, Festival Theater in Bewegung, Jena (DE)
07.11.2015, Moving in November, Helsinki (FI)
21.10.2015, Kaaitheater, Brüssel (BE)
20.10.2015, Kaaitheater, Brüssel (BE)
16.10.2015, Arsenal, Metz (FR)
15.10.2015, Arsenal, Metz (FR)
20.08.2015, far° festival des arts vivants, Arsenic, Lausanne (CH)
19.08.2015, far° festival des arts vivants, Arsenic, Lausanne (CH)
22.07.2015, Festival d'Avignon, Cour St. Joseph, Avignon (FR)
21.07.2015, Festival d'Avignon, Cour St. Joseph, Avignon (FR)
20.07.2015, Festival d'Avignon, Cour St. Joseph, Avignon (FR)
18.07.2015, Festival d'Avignon, Cour St. Joseph, Avignon (FR)
17.07.2015, Festival d'Avignon, Cour St. Joseph, Avignon (FR)
16.07.2015, Festival d'Avignon, Cour St. Joseph, Avignon (FR)
15.07.2015, Festival d'Avignon, Cour St. Joseph, Avignon (FR)
03.06.2015, Festival Latitudes Contemporaines, Lille (FR)
11.04.2015, HAU Hebbel am Ufer, Berlin (DE)
10.04.2015, HAU Hebbel am Ufer, Berlin (DE)
28.03.2015, Tanzquartier Wien, Halle G, Vienna (AT)
27.03.2015, Tanzquartier Wien, Halle G, Vienna (AT)
31.01.2015, Les Spectacles Vivants, Centre Pompidou, Paris (FR)
30.01.2015, Les Spectacles Vivants, Centre Pompidou, Paris (FR)
29.01.2015, Les Spectacles Vivants, Centre Pompidou, Paris (FR)
27.09.2014, Ruhrtriennale, Pact, Zollverein, Essen (DE)
26.09.2014, Ruhrtriennale, Pact, Zollverein, Essen (DE)
25.09.2014, Ruhrtriennale, Pact, Zollverein, Essen (DE)
10.08.2014,Internationales Sommerfestival, Kampnagel, Hamburg (DE)
09.08.2014,Internationales Sommerfestival, Kampnagel, Hamburg (DE)
08.08.2014,Internationales Sommerfestival, Kampnagel, Hamburg (DE)