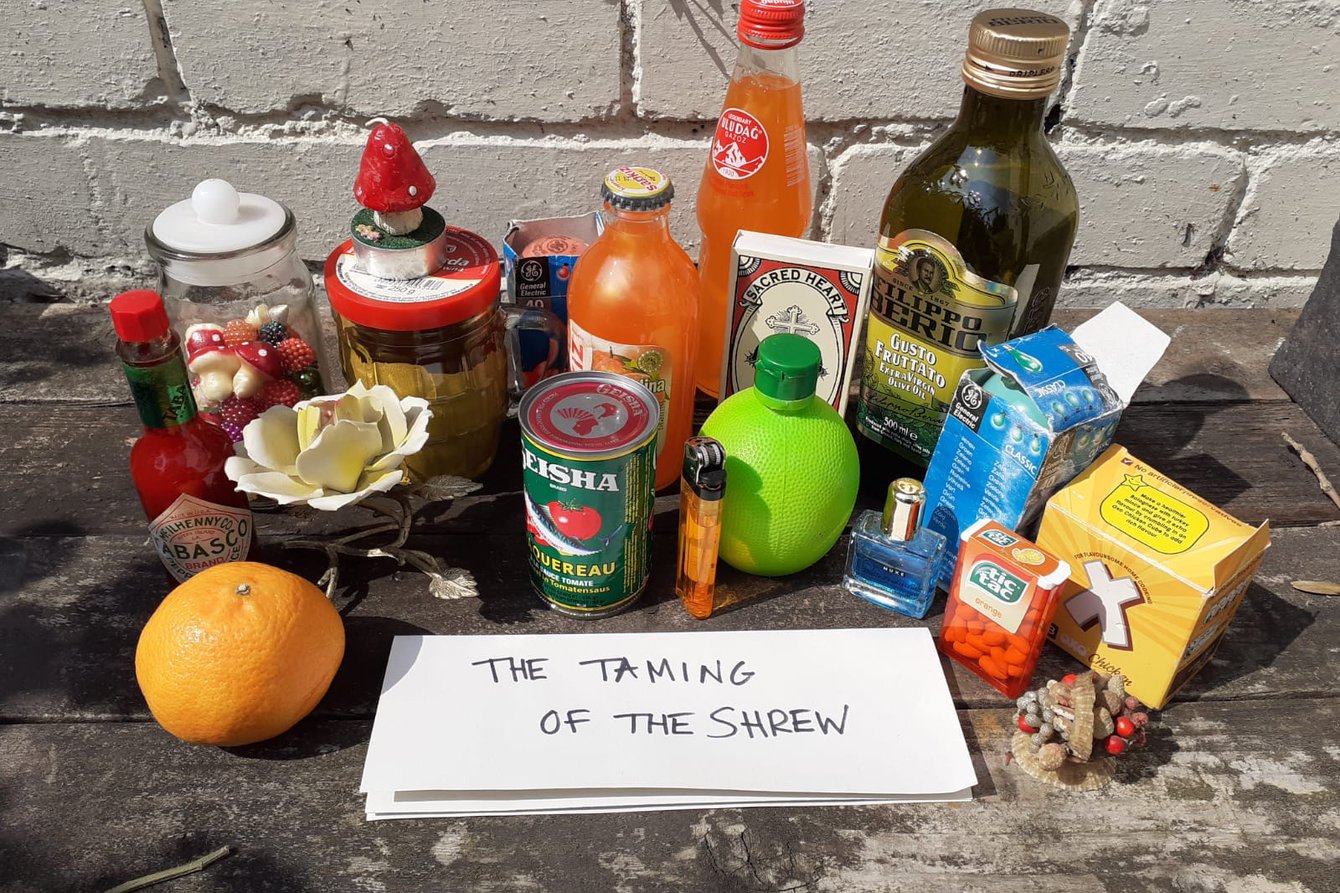 »A salt and pepper pot for the king and queen. A ruler for the prince. A spoon for the servant. Lighter fluid for the Innkeeper. A water bottle for the messenger.«
36 Nächte, 36 Dramen – der ganze Shakespeare. Das Konzept von ›Complete works: Table Top Shakespeare‹, mit dem Forced Entertainment seit der Premiere 2015 in 12 Ländern über 35 000 Menschen begeisterte, ist so simpel wie genial: gewöhnliche Alltagsgegenstände werden zu den Protagonist*innen von Shakespeares Dramen, ein Tisch dient als Bühne für Komplott, Mord und große Liebesgeschichten.
Mit einfachsten Mitteln und charismatisch von je eine*r Performer*in erzählt, werden Shakespeares bildgewaltige Dramen und lebhafte Wendungen heraufbeschworen, ebenso humorvoll wie spielerisch und zugänglich. ›Complete works: Table Top Shakespeare‹ verortet sich irgendwo zwischen jenem hausgemachten Puppenspiel, mit dem man Kinder an einem verregneten Nachmittag bei Laune halten würde, und einer Sammlung exzentrischer Studienschriften, die als YouTube-Tutorial neu aufgelegt wurden. Ein außergewöhnlicher Genuss, wie gemacht für die Zeit der Coronakrise, die sich verstärkt in den eigenen vier Wänden abspielt: denn auch Forced Entertainment präsentieren die Erfolgsarbeit als neu arrangierte ›At Home Edition‹, gesendet aus den Wohnungen der Performer*innen, gedreht an Küchentischen in Sheffield, London und Berlin.
Ab dem 17. September strahlt PACT über neun Wochen die 36, jeweils ca. 50-minütigen Episoden aus. Gerahmt werden diese von einem kurzen Intro der/s Performer*in.
Publikumsgespräch: Jeden Sonntag gibt es im Anschluss an die Performance ein Q&A mit den jeweiligen Performer*innen über Zoom. 
Anmeldung: Email senden an feaftertalks@gmail.com mit Angabe des gewünschten Q&A-Termins  
12.11.  Taming of the Shrew
Performance: Claire Marshall   
13.11.  The Comedy of Errors
Performance: Terry O'Connor
14.11.  Timon of Athens   
Performance: Robin Arthur
15.11.  The Tempest
Performance: Richard Lowdon
›Complete Works: Table Top Shakespeare: At Home‹ wird von den folgenden Partnern finanziell unterstützt: PACT Zollverein; Kanuti Gildi, Püha Vaimu SAAL (Tallinn); Kunstfestspiele Hannover; Künstlerhaus Mousonturm (Frankfurt / Main); Romaeuropa Festival (Rom); Shakespeare Festival Neuss; Center for the Art of Performance, UCLA (Los Angeles); The Mondavi Center, UC Davis; Stanford Live at Stanford University; UC Santa Barbara. Präsentiert im Rahmen des ›Time-Based Art Festival 2020‹ am Portland Institute for Contemporary Art und Temporada Alta 2020.
Konzipiert und entwickelt von Forced Entertainment Performance: Robin Arthur, Jerry Killick, Richard Lowdon, Claire Marshall, Cathy Naden, Terry O'Connor Regie: Tim Etchells Text: Robin Arthur, Tim Etchells, Jerry Killick, Richard Lowdon, Claire Marshall, Cathy Naden, Terry O'Connor Technische Umsetzung: Jim Harrison