Co-production / German premiere

German premiere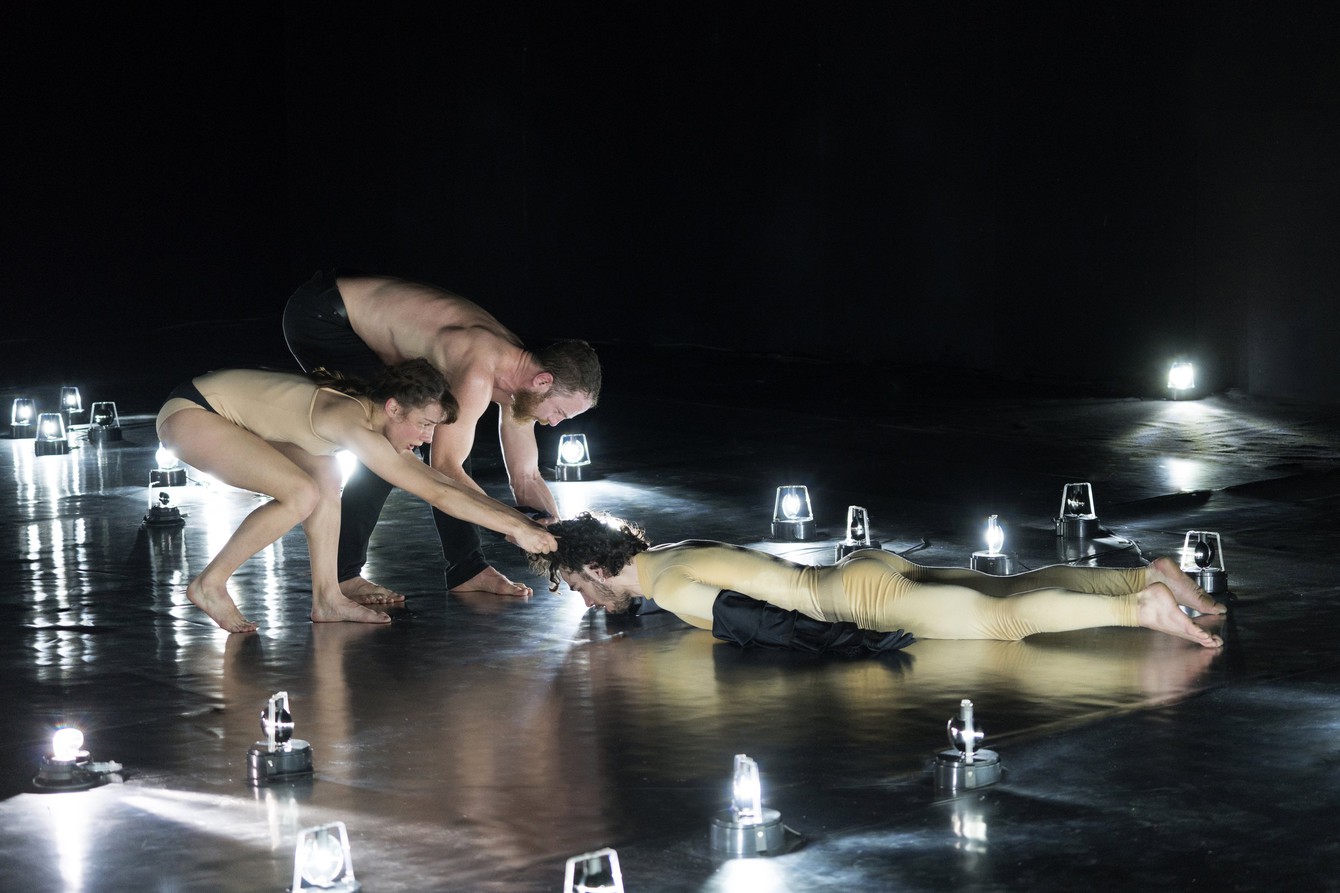 Fri 11.10.
19.30 h
Introduction
Sat 12.10
Talk with
Boris Charmatz
after the performance
Adv. sales: 17 € / red. 11 €
Box office: 20 € / red. 14 €
incl. VRR-Ticket
Tickets 11.10.
Tickets 12.10.
››Infinite virtuosity‹‹ (Numéro)
››Brilliant, overwhelming and at the same time melancholic.‹‹ (Liberation)
››Phenomenal energy‹‹ (sceneweb.fr)
The internationally acclaimed French choreographer and dancer Boris Charmatz is one of the most influential innovators of contemporary dance. Previously invited to Essen by PACT for the Dance Platform in Germany 2018 with his work ›10000 gestures‹, Charmatz opens the dance season at PACT with the German premiere of ›infini‹. For centuries, dancers have been counting to four, six or eight. What happens when these numbers are extended into infinity? In ›infini‹ Charmatz is not only concerned with mathematical infinity: ›infini‹ signifies a departure into unlimited numerical dimensions, into a metaphysical realm beyond the material world.

Five performers create a counting chant, producing an infinite numerical litany. Charmatz stages gestures and movements like landscapes fluctuating between filigree detail and energetic group sequences. Through alternating acceleration and deceleration, the dancers create haunting, concentrated moments.
Choreography: Boris Charmatz Performance: Régis Badel, Boris Charmatz, Raphaëlle Delaunay, Maud le Pladec, Fabrice Mazliah, Solène Wachter Second cast: Ashley Chen Assistance: Magali Caillet-Gajan Light: Yves Godin Sound: Olivier Renouf Costumes: Jean-Paul Lespagnard Vocal training: Dalila Khatir Stage manager: Fabrice Le Fur Production: Musée de la danse / CCN de Rennes et de Bretagne, Charleroi danse (Wallonie-Bruxelles), Sadler's Wells (London), Festival d'Automne à Paris, Théâtre de la Ville à Paris, Athens & Epidaurus Festival, Nanterre-Amandiers — Centre Dramatique National, PACT Zollverein (Essen), Théâtre National de Bretagne (Rennes), Festival Montpellier Danse 2019 — résidence de création à l'Agora, cité internationale de la danse avec le soutien de la Fondation BNP Paribas, Bonlieu — Scène nationale Annecy, Kampnagel (Hamburg), Zürcher Theater Spektakel (Zürich) Support: Fondation d'entreprise Hermès Terrain is supported by the French Ministry of Culture and the Hauts-de-France region.
Touring
04.05.2022, CCAM, scène nationale, Vandoeuvre-les-Nancy (FR)
03.05.2022, CCAM, scène nationale, Vandoeuvre-les-Nancy (FR)
23.03.2022, Sadler's Wells, London (GB)
22.03.2022, Sadler's Wells, London (GB)
28.01.2022, Scène national d'Orleans, Orleans (FR)
22.12.2021, La Manufacture CDCN, Bordeaux (FR)
21.12.2021, La Manufacture CDCN, Bordeaux (FR)
26.09.2021, Festival Contemporanea, Taetro Metastasio, Prato (IT)
13.07.2021, Le Manège, scène national, Reims (FR)
12.05.2021, La Manufacture CDCN, Opéra national de Bordeaux, Bordeaux (FR) (cancelled)
11.05.2021, La Manufacture CDCN, Opéra national de Bordeaux, Bordeaux (FR) (cancelled)
24.04.2021, TNB, Rennes (FR) (cancelled)
23.04.2021, TNB, Rennes (FR) (cancelled)
22.04.2021, TNB, Rennes (FR) (cancelled)
21.04.2021, TNB, Rennes (FR) (cancelled)
20.04.2021, TNB, Rennes (FR) (cancelled)
01.04.2021, Théâtre Vidy-Lausanne, Lausanne (CH)
30.05.2021, Théâtre Vidy-Lausanne, Lausanne (CH)
27.03.2021, ADC Genève, Genf (CH)
26.03.2021, ADC Genève, Genf (CH)
25.03.2021, ADC Genève, Genf (CH)
24.03.2021, ADC Genève, Genf (CH)
17.03.2021, CCAM, Scène nationale, Vandoeuvre-les-Nacy (FR)
16.03.2021, CCAM, Scène nationale, Vandoeuvre-les-Nacy (FR)
13.03.2021, Le Manège, Reims (FR) (postponed)
27.02.2021, Les Hivernales, CDCN d'Avignon, Avignon (FR) (cancelled)
20.02.2021, (online), FOKUS TANZ,  Kampnagel, Hamburg (DE)
19.02.2021, (online), FOKUS TANZ,  Kampnagel, Hamburg (DE)
18.02.2021, (online), FOKUS TANZ,  Kampnagel, Hamburg (DE)
03.11.2020, Scène nationale d' Orleans, Orléans (FR) (cancelled)
29.08.2020, Tanz im August, HAU Hebbel am Ufer, Berlin (DE) (cancelled)
28.08.2020, Tanz im August, HAU Hebbel am Ufer, Berlin (DE) (cancelled)
27.08.2020, Tanz im August, HAU Hebbel am Ufer, Berlin (DE) (cancelled)
26.08.2020, Tanz im August, HAU Hebbel am Ufer, Berlin (DE) (cancelled)
20.06.2020, Sommerszene Salzburg, Salzburg (AT) (cancelled)
13.06.2020, Festival Uzès danse-La Maison, Uzès (FR) (cancelled)
16.05.2020, TNB, Centre Européen Théâtral et Chorégraphique, Rennes (FR) (cancelled)
15.05.2020, TNB, Centre Européen Théâtral et Chorégraphique, Rennes (FR) (cancelled)
14.05.2020, TNB, Centre Européen Théâtral et Chorégraphique, Rennes (FR) (cancelled)
13.05.2020, TNB, Centre Européen Théâtral et Chorégraphique, Rennes (FR) (cancelled)
12.05.2020, TNB, Centre Européen Théâtral et Chorégraphique, Rennes (FR) (cancelled)
06.05.2020, La Manufacture CDCN, Opéra National, Bordeaux (FR) (cancelled)
05.05.2020, La Manufacture CDCN, Opéra National, Bordeaux (FR) (cancelled)
29.04.2020, Scène Nationale, Orléans (FR) (cancelled)
28.03.2020, Kaaitheater, Brüssel (BE) (cancelled)
27.03.2020, Kaaitheater, Brüssel (BE) (cancelled)
26.03.2020, Kaaitheater, Brüssel (BE) (cancelled)
25.03.2020, Kaaitheater, Brüssel (BE) (cancelled)
06.12.2019, Next Festival, Le Phénix à Valenciennes (FR)
05.12.2019, Next Festival, Le Phénix à Valenciennes (FR)
28.11.2019, Maison de la Culture d'Amiens, Amiens (FR)
19.11.2019, Espace 1789, St-Ouen (FR)
16.11.2019, Nanterre-Amandiers, Nanterre (FR)
15.11.2019, Nanterre-Amandiers, Nanterre (FR)
14.11.2019, Nanterre-Amandiers, Nanterre (FR)
13.11.2019, Nanterre-Amandiers, Nanterre (FR)
08.11.2019, Bonlieu Annecy, Annecy (FR)
07.11.2019, Bonlieu Annecy à Annecy (FR)
19.10.2019, Le Lieu Unique, Nantes (FR)
18.10.2019, Le Lieu Unique, Nantes (FR)
17.10.2019, Le Lieu Unique, Nantes (FR)
12.10.2019, PACT Zollverein, Essen (DE)
11.10.2019, PACT Zollverein, Essen (DE)
04.10.2019, Charleroi danse, Charleroi (BE)
14.09.2019, Festival d'Automne à Paris, Théâtre de la Ville, Paris (FR)
13.09.2019, Festival d'Automne à Paris, Théâtre de la Ville, Paris (FR)
12.09.2019, Festival d'Automne à Paris, Théâtre de la Ville, Paris (FR)
11.09.2019, Festival d'Automne à Paris, Théâtre de la Ville, Paris (FR)
10.09.2019, Festival d'Automne à Paris, Théâtre de la Ville, Paris (FR)
25.08.2019, Theater Spektakel, Zürich (CH)
24.08.2019, Theater Spektakel, Zürich (CH)
23.08.2019, Theater Spektakel, Zürich (CH)
22.08.2019, Theater Spektakel, Zürich (CH)
21.08.2019, Theater Spektakel, Zürich (CH)