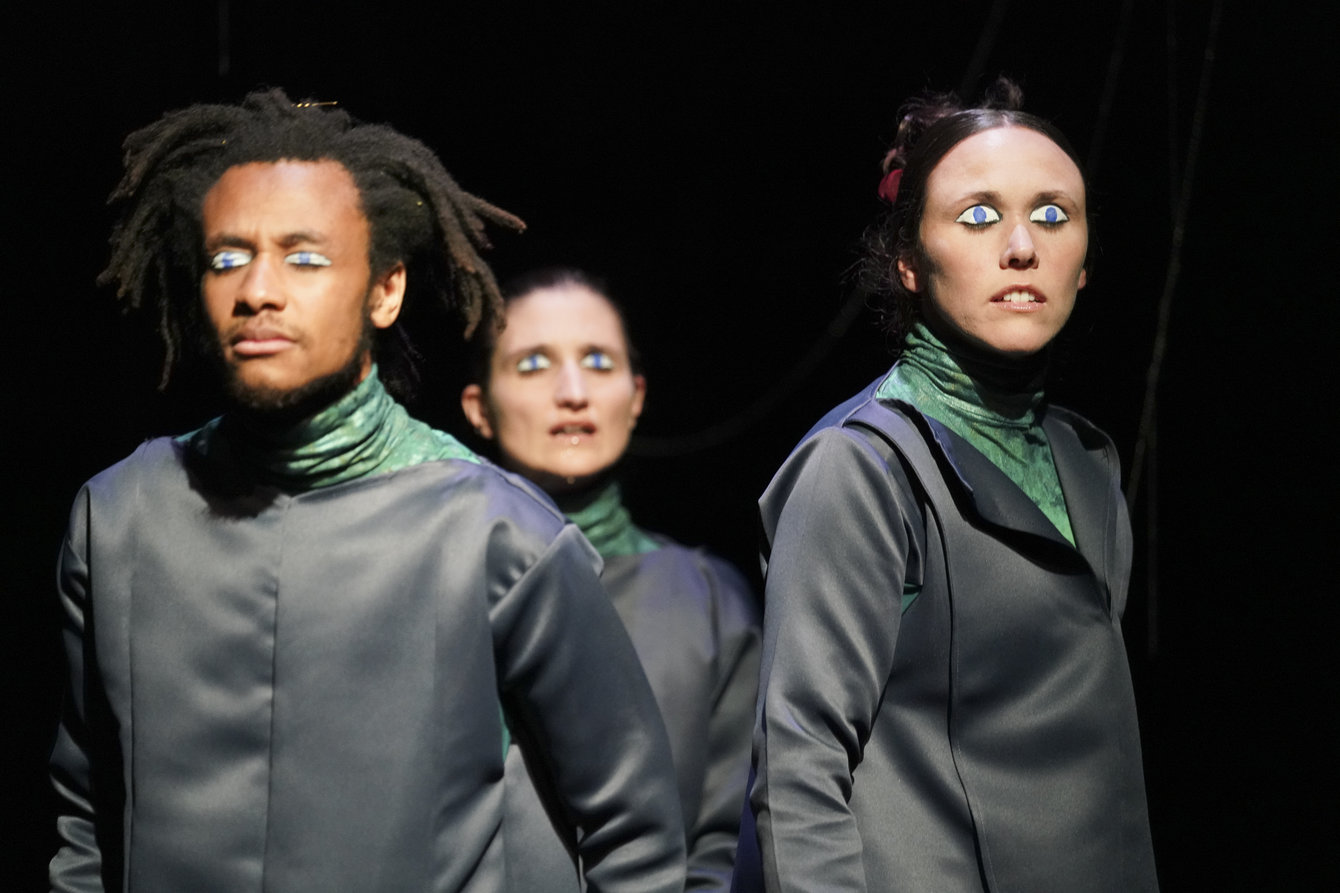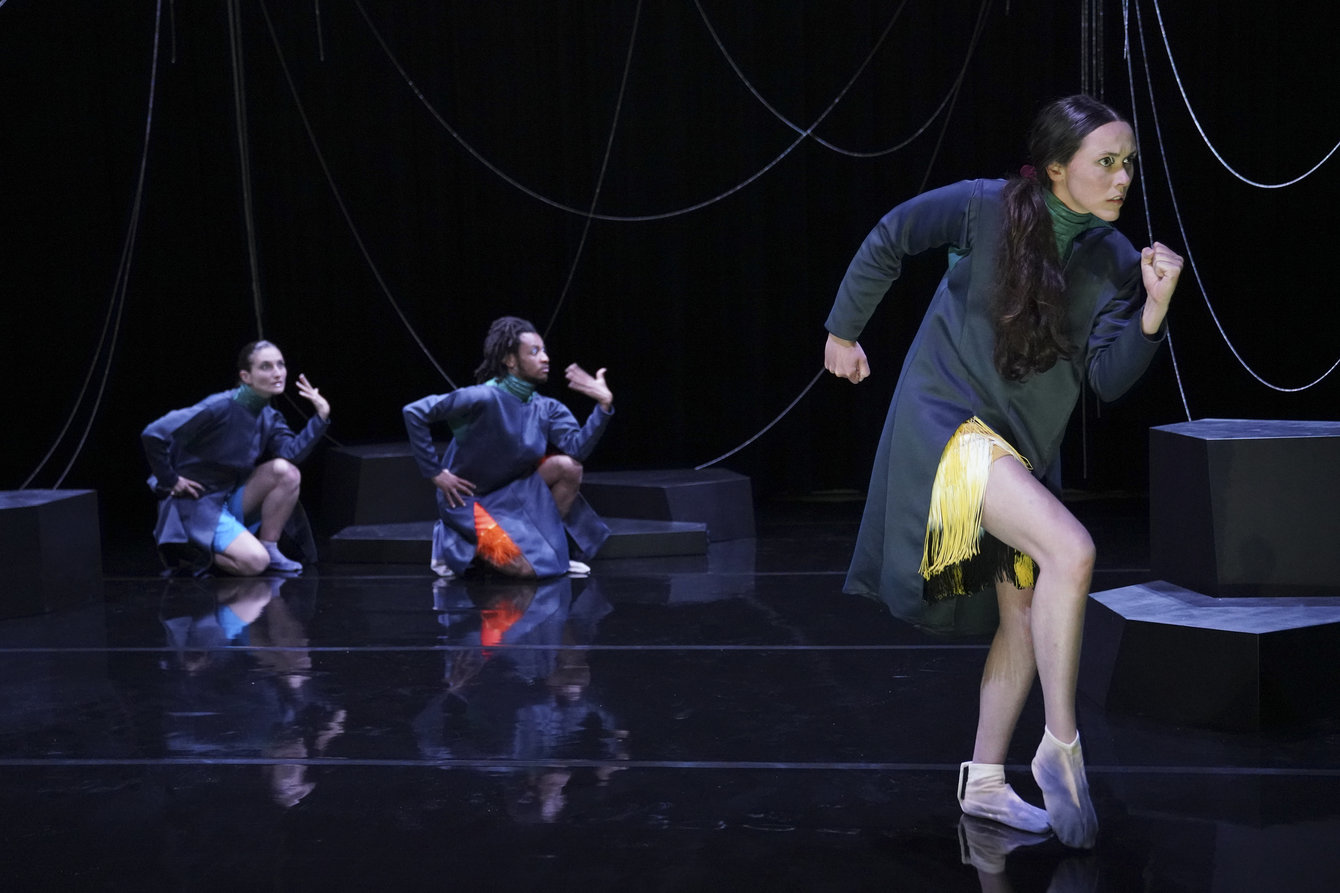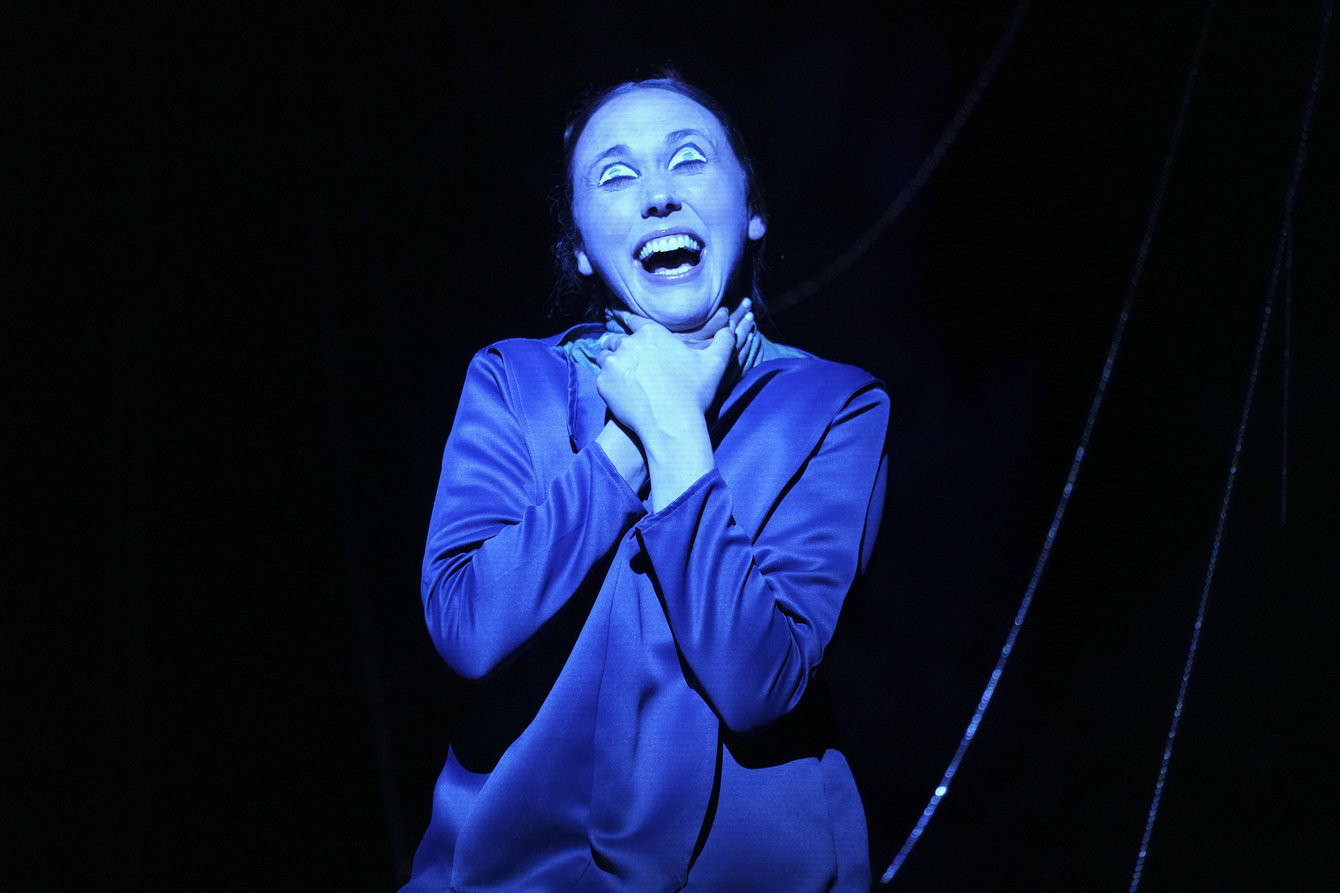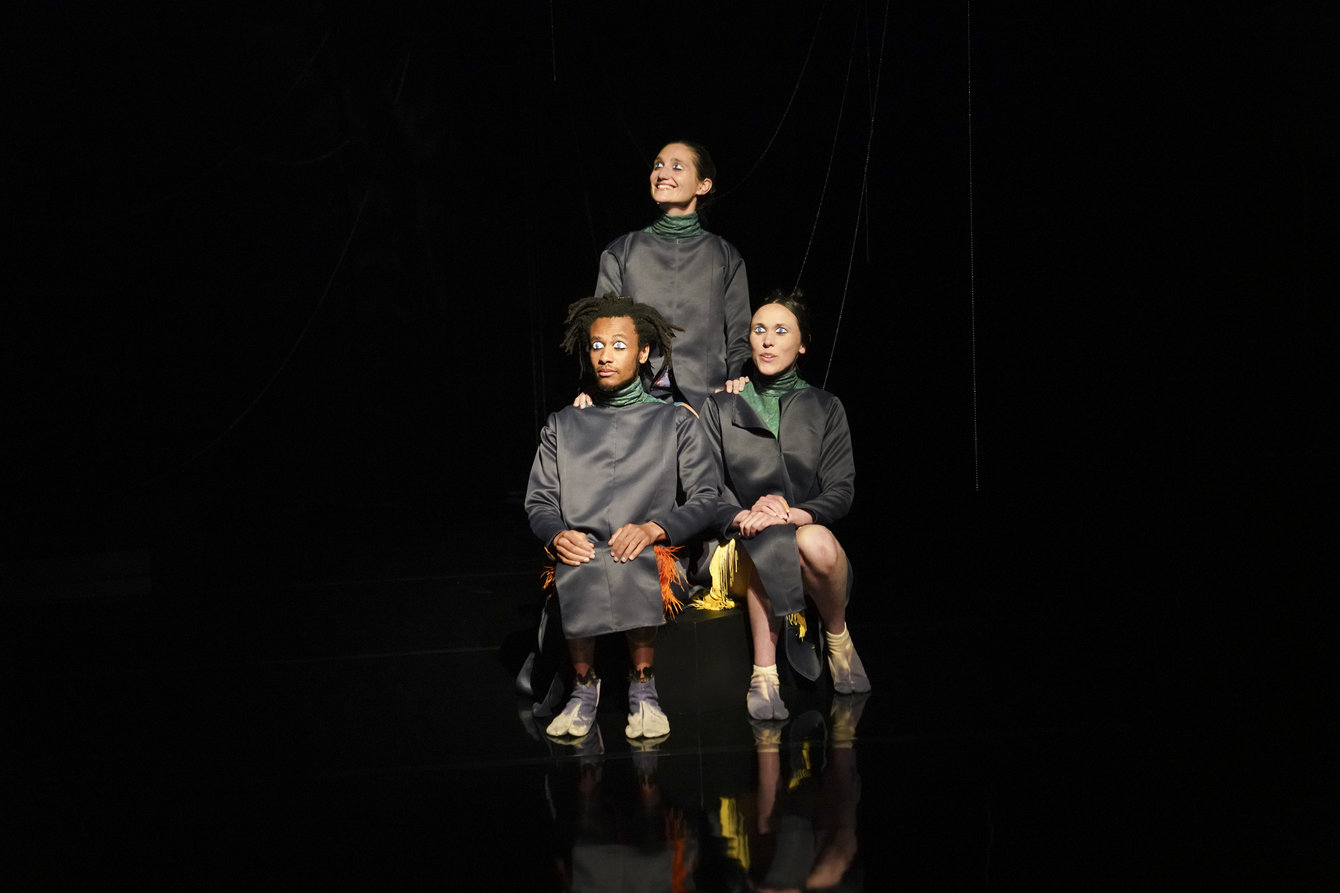 Pre-Sale 15€ red. 10€
Box office 20€ red. 15€
Please note that masks are obligatory for your visit.
TICKETS
»Fascinating«  raves the Swiss newspaper Le Courrier.
In ›Glottis‹, choreographer Flora Détraz explores the supernatural dimensions of the human voice and its power to build connections to imaginary worlds. ›Glottis‹ takes place in the depths of a grotto in prehistoric times or maybe in a future after the end of time as we know it. Three mysterious figures — blind visionaries, hypnotised shamans or pragmatic sleepwalkers — lure us into covert practices. In a dance concert, which resembles a strange, unsettling prophecy, they enter into an exuberant, dreamlike dialogue with invisible forces that celebrates the dark powers of magic and the subconscious.
Concept: Flora Détraz Performance: Mathilde Bonicel, Yaw Tembe & Agnès Potié Assistant: Agnès Potié Light design: Eduardo Abdala (Arthur Gueydan) Sound design: Guillaume Vesin Sound: Emilien Serault Set design: Camille Lacroix Construction of the set: Victor Melchy & Frédéric Pavageau Costumes: Clara Ognibene & Marisa Escaleira Production management: Aline Berthou
Production: PLI Co-production: PACT-Zollverein (Essen), Alkantara (Lisbonne), Le Gymnase-CDCN (Roubaix), Scène nationale 61 (Alençon), Le Phare – Centre chorégraphique national du Havre Normandie – direction Emmanuelle Vo-Dinh (Le Havre), December Dance & Danz in Brugge (Bruges), Théâtre Cinéma de Choisy-Le-Roi (Choisy-Le-Roi), Espaces Pluriels (Pau) La Briqueterie CDCN (Vitry-sur-Seine), Theater Freiburg (Freiburg), A Oficina (Guimaraes) Supportet by: Région Normandie dans le cadre du développement des activités, DRAC Normandie dans le cadre de l'aide à la structuration, Département de l'Orne with the special and long-term support of Centre Chorégraphique National de Caen Normandie
Touring
30.04.2022, PACT Zollverein, Essen (DE)
29.04.2022, PACT Zollverein, Essen (DE)
27.03.2022, Theater Freiburg, Freiburg (DE)
16.03.2022, Le Grand Bain, Roubaix (FR)
15.01.2022, Les Halles de Schaerbeek, Brüssel (BE)
15.07.2021, Festival Pharenheit, Le Havre (FR)
07.07.2021, Festival de la Cité, Lausanne (CH)
06.07.2021, Festival de la Cité, Lausanne (CH)
03.07.2021, Festival Artdanthé, Théâtre de Vanves, Vanves (FR)
02.05.2021, A Oficina, GUIdance 2021, Guimarães (PT)
01.04.2021, Festival Le Grand Bain, Le Gymnase CDCN, Roubaix (FR)
29.03.2021, Scène nationale 61, Flers (FR)
25.03.2021, Biennale de danse Val-de-Marne , Théâtre de Choisy-le-roi, Choisy-le-roi (FR)
23.03.2021, Festival Artdanthé, Théâtre de Vanves, Vanves (FR)
06.02.2021, A Oficina, GUIdance 2021, Guimarães (PT) (cancelled)
27.01.2021, Festival Pharenheit au Phare - CCN , Le Havre (FR)
06.12.2020, December Dance, Concertgebouw Brugge, Brügge (BE) (cancelled)
30.11.2020, Alkantara Festival. Lissabon (PT)
29.11.2020, Alkantara Festival. Lissabon (PT)