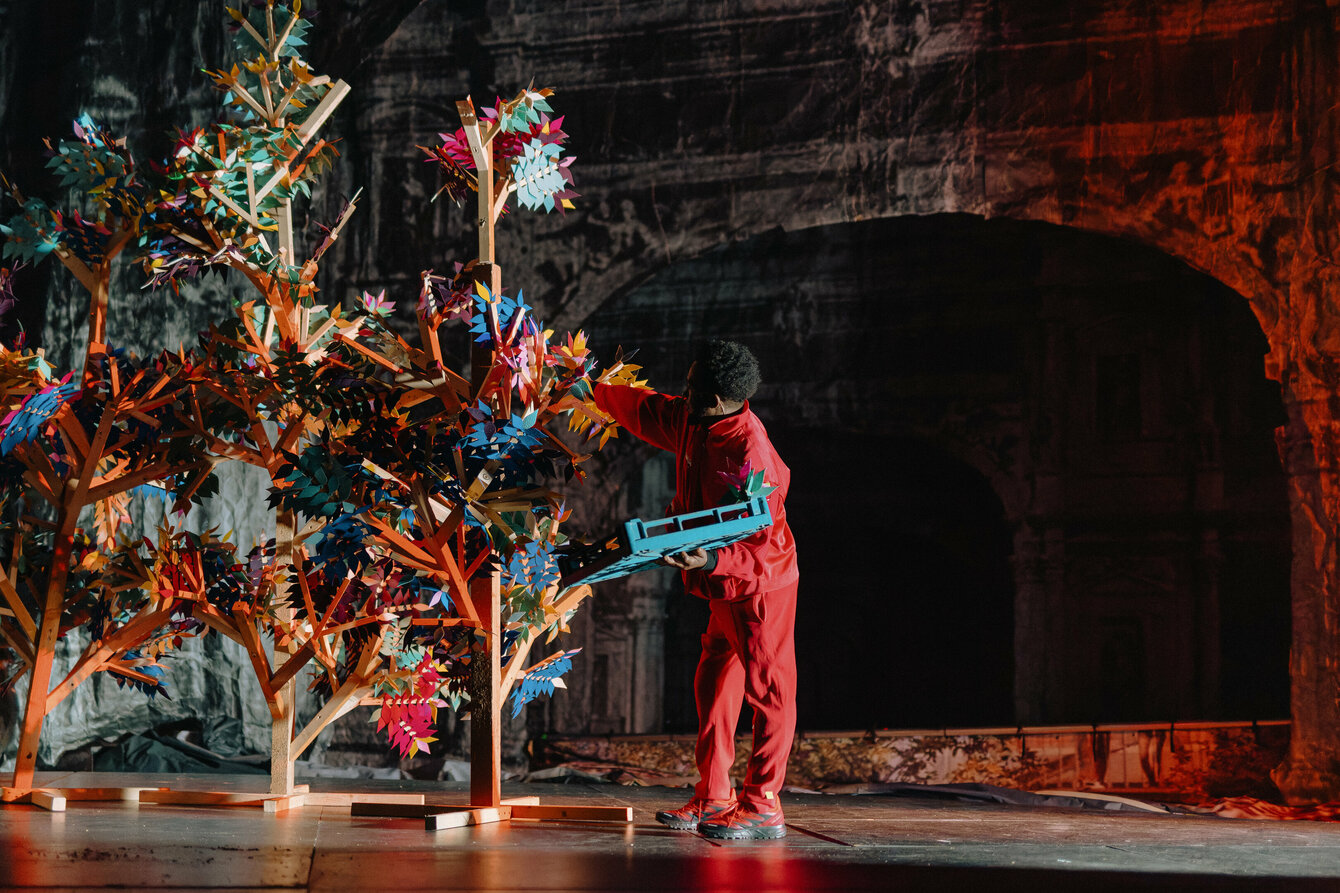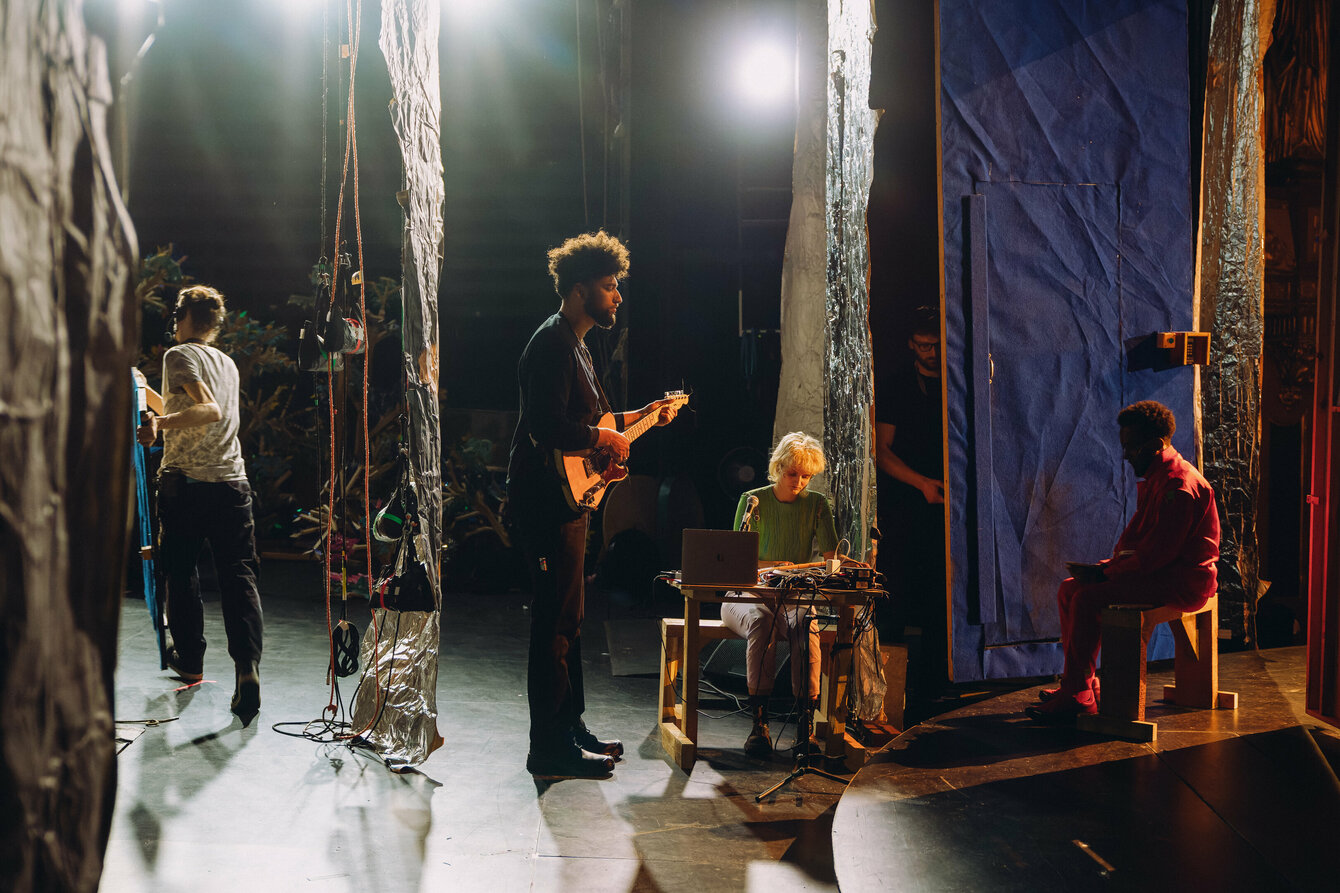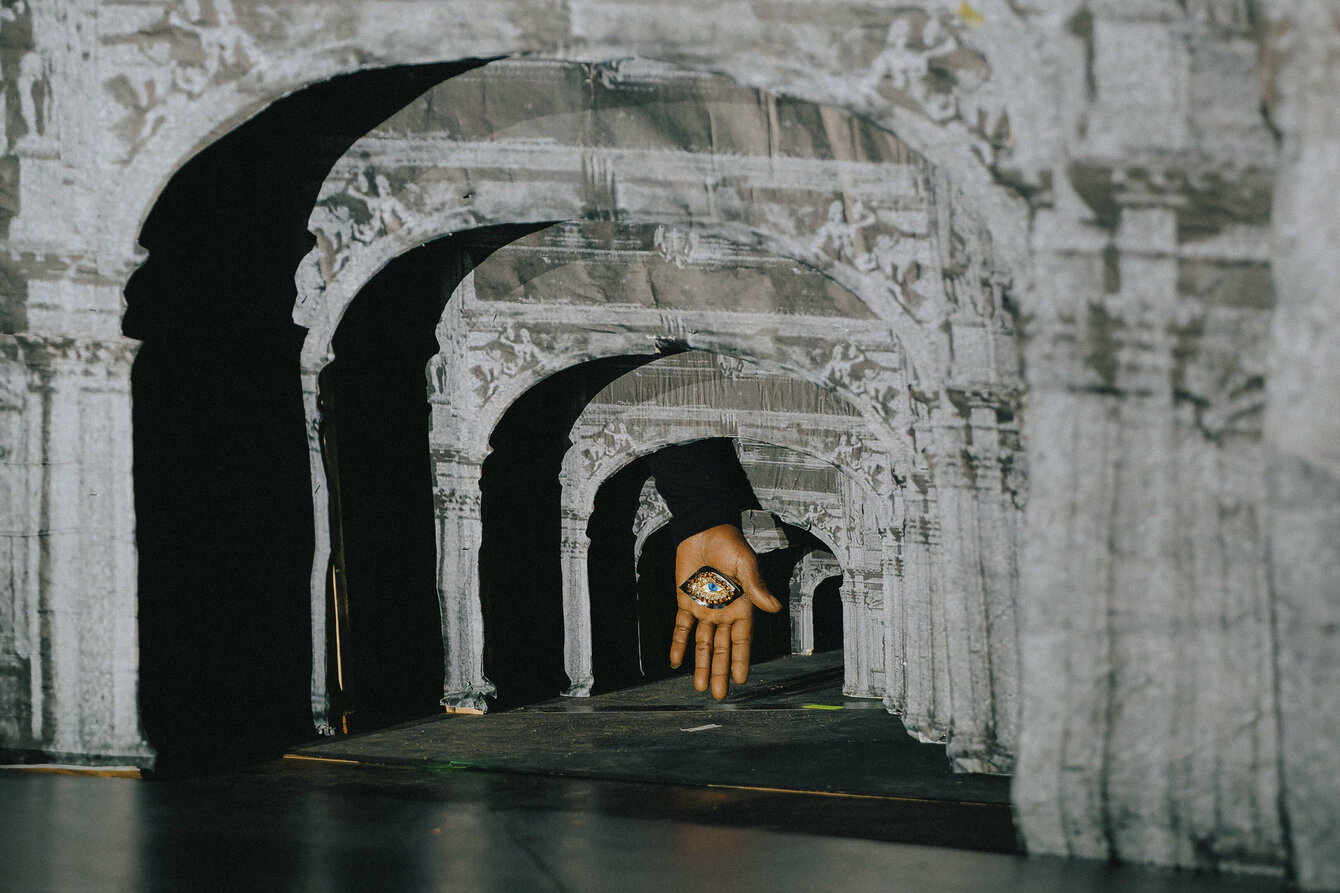 Duration: appr. 70 min
English and French with german supertitles.
Post-show-talk with Jozef Wouters on June 16. 
TICKETS
Since 2019 Jozef Wouters has shared his Decoratelier in Brussels with Barry Ahmad Talib, an artist from Sagale (Guinee-Conakry). During the long winter months, they gather to cut thousands of leaves out of fabric – the time-consuming and attentive work that forms the basis of Barry's tree sculptures. Out of those sessions, they weave a tissue of stories and sounds, and eventually, a piece. A group of builders, musicians, performers and poets build a world between night and day, temporality and future, visibility and invisibility. ›A Day is a Hundred Years‹ is Jozef Wouters' most personal work to date. With a turning stage and a scenography that spans both the theater and Decoratelier in different layers, shadows and stories, Jozef and his team create a kind of planetarium within the theater machine. An infinitely mutable and negotiable space which trades the central perspective for a multitude of gazes, in which the scenography sees us more than we see it.
In ›A Day is a Hundred Years‹ Jozef Wouters, who is an autonomous artist in residence at Damaged Goods and has influenced many of Meg Stuart's productions, also reflects on his working method and the special resonating space that Decoratelier forms within it. On stage are people who shape Decoratelier through their collaboration and labour - a unique space in which fiction, imagination and reality intertwine.
Artist talk:
After the performance on June 16, there will be a talk with Jozef Wouters. Please join!
Supported within the framework of the Alliance of International Production Houses by the Federal Commissioner for Culture and the Media.
Written and directed by: Jozef Wouters Artistic collaborators: Michiel Soete, Barry Ahmad Talib Performed by: Barry Ahmad Talib, Maya Dhondt, Micha Goldberg, Naomi Lilith Quashie, Kamal Tall Scenography: Jozef Wouters Light design: Michiel Soete Costume design: Lila John Dramaturgy: Bryana Fritz Inside eye: Enzo Smits Technical director: Menno Vandevelde Built by: Decoratelier, Brussels (Builders: Jamy Hollebeke, Willem Rys, Jan Rymenants, Remco Wuyts, Vic Van den Bossche) Sound: Wout Clarysse Light: Sarah Feyen Stage: Tom De Langhe Production management: Vincent Focquet, Michiel Soete, Marie Umuhoza Interns: Chloë Tempel, Freek Willems, Sophie Bax 
Production: Damaged Goods Coproduction: Wiener Festwochen (Vienna), Toneelhuis (Antwerp), PACT Zollverein (Essen), Perpodium With the support of: the Flemish Government, the Flemish Community Commission and the tax shelter measure of the Belgian Federal Government via BNPPFFF Many thanks to: Kaaitheater, DE SINGEL